It's been more than 10 years since Matthew Dent redesigned the UK's definitive coins to create the Royal Shield of Arms design, but there are still some people who don't actually realise that these coins can be pieced together to complete the shield.
Dent's design was chosen by The Royal Mint Advisory Committee following a public competition which saw over 4,000 designs submitted. "I felt that the solution to The Royal Mint's brief lay in a united design," he explained. "United in terms of theme, execution and coverage over the surface of the coins."
Using all the coins from the 1p to the 50p and fitting them together like a jig-saw, the complete shield is revealed, as seen on the £1 coin design issued from 2008 until 2015.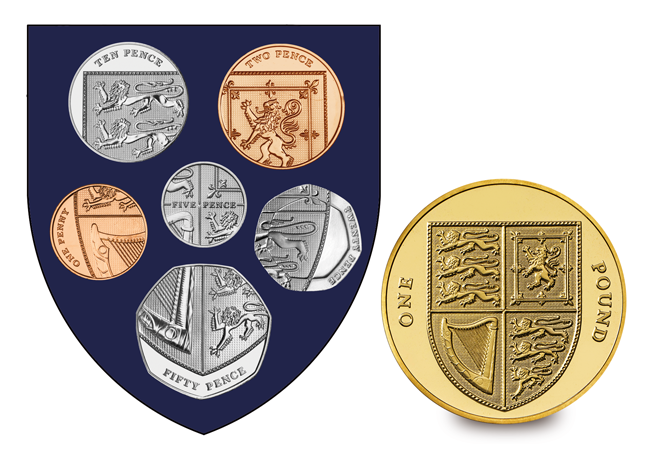 Of course, the old round pound has now been replaced by the 12 sided £1, featuring the Nation's of the Crown design. But, the definitive 1p, 2p, 5p, 10p, 20p and 50p shield coins can still be found in your change, meaning the Royal Shield can still be collected and completed.
In fact, I bet if you were to check the change in your pocket right now, you'd be surprised by how much of the shield you'll already be able to piece together!
So why not try collecting the shield, and if you'd like to give yourself even more of a challenge, how about collecting the whole shield for each year, starting with the coins issued in 2008.
As we've now come to the 10th anniversary of these coins, perhaps there will be a re-design on the horizon? If the reverse of our definitive coins were redesigned, what design would you like to see on the new coins?
---
Complete the shield with the Royal Arms Shield Collector Card!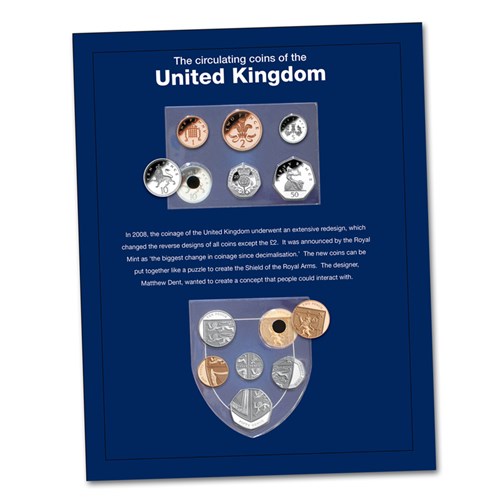 Designed to fit neatly into your Change Checker Album, this Collector's card allows you to assemble the Royal Arms Shield by simply using your loose change.
Click here to secure yours and start your shield collection today >>
ENTRIES TO THE 'BRONZE 20P' DRAW ARE NOW CLOSED
We love to hear when Change Checkers make a great coin discovery. We're often contacted about mis-strikes which are interesting oddities but what really excites us are 'error' coins.
Genuine 'error' coins, especially those verified by The Royal Mint, are VERY rare and finding one is a goal for many change collectors.
So imagine our excitement when somebody contacted us after finding one of the rarest 'error' coins yet!
The 'Bronze 20p'
Earlier this year, we were contacted by a collector named David Crosier who informed us he'd found a very rare 'error' coin.
A collector for over 50 years, David told us how he'd often look out for mis-strikes and 'mules' but there was something special about this particular coin. Initially he presumed the coin was plated but decided to send it to The Royal Mint to be certain.
After examination by x-ray fluorescence spectrometry, the coin was confirmed by The Royal Mint as an extremely sought-after minting 'error'.
Somehow a 1p 'blank' found its way into the presses and a 20p was accidentally struck onto it.
Errors like this are extremely rare, in fact so rare we've never heard of another 'Bronze 20p', but The Royal Mint verified the authenticity of the coin with a letter and so here at Change Checker we knew this was an opportunity not to be missed.
Now the great news… we want to give away the amazing 'Bronze 20p' to one lucky Change Checker!
And what's more, you won't just win the 'Bronze 20p', the coin is set in a specially designed presentation box alongside a Brilliant Uncirculated 1p and a Brilliant Uncirculated 20p coin from the same year, beautifully highlighting the minting error.
Your chance to win the coin
We'll be selecting a lucky Change Checker to win this coin. If you're already registered then we'll automatically include you in the draw.
To register your free account, all you need to do is enter your email address and choose a password.
ENTRIES FOR THE 'BRONZE 20P' DRAW ARE NOW CLOSED
Full Terms and Conditions can be found below.
Good luck!
---
Terms & Conditions
All registered members of changechecker.org at midnight on 7th December 2017 will be automatically entered into the prize draw. No purchase is necessary to register.
The draw will take place on 11th December 2017 and the winner will be notified on that day by email to their registered changechecker.org email address.
The winner will receive the "Bronze 20p". There is no cash alternative.
Participants agree to meet reasonable requests to assist publicity.
The prize draw is promoted by The Westminster Collection / Change Checker, trading divisions of 288 Group Ltd.
Employees of 288 Group and their families are not eligible to enter.