At the recent World Money Fair held in Berlin, Germany, 'The Coin of the Year' (sponsored by World Coin News) winners were announced.
First held back in 1984, the awards are designed to, "…recognise the best of the coiner's art and to encourage world mints to continue to challenge themselves in creating these great numismatic works."
It's safe to say that some of the winning coins are spectacular! I hope you enjoy looking through this range of amazing coin designs, don't forget to let us know which is your favourite!
Best Circulating Coin
Most Inspirational Coin
Best Bi-Metallic Coin
Most Artistic Coin
Most Innovative Coin
---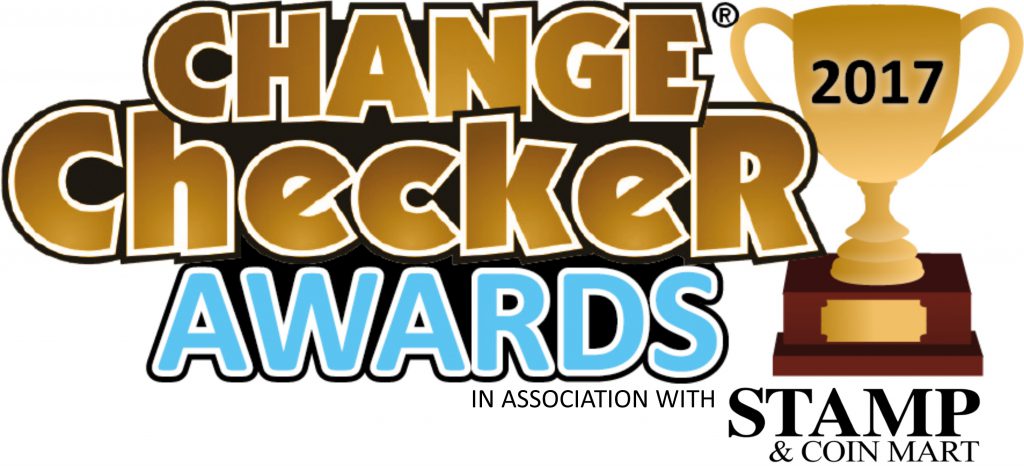 We launched the first ever Change Checker Awards to celebrate the very best people in the world of change collecting…and you certainly didn't disappointed!
It's been a very tough job picking the winners as there were so many strong entries but the decisions have been made and the winners are…
Change Checker of the Year 2017
The winner of Change Checker of the Year 2017 is Robert Durrant!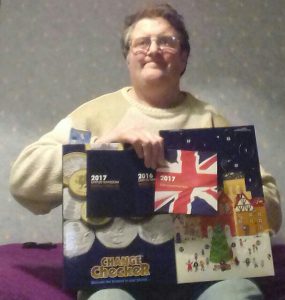 Robert has been a fantastic Change Checker throughout the whole of 2017.
He was nominated by another Change Checker due to his constant presence on our social media pages and willingness to help others with their collections.
He always has enough time to pass on his incredible knowledge and passion to other collectors.
Robert started collecting from a very early age when the old One Shilling would still be found in your change. He collects both old and new coins, especially any commemorative pieces.
Congratulations Robert – keep up the great work!
Runners Up:
Sarah Nimmo
Sarah was described by the colleague who nominated her as 'a generous and inspiring collector who gives generously of her time and knowledge'. Sarah's enthusiasm for change checking has sparked a revolution in her office; nobody who worked for the company collected coins until Sarah joined and now she's even launched a coin collecting club! Great work Sarah!
John Clarke
John was also nominated by a colleague who described him as 'a brilliant bloke who's brilliant at collecting coins!'. He has completed his 50p, £1, and £2 collection and by sharing his love for collecting has now convinced another 4 of his colleagues to start checking their change. He's also enlisted the help of staff at local shops and garages who check their change for him. Well done John!
---
Junior Change Checker of the Year 2017
The winner of Junior Change checker of the Year is Candice Clews!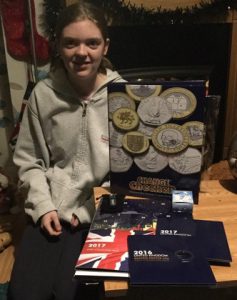 Candice is 16 years old and first became interested in coins around 1 year ago. As she came across more and more 'unusual' designs, Candice joined Change Checker and purchased an album for her coins.
She has enlisted the help of her family, friends and online forums and has now finished her 50p collection (minus Kew Gardens), completed the Olympic 50ps, the Round Pounds and has nearly collected all the £2 coins.
She's gained an almost expert knowledge of both UK and British Territory coins and is always keen to help other collectors whenever possible.
Congratulations Candice, you are a very worthy winner!
Runners Up:
Hamza Mughal
11 year old Hamza started checking his change earlier this year and quickly developed a passion for collecting. He has taken his collection into school and was also awarded the 'hobbies' badge at Scouts. Everytime he goes shopping he makes sure that he's given change that will include £2 and 50p coins! Well done Hamza!
McKenna Kelly
Mckenna is 10 years old and has been collecting since she was small. She is a child with autism and her special interest is collecting coins with different faces on. As well as UK coins, McKenna's collection also includes coins from around the world and has nearly completed the USA 50 state quarters collection. Many of McKenna's family now also collect coins due to her enthusiasm. Congratulations McKenna!
---
Coin Design of the Year 2017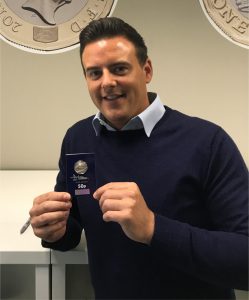 The winner of Coin Design of the Year 2017 is the Sir Isaac Newton 50p designed by Aaron West.
This award was voted for by Change Checkers earlier in the year.
This is the second year in a row that one of Aaron's designs has won Coin Design of the year, his Great Fire of London £2 coin was voted as the 2016 winner by Change Checkers.
It's a huge achievement given the fantastic coins that were released in 2017. Will Aaron make it a hattrick in 2018? He's certainly going to be hard to beat.
---
Coin Photo of the Year 2017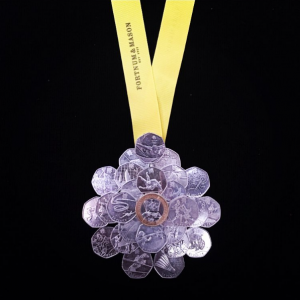 The winner of Coin Photo of the Year 2017 is 'Gold and Silver Medal' by Kerry White.
Kerry's photo was the winner in the 'Sport' category and is a beautiful image. It utilises the 2012 Olympic 50p coins and has the 2008 Olympic Handover £2 coin at the centre.
Set against a black backdrop, the coins stand out perfectly creating a lovely medal image.
The 4 finalists were voted for by Change Checkers and the winner was chosen by our panel. Congratulations to our 3 other finalists.
---
Coin Story of the Year 2017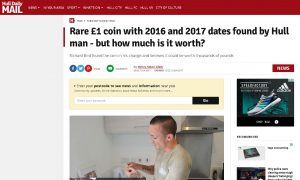 The winner of Coin Story of the Year 2017 the 'Dual-Dated £1 Coin' written by journalist Henry Saker-Clark for the Hull Daily Mail.
On the 13th June a story broke of a 12-sided £1 coin with two different dates. The coin has 2016 on the obverse and 2017 micro engraved on the reverse.
This was the first 12-sided £1 coin 'error' that anybody had heard of and once it had been verified by The Royal Mint as a genuine 'mule' the story went national. Picked up by all the major newspapers it quickly became the biggest UK circulation coin story of 2017.
---
A huge congratulations to all of our winners and also to all the fantastic entries we had for all the categories. We'd like to thank each and every one of you for your continued support in 2017 and hope that 2018 is a fantastic year of Change Checking for you all!
We're delighted to announce the 2017 Change Checker Awards in association with Stamp and Coin Mart where we'll be celebrating the very best of the change collecting world.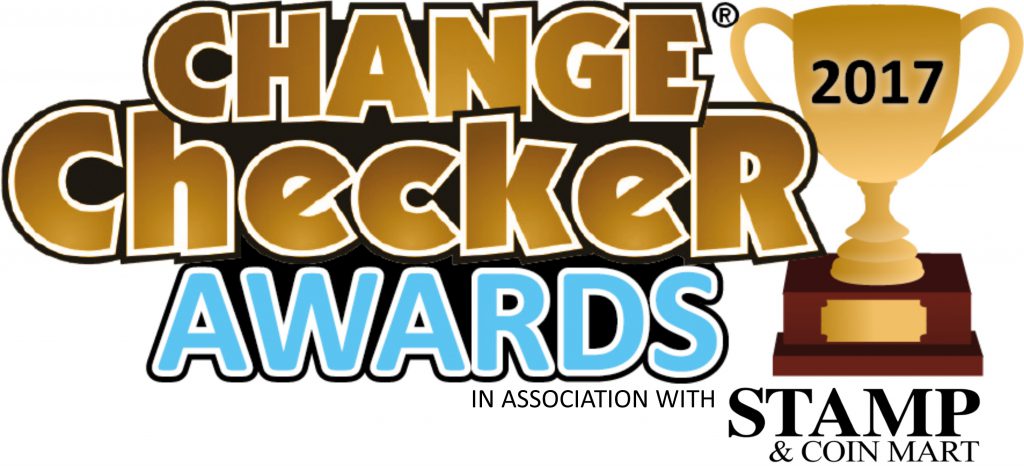 We're looking for the 2017 Change Checker of the Year and the 2017 Junior Change Checker of the year and we need your help!
Are you or do you know somebody that deserves to be crowned Change Checker of the year? If so, we'd love to hear why.
Did you complete the Great £1 coin race in record time? Do you know somebody who's gone above and beyond to help other Change Checkers complete their collections? Or have you introduced all your friends to the world of change collecting?
If you or a friend has been the perfect Change Checker, we want to hear from you.
Send an email outlining why you, your family or friends deserve to win this coveted award to Awards@changechecker.org. Alternatively, you can submit your entry using the sign-up form at the bottom of this blog. Finally, you can leave a comment on any of our social media pages but be sure to use the hashtag #CCAwards2017.
To qualify for Junior Change Checker of the year the application must be aged 16 or younger. The closing date for entries is 5pm on Friday 24th November.
All entries will be judged by our panel and the results announced on Friday 8th December.
The victorious Change Checker and Junior Change Checker of the year will each win an exclusive Change Checker trophy and a bundle of goodies worth over £70!
Categories
The other categories that make up the Change Checker Awards are:
UK Coin Design of the Year 2017
Coin Photograph of the year 2017
Coin Story of the year 2017
These categories will be judged by our panel and the winners also announced on December 8th.
Good Luck!
---
Terms and Conditions
The winners will receive an exclusive Change Checker trophy and a bundle of goodies worth over £70. There is no cash alternative.
Participants agree to meet reasonable requests to assist publicity.
The Change Checker Awards 2017 are promoted by The Westminster Collection / Change Checker, trading divisions of 288 Group Ltd.
Employees of 288 Group and their families are not eligible to enter.