In 1725, printed banknotes were first introduced in the UK, with the purpose of fixed denominations. The £20 banknote came first and following a shortage of metallic currency during the Seven Years' War in 1759, £10 and £15 notes were issued.
The £5 note was the last to be introduced in 1793. But since their introduction, banknotes have been subject to fraudulent behaviour, so much so, additional banknotes have been executed partly to make forgery of such more difficult.
Fraudulent notes are also called 'counterfeit banknotes' and although less and less are going into circulation — with less than 1 in 40,000 banknotes being counterfeit in 2021 — it's still an important topic to discuss!
Although polymer banknotes are a lot harder to replicate than the traditional paper ones, you should still check your notes when you receive them. But the questions is, how do you spot a counterfeit banknote?
Sizing
For every polymer banknote, a good starting point is to look at its size.
The higher the value, the larger it is. Here we can see the approximate sizes of the £5, £10 and £20 polymer banknotes: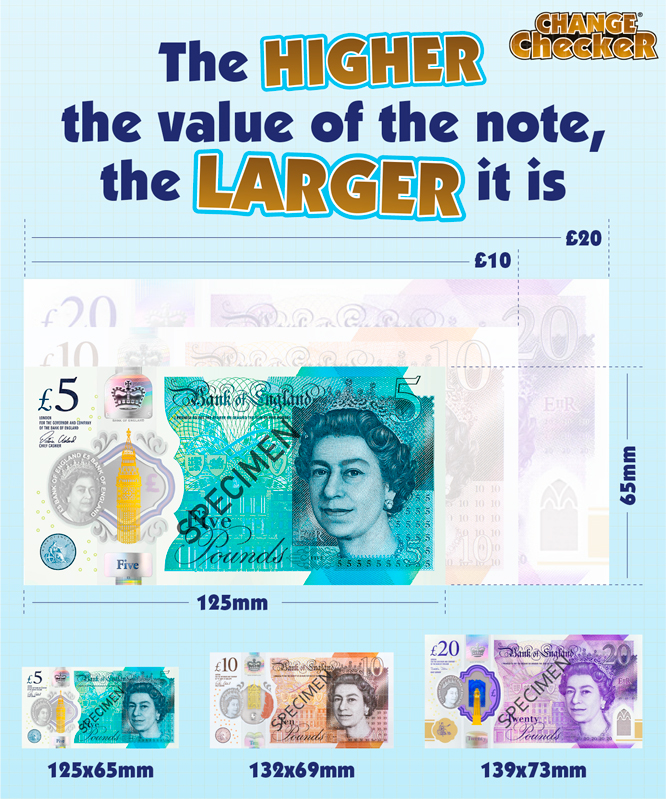 Security Features
Crucially, you should always check your polymer banknotes for the following key security features:
Changing hologram:
All polymer notes when tilted from side to side and up and down, should feature word changes within their holograms.
For the £5 banknote, the words should change between 'Five' and 'Pounds', the £10 banknote between 'Ten' and 'Pounds' and so on.
See-through windows:
Each banknote of denomination has a metallic image over the see-through window on it.
Both the £5 and £10 polymer notes have gold foil on the front of the note within this part and silver on the back.
The £20 note has a blue and gold foil on the front of the note for the metallic image and silver on the back.
Lastly, the £50 note has gold and green foil on the front and silver on the back.
Feel of polymer and raised print:
Polymer is a thin and flexible material so check that the material of your banknote feels this way.
On each denomination banknote as well, the words 'Bank of England' should feel raised.
Foil patches:
Each banknote denomination will have a different foil patch on it.
For the £5 note, this is a green foil patch — it is circular and spells 'BLENHEIM' to commemorate where Churchill was born.
The £10 note has a copper foil patch, and this is shaped as a book.
Check it contains the letters 'JA', in tribute to Jane Austen.
A purple foil patch shaped in a circle with a 'T' at its centre, to represent JMW Turner, is imprinted on the £20 note and lastly, a metallic red foil patch can be found on the £50 note and contains the letters 'AT' for Alan Turing.
The patches can all be located behind the silver crown on the front of the notes.
The queen's portrait in the see-through window:
The Queen's portrait which is printed within the see-through window can be found on all the banknotes with the respective denomination and the words 'Bank of England' printed twice.
For example, on the £5 note the inscription '£5 Bank of England' will be printed twice around the windows edge.
---
This is a just a small selection of the security features that you can find on your polymer banknote. Can you name some of the other features? Let us know in the comments below!
Counterfeit banknotes have no monetary value and cannot be reimbursed. The best thing to do if you encounter a counterfeit banknote is take it to your nearest police station.
They will ask you to fill out a form and once taken from you, will send the suspect note(s) to the National Crime Agency and if found to be counterfeit, to the Bank of England for further examination.
---
If you're interested in coin collecting, our Change Checker web app is completely free to use and allows users to:
– Find and identify the coins in their pocket
– Collect and track the coins they have
– Swap their spare coins with other Change Checkers
Sign up today at: www.changechecker.org/app
£18.9bn worth of paper banknotes and round pounds remain in circulation, with over 113 million of these being £5 notes! Despite it being nearly five years since the paper £5 note lost its legal tender status*, it seems people are holding on them.
In fact, you might just have one in your pocket/wallet/down the back of the sofa right now!
Whilst the paper £10 and £5 notes have been withdrawn from circulation, the £20 and £50 paper banknotes will hold their legal tender status until 30 September 2022.
According to the Bank of England, 775 million paper banknotes remain in circulation:
Paper £5 notes in circulation: 113 million
Paper £10 notes in circulation: 73 million
Paper £20 notes in circulation: 360 million
Paper £50 notes in circulation: 209 million
That's a lot of banknotes!
*Whilst the paper £5 and £20 notes are no longer legal tender, they will always be exchanged by the Bank of England for their face value.
There are also supposedly £105m of old round pound coins in circulation, according to the Royal Mint.
After more than 30 years in the nation's pockets, the familiar round £1 coin was replaced with an all new, 12-sided £1 coin in 2017, in a bid to crack down on counterfeiting.
It lost its legal tender status at midnight on 15 October 2017 and the Royal Mint asked the public to return their round pounds as they phased in the new 12-sided coin.
However, out of 1.6 billion round pounds to be returned, about 1.45 million were counterfeits!
The UK's 12-sided £1 coin is described by the Royal Mint as the 'most secure in the world', with a string of anti-counterfeiting details. Find out more about the security details of this coin here!
Round pounds can still be deposited at high street banks – but can no longer be spent in shops.
Have you held on to your round pounds or paper notes? Let us know in the comments below!
---
Never miss a UK coin issue!
Join the Change Checker UK CERTIFIED BU Subscription Service and receive new UK coins sent to your door without the hassle of placing orders on the day of release!
Don't miss your chance to get ahead of the crowd and be one of the very first collectors to receive the latest UK new issue coins as soon as possible after their release.
In 2019, The Bank of England revealed Alan Turing as the new face of the £50 banknote.
In their search to find an eminent British scientist to feature on the £50 note, a total of 227,299 nominations were sent to The Bank of England. 989 eligible characters were narrowed down to a shortlist of just 12 before Turing was finally selected.
Change Checker is so excited to reveal that today the design of this BRAND NEW £50 note has been officially confirmed by The Bank of England.
In keeping with Turing's code-breaking legacy, this brand new £50 has been declared as the most secure yet.
What features on the new £50 note?
This brand new banknote is FULL of exciting features. Including:
A photo of Turing from 1951 which is part of the National Portrait Gallery's collection
A table and mathematical formulae from Turing's 1936 paper "On Computable Numbers, with an application to the Entscheidungsproblem"
A design of Turing's trial model of his famous Automatic Computing Engine (ACE) Pilot Machine
Technical drawings for the British Bombe, one of the primary tools used to break Enigma-enciphered messages
A quote from Turing, from an interview in The Times newspaper (June 1949): "This is only a foretaste of what is to come, and only the shadow of what is going to be"
His signature from the visitor's book at Max Newman's House in 1947 which is on display at Bletchley Park
Ticker tape depicting Alan Turing's birth date (23 June 1912) in binary code.
In addition to these amazing design features, there are of course a series of security features, similar to those we've seen on our £5, £10, and £20 polymer notes, including holograms and see-through windows.
GCHQ Collaboration
In recognition of Turing's code-breaking expertise, the Bank of England have collaborated with GCHQ on the intelligence and cyber agency's toughest puzzle ever – based on the Turing £50 bank note design.
GCHQ's Turing Challenge is a set of 12 puzzles that have been put together by intelligence staff at GCHQ, where problem solving and a diverse mix of minds are at the heart of its work to help protect the UK from increasingly complex threats
Who was Alan Turing and why is he being featured on a £50 note?
Alan Turing was most famously known for accelerating Allied efforts to read German Naval messages enciphered with the Enigma machine.
His work is said to have been key to shortening World War Two and saving millions of lives.
In addition to his work during World War Two, Turing played a pivotal role in the development of early computers, first at the National Physical Laboratory and later at the University of Manchester.
In 2013, he was given a posthumous royal pardon for his 1952 conviction for gross indecency.
Speaking of the new note, Andrew Bailey, the governor of the Bank of England, said: "Turing was a leading mathematician, developmental biologist, and a pioneer in the field of computer science. By placing him on our new polymer £50 banknote, we are celebrating his achievements, and the values he symbolises."
Polymer Notes
This brand new £50 note is the last in the Bank of England's collection to switch from paper to polymer, following the popularity of the polymer £20, £10 and £5 notes.
The banknote will enter circulation on 23 June, which would have been the mathematician's birthday.
Alan Turing £50 note voted as Change Checker's favourite polymer note!
As the brand new £50 note is the last in the Bank of England's collection to switch from paper to polymer, we asked you to vote for your favourite polymer note.
The results are in!
The Alan Turing £50 has been revealed as Change Checkers' favourite polymer banknote, taking over 40% of the votes!
We're certain collectors will be eager to add this banknote to their collections when it's released later in the year. Will you? Let us know in the comments below!
---
Don't miss out on the very latest UK coin releases!
Join the Change Checker UK CERTIFIED BU Subscription Service and receive new UK coins sent to your door without the hassle of placing orders on the day of release!
Simply choose the perfect subscription for you here >>