The UK banknotes have gone through some big changes since they were first introduced but do you know the story behind them?
In this blog, we guide you through the history of UK banknotes as we take a look at just how far they've come…

7th Century – China
The first recorded use of 'paper' money was in China back in the seventh century! However, it was until over a thousand years later that paper money made its way to Europe.
16th Century – Goldsmith-Bankers
In the 16th century, the goldsmith-bankers would issue receipts for cash, known as 'running cash notes'. They were made out in the name of the depositor and also carried the words, 'or bearer', after the name of the depositor.
This similar phrase still appears on British banknotes today: "I promise to pay the bearer on demand the sum of…"
1694 – Bank of England
When the Bank of England was established in 1694 to raise money for King William III's war effort, they issued notes in exchange for deposits. These were the first recorded bank notes to feature a cashier's signature!
18th Century – Fixed Denominations
The issuing of fixed denomination notes first started in the 18th century. Notes were printed with the pound sign and the first digit included, but any following digits were then added by hand!
By 1745, notes were issued in denominations ranging from £20 to £1,000 but it wasn't until 1759, as a result of gold shortages caused by the seven years of war, that a £10 note was issued.
The £5 note followed in 1793 at the start of the war against Revolutionary France and by 1797 the £1 and £2 notes were issued.
1853- Fully Printed
In 1853, the first fully printed banknotes were introduced, meaning hand-written denominations on notes were phased out.
Early 20th Century – 10 Shilling Note
During the First World War, the link between notes and gold was broken. The government needed to preserve bullion stocks and so the Bank stopped paying out gold for its notes.
In 1914 the Treasury printed and issued 10 shilling and £1 notes and in 1931, Britain left the gold standard.
Late 20th Century – Feature of Historical Figures
The late 20th century saw the first introduction of historical figures on the designs of UK banknotes. Since 1970, we've seen figures including scientist Isaac Newton, composer Edward Elgar and nurse Florence Nightingale featured on our banknotes.
21st Century – Polymer notes and BAME figures
In the 21st century we have seen the introduction of the polymer £5, £10 and £20 banknote, as a cleaner, safer and stronger alternative to the paper notes.
These notes have become incredibly popular with collectors, with some polymer £20 notes fetching far over their face value on the secondary market!
However, a lack of Black, Asian and Minority Ethnic (BAME) figures being recognised on legal tender led to campaigning for greater inclusivity in 2020.
These campaigns come after Chancellor Rishi Sunak stated he was considering proposals from a campaign group. He has since asked the Royal Mint to come up withnew designs honouring BAME figures who have served the nation – such as military figures and nurses.
Whilst details of these figures and designs remain under consideration, we look forward to hearing more as the story unfolds.
---
Did you know how far back in history our banknotes date? Let us know in the comments below!
---
Secure the last-ever £1 banknote to your collection!
Click here to secure your piece of British Numismatic history for just £10 (+p&p) >>
As England heads into the semi-finals, the Golden Boot looks like it could be a fit for captain Harry Kane, but football might not be the only thing that's coming home if we make it through to the finals…
Eleven special £5 notes, engraved with a tiny portrait of footballer Harry Kane, will be put into circulation if England reach the World Cup final. And each banknote could be worth more than £20,000!
Specialist micro-engraver Graham Short has been using fine needles to carefully etch Kane's portrait on the 'clear section' of the polymer £5 notes to celebrate the success of the England Football team.
But they will only be put into circulation if England beat Croatia during Wednesday's semi-final match… So if you're not already into the football, here's another reason to back the England team!
Each note has taken six days to complete and they will be distributed by Mr Short in Norwich and the Midlands, Sheffield, Manchester and North Yorkshire as he makes his way around the country.
You may remember our previous blog detailing some of Mr Shorts other work which featured a micro-engraving of Jane Austen on the Polymer banknotes of which there is still one left to find.
Eagle eyed collectors have been hunting down this final note and will be excited to hear about the Harry Kane designs, should they be released.
According to Gallery owner Mr Huggins-Haig, artist Graham Short's work has an insurance valuation of £50,000 so £20,000 for a banknote with his artwork on as a reasonable estimate. Mr Short's last work, a portrait of the Queen on a pinhead, sold for £100,000.
As before, anyone who finds one of the notes has been advised to contact the Tony Huggins-Haig Gallery in Kelso, which launched the project as they will provide advice on how to put the artwork up for auction.
---
Royal Mint re-date coin for England fans…
To celebrate England's on-going success, The Royal Mint has issued a special release that is only available to purchase for four weeks – the UK 2018 Lion of England £5 BU pack.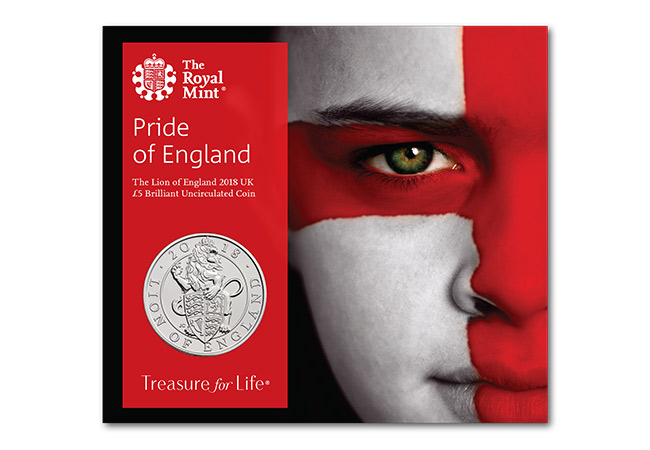 This is definitely one for the collector. Not on the original scheduled release list, the coin features the Lion of England with a special 2018 striking date – a rare occurrence and one that will make this coin hugely collectable to not only football fans but sharp-eyed collectors.
Make sure to secure your 2018 Lion of England £5 coin today >>
LEEDS
HSBC: 33 Park Row, LS1 1LD
YORKSHIRE BANK: 94-96 Briggate, LS1 6NP
CARDTRONICS: Rawdon Newsagents, 11 Harrogate Road, LS19 6HW
LIVERPOOL
SANTANDER: 45 Lord Street, L2 6PB
NEWCASTLE
SANTANDER: 112-118 Northumberland Street, NE1 7DG
BIRMINGHAM
HSBC: 130 New Street, B2 4JU
NATWEST: Grand Central, B2 4BF
LLOYDS: 36-38 New Street, B2 4EG
BARCLAYS: 79-84 High Street, B4 7TE
MANCHESTER
NOTE MACHINE: Lowry Outlet Mall, The Quays, Salford, M50 3AP
NATWEST: 1 Spinningfields, M3 3AP
BARCLAYS: 17 St Ann's Square, M2 7PW
LONDON
NOTE MACHINE: Barry's Food and Wine, 149 Hoxton Street, N1 6PJ
SANTANDER: 48-54 Moorgate, EC2R 6EJ & 164-167 Tottenham Court Road, W1T 7JE & 2 Triton Square, Regents Place, NW1 3AN
POST OFFICE: 26/28 The Broadway, E15 4QS
BARCLAYS: 46-48 Regent Street, Piccadilly, W18 5RA
HSBC: 165 Fleet Street, EC4A 2DY
NATIONWIDE: 1 Threadneedle Street, EC2r 8BP
NATWEST: 10 Southwark Street, SE1 1TJ
LLOYDS: 33 Old Broad Street, EC2N 1HZ
BASINGSTOKE
NATWEST: 3 London Street, RG21 7NS
WINCHESTER
SANTANDER: 119 High Street, SO23 9AS
NATWEST: 105 High Street, SO23 9AW
BATH
NOTE MACHINE : Eurochange Bath, 6 Southgate Street
HSBC: 45 Milsom Street, BA1 1DU
NATWEST: 15-17 High Street, BA1 5AH
CARDIFF
LLOYDS: 31 Queens Street, CF10 2AG
SWINDON
NATIONWIDE: Nationwide House, Pipers Way, SN3 1TX