Posts Tagged 'Beatrix Potter'
Last night, news emerged that a UK coin to celebrate one of Britain's best loved children's authors, Roald Dahl, was rejected by The Royal Mint.
Famed for his classic novels such as Charlie and the Chocolate Factory, The Twits and Matilda (amongst many more), the incredibly imaginative author was born in September 1916, meaning the 100th anniversary coin would have been due for release in 2016.
And yet no such coin ever came to pass…
The Royal Mint decided against marking the centenary of the Roald Dahl's birth because of concerns about the author's anti semitic views. According to official papers obtained by the Guardian newspaper using freedom of information laws, the proposal to issue a coin to mark the centenary of Dahl's birth was dropped because he was "not regarded as an author of the highest reputation".
The Royal Mint have made clear that "commemorative coins go through a rigorous planning and selection process" led by the independent Royal Mint Advisory Committee, and not every coin idea proposed actually ends up making it through this process.
In fact, in 2012 a special six-sided coin was very nearly released to commemorate one of the most significant celebrations in British history – the Queen's Diamond Jubilee. This too was rejected by senior staff at The Royal Mint as the commemorative coin programme was already "sufficiently comprehensive."
We almost had a 60p coin and it would have looked like a coin gone mad https://t.co/JpFp0vtYAv pic.twitter.com/eWNmWNmVkt

— Mike Wright (@MikeJGWright) 31 December 2015
The commemorative coins selected for release in 2016 actually included the great literary figures William Shakespeare and Beatrix Potter.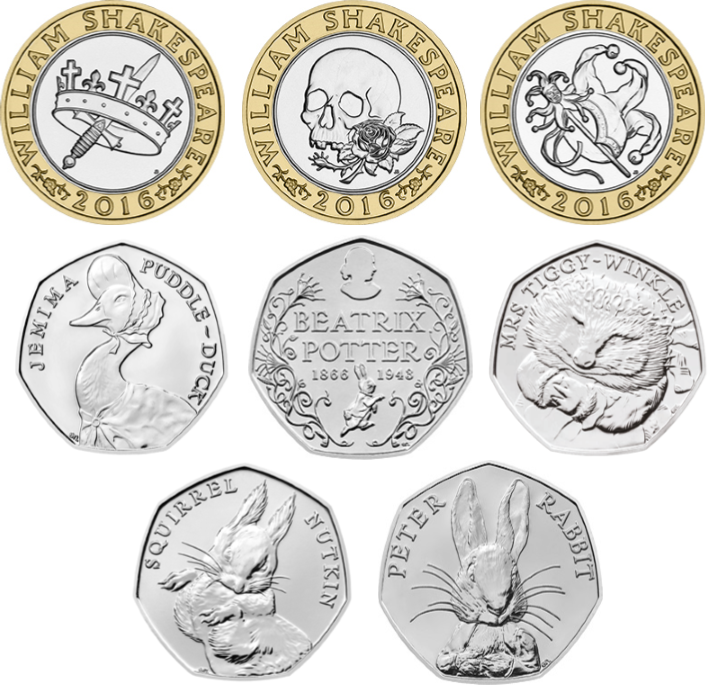 Although the Royal Mail did honour the children's author with a set of commemorative stamps celebrating his books in 2012, unfortunately the magic and wonder of Dahl's literary works won't ever be recognised on a commemorative UK coin.
---
If you're interested in coin collecting or want to find out more about any of the coins in circulation, our Change Checker web app is completely free to use and allows users to:
– Find and identify the coins in their pocket
– Collect and track the coins they have
– Swap their spare coins with other Change Checkers

Sign up today at: www.changechecker.org/app
Earlier in the year, we updated our Change Checker Guide to UK Commemorative Coin Mintages which included details of all the coins issued into circulation in 2017.
But The Royal Mint has just updated its mintage figures for 2017-dated 50p coins.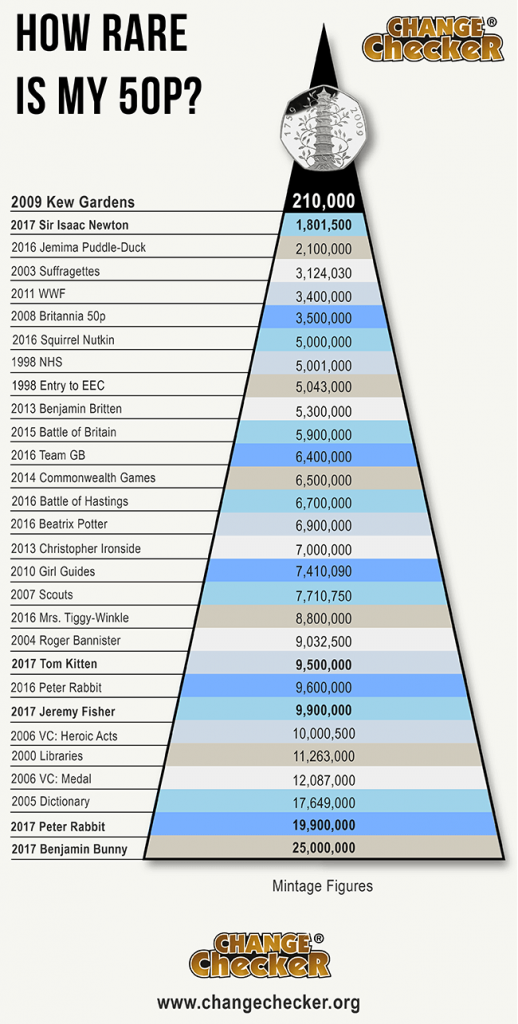 It won't be a surprise that the 2009 Kew Gardens remains king of the 50p coins, but owners of the 2017 Sir Isaac Newton 50p will be glad to hear that the coin has managed to keep its sought-after 2nd place position on the chart. However, the final mintage has crept up by 1,500 bringing the total to 1,801,500
Whilst all four Beatrix Potter 50ps already had fairly high mintages when the figures were first revealed, the final mintages have since increased, the obvious change being the 2017 Benjamin Bunny 50p which has more than doubled. It has been confirmed that further Benjamin Bunny 50ps went into circulation during 2018, bringing the total mintage to 25,000,000.
---
Want to add the 2017 Jane Austen £2 to your collection?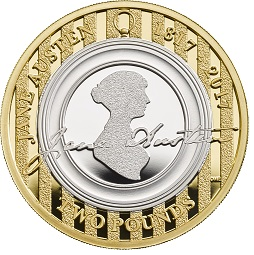 Own it today in Brilliant Uncirculated quality. Secure yours here >>

At Change Checker HQ we are bursting with excitement, as we can now announce that our Jeremy Fisher 50p Coin Swap is officially open!
Following the buzz of the Beatrix Potter coins, we've made collecting the series a little easier by offering you the chance to add this fantastic Beatrix Potter coin to your collection with a fair and simple 50p for 50p swap!
The 2017 Jeremy Fisher 50p is the latest coin in the Beatrix Potter series to be released into circulation and, as you know, all too often the newest coins can often be the trickiest to get hold of…
But don't despair, because we have managed to get our hands on 10,000 Jeremy Fisher 50p's and we're going to swap them ALL with Change Checkers.
As one of the most highly anticipated coin releases we've had, this swap is set to be one of busiest ever! So if you want to secure this coin, you'll have to act fast!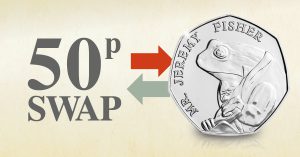 Here's how the swapping process works:
1) Choose THREE commemorative 50p coins that you would like to swap – these must be of a reasonable quality that you'd be happy to have in your collection
2) Complete our quick online form – we will email you a copy of this form to print out and send with your coins
3) Send us your completed form and 50p coin(s) (max. 3) in the post (remember to get proof of posting)
4) You'll receive your 2017 Jeremy Fisher 50p(s) within 10 working days of posting your coins to us
It's as easy as that!
Remember, only commemorative 50p coins can be swapped – the shield 50p and Britannia 50p cannot be accepted. Please also remember to obtain proof of postage from the Post Office – this will help us with any customer service queries should they arise.
Ready to swap?
For full terms and conditions and FAQ's click here >>
---
If you're interested in coin collecting, our Change Checker web app is completely free to use and allows users to:
– Find and identify the coins in their pocket
– Collect and track the coins they have
– Swap their spare coins with other Change Checkers

Sign up today at: www.changechecker.org/app