Posts Tagged 'Change Checker Trading Cards'
We're celebrating our 10th anniversary this year and we're kicking off the party with a set of TEN brand-new, special edition Change Checker Trading Cards.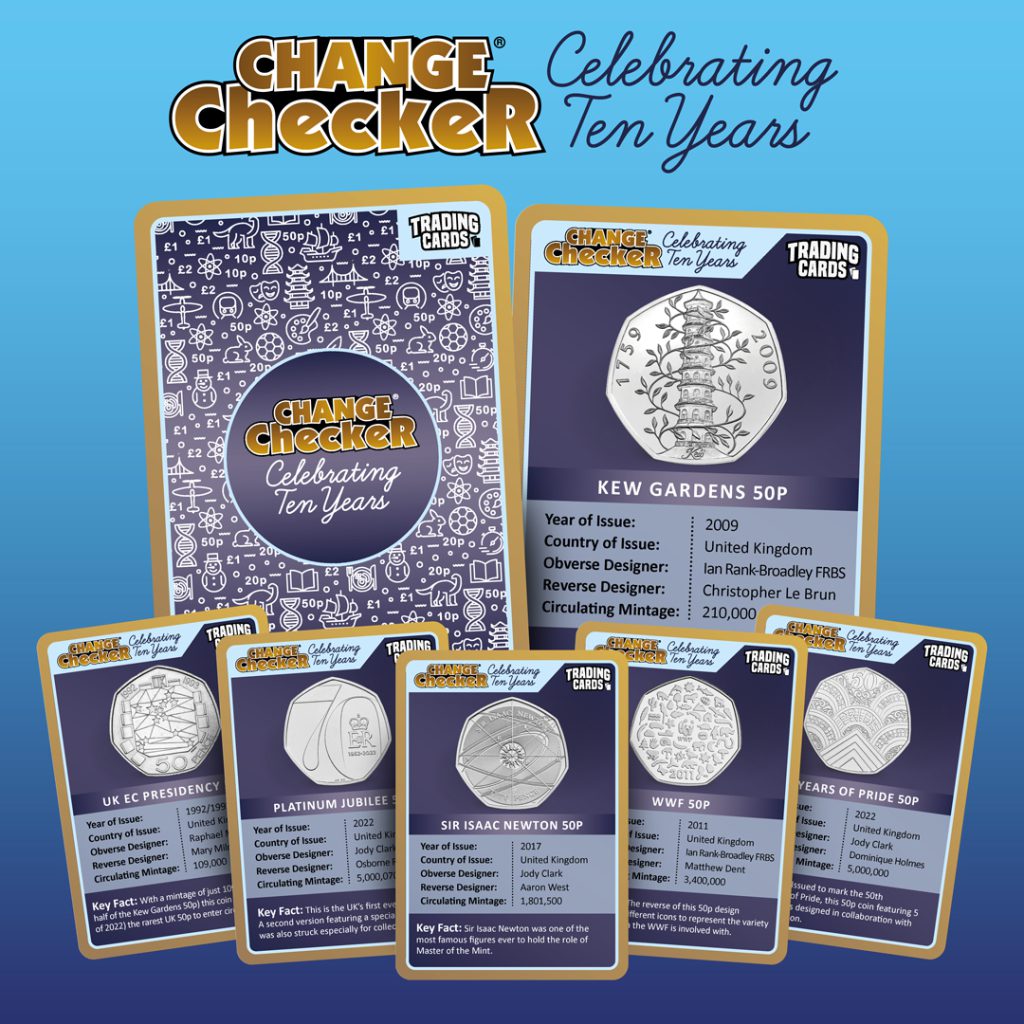 Special Change Checker Trading Cards
These limited-edition Trading Cards include the Top 10 Queen Elizabeth II circulation 50p coins, as chosen by you!
From the Kew Gardens to the Platinum Jubilee 50p coins – these Trading Cards feature some of the UK's most popular coins.
Our Change Checker Trading Cards are highly sought-after as it is. Some particular designs fetch hefty prices on secondary market sites.

This Kew Gardens 50p Trading Card astonishingly sold for £49.99! Like the real coin, this card is one of the rarest you can find. That's because print numbers reflect the mintages of each coin's design.
Our 10-year anniversary cards feature the most popular coin designs and have much smaller printing number compared to our classic designs. So, they're sure to be snapped up quickly!
But of course, the thrill of the hunt is finding out which Trading Card you have. You won't be able to tell which coin is hiding behind the silver foil until you scratch it off.
We'll be distributing these in random Change Checker deliveries from now on, meaning your orders of the first King Charles III coins, could very well include a special surprise.
So, be sure to keep an eye out for them in your next delivery. Could you have a rare Trading Card hiding in there?
And, let us know when you find one by posting a picture of yours in our Change Checker Community Group on Facebook.
Join the Change Checker Facebook Community Group
Share, learn & swap with the Change Checker Community – the only official Change Checker Facebook group.
If you're lucky, you might notice a Trading Card included in your next Change Checker delivery…
We've released Britain's favourite 50p coins as exclusive Change Checker Trading Cards.
From Kew Gardens to Peter Rabbit; Benjamin Britten to Benjamin Bunny, Change Checkers now have the chance to own Britain's Favourite 50p coins as exclusive Trading Cards, included FREE in your Change Checker deliveries.*
Reveal your favourite 50p Design
Simply scratch away the silver film to reveal which of Britain's favourite 50p coins you have received as your FREE Trading Card and what your coin's key coin fact is.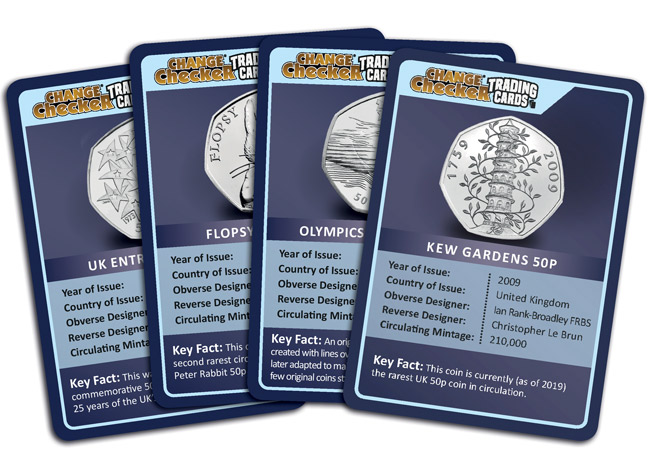 All the fun of the hunt
Each card has been printed in a volume that reflects the coin's overall rarity, so you have all the same joy of the hunt.
They're easy and fun to collect and fit straight into any Change Checker Album. Plus swap with your friends and colleagues or even online via the Change Checker Community group on Facebook.
Be the first to hear the latest Trading Card Updates.
We previously released 40 designs for you to collect but excitingly, Change Checker has released a third batch of Trading Cards with 27 brand new designs to track down!
If you want to be one of the first to hear about our Change Checker Trading Card updates, sign up below for more information.
Sign up below for more information, or head over to our FAQ page.
* Inclusion of FREE Change Checker Trading Cards is subject to availability at the time of despatch. They may not be included in every Change Checker delivery.
---
If you're interested in coin collecting, our Change Checker web app is completely free to use and allows users to:
– Find and identify the coins in their pocket
– Collect and track the coins they have
– Swap their spare coins with other Change Checkers
Sign up today at: www.changechecker.org/app