Posts Tagged 'Change Checker'
With the release of the brand new Paddington 50p coin series in 2018, I've been thinking back over some of the UK's top coin releases and of course nothing is quite as exciting as a whole series of brand new coins to add to your collection! But which series has been your favourite, Change Checkers…?
The results are now in and it's safe to say that we have a clear winner with the coin series that started it all – the Olympic 50ps! That's right, Change Checkers voted this hugely popular series as their favourite and it's no wonder, as these coins created a collecting storm back in 2012 when coin collectors and Olympic enthusiasts alike looked to secure these coins for their Olympic collections.
Find out more about these coins below and take a look at the results of our poll at the bottom of this page.
Coming in a close second were the brand new 2018 RAF £2 coins, closely followed by the new A-Z 10p coins. It seems that Change Checker's are really enjoying these new coins releases and whilst the RAF coins haven't been released into circulation yet and the A-Z 10ps are proving tricky to find, they are clearly holding a lot of appeal for collectors.
Read all about these coins, and the other 50p and £2 coin series below.
50p coins!
The first series to really kick start coin collector's of the nation was the Olympic 50p series, which has since become so popular that it's now estimated that 75% of the coins have been removed from circulation by collectors!
Olympic 50ps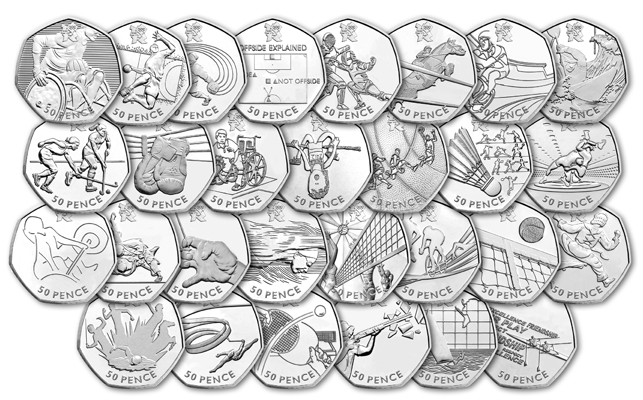 So what made this coin series so special? The 2012 Olympics were of course a hugely exciting time for Britain and people were undoubtedly looking for a 'free' souvenir to mark this significant event.
Struck at the organisation's headquarters in South Wales, the coins were designed by members of the public as part of a Royal Mint competition in which nearly 30,000 entries were submitted. They are the first ever UK coins to be designed by the public.
Each of the twenty-nine 50p coins features an Olympic or Paralympic sport on its reverse. These include sailing, cycling and basketball as well as less well-known sports such as handball and the Paralympic sport boccia.
The 50p coins are seen as a perfect souvenir to remember London 2012 due to their intrinsic value and quality which holds an interest and fascination for generations to come and have been officially voted by Change Checkers as their favourite coin series!
2016 Beatrix Potter 50ps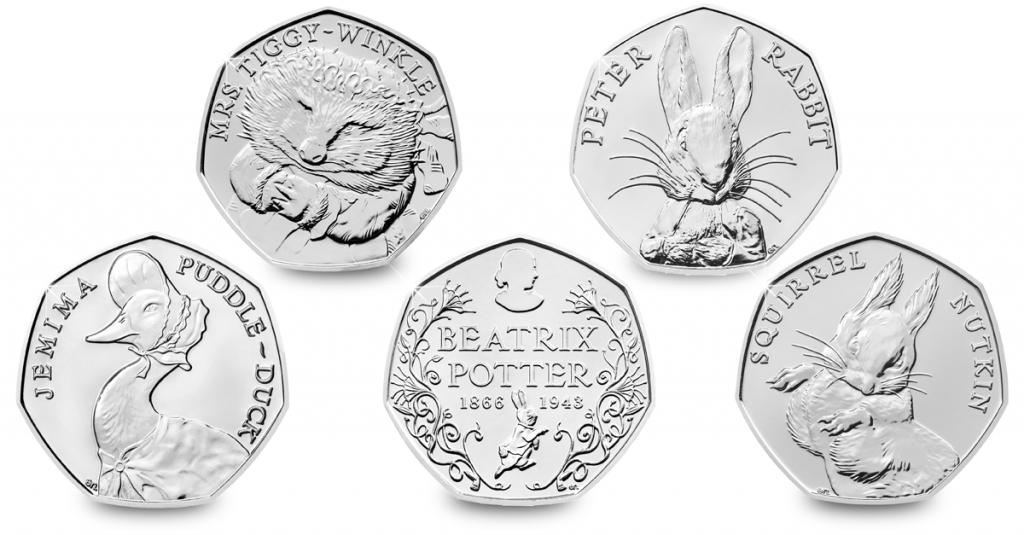 Following the collecting sensation of the Olympic 50ps, the Beatrix Potter 50p coin series quickly became the next big thing to get Change Checkers and coin collectors across the nation excited! There have been three series of these hugely popular 50ps, with each series including much-loved characters from the Beatrix Potter books.
The first series was released by The Royal Mint in 2016 to mark 150 years since the birth of the beloved children's author and featured 5 coins including Peter Rabbit, Squirrel Nutkin, Mrs Tiggy-Winkle, Jemima Puddle Duck and a coin depicting elements that celebrate the life of Beatrix Potter.
The response from collectors was staggering, with The Royal Mint's website crashing under the sheer weight of the public's interest in the first morning of the 2016 Peter Rabbit 50p going on sale.
He has since featured in each of the following series, the only character to appear in all three, which just goes to show what a popular little bunny he is!
2017 Beatrix Potter 50ps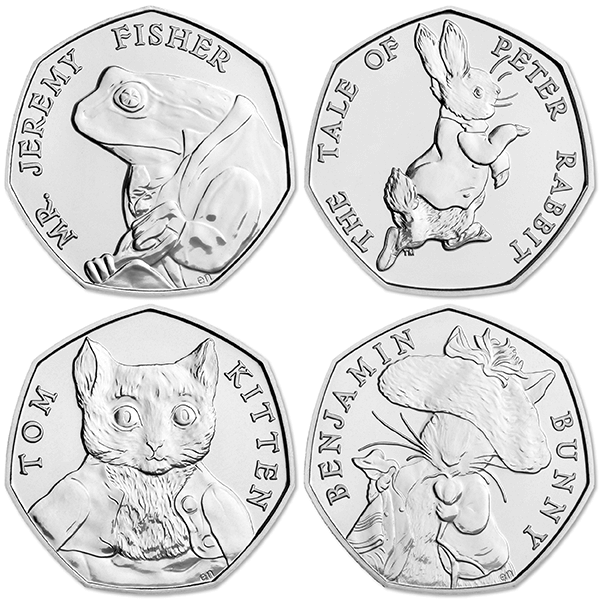 In 2017, much to the delight of coin collectors across the nation, The Royal Mint released a brand new series of Beatrix Potter 50ps to carry on the celebrations of some of Beatrix Potter's most loved animals.
This series included Peter Rabbit (of course), Jeremy Fisher, Tom Kitten and Benjamin Bunny.
The huge popularity of the previous year's coins meant that collector's couldn't wait to get their hands on these coins and build their collection of Beatrix Potter 50ps.
We are now starting to see these coins entering circulation, with Tom Kitten and Jeremy Fisher turning up in people's change, so make sure to keep your eye out for them!
2018 Beatrix Potter 50ps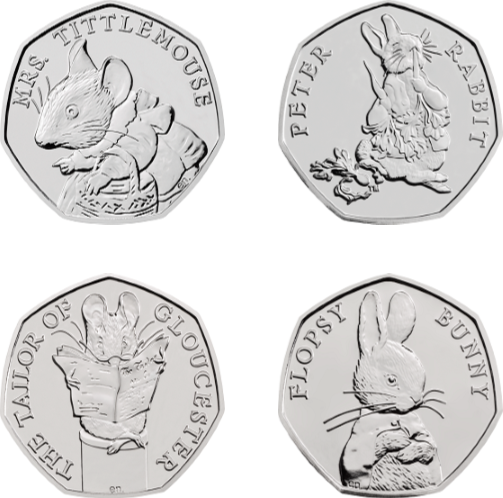 This year, we've seen another Beatrix Potter series released and collectors seem to be continuing to fall in love with the adorable characters on these coins.
Peter Rabbit returns for a third year running in the 2018 series, alongside his friends Flopsy Bunny, the Tailor of Gloucester and Mrs Tittlemouse.
These coins have not been released into circulation yet and mintage figures remain unknown for now, but all four coins are now available to buy in Brilliant Uncirculated quality and collectors remain eager to snap up these coins for their Beatrix Potter collections.
Paddington™ 50ps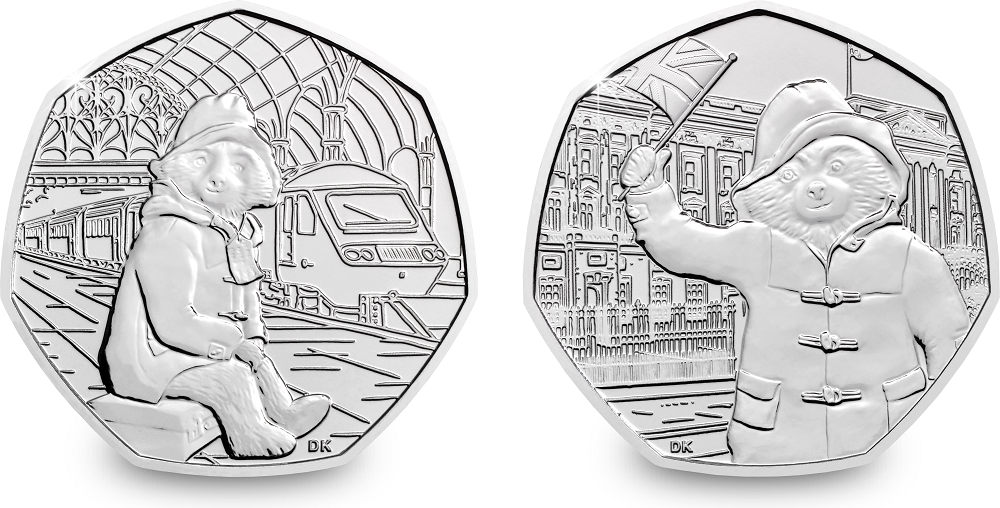 But that's not the end of the story for 50p coin series, because in 2018 The Royal Mint also issued a brand new series celebrating the 60th anniversary of Britain's most loved bear, Paddington™!
Coin collectors were whipped into a frenzy with the excitement of owning these new 50p coins and it has even been suggested that this could be the most sought-after 50p coin series ever!
Two coins have now been released and are available to purchase in Brilliant Uncirculated quality, the first featuring Paddington wearing his iconic mack, sat on his suitcase at the station and the second showing the delightful bear waving a Union Jack flag outside Buckingham Palace.
This is the first time Paddington has featured on UK coinage and the world of coin collecting has been abuzz with the news of the release ever since The Royal Mint announced the coins would be issued earlier this year.
Have you secured your 2018 Paddington 50p coins yet?
£2 coins!
Following a review of the United Kingdom's coinage in 1996, the decision was made that a general-circulation £2 coin was needed and so the bi-metallic coin we know today was introduced. Whilst these coins are now in circulation and not reserved just for collectors, they have still become increasingly collectable, with a number of £2 coin series being released over the years.
Commonwealth Games £2s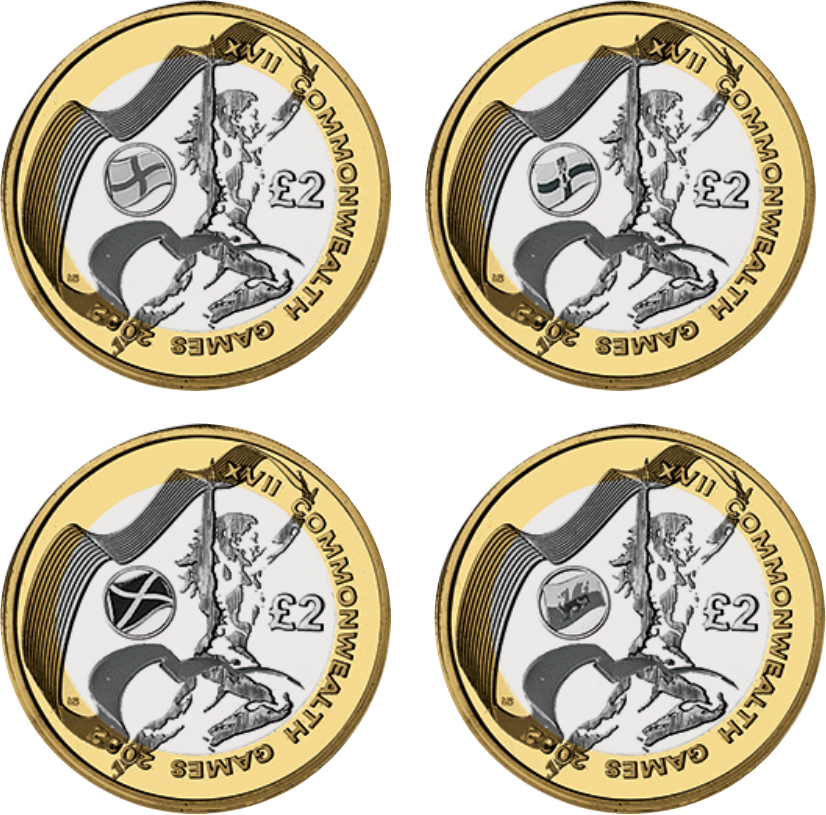 The 2002 Commonwealth Games £2 coins are known as some of the scarcest £2 coins now in circulation, with even the largest mintage (Scotland) set at just 771,750!
But the coin you really need to be looking out for is the Northern Ireland £2.  Just 485,000 coins were ever struck making it officially the UK's rarest £2 coin.
At first glance, you might struggle to spot the difference between them.  They all feature the same running athlete trailing a banner behind, but each has a different cameo, representing each of the four constituent parts of the United Kingdom.
Are you lucky enough to have these coins in your collection?
Shakespeare £2s

In 2016, three different £2 coins were issued to honour Shakespeare's tragedies, comedies and historical works and were released into circulation just in time for the 400th anniversary of his death on the 23nd April 2016.
The coins were certainly amongst the favourites of collectors that year with the Skull design in particular receiving a lot of attention, and not just from collectors.
Each coin pays tribute to one of Shakespeare's major genres and the reverse designs take inspiration from his most famous plays, including Romeo and Juliet, A Midsummer Night's Dream and Macbeth.
Which Shakespeare £2 is your favourite?
World War One £2s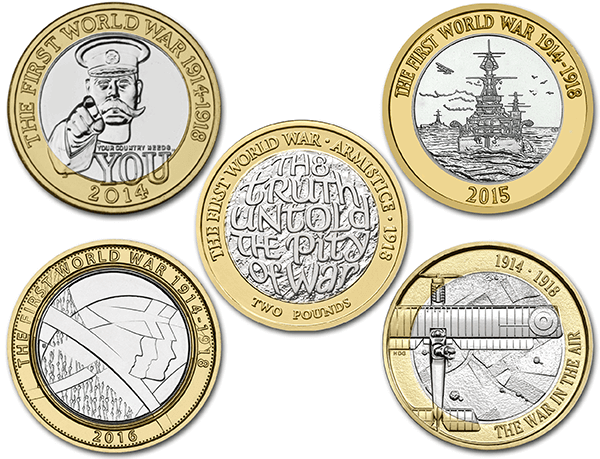 To mark the centenary of the First World War, the Royal Mint revealed a five-year commemoration of the wartime journey from outbreak to armistice.
The first coin in the series bears sculptor John Bergdahl's depiction of Lord Kitchener's famous call to arms alongside the words YOUR COUNTRY NEEDS YOU. The British Secretary of War became synonymous with the enlistment campaign when war was declared on 4th August 1914.
Following coins in the series have featured renowned military artist David Rowlands design for the reverse of the Navy coin, Tim Sharp's Army design honouring the 'Pals Battalions', the Aviation design by 'Tangerine' and Stephen Raw's interpretation of Armistice which features the words 'The truth untold, the pity of war', from the Wilfred Owen poem Strange Meeting.
As this year marks the centenary of the end of World War One, this coin series is particularly poignant.
RAF £2s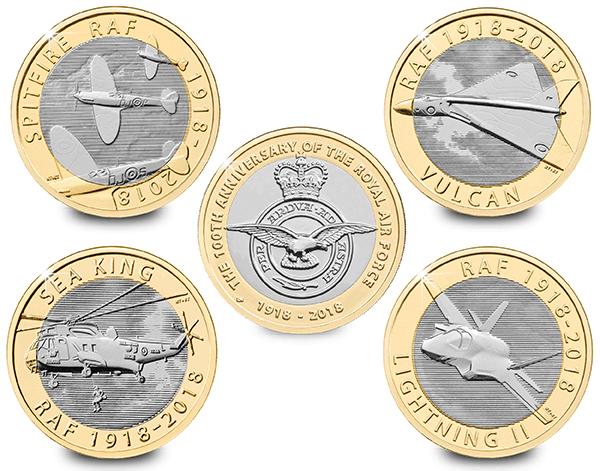 In this special centenary year, the Royal Air Force has been commemorated with a series of five brand new £2 coins!
The Royal Air Force was formed on April 1st 1918, in the early years of aviation. It was the world's first independent air force, and is recognised today all over the world for its capability, courage and innovation, which has been represented on these striking coin designs, depicting some of the most iconic RAF aircraft ever flown. 
These coins haven't been released into circulation yet, but are already proving to be hugely popular with collectors and RAF supporters alike.
The first coin in the series features the synonymous RAF Badge, whilst the other four coin designs represent aircraft including the Spitfire, Vulcan, Sea King and F35 Lightning.
This striking series has been voted in second place by Change Checkers which is a fantastic achievement for these brand new coins.
A-Z 10p coins!
26 new UK commemorative 10p coins were released into circulation this year and collectors across the country have joined the nationwide coin hunt to get their hands on these hugely sought-after little coins.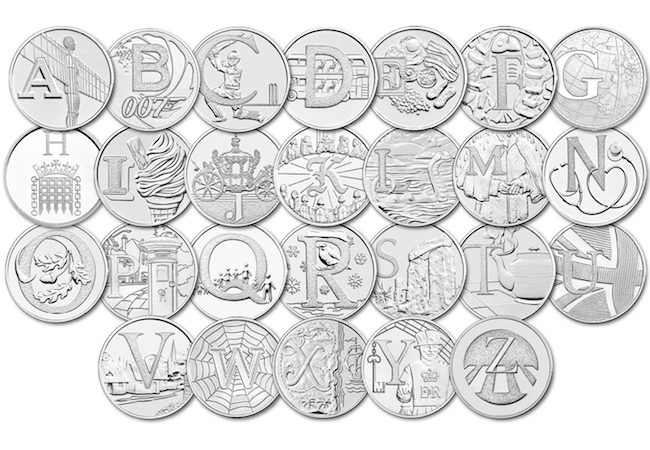 The coins each feature a different letter from A-Z and each letter celebrates a different Great British icon, from Angel of the North to Zebra Crossing and everything in between (my personal favourite is 'G' for Greenwich Meantime).
We know that 2.6 million have been released so far overall, but exact mintages for each design are not yet available and so collectors are desperately trying to build up their collection of all 26 coins.
Whilst reports have come in from people starting to find these coins, they are certainly proving tricky to get hold of and it seems that they are quickly being snapped up by eagle eyed collectors!
These little coins have made the top three as voted by Change Checkers, but have you found any in your change and which design is your favourite?
Results of the vote!
It's always worth taking time to appreciate the fantastic designs we see on UK coinage and I must say that each of these series is truly unique and impressive in its own way.
So now you've been brought up to speed with the top UK coin series, take a look at which series Change Checkers have voted as their favourite.
See the results of the vote here:
---
Which UK coins are missing from your collection?

Click here to views all UK coins available to purchase in Brilliant Uncirculated quality >>
The first Change Checker Scarcity Index update of 2018 is here. The 50p and £2 Scarcity Indexes have been compiled using data from the first three months of the year.
We've added a new feature to help you track the performance of your coins. The arrows signify how many places, up or down, a coin has moved on the Scarcity Index; any coins with a yellow star are making their first appearance after having been released into circulation.
50p Scarcity Index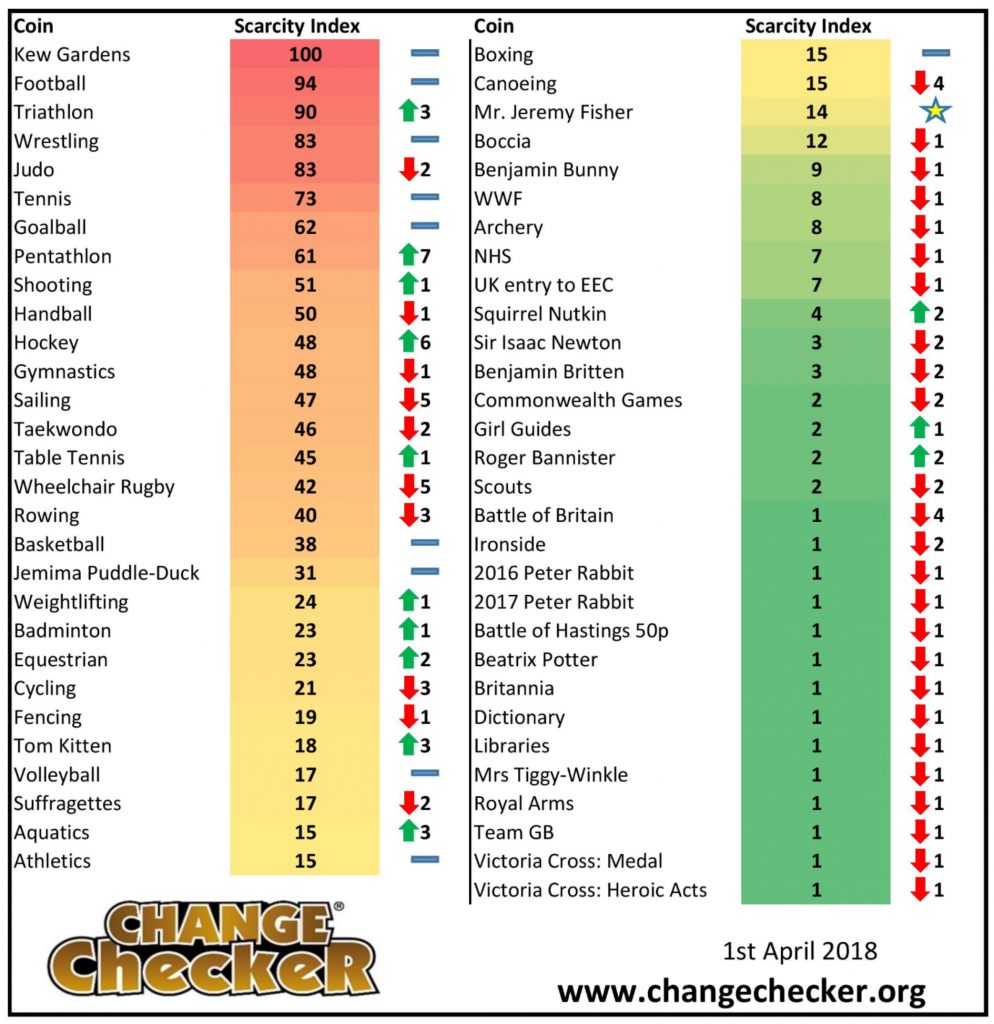 Kew Gardens remains the most scarce UK 50p coin which is not surprising with a mintage figure of just 210,000. There are a number of coins which have moved up the index quite significantly, such as Shooting, Pentathlon and Hockey, all part of the 2012 Olympic series.  Also, Triathlon moves it into the top 3, replacing Judo.
Sailing and Wheelchair Rugby, part of the same series, have not performed as well and both have move down 5 places.
Jeremy Fisher makes its debut in our Scarcity Index with a score of 14, making it the third scarcest Beatrix Potter coin behind Jemima Puddle-Duck and Tom Kitten.
£2 Scarcity Index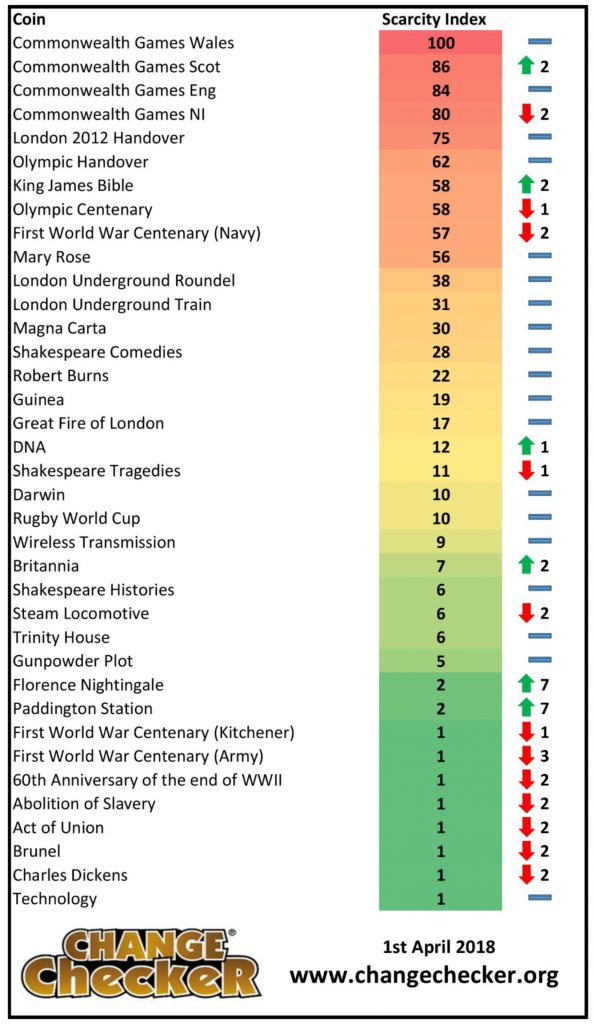 There's not a huge amount of movement in this quarter's update and also no new coins have been added. The 2017 WW1 Aviation and Jane Austen £2 coins are yet to enter circulation.
The Commonwealth Games Wales coin retains its spot at the top of the £2 Scarcity Index with Scotland moving up to 2nd. Interestingly Northern Ireland drops down to 4th place due to far less swap demand than the other 3 coins in the 2002 Commonwealth Games series. In fact, in this quarter, the Northern Ireland coin was requested to swap almost 50% less than the Wales, Scotland or England.
There's a particularly strong performance from the Florence Nightingale and Paddington Station coins, each moving up 7 places.
The First World War Centenary (Army) is the worst performing coin, moving down three places.
What about the A to Z 10p coins?
Unfortunately, at present, there is simply not enough data to accurately compile an A to Z 10p Scarcity Index. However, we have a few early indicators to show which 10p coins may become the most scarce in future.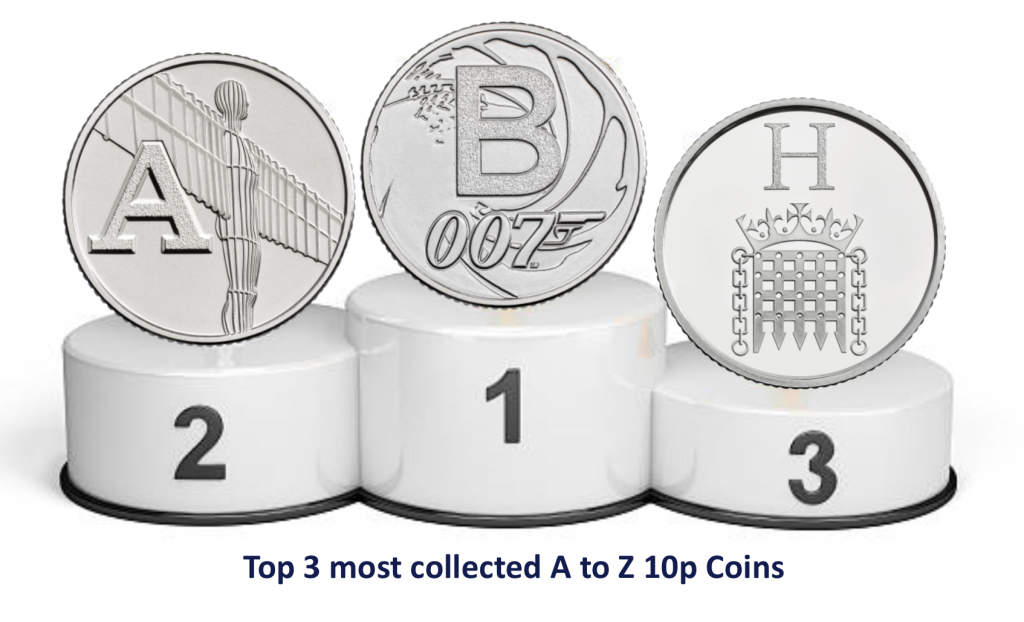 The three A to Z 10p coins that most people have in their collection are B-Bond, A-Angel of the North and H-Houses of Parliament. As people are struggling to find these coins in their change, the majority of coins in people's collections would have been 'Early Strike' coins that they have purchased. Therefore this would indicate that, at this stage, these three designs are amongst the most desirable.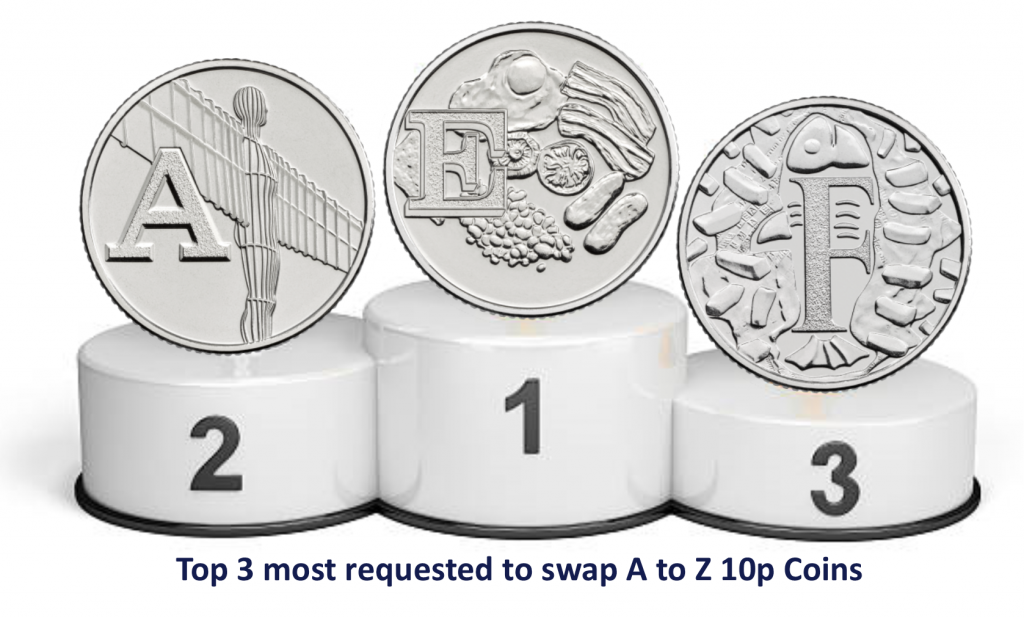 The three A to Z 10p coins that most people are looking to add to their collection are E-English Breakfast, A-Angel of the North and F-Fish and Chips. Interestingly, A-Angel of the North appears on both lists meaning that, at this very early stage, it's arguably the most popular A to Z 10p coin.
How the Scarcity Index works
Generally collectors have had to rely upon mintage figures to identify the scarcest coins.  But they only tell part of the story.  Trying to find a good quality coin from 15 – 20 years ago, even for a higher mintage issue, is much more challenging than a more recent issue, as coins become damaged over time and are ultimately removed from circulation.
Additionally, some designs are more hoarded than others by people who might not normally collect coins – the recent poignant First World War £2 Coin series being an example.  Finally, it can be up to a couple of years before the Royal Mint eventually confirms the actual mintage for an issue.
That's why we have combined the mintage information with two other key pieces of information.
How many of each design are listed as "collected" by Change Checkers, indicating the relative ease of finding a particular coin.
The number of times a design has been requested as a swap over the previous 3 months, showing the current level of collector demand.
Importantly, as new coins are released and popularity rises and falls across different designs the Scarcity Index will be updated quarterly allowing Change Checkers to track the relative performance of the UK's circulation coins.
How much are my coins worth?
The Scarcity Index does not necessarily equate to value but it is certainly an effective indicator.  For example, the Kew Gardens 50p coin commands a premium of up to 160 times face value on eBay.
What about £1 Coins?
The £1 Scarcity Index has already been published for the Round £1 coins and, because they are no longer being issued, this is now set in stone.
The Royal Mint announced Britain's new A to Z of Britain 10p coins to the public in March this year and since then they have created quite a stir in the world of coin collecting…
Thousands of collectors flocked to buy them, crashing the Mint's website and emptying stocks at the Royal Mint Experience.
At the same time Change Checkers have been asking the question "when will I find an A to Z 10p in my change?"
So let's take a proper look at the situation.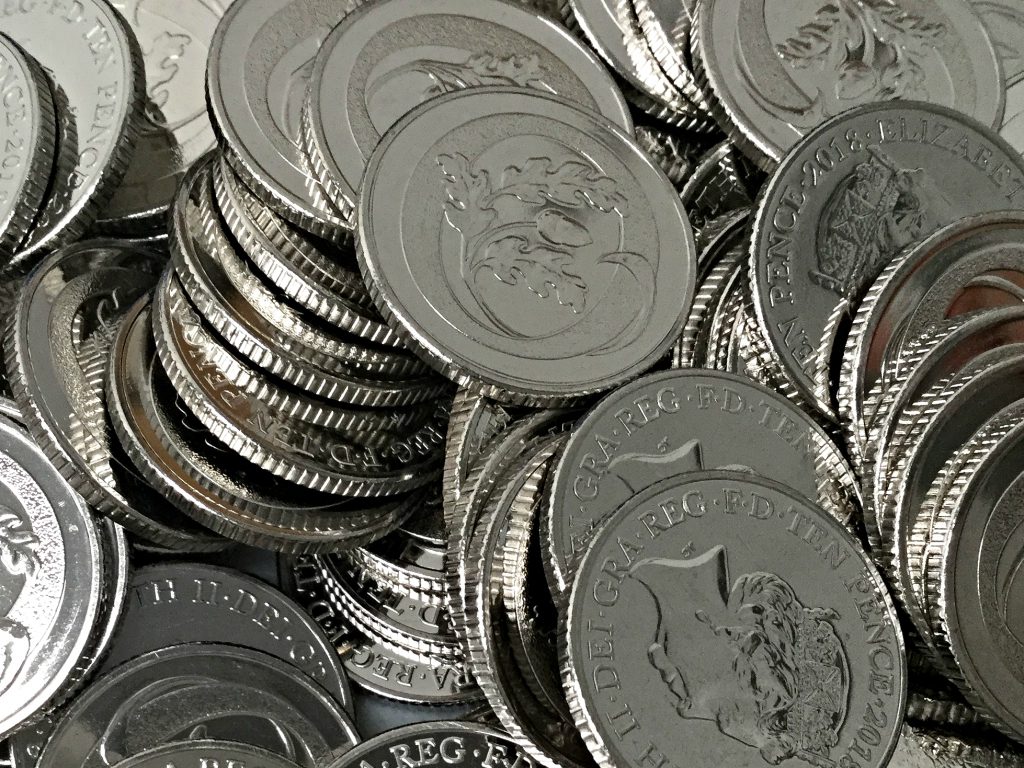 The Royal Mint does not actually control coins going into circulation.
I know this might sound a little hard to believe but The Royal Mint does not actually have any real control over how and when coins go into circulation. This is essentially managed between HM Treasury and the large cash distribution services run by the Post Office and some banks, as well as private operators. Between them they handle, sort and distribute the billions of coins in circulation, even swapping stocks between themselves.
It's only when they are short of a particular denomination that they call off stocks from The Royal Mint, who act as the manufacturer of the coin on behalf of the Treasury.
In short, The Royal Mint can only push the new 10p coins into circulation as and when there is demand from these cash distribution centres.
Early release of 2.6 million coins
All circulation designs do eventually make their way into circulation and in time into our pockets. However, it has been the case since commemorative 50p coins started to issue more regularly from the 1990s that, for the reasons explained above, it can be some months until cash centres call off new supplies. Indeed, it is not that unusual that the coins do not enter circulation until the following year.
With this in mind, The Royal Mint worked closely with the cash handling industry to introduce a small quantity of 10ps into circulation which were issued through the Post Office network.
Don't forget that 2.6 million coins is an initial early release – it is not the total quantity of coins that will ever circulate at face value. The expectation is that more 10p coins will enter circulation when required by the cash centres.
In addition, The Royal Mint also has plans for limited releases of coins at face value in appropriate locations across the UK during the rest of the year. Don't worry – we'll keep you up to date with all the news.
Additional 2.6 coins released
In October 2018, The Royal Mint and HM Treasury confirmed that a further 2.6 million A-Z 10p coins would enter circulation and this time the coins would be distributed through more normal networks including banks and cash distribution centres.
This will be welcome news to collectors who have been struggling to lay their hands on the new 10ps since the initial release in March. We're hopeful that additional volumes will continue to be struck in line with UK requirements and of course the massive collector demand.
So how can I collect my 10p coins for face value?
Well first off, it's fair to say you'll probably need a degree of patience. Don't forget commemorative coins do not normally enter circulation particularly quickly and there's no doubt that the first tranche of coins have been snapped up extra fast by keen collectors (and possibly even some Post Office staff).
Royal Mint estimates from 2016 suggest that there are 1.7 billion 10p coins in circulation. The expected annual demand for 10p coins is approximately 60 million per annum.
It's also clear that the demand for coins amongst the cash centres is currently relatively low. It's believed that many people cashed in additional denominations at the same time as their old £1 coins, helping to increase stocks, as well as the increased use of cashless payments having an impact.
So, it's practically impossible to say how many 10p coins will enter circulation this year. However, whilst we almost certainly won't see distribution in the hundreds of millions, Change Checkers should remain hopeful of more opportunities to collect the A to Z of Britain 10p coins straight from their change throughout this year and maybe even into next.
Conclusion
Yes, finding an A to Z 10p in your change is a pretty tough ask at the moment but the situation will improve over time.
Will they be rare? Certainly their level of popularity with collectors has been unprecedented and so it seems likely they'll always be a tough coin to find and, at 10p each, I'll definitely be putting any I find aside!
---
Get ahead of the crowd by owning the complete A-Z 'Early Strike' 10p Set TODAY!