Posts Tagged 'Christmas coin'
A Christmas Carol, published in 1843, is arguably one of Charles Dickens' most famous novels – teaching us to keep the spirit of Christmas and kindness in our hearts all year round.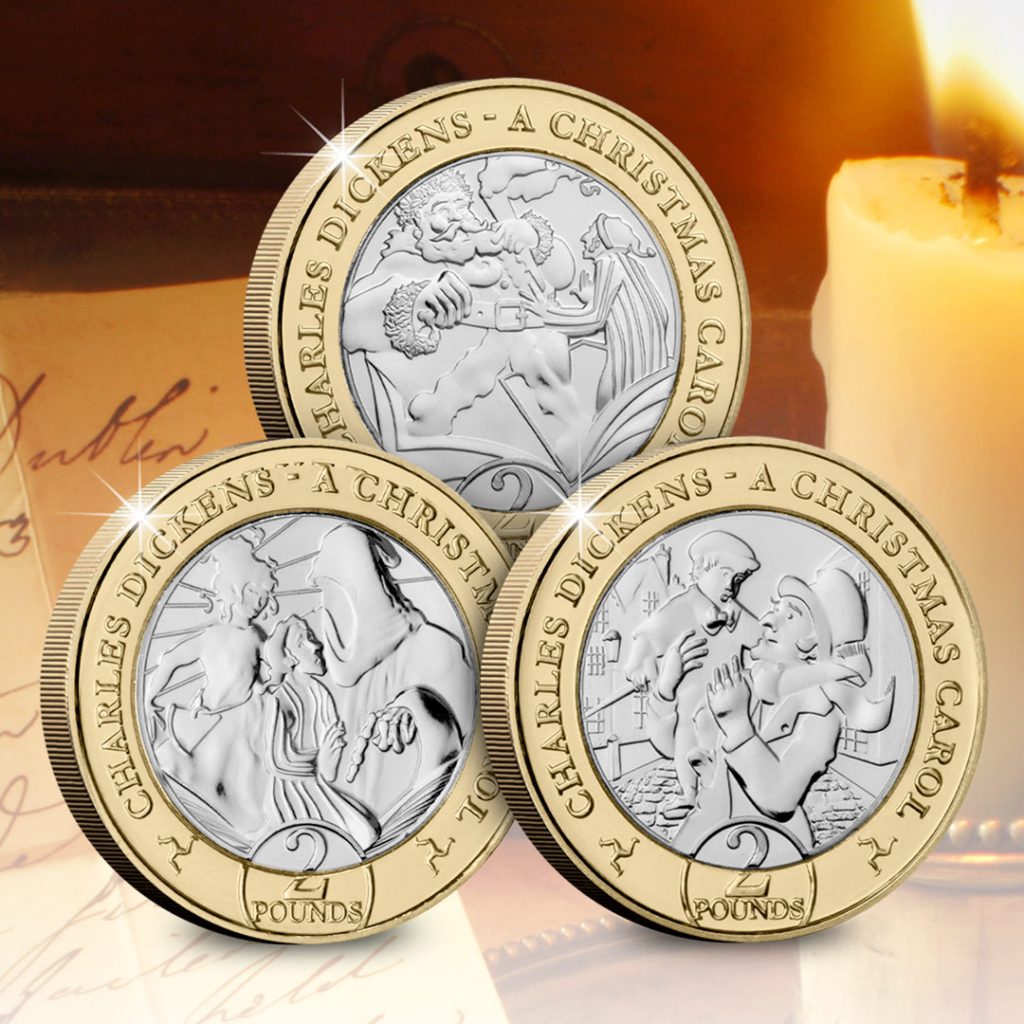 And, in this 150th year since the passing of the greatest novelist of the Victorian Era, Charles Dickens has been celebrated with the release of three enchanting £2 coins, each inspired by his timeless festive tale, including:
Scrooge and the Ghost of Christmas Present
Scrooge and the Ghost of Christmas Past and Ghost of Christmas Yet to Come
Scrooge with Tiny Tim as a representation of his redemption
The 2020 Isle of Man 'A Christmas Carol' £2 Set is a truly unique festive addition to any collection this Christmas season, or could even make the perfect Christmas gift or stocking filler for a friend or relative!
We only have a limited stock available for Change Checkers, so don't miss out on your chance to own this BRAND NEW 2020 'A Christmas Carol' £2 Set for JUST £25.00 (+p&p) by clicking here >>
---
Following in the popularity of previous Isle of Man Christmas coins, this set is sure to be in high demand amongst collectors.
JUST 3,000 of each design will be entering circulation on the Isle of Man, so these coins will be particularly hard to come by, as i'm sure collectors on the island will be quick to snap them up!
Let's a take a look at some other festive issues we've seen from the Isle of Man…
2019 Santa £2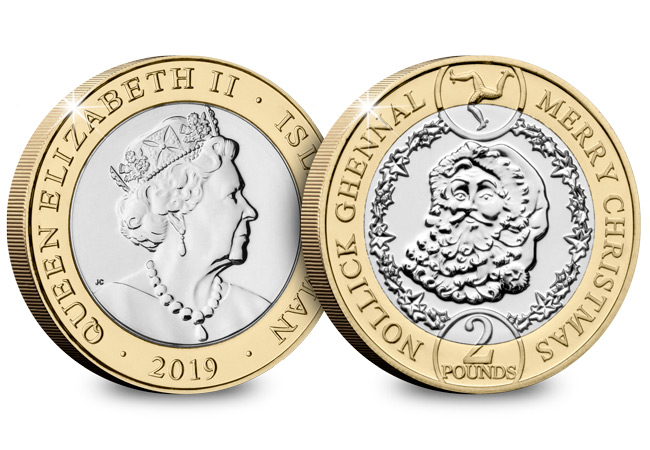 Traditionally, the Isle of Man release Christmas themed 50ps most years, however last year, this incredibly popular Santa £2 coin was released
This magical design features an enchanting portrait of Old St. Nick and bears the inscription 'Nollick Ghennal' which is Manx for 'Merry Christmas'.
At the top of the coin, the distinctive Isle of Man Triskelion (three armoured legs) can be seen.
2003 Snowman 50p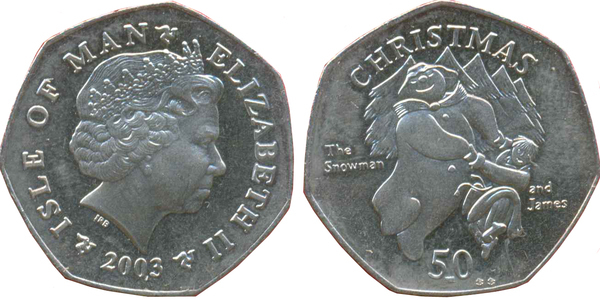 2003 marked the very first time The Snowman featured on circulating coinage.
The Isle of Man released a limited-edition coin to mark the 25th anniversary of the release of the 'The Snowman' by Raymond Briggs.
Only 10,000 of these coins were ever minted, which makes it incredibly sought-after. In fact, this coin sells for well over face value on the secondary market, often fetching more than £200!
Since 2003, the Snowman has featured on a number of Isle of Man Christmas coins, and has even made two appearances on UK coins, which have been incredibly popular with collectors!
2018 Hunt the Wren £2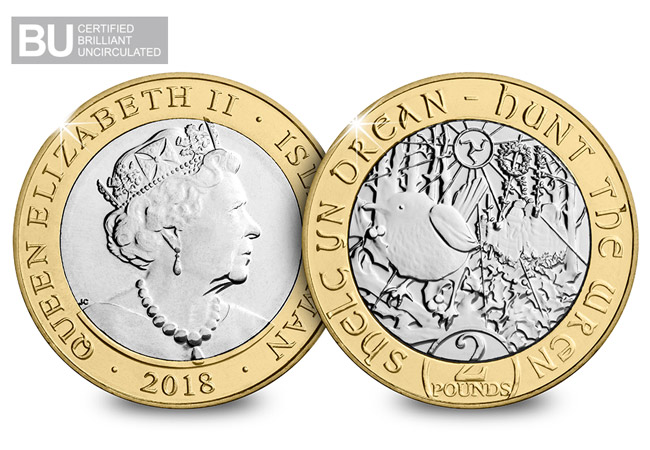 On boxing day on the Isle of Man, communities come together across the island to dance and sing in the streets around "the king of all birds" who is paraded around on a pole.
Hunt the Wren, as it is known on the island has become one of the most popular yet more unusual Manx traditions in practice today.
The practice dates back to Pagan times and is centred on the wren bird, which is hunted and then danced through the streets on a special pole.
This £2 coin was issued in 2018 by The Isle of Man to celebrate the Manx tradition.
2013 Christmas Wreath and Stocking 50p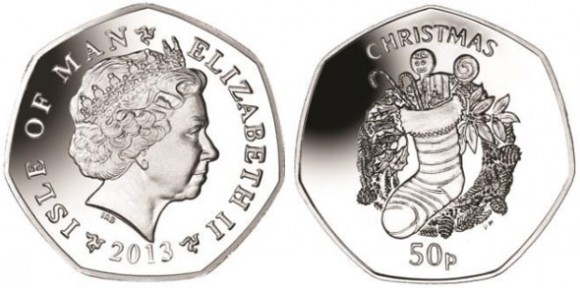 This festive 50p was issued in 2013 on the Isle of Man and features a traditional Christmas wreath and stocking.
It is estimated that only 30,000 of these coins entered circulation on the Isle of Man, making them particularly sought-after. Due to the island having a population of less than 85,000, mintages tend to be much lower than we see in the UK.
---
Let us know in the comments below what you think of these brand new A Christmas Carol £2 coins!
Will you be bringing them home this Christmas?
---
Secure this set of three 'A Christmas Carol' £2 coins to your collection today!
These coins truly are a wonderful addition to any collection and can even make the perfect gift for a loved one!
Secure yours today for JUST £25.00 (+p&p) by clicking here >>
It's time to dust off your stockings and light the fire because Christmas is officially round the corner!
And, there's nothing like a carol service to get you in the Christmas spirit. So, to celebrate this very festive tradition, FIVE brand new coins have been authorised for release by Guernsey Treasury!
The Christmas Carol 50p Coin Collection
Each coin features a specially commissioned design of some of the most renowned Christmas carols including; Away in a Manger, Hark the Herald Angels Sing, O Little Town of Bethlehem, While Shepherds watched their flocks, and We Three Kings.
These coins have been authorised for release by Guernsey Treasury and fully approved by Her Majesty the Queen.
The Christmas Carol 50p BU Set
Available in Brilliant Uncirculated quality, all five coins are housed in a festive presentation pack and importantly, this is one of the only ways to own all five of these coins as a complete set!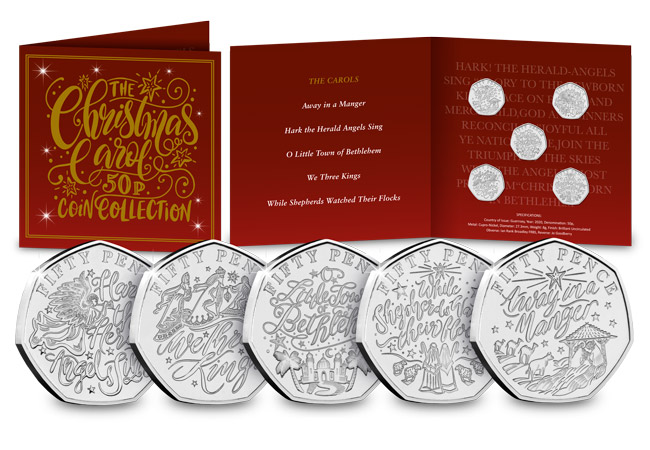 Don't miss out on adding these festive coins to your collection, or securing them as a gift for your loved ones, for JUST £30. Click here to find out more >>
The Christmas Carol 50p Silver Proof Set
Or, for those collectors looking for a little more Christmas sparkle, these coins are also available in stunning .925 Solid Silver.
What's more, they feature stunning coloured illustrations by Jo Goodberry (you may remember she designed the immensely popular Pantomime 50ps last year) and have been struck to a pristine Proof finish.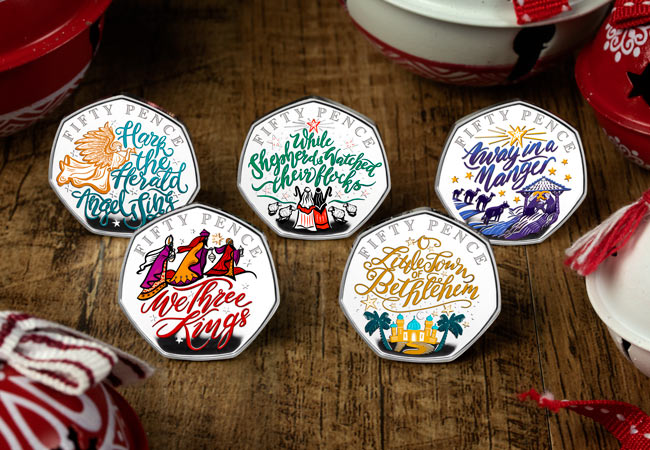 These 50ps are only available as a set and if you don't want to miss the chance to own them, you'll need to act fast, as they have been issued with some incredibly low edition limits…
An extremely limited worldwide mintage of JUST 2,020 has been set for the incredible .925 Silver set.
The coins will arrive ready to display in a deluxe presentation case with a numbered certificate of authenticity.
Hark the Herald 50p Christmas Card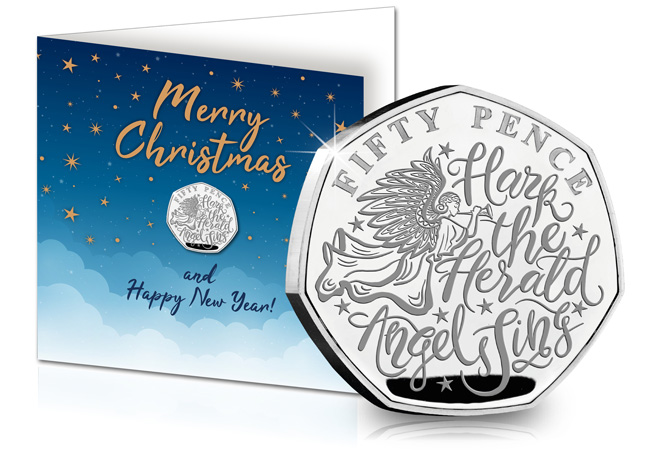 Struck to a superior Brilliant Uncirculated quality, the 'Hark the Herald' 50p from the Brand New Christmas Carol 50p collection has been presented in a beautiful Christmas card which has been left blank inside to write your own personalised message to someone special.
This specially commissioned design by Jo Goodberry features a silhouette of an angel with the title of the carol 'Hark the Herold' to the right of the coin. What's more, the 'Hark the Herold' Christmas 50p is the only coin from the collection to be available individually within this stunning Christmas card.
The 50p has firmly established itself as the collector's favourite, and as such demand for this BRAND NEW Christmas 50p is bound to be incredibly high, especially when you consider the popularity of last year's Christmas Pantomime 50ps.
You can secure the Hark the Herald 50p Christmas card today for JUST £7.99 (+p&p) by clicking here >>
The Christmas Carol 50p BU Complete Cover
For the creme-de-la-creme, and by far the most limited way to own these coins, the Christmas Carol 50p BU Complete Cover has been issued.
Each coin has been struck to a Brilliant Uncirculated finish, and is one of just 750 that have been allocated for use in your cover. Almost certainly, this is the smallest edition presentation of the new BU 50p coins that you're likely to see.
Paired alongside your coins is the complete set of elusive 1984 Official Royal Mail Christmas Carol Stamps. Featuring classic carols such as While Shepherds Watch and We Three Kings, these stamps are without a doubt the perfect pairing to your coins.
Each stamp has also been officially postmarked on the first day of Advent, 1st December 2020".
Click here to secure one to your collection or to guarantee it as a gift for a loved one this Christmas >>
Sought-after Guernsey coins
Last year, Guernsey Treasury released their FIRST-EVER Christmas coins, the Pantomime 50p collection and these were incredibly popular with collectors both in Guernsey and the UK!
Guernsey mintage figures are known for being much smaller than the UK, which is down to their much smaller population of just over 63,000, which makes their coinage incredibly sought-after!
But it's fair to say that Christmas themed coins make a particularly envious addition to anyone's collection, with the numerous festive 50ps from the Isle of Man proving to be incredibly popular.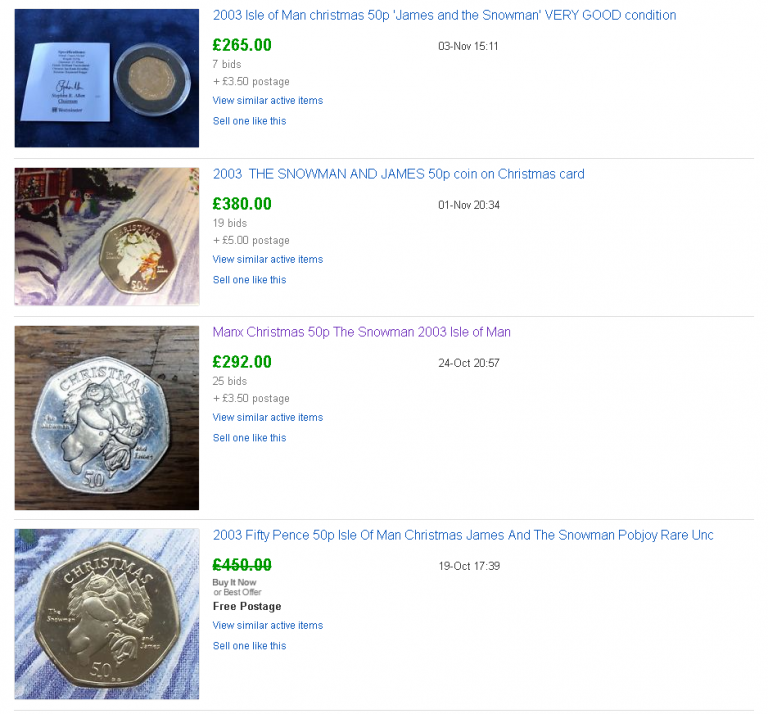 Collectors have been known to pay over £20 for a festive 50p from the British Isles and Channel Islands, so we expect these brand new Christmas Carol 50ps to be incredibly sought-after!
---
We love these brand new coins and we're sure collectors everywhere will too!
Which 2020 Christmas Carol 50p is your favourite? Let us know in the comments below!
---
Secure the 2020 Christmas Carol 50p BU Set for JUST £30!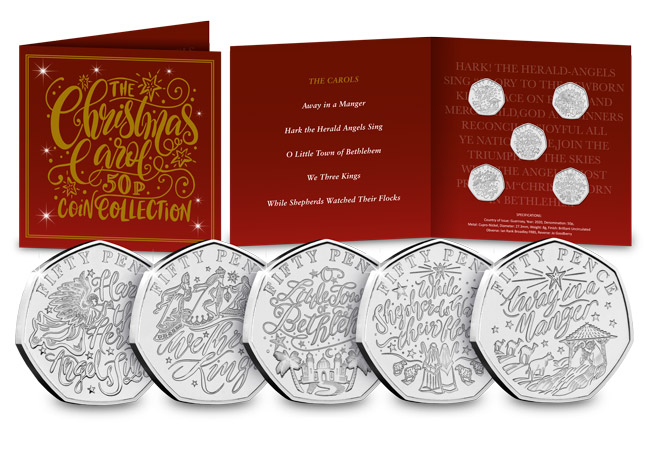 Bring the magic of Christmas home this year, with the brand new Christmas Carol 50p BU Set.
Secure yours for £30 (+p&p) by clicking here >>
Earlier in the year, we revealed that the incredibly popular Paddington 50p coins were to be followed up by a brand new 50p coin…
The coin has been officially released today and we are delighted to be able to reveal the design…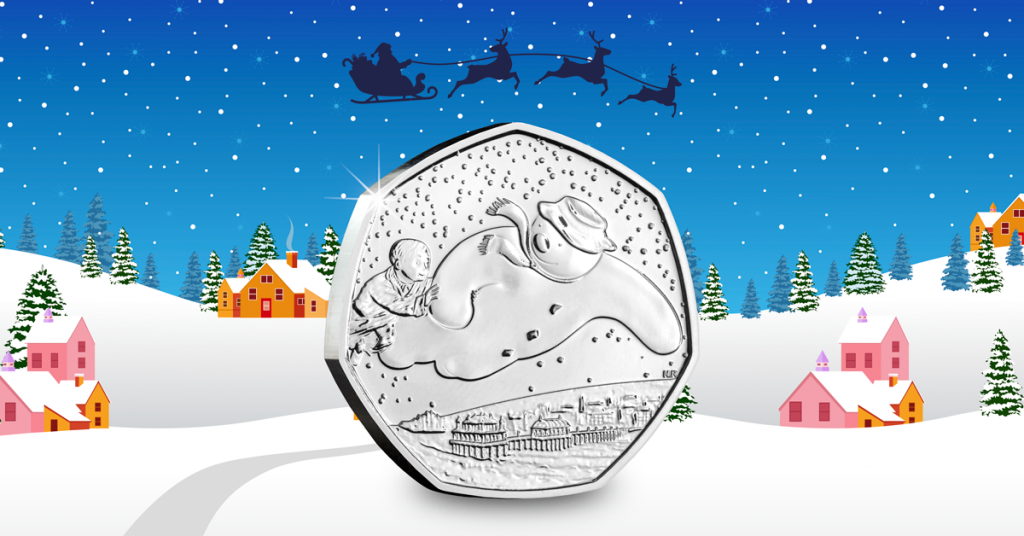 The coin has been issued by The Royal Mint to celebrate 40 years of Raymond Brigg's classic story The Snowman, and features the Snowman and the boy flying through the air. It has been designed by a member of the Council of the British Art Medal Society, Natasha Ratcliffe, who also designed a number of coins in the Olympic 50p Series.
Commemorative collector editions are available in Brilliant Uncirculated, Silver with colour PAD printing and Gold but unfortunately due to the seasonal nature of the coin and insufficient demand from banks and cash centres, The Royal Mint have confirmed that the Snowman 50p will not enter circulation. 
Keen collectors will know that it is not the first time that the snowman has appeared on a 50p coin. In fact the Christmas character has features on a number of different 50ps from The Isle of Man throughout the years, some of which are now listed on the secondary market for as much at £40.
  So are you pleased with the design and was it worth the wait? Let us know in the comments below.  
---
Add the brand new coin to your collection today for just £3.99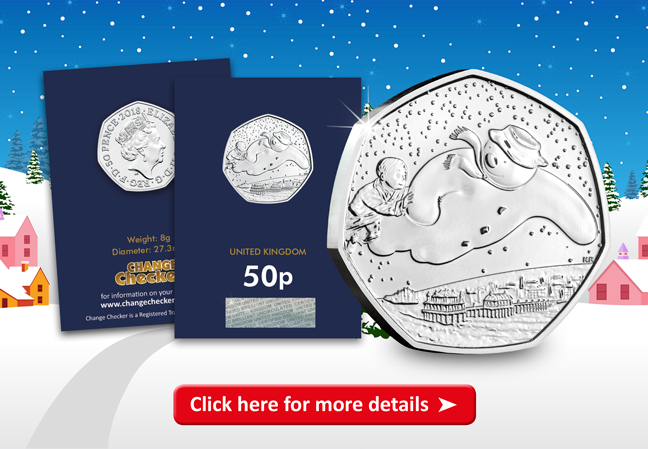 Click here to secure this season's must-have 50p coin in Brilliant Uncirculated quality >>