I can't help but get a bit excited at this time of year, and now that my Change Checker Advent calendar is counting down to Christmas, I really can't wait for the big day!
But what's got me even more excited is to see how Santa's little elves have been busily working away this year to release the most wonderfully festive coins in time for Christmas.
From all across the world we've seen renowned Mints issue beautiful Christmas coins that would take pride of place in any collection and I for one would certainly treasure forever (here's hoping there's one for me under the tree this year!).
I've put together a list of some of my favourite 2018 Christmas coins from around the world that I'd like to share with you, starting of course with the UK Nutcracker £5.
2018 UK Nutcracker £5
We all know that £5 coins are the ultimate collector's piece, so I really enjoyed seeing this year's festive £5, the Nutcracker.
The 2018 Christmas £5 coin features a magical design of an enchanting Nutcracker scene, by acclaimed engraver, Harry Brockway. According to legend, 'Nutcracker' represents strength and power and serves as a guardian – the perfect protector to watch over your family this Christmas time.
This is actually only the second time ever that The Royal Mint has released a Christmas £5 coin, and I'm sure that collectors will want to stay on top of this new tradition and make sure they don't miss any of these coins for their collection, starting with last year's Christmas Tree £5.
2018 UK The Snowman 50p
I love The Snowman Christmas story and so it came as no surprise to me to see that this coin was a favourite this year, with both Silver Proof and Gold versions completely SELLING OUT on the first day of issue!
Issued by The Royal Mint to celebrate the festive season, The Snowman 50p marks the 40th anniversary of the publication of Raymond Briggs' much-loved festive tale and was designed by Natasha Ratcliffe to depict the boy and the snowman flying through the night sky above Brighton Pier.
The Isle of Man has previously issued Christmas 50ps featuring The Snowman and these now sell for £100's on the secondary market, which I'm sure would have added to the collectability of this first ever UK Christmas 50p.
2018 Isle of Man Wren £2
You might be familiar with the Isle of Man Christmas 50p coins, but this Christmas a very special £2 coin has been issued featuring a festive wren design.
Hunt the Wren, as it is known on the island has become one of the most popular yet more unusual Manx traditions in practice today, although it actually dates back to Pagan times! This year, the Boxing Day tradition has been celebrated on a £2 coin and only a limited quantity of these coins will enter circulation on the Isle of Man.
Typically, the mintages for Isle of Man coins are much lower than UK coins, with none of the previous Manx Christmas 50ps exceeding 30,000!
2018 Canada 3D Snowball Fight 50 Cents
We all love a snowball fight! Chances are though that in the UK we won't see quite as much snow (if any) this year as Canada. But don't despair, as this wonderful Canadian 50 Cent coin allows you to bring to life the magic of a snowball fight on an innovative 3D coin!
The Royal Canadian Mint is renowned for their forward thinking technology, and this Christmas they have used lenticular printing to create artist Tony Bianco's fun-filled design with an illusion of depth, which actually appears to move as the coin is viewed from different angles – so watch out for those snowballs!
It really put a smile on my face when I came upon this coin in my research, and with a mintage of just 20,000 I'm sure Canadian Change Checkers will be eager to add this coin to their collection.
2018 Australia Looney Tunes Christmas Star Shaped $1
When it comes to dressing the Christmas tree this year, I'm sure Australian Change Checkers will be thrilled with this exquisite star shaped 99.99% Pure Silver $1 coin, which comes with protective casing that can be hung as a decoration.
The Perth Mint has produced some fantastic star shaped Christmas coins over the past few years and this year's coin is no exception. One of the best known animated characters of all time, Buggs Bunny and his girlfriend Lola are celebrated in colour printing for this vibrant and festive Looney Tunes design.
This coin is actually legal tender in Tuvalu (a small island off Australia), but I certainly wouldn't be spending it if I found one in my stocking!
2018 New Zealand Disney Silver $1
2018 must be the year for animated characters, as the new $1 from New Zealand features the iconic Mickey Mouse and his friends for this Disney Christmas themed 999 Fine Silver coin.
This is the fifth annual release from the New Zealand Mint and has been so incredibly popular this year that it has in fact sold out completely! Although with such an appealing theme and a very low mintage of just 10,000 this comes as no surprise to me.
Like the Australian Christmas coin, this $1 also comes in a special presentation case to be hung as a decoration – just imagine creating your very own tree filled with international Christmas coins!
I'm sure you'll agree that wherever you are in the world, there's something extra special about a Christmas coin which brings everyone together at this time of year. Whether or not you're a dedicated collector, or simply enjoy Christmas collectables, these coins are impossible to resist!
---

Secure the perfect numismatic gift this Christmas!
With Christmas just around the corner, check out our charming selection of festive commemoratives that could make the perfect gift for friends or family, or as a special Christmas treat for yourself… we won't tell if you don't.
There are countless coins thought to be lucky, but there's one lucky coin in particular which comes to my mind at this time of year…
The much-loved lucky Sixpence has been a part of Christmas traditions for generations and as this weekend marks 'Stir-up Sunday', we take a look back at the tradition that harks back to Victorian times.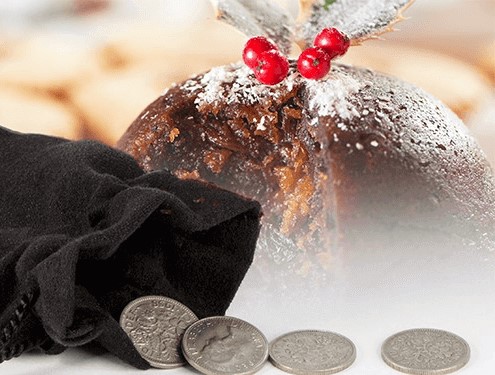 Christmas tradition
Stir Up Sunday is celebrated five weeks before Christmas Day, when the whole family would gather together to stir the Christmas pudding and make a special wish for the year ahead.
The Christmas pudding itself is said to have been introduced to Britain by Prince Albert, husband of Queen Victoria and traditionally, when making the pudding, a sixpence would be added to the mix.
This was said to bring wealth and good fortune in the coming year if you found the coin in your portion on Christmas day.
It's no surprise that collectors love these coins so much. The 1961 Sixpence below can be seen featuring an entwined design of a flora, leek, rose, thistle, and shamrock, the sixpence has long been a token of good luck so is an original and thoughtful gift for a friend or relative.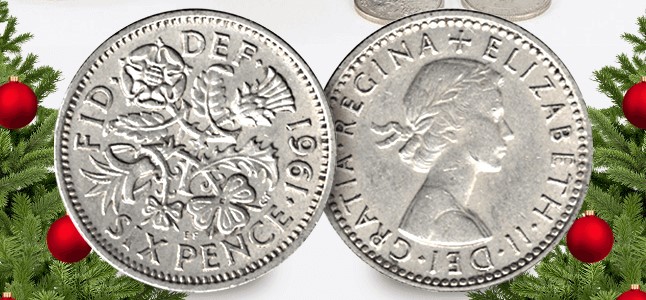 The Sixpence was first minted during Edward VI's reign in 1551 and was struck in silver up until 1947. From this date onwards the coin was struck in cupronickel.
But there is one particular Victorian Sixpence that collectors hunt for…
The 1887 Withdrawn Silver Sixpence
In 1887, new coin designs were to be issued for Queen Victoria's Golden Jubilee. Surprisingly, the Silver Sixpence shared the same design as the Gold Half Sovereign.
Of course, it didn't take long for some crafty opportunists to start coating the Silver Sixpence in gold paint after realising they could easily be passed off as the far more valuable Half Sovereign.
The authorities hastily withdrew the Sixpence and a quick redesign took place, with the new 1887 Sixpence reverting to a design similar to previous years, with a crown at the top of the design and a wreath around the sides, with "SIX PENCE" written across the middle of the coin.
Nobody can be sure how rare these coins are, as mintage figures only record how many Sixpences were issued each year, rather than individually listing each design type and, because there were three different designs of the Sixpence in 1887, it's impossible to know how many withdrawn coins survived.
One thing is certain though, the withdrawn coin is the Sixpence collectors hunt high and low for.
So whether you're looking to hunt down a rare Sixpence for your collection, or if you're preparing your Christmas pudding ready for Stir Up Sunday, we wish you the very best of luck this festive season.
---
Secure a special set of six Sixpences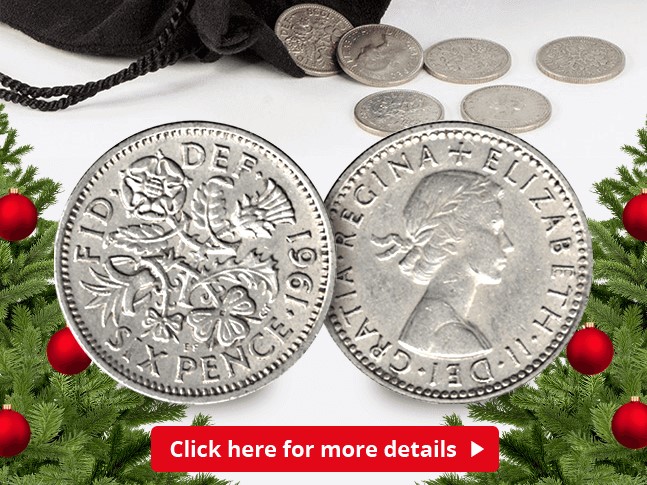 The Sixpence has long been a token of good luck so is an original and thoughtful gift for a friend or relative.
Earlier in the year, we revealed that the incredibly popular Paddington 50p coins were to be followed up by a brand new 50p coin…
The coin has been officially released today and we are delighted to be able to reveal the design…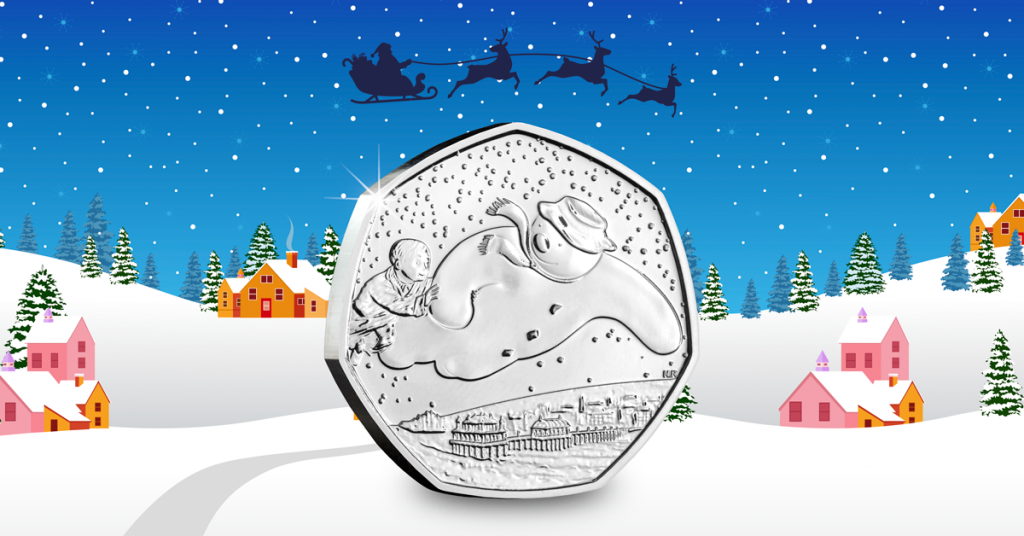 The coin has been issued by The Royal Mint to celebrate 40 years of Raymond Brigg's classic story The Snowman, and features the Snowman and the boy flying through the air. It has been designed by a member of the Council of the British Art Medal Society, Natasha Ratcliffe, who also designed a number of coins in the Olympic 50p Series.
Commemorative collector editions are available in Brilliant Uncirculated, Silver with colour PAD printing and Gold but unfortunately due to the seasonal nature of the coin and insufficient demand from banks and cash centres, The Royal Mint have confirmed that the Snowman 50p will not enter circulation.
Keen collectors will know that it is not the first time that the snowman has appeared on a 50p coin. In fact the Christmas character has features on a number of different 50ps from The Isle of Man throughout the years, some of which are now listed on the secondary market for as much at £40.
So are you pleased with the design and was it worth the wait? Let us know in the comments below.
---
Add the brand new coin to your collection today for just £3.99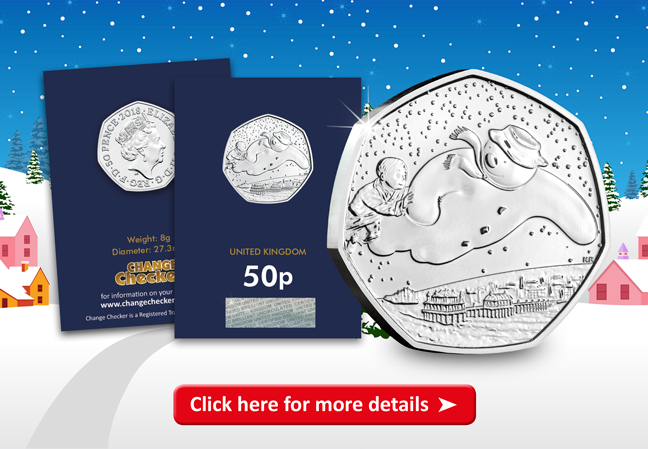 Click here to secure this season's must-have 50p coin in Brilliant Uncirculated quality >>