Posts Tagged 'coin information'
The first UK £1 coin was issued in 1983 to replace the £1 banknote, which only lasted a few months in circulation! The £1 coin quickly became a hit with collectors, with everyone trying to hunt down the different designs…
£1 coins were initially issued in recurring five year programmes including series of designs representing the UK and the home nations.
After more than 30 years in the nation's pockets, the familiar round £1 coin was replaced with an all new, 12-sided £1 coin in 2017 and it lost its legal tender status at midnight on 15 October 2017.
Despite this, some round pounds remain incredibly popular with collectors, due to their designs and their low mintages!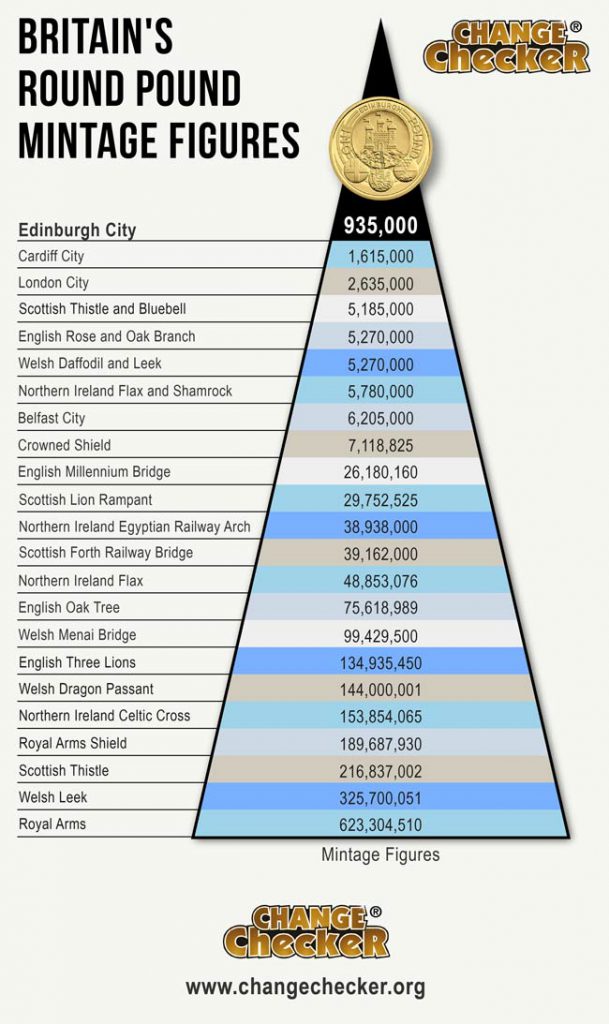 In this blog, we guide you through all of the round pound designs over the years…
Royal Coat of Arms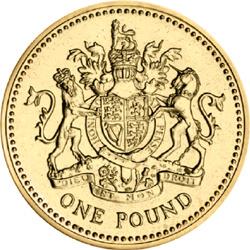 The first £1 coin design features the Royal Coat of Arms designed by Eric Sewell, a chief engraver at the Royal Mint. It also features the edge Inscription: DECUS ET TUTAMEN.
This coin was issued in 1983, 1993, 2003, 2008 and has a circulating mintage of 623,304,510.
Floral Emblems

The first reverse design series of £1 coins took floral emblems as its theme to represent the United Kingdom and its four constituent countries.
They were designed by Leslie Durbin – one of the most highly-regarded silversmiths of the 20th Century.
This series (pictured left to right) featured designs of a Scottish Thistle (1984 & 1989), Welsh Leek (1985 & 1990), Northern Ireland Flax (1986 & 1991), and the English Oak Tree (1987, 1992).
Of these coins, the Northern Ireland Flax has the lowest circulating mintage of 48,853,076.
1988 Royal Coat of Arms Crowned Shield
For the 6th year of the £1 coin, a Royal Coat of Arms design was introduced.
The first Royal Arms of England are attributed to King Richard I whose crest depicted three gold lions. Since then, the Coat of Arms has been adapted over centuries, and the reverse design of this coin displays the most modern version.
All coins dated 1988 feature this design, and 1988 was the only year it was used, making its mintage particularly low (just 7,118,825 were issued!)
Heraldic Emblems

The second series of £1 coin designs, by Norman Sillman used heraldic emblems to represent the United Kingdom and its four constituent countries.
From left to right, the series includes the Scottish Lion Rampant (1994), Welsh Dragon Passant (1995 & 2000), Northern Ireland Celtic Cross (1996 & 2001), and English Three Lions (1997, 2002).
The Scottish Lion Rampant has the lowest mintage in this series of £1 coins, with 29,752,525 entering circulation.
Bridges

The third series of £1 coin designs depicts bridges from each of the four constituent countries in the United Kingdom.
These coins were designed by Edwina Ellis (who later went on to design the incredibly popular 2019 Stephen Hawking 50p!) Pictured left to right, this series included the Scottish Forth Railway Bridge (2004), the Welsh Menai Bridge (2005), the Northern Ireland Egyptian Railway (2006), and the English Millennium Bridge (2007).
The English Millennium Bridge round pound has the lowest mintage of this series, with 26,180,160 entering circulation.
Royal Arms Shield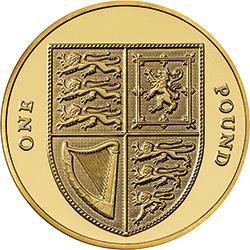 In 2008 a new reverse design for the £1 was issued featuring the Royal Shield of Arms – designed by Matthew Dent.
The edge inscription in Latin reads DECUS ET TUTAMEN which translates as; An Ornament and a Safeguard. This dates back to the first machine struck coins minted in 1662 and refers to the inscription itself which was intended to prevent people scraping valuable metal off the edge of the coin – a process known as 'clipping'.
This coin was issued for eight consecutive years from its introduction in 2008.
This coin has a circulating mintage of 189,687,930.
Capital Cities

The fourth series of £1 coins used the capital cities of the four constituent countries as the basis of the reverse design.
They were designed by Stuart Devlin, who was also the Goldsmith and Jeweller to the Queen!
The designs of these coins (pictured left to right) feature Belfast City (2010), London City (2010), Cardiff City (2011) and Edinburgh City (2011).
These round pounds have lower mintages than any previous series, with the Edinburgh City £1 having a circulating mintage of JUST 935,000! The Cardiff City £1 is close behind with a mintage of 1,615,000.
Floral Emblem Pairs
The fifth series of £1 coin designs uses pairs of floral emblems, designed by Timothy Noad to represent the United Kingdom and its four constituent countries.
The coins in this series featured designs of (pictured left to right) English Rose and Oak Branch (2013), Welsh Daffodil and Leek (2013), Scottish Thistle and Bluebell (2014), and Northern Ireland Flax and Shamrock (2014).
The coin in this series with the lowest mintage is the Scottish Thistle and Bluebell, with 5,185,000 entering circulation.
The Floral Emblem Pairs were to be the last round pound series, with the final two round pounds being issued independent of each other.
2015 Royal Coat of Arms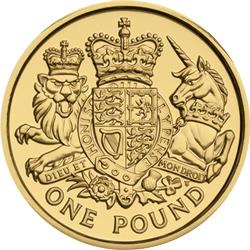 In 2015 the Royal Mint revealed a new design for the Royal Arms £1 coin.
Timothy Noad's contemporary adaptation of the traditional Royal Arms design is one of last commemorative designs to feature on the pound coin, as the newly shaped coin entered circulation in 2017.
This coin has a circulating mintage of 129,616,985.
2016 The Last Round Pound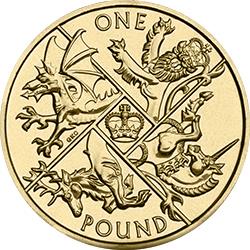 This 2016 £1 coin is the final 'round pound' issued by the Royal Mint, calling time on a coin which was first issued more than thirty years ago.
The reverse design features the animals that represent each of the four constituent UK countries and was designed by Gregory Cameron.
This coin did not enter general circulation and is only available to buy in a Brilliant Uncirculated quality.
---
So hopefully our guide to Britain's round pounds will help you along the way to expanding your collection!
What's most exciting about these coins is that they're not used in circulation anymore, which makes them particularly sought-after by collectors!
Do you have any of these coins in your collection already? Let us know in the comments below!
---
Secure the UK Royal Arms Shield Circulation £1 with FREE p&p!
Secure the UK Royal Arms Shield Circulation for JUST £5 with FREE p&p to your collection by clicking here >>
It's a question many coin collectors ask, and so in this blog we're going to get to the bottom of which UK coins really are magnetic and why!
1p and 2p coins
Prior to 1992, 1p and 2p coins were made from a bronze alloy of copper, tin and zinc.
As a result of rising prices of base metals, from 1992 onwards the composition of the coins changed to copper plated steel.
Both compositions are the same weight, diameter and design, meaning that they circulate together with no noticeable differences – other than the fact that coins with a steel core are magnetic.
The steel core of the newer coins is electroplated in copper to give them the same colour as the pre 1992 coins, so the only way to tell them apart is to use a magnet!
5p and 10p coins
As a result of metal prices rising on world markets, since January 2012 the compositions of 5p and 10p coins have been made from a plated steel, making them magnetic.
In 2013, The Royal Mint began a programme to recover old 5p and 10p coins from circulation. 330 million of new plated steel coins have been issued in their place.
In the same style as the new 1p and 2p coins, the new 5p and 10ps are electroplated, but with nickel rather than copper to give them their 'silver' colour.
Interesting Facts
When plated steel coins are attached to a magnet, the coins themselves become magnetized. With a strong magnet you can attach coins to each other and 'dangle' them. (The Royal Mint).
There are a higher percentage of magnetic 5p and 10p coins in circulation compared to 1p and 2ps.
The 5p and 10p coins became 11% thicker when their compositions changed.
In 2010, a magnetic sculpture called 'Drop' was created by Paul Cocksedge to encourage passers-by to attach unwanted pennies to its surface in aid of charity.
Have you noticed any magnetic coins in your change? Test it out for yourself and see if you can create your own magnetic artwork using these coins!
---
If you're interested in coin collecting, our Change Checker web app is completely free to use and allows users to:
– Find and identify the coins in their pocket
– Collect and track the coins they have
– Swap their spare coins with other Change Checkers
Sign up today at: www.changechecker.org/app