Posts Tagged 'Commemorative Coin'
As we celebrate the arrival of the New Year, at Change Checker HQ we're also celebrating the arrival of new coins – The 2021 Annual Coins!
We can't wait to reveal to you the new 2021 coin designs and I'm sure you'll agree that there are some really fantastic coins to look forward to.
So let's kick off the year with the coins we've all been waiting for, the 2021 Annual Set…
Decimal Day 50p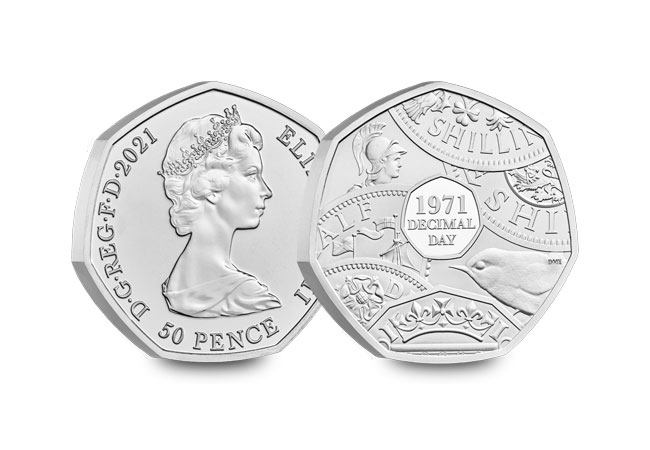 This year marks the 50th anniversary since Decimal Day on the 15th February 1971 and to celebrate the biggest change our UK coinage has ever seen, a brand new 50p has been issued.
In commemoration of the anniversary, this brand new 50p, designed by Dominique Evans, features the original Machin portrait of Queen Elizabeth II on the obverse, which featured on the very first 50p back in 1969.
The 50p has become the most-collected and best-loved decimal coin since its introduction and given the significance of this anniversary, I'm sure this 50p will prove very popular with collectors.
John Logie Baird 50p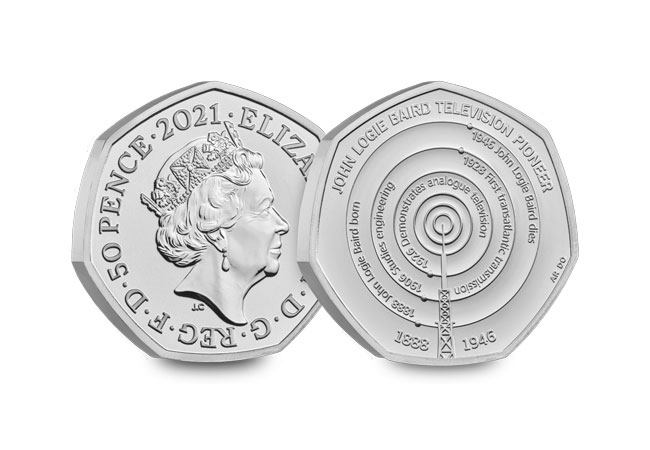 It's hard to imagine life without television but back in the 1920s, it was a complete unknown.
That was until John Logie Baird successfully produced televised objects in outline in 1924, transmitted recognizable human faces in 1925, and demonstrated the televising of moving objects in 1926. This was the very first-time that television had become a reality and it shaped the world that we live in today.
This brand new 50p, designed by Osborne Ross, celebrates the life and works of this remarkable British inventor, electrical engineer, and innovator.
H. G. Wells £2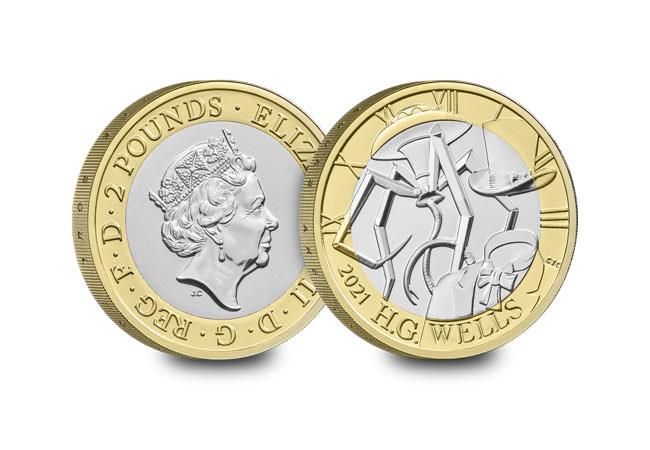 Herbert George Wells was an English novelist, journalist, sociologist, and historian best known for his science fiction novels The Time Machine and The War of the Worlds.
In the year marking the 75th anniversary of his death, this brand new £2 coin has been issued, feature a design which pays a fitting tribute to his famous novels, with a depiction of the Invisible Man and a Martian encircled by clock numerals.
The inscription also reads one of his famous quotes, "GOOD BOOKS ARE THE WAREHOUSES OF IDEAS". We love Chris Costello's design and we hope you do too!
Sir Walter Scott £2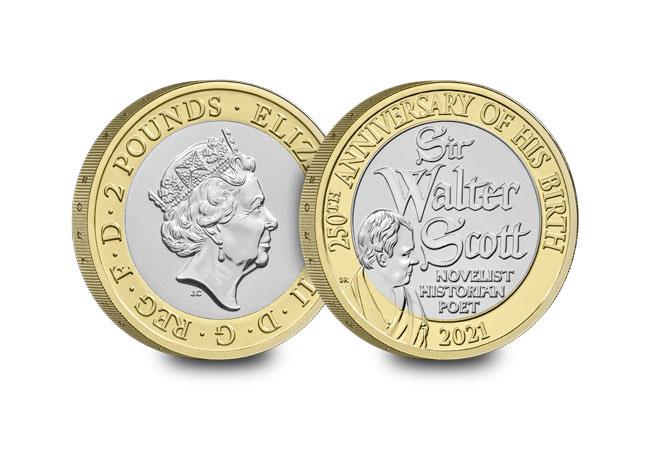 2021 commemorates the 250th anniversary of the birth of novelist, historian, and poet, Sir Walter Scott.
He is considered both the inventor and the greatest practitioner of the historical novel.
The coin, designed by Stephen Raw, features the text: "SIR WALTER SCOTT NOVELIST HISTORIAN POET" encircled by the inscription "250TH ANNIVERSARY OF HIS BIRTH" and the year date.
Excitingly, this coin also features the edge inscription, "THE WILL TO DO, THE SOUL TO DARE", a quote from his epic poem, 'Marmion: A Tale of Flodden Field'.
Queens Elizabeth II 95th Birthday £5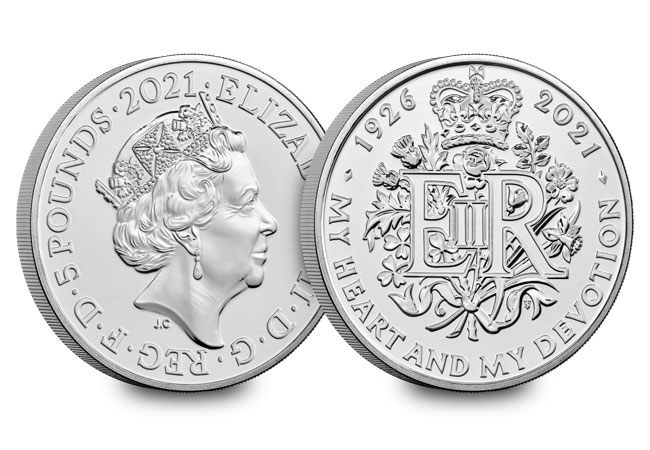 This year, our Queen will celebrate her 95th birthday and to celebrate, The Royal Mint has issued this £5 coin.
The coin features a design by Timothy Noad, of the Royal Cypher and the inscription "MY HEART AND MY DEVOTION" alongside the date of the Queen's birth and the year 2021.
In 2016, a £5 coin was issued to celebrate Her Majesty's 90th Birthday and it proved incredibly popular with collectors, as she became the first British monarch to reach their 90th birthday. As she reaches another significant milestone, I'm sure this celebratory coin will prove just as, if not more popular!
---
The announcement of the new annual coins is always an exciting moment for Change Checkers, particularly when the anniversaries are as significant as these.
Do you have a favourite coin from the set? Let us know in the comments below!
---
Secure the 2021 Annual Coin Set to your collection today!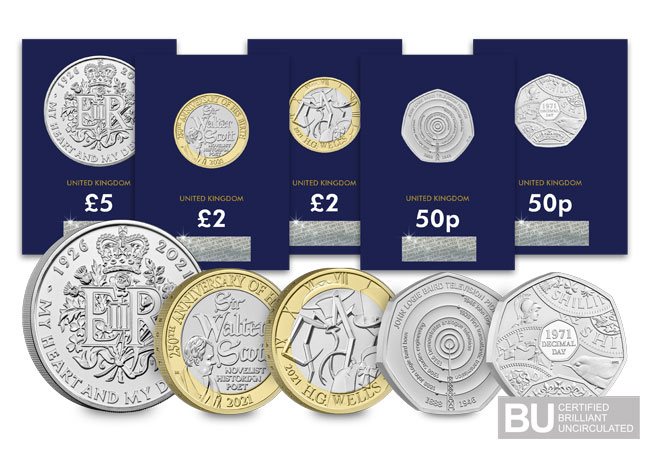 If you love these coins as much as we do, you can secure them as a set today for JUST £40.00 (+p&p)
Secure yours by clicking here >>
The eccentric inventor and his trusted canine friend have made their way back from the moon and onto a UK 50p to celebrate 30 years since their debut film, A Grand Day Out.
After weeks of anticipation, The Royal Mint has now released the first ever Wallace and Gromit 50p to celebrate 30 cracking years of the British Comedy duo.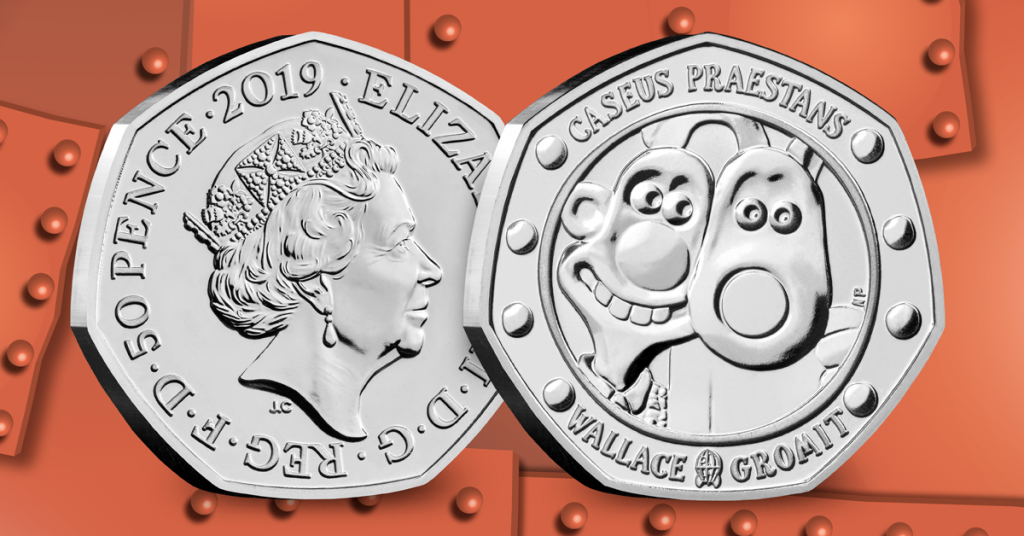 Originally a small concept in Nick Park's student sketchbook, Wallace and Gromit have become instantly recognisable stars of the silver screen!
The pair now feature in 4 stop-motion animation short films: A Grand Day Out (1989), The Wrong Trousers (1993), A Close Shave (1995), A matter of Loaf a Death (2008) and the full-length feature film, The Curse of the Were-Rabbit, released in 2005.
An Original Nick Park Design
Excitingly, the reverse of this new 50p has been designed by none other than Nick Park himself!
The original artist behind the popular animation characters, Nick's artwork has created a truly authentic design for the coin which is certain to be a hit with fans and collectors alike.
Featuring Wallace and Gromit peering out of the spaceship they took to the moon, fans will certainly resonate with this adaptation of the famous film scene.
What's more, the initials 'NP' have been struck onto the design to confirm the design by Nick Park.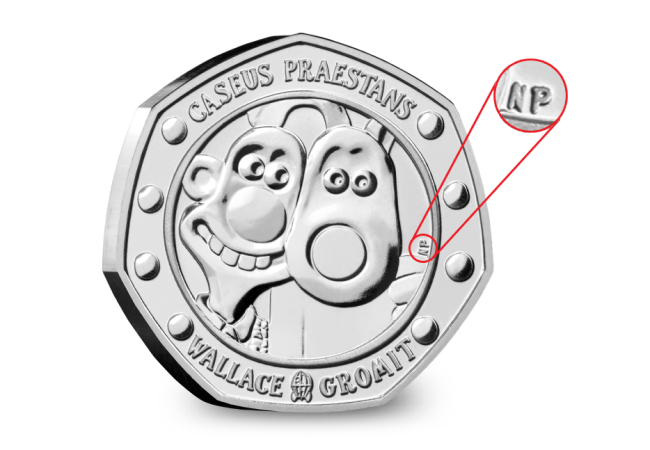 BU, Silver & Gold!
As of today the FIRST EVER Wallace and Gromit UK 50p has officially taken off!
The new coin is available in Brilliant Uncirculated quality in both Official Change Checker packaging and Royal Mint packaging.
A Silver Proof version of the coin has also been issued, featuring selected colour printing to really bring the design to life. Just 25,000 Silver Proof coins are available and given the popularity of Wallace and Gromit and the sell-out stories we've seen with other UK 50p issues this year (like The Gruffalo® 50p), collectors wanting one of these will certainly need to act quickly.
 Excitingly, this 50p has also been issued in a Gold Proof design! Limited to just 630 pieces, this one is a real collector item.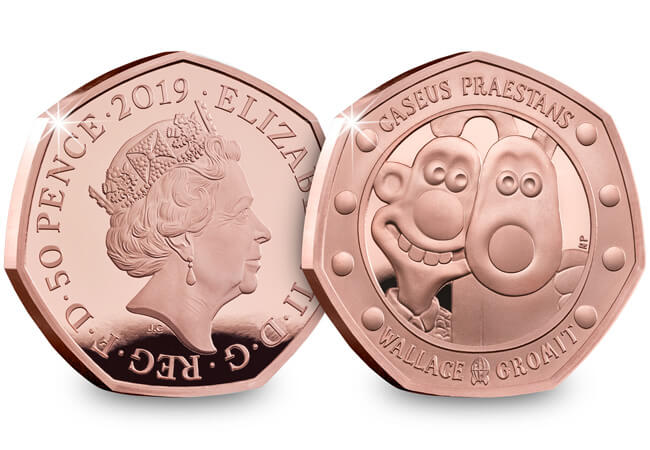 From their first appearance in 1989 to their dedicated following today, Wallace and Gromit have become international cultural icons and a real staple of British-ness! Here at Change Checker we can't think of a better way to celebrate such an important comedy duo than on a brand new UK coin.
---
Add the brand new Wallace and Gromit 50p to your collection!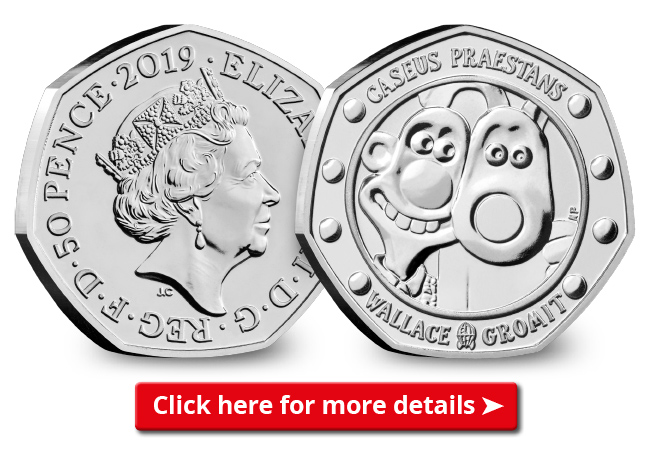 This coin won't be entering circulation, but has been released as a special commemorative issue.
Click here to secure this brand new UK coin in superior Brilliant Uncirculated quality.
*2020 Update*
It has been confirmed that the first figure to be considered in a new series of UK coins that will recognise and celebrate BAME figures on UK currency will be Mahatma Gandhi.
This news comes after Chancellor Rishi Sunak stated he was considering proposals from a campaign group. He has since asked the Royal Mint to come up with new designs honouring BAME figures who have served the nation – such as military figures and nurses.
A 'Banknotes of Colour' campaign is currently being led by former Conservative parliamentary candidate, Zehra Zaidi in efforts to see the better representation of non-white peoples on British currency.
---
Sajid Javid, Chancellor of the Exchequer has "asked the team at the Royal Mint to bring forward proposals for a new, commemorative coin of Gandhi."
The news was revealed last week at the annual GG2 Leadership Awards event, which fell on the 150th birthday of Gandhi – a very fitting time for the announcement to be made.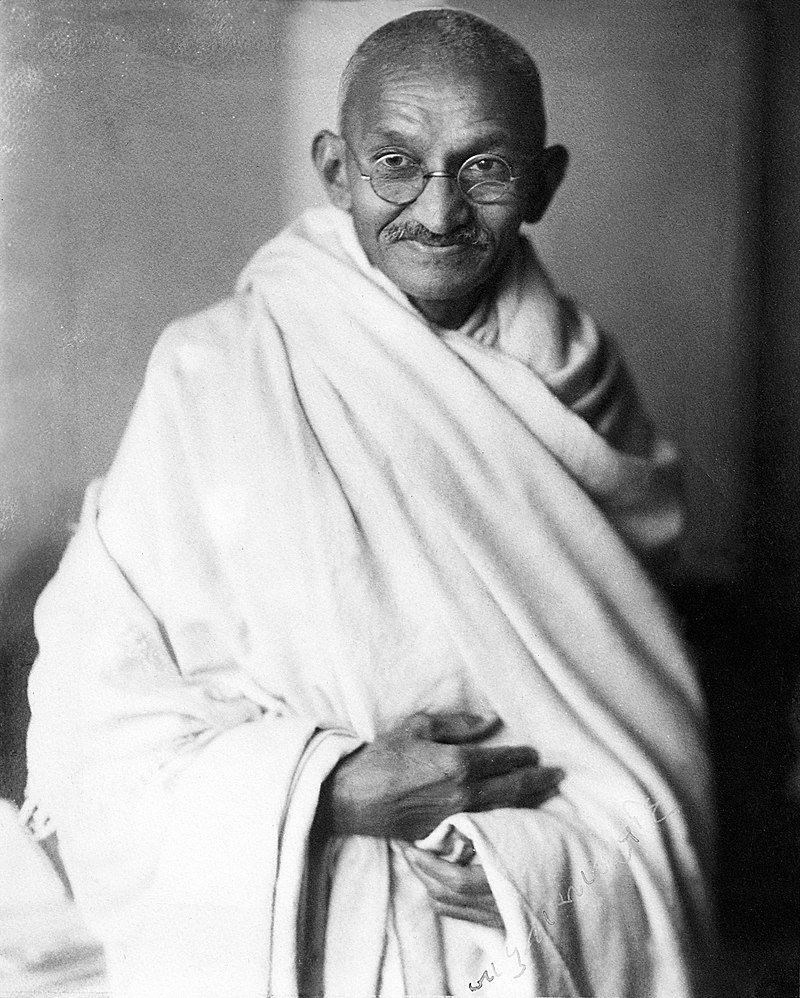 Gandhi is most well known for leading the successful campaign for India's independence, using nonviolent resistance which inspired human rights movements across the world.
However, he also has strong ties with London, having attended the University College of London law school in 1888.
Despite leaving for India after being called to the bar in 1891, he continued to return to London, right up until his final visit in 1931 where he attended a conference on the future of India.
If a coin were to be created to honour Gandhi, perhaps it would be issued in 2021 to celebrate the 90th anniversary of this final visit.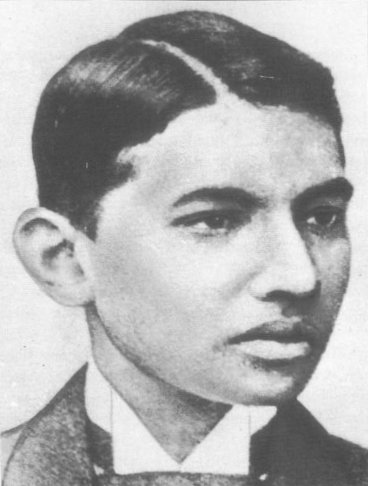 Chancellor Sajid Javid said that "We must always remember the values he [Gandhi] lived his life by… Gandhi taught us that power doesn't just come from wealth or high office."
What do you think the design should be if a new coin were to be issued to commemorate Mahatma Gandhi? Let us know in the comments below!
---
If you're interested in coin collecting, our Change Checker web app is completely free to use and allows users to:
– Find and identify the coins in their pocket
– Collect and track the coins they have
– Swap their spare coins with other Change Checkers
Sign up today at: www.changechecker.org/app