Posts Tagged 'Commemorative Coin'
The eccentric inventor and his trusted canine friend have made their way back from the moon and onto a UK 50p to celebrate 30 years since their debut film, A Grand Day Out.
After weeks of anticipation, The Royal Mint has now released the first ever Wallace and Gromit 50p to celebrate 30 cracking years of the British Comedy duo.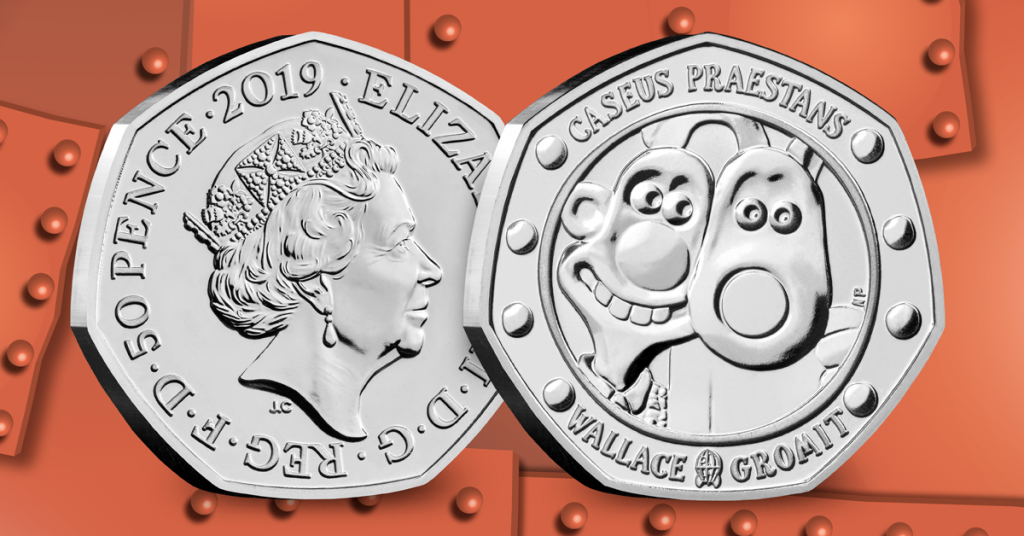 Originally a small concept in Nick Park's student sketchbook, Wallace and Gromit have become instantly recognisable stars of the silver screen!
The pair now feature in 4 stop-motion animation short films: A Grand Day Out (1989), The Wrong Trousers (1993), A Close Shave (1995), A matter of Loaf a Death (2008) and the full-length feature film, The Curse of the Were-Rabbit, released in 2005.
An Original Nick Park Design
Excitingly, the reverse of this new 50p has been designed by none other than Nick Park himself!
The original artist behind the popular animation characters, Nick's artwork has created a truly authentic design for the coin which is certain to be a hit with fans and collectors alike.
Featuring Wallace and Gromit peering out of the spaceship they took to the moon, fans will certainly resonate with this adaptation of the famous film scene.
What's more, the initials 'NP' have been struck onto the design to confirm the design by Nick Park.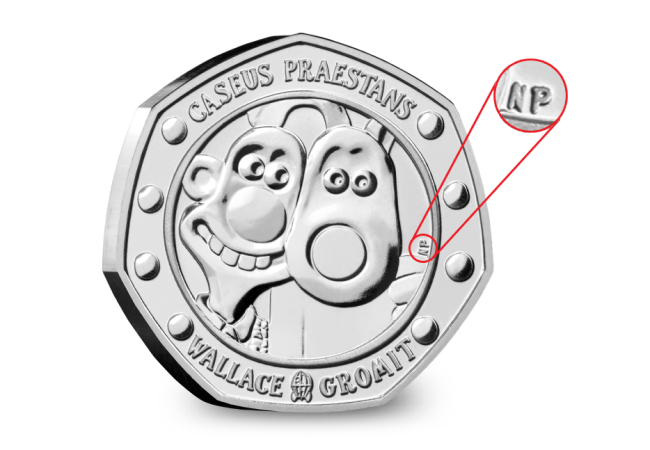 BU, Silver & Gold!
As of today the FIRST EVER Wallace and Gromit UK 50p has officially taken off!
The new coin is available in Brilliant Uncirculated quality in both Official Change Checker packaging and Royal Mint packaging.
A Silver Proof version of the coin has also been issued, featuring selected colour printing to really bring the design to life. Just 25,000 Silver Proof coins are available and given the popularity of Wallace and Gromit and the sell-out stories we've seen with other UK 50p issues this year (like The Gruffalo® 50p), collectors wanting one of these will certainly need to act quickly.
 Excitingly, this 50p has also been issued in a Gold Proof design! Limited to just 630 pieces, this one is a real collector item.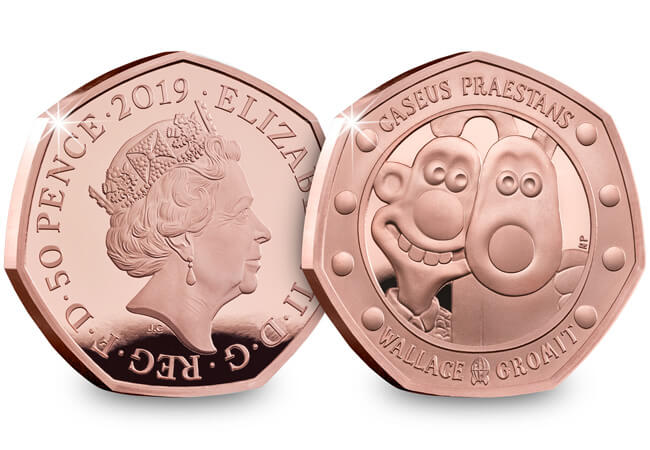 From their first appearance in 1989 to their dedicated following today, Wallace and Gromit have become international cultural icons and a real staple of British-ness! Here at Change Checker we can't think of a better way to celebrate such an important comedy duo than on a brand new UK coin.
---
Add the brand new Wallace and Gromit 50p to your collection!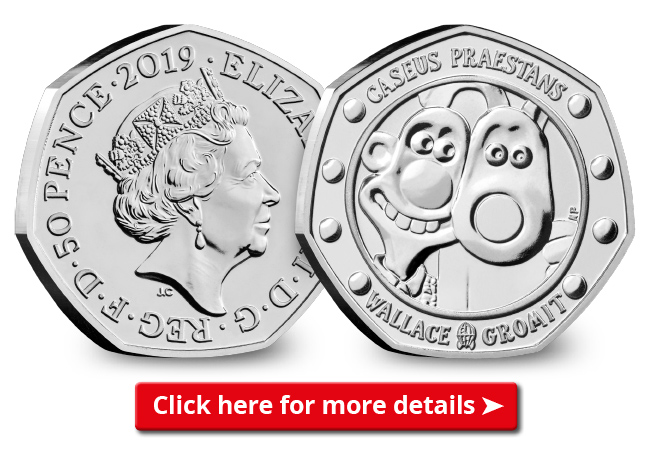 This coin won't be entering circulation, but has been released as a special commemorative issue.
Click here to secure this brand new UK coin in superior Brilliant Uncirculated quality.
*2020 Update*
It has been confirmed that the first figure to be considered in a new series of UK coins that will recognise and celebrate BAME figures on UK currency will be Mahatma Gandhi.
This news comes after Chancellor Rishi Sunak stated he was considering proposals from a campaign group. He has since asked the Royal Mint to come up with new designs honouring BAME figures who have served the nation – such as military figures and nurses.
A 'Banknotes of Colour' campaign is currently being led by former Conservative parliamentary candidate, Zehra Zaidi in efforts to see the better representation of non-white peoples on British currency.
---
Sajid Javid, Chancellor of the Exchequer has "asked the team at the Royal Mint to bring forward proposals for a new, commemorative coin of Gandhi."
The news was revealed last week at the annual GG2 Leadership Awards event, which fell on the 150th birthday of Gandhi – a very fitting time for the announcement to be made.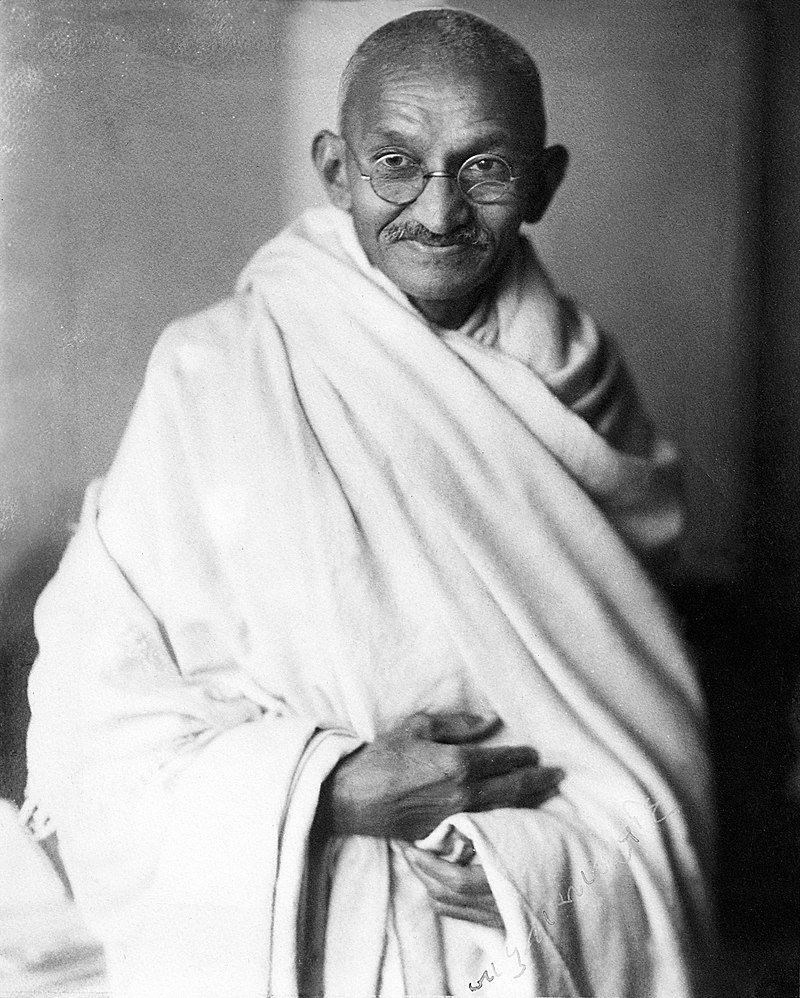 Gandhi is most well known for leading the successful campaign for India's independence, using nonviolent resistance which inspired human rights movements across the world.
However, he also has strong ties with London, having attended the University College of London law school in 1888.
Despite leaving for India after being called to the bar in 1891, he continued to return to London, right up until his final visit in 1931 where he attended a conference on the future of India.
If a coin were to be created to honour Gandhi, perhaps it would be issued in 2021 to celebrate the 90th anniversary of this final visit.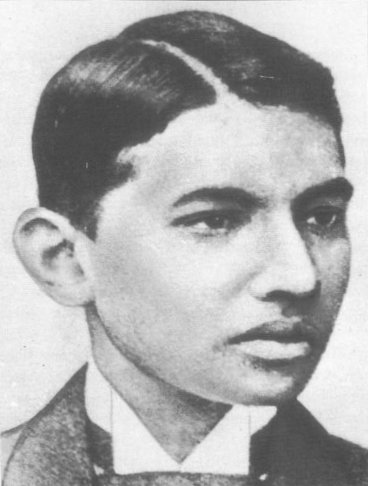 Chancellor Sajid Javid said that "We must always remember the values he [Gandhi] lived his life by… Gandhi taught us that power doesn't just come from wealth or high office."
What do you think the design should be if a new coin were to be issued to commemorate Mahatma Gandhi? Let us know in the comments below!
---
If you're interested in coin collecting, our Change Checker web app is completely free to use and allows users to:
– Find and identify the coins in their pocket
– Collect and track the coins they have
– Swap their spare coins with other Change Checkers
Sign up today at: www.changechecker.org/app
One of the most fascinating things about coin collecting is of course the design on the coin – but what about the shape of the coin itself? As minting technology continues to advance, coins are being struck in all kinds of exciting and innovative shapes.
So I've put together selection of 11 unusually shaped collectable coins from around the world…
1. The WWI Brodie Helmet coin …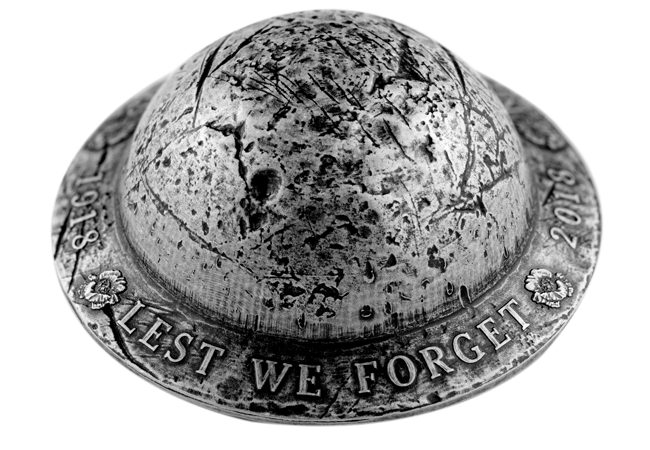 To commemorate the Armistice Centenary, The Royal Canadian Mint issued a remarkable new coin to honour each and every fallen soldier.
Struck in the shape of a WWI Brodie Helmet, it is more deeply curved surface than any other concave or convex-shaped coin I've seen before. The design is so unique in fact, that the Mint have kept the minting technique a closely guarded secret.
2. The FIRST rugby coin of its kind…
To mark the Rugby World Cup in 2015, France issued the first ever coin shaped like a rugby ball.
The concave coins proved to be extremely popular with collectors worldwide, with many keen to add a coin with such a unique pedigree to their collections.
3. A coin shaped like a country…
The Perth Mint regularly issue map-shaped coins, taking advantage of their country's unique and recognisable outline.
This series makes use of purpose-built tooling and die design to give the coin its distinctive shape.
The first coin in the series featured the Kookaburra and was issued in 2012. Since then there have been a variety of different animals to feature on the coin, with the most recent being the Dingo.
4. The 'Imperial Egg'…
This impressive looking coin boasts beautiful enamelled colour and a shimmering gemstone inlay.
The 'Imperial Egg' Coin is based on the work of Fabergé and proved to be very popular with collectors, especially during the Easter period.
5. You'll be lucky to find one of these…
You certainly won't find this Four-Leaf Clover Coin in a field, no matter how hard you look! Legend has it that Eve took a four-leaf-clover from paradise as a memento for the wonderful time she had spent there – they've been considered lucky ever since.
Struck in gold to a proof finish, this cleverly produced coin could certainly be regarded as lucky by collectors who have one in their collection – as it is now highly sought-after.
6. The Earth-shattering coin…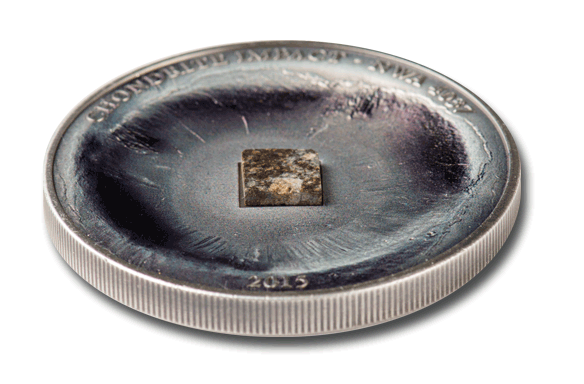 The extra-terrestrial chondrite that has been set into the centre of this coin was sourced from a meteorite that crash-landed in Morocco in 2005. The space rock shattered into several pieces when it entered the Earth's atmosphere.
The coin itself has been struck in a concave shape to represent the crater in which the piece of meteorite landed.
7. Is it a coin or is it a bar? It's both…
This rectangular silver coin-bar features one of the world's most iconic landmarks – London's Tower Bridge.
It's not often that you see coins minted in this shape as the 'bar' format is usually reserved for bullion.
This stunning coin boasts an intricately detailed engraving and tiny details can be seen on the Tower Bridge to create windows, clock and brickwork.
8. The poppy-shaped remembrance coin…
This coin's unique shape and rich red printing on the reverse takes inspiration from the poppy, which has become synonymous throughout the world as a symbol of remembrance and the charitable work of The Royal British Legion.
Issued to commemorate the end of the First World War and to Remember the Fallen, the Poppy Coin is a significant issue that is poignant to many.
9. The coin that sold out in two days…
This remarkable coin is shaped like the iconic Canadian maple leaf, and proved so popular that it sold out at the Royal Canadian Mint in just 2 days.
Canadian Maple Leaf coins are some of the world's most recognised Silver coins. This issue takes the design to a whole new level and comes complete with a special wooden display case.
10. The coin that combines heaven and earth…
Issued in China since 221 BCE, the Chinese Lucky Cash Coin features a square hole at its centre to represent Earth, while the circle symbolises heaven. This combination of heaven and earth make the coin a symbol of harmony and prosperity.
Chinese fortune-tellers would use cash coins, a tortoise shell, and their skill at numerology to tell the future. Because of their association with mystical prediction, these coins from China are thought to bring good luck.
11. And last but not least…
The playful Russian 'Matryoshka Dolls' first appeared in the late 19th century, now they've been immortalised on a silver coin.
This oval issue is displayed within special bespoke packagingwhich consists of two traditional wooden nesting dolls placed one inside the other – the coin and packaging are both something that I've never come across before!
Are you lucky enough to have any of these coins in your collection, or perhaps you've seen another coin that you think should be on the list? Let me know in the comments below
---
If you're interested in coin collecting, our Change Checker web app is completely free to use and allows users to:
– Find and identify the coins in their pocket
– Collect and track the coins they have
– Swap their spare coins with other Change Checkers
Sign up today at: www.changechecker.org/app