Posts Tagged 'Great Britain'
There's been some exciting news for 10p coin hunters today, as The Royal Mint has announced that 2.1 million new 2019 dated A-Z of Great Britain 10p coins will be released into circulation from today.
Since the initial surprise release of 2.6 million quintessentially British themed 10p coins back in March 2018, the British public have been head over heels for these wonderful little coins and yet, despite another 2.6 million A-Z 10ps entering circulation last year, they still remain incredibly hard to come across in your everyday change.
In fact, a question I'm asked most days by Change Checkers is 'Where are all the A-Z 10ps?'
We've even held our own Change Checker live events to help collectors kick start their collection, as the coins are proving so hard to find.
Whilst there are 5.2 million A-Z 10p coins in circulation, we can assume that there are 200,000 coins per design, which actually makes each individual coin rarer than the UK's scarcest 50p, the Kew Gardens.
However, we have noticed more Change Checkers adding these coins to their collection, and based on this data we've been able to put together an A-Z 10p Scarcity Index to show you which coins are currently most sought-after.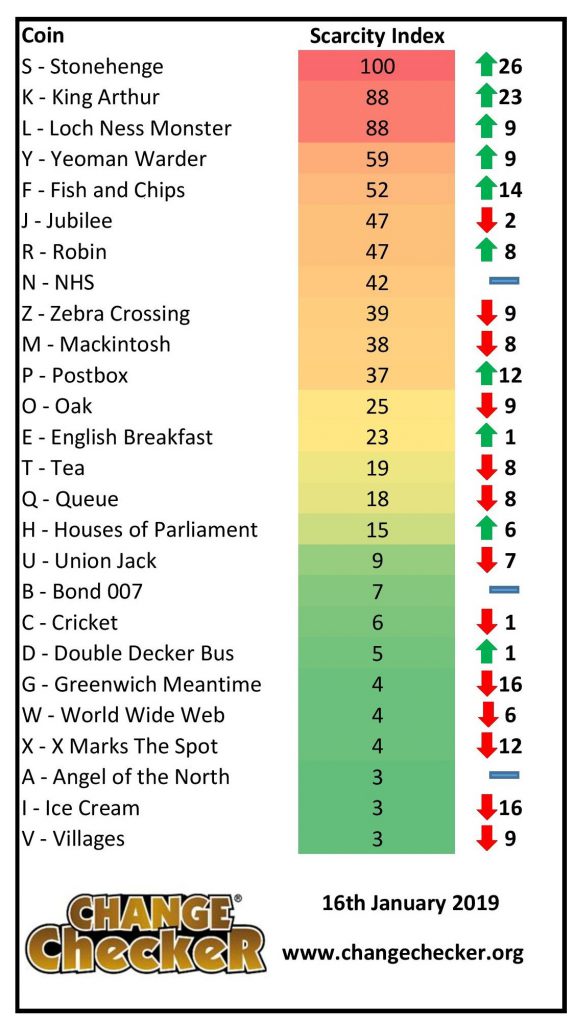 Now that The Royal Mint will be releasing a further 2.1 million coins in to circulation, chances are that more collectors are likely to come across these coins
I for one am certainly incredibly excited about the chance to find these coins in my change and build up the whole collection from A-Z and there will of course be collectors looking to complete a set of both year dates.
Have you found any of the 2018 A-Z 10p coins, and will you be looking out for the new 2019 coins? Let us know in the comments below!
---
Reserve your 2019 A-Z 10p set!
Complete your A-Z 10p set with the 2019 Complete Certified Uncirculated coins.
The Royal Mint and HM Treasury have just confirmed that a further 2.6 million A-Z 10p coins will enter circulation in the coming weeks.
This time the coins will be distributed through more normal networks including banks and cash distribution centres. 
This will be welcome news to collectors who have been struggling to lay their hands on the new 10ps since the initial release in March. We're hopeful that additional volumes will continue to be struck in line with UK requirements and of course the massive collector demand.
In the meantime, if you're still asking the question "when will I find an A to Z 10p in my change?" you might be interested in this blog.
If you're eager to get your hands on one of the new 10ps, remember our next live swap event is coming to Bristol on the 20th October. We'll be swapping any 10p coin for one of the new A-Z 10ps. All the details can be found here.
---
Secure your Complete A-Z 10p Set today!
Can't wait to complete your collection?
Own all 26 A-Z 10p coins in 'Early Strike' quality and receive a FREE collector's medal!
Hold on to your hats Change Checkers, as we're back on the road for another Change Checker Live Coin Swap!
Our next event takes place on Saturday 20th October at Cabot Circus Shopping Centre in Bristol from 9am – 5pm.
Join us there and have a go on our 'lucky dip' to swap ANY 10p coin for one of the A-Z 10p coins.
We'll have all 26 coin designs with us so you're in with a chance of picking any coin, from A-Z!
PLUS you'll receive a voucher for 50% off the Collector's Pack, so you'll have space to add the rest of the coins when you find them.
Please note: Swaps are limited to 1 per person, while stocks last.
Cabot Circus Shopping Centre
Bristol's Cabot Circus Shopping Centre has 90 stylish shops for you to explore and a wide choice of restaurants and refreshments, making for the perfect day out.
Find us at Site E: George White Street, near to Tiger, Fossil and Zara.
If you're coming by car the postcode for your sat-nav is BS2 9AB. Cabot Circus car park has 2,500 spaces and is easily accessible from the end of the M32, off Newfoundland Street.
The full address is: Cabot Circus Shopping Centre, Glass House, Penn St, Bristol BS1 3BX
Can I swap more than one coin?
Such is the popularity of our Live Coin Swaps and to ensure that it is fair for everybody, we'll be limiting the number of swaps to strictly 1 coin per person.
Can I choose which A-Z of Great Britain 10p I swap?
It's a lucky dip, so the coin you pick will be the coin you take away with you. Due to how popular we expect the event to be, I'm afraid we will be unable to offer specific A-Z 10p coin designs.
Will you be doing any more Live Coin Swaps?
That's the plan!
We will be holding more Live Coin Swaps in the future and the plan is to visit a different area of the country each time, giving as many people as possible the opportunity to attend.
We look forward to seeing you there!
---
Secure your Complete A-Z 10p Set today!
Can't wait to complete your collection?
Own all 26 A-Z 10p coins in 'Early Strike' quality and receive a FREE collector's medal!