Posts Tagged 'Great Britain'
We're excited to host our next Change Checker Live Coin Swap on Saturday 8th September at Croydon Centrale Shopping Centre from 9am – 5pm.
Join us in Croydon where you'll be able to have a go on our 'lucky dip' and swap ANY 10p coin for one of the A-Z 10p coins.
We'll have all 26 coin designs with us so you're in with a chance of picking any coin, from A-Z!
PLUS you'll receive a voucher for 50% off the Collector's Pack, so you'll have space to add the rest of the coins when you find them.
Please note: Swaps are limited to 1 per person, while stocks last.
There are 2 car parks available and the shopping centre is a short walk away from East Croydon and West Croydon train stations.
To drive to the centre: From central London, take the A23 or A212. From Sutton or Bromley, take the A232. From outside London, follow the A23 from junction 7 of the M25.
The full address is: Croydon Centrale Shopping Centre, 21 North End, Croydon, CR0 1TY
Can I swap more than one coin?
Such is the popularity of our Live Coin Swaps and to ensure that it is fair for everybody, we'll be limiting the number of swaps to strictly 1 coin per person.
Can I choose which A-Z of Great Britain 10p I swap?
It's a lucky dip, so the coin you pick will be the coin you take away with you. Due to how popular we expect the event to be, I'm afraid we will be unable to offer specific A-Z 10p coin designs.
Will you be doing any more Live Coin Swaps?
That's the plan!
We will be holding more Live Coin Swaps in the future and the plan is to visit a different area of the country each time, giving as many people as possible the opportunity to attend.
We look forward to seeing you there!
---
Secure your Complete A-Z 10p Set today!
Can't wait to complete your collection?
Own all 26 A-Z 10p coins in 'Early Strike' quality and receive a FREE collector's medal!
Have you joined the hunt for the A-Z of Great Britain 10p coins?
Fantastic news! We're helping Change Checkers to get their hands on these highly collectable coins by running an incredible prize give away!
Enter now by registering for a free Change Checker account.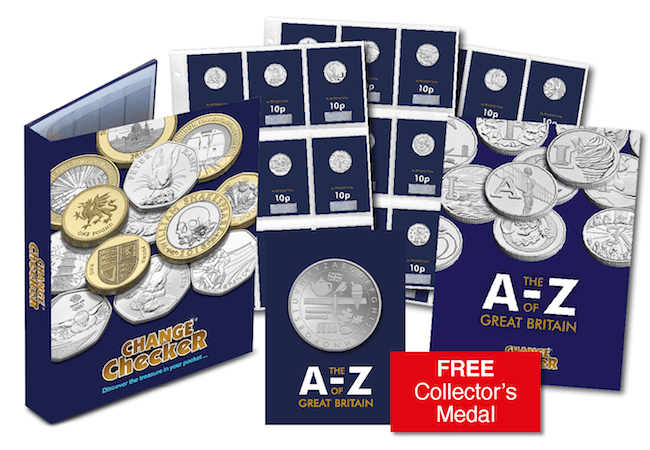 We're giving away 500 Early Strike A-z of Great Britain 10p coins. 
10 lucky Change Checkers will receive the complete set of 26 'Early Strike' A-Z of Great Britain 10p coins, as well as the official collector's pack, including Change Checker Presentation Album and pages and an additional exclusive Collector's Medal to complete your collection.
But we haven't stopped there! There are also 240 individual coins in a selection of A-Z designs, ready to give away to runners up – the perfect way to kick start your collection!
Since their release in March, the 26 coins designed to represent famous British icons have had people up and down the country checking their change to find every design from A-Z.
However, due to their popularity, many Change Checkers have claimed to be struggling to come across them. If you think back to the popularity of the Olympic 50ps in 2012, you'll understand how collectable these coins can be and why they are so highly sought after.
This is your chance to get ahead of the crowd and secure your complete set in 'Early Strike' Brilliant Uncirculated condition, taken from the first production coins struck by the Mint whilst the dies are in their very best condition.
To be entered into the Change Checker A-Z 10p give away, simply register for a FREE account with us.
If you're already a registered Change Checker, then we'll automatically include you in the draw for the chance to win the highly sought after complete set of 26 'Early Strike' A-Z of Great Britain 10p coins or one of 240 individual A-Z 10p coins.
Full Terms and Conditions can be found below.
We'll be selecting the lucky winners on Friday 27th April. Good luck!
---
Terms & Conditions
1. All registered members of changechecker.org at midnight on 26th April 2018 will be automatically entered into the prize draw. No purchase is necessary to register.
2. The draw will take place on 27th April 2018 and the winner will be notified on that day by email to their registered changechecker.org email address.
3. 10 winners will receive the complete set of 26 'Early Strike' A-Z of Great Britain 10p coins, as well as the official collector pack. 240 runners up will receive one A-Z 10p coin. There is no cash alternative.
4. Participants agree to meet reasonable requests to assist publicity.
5. The prize draw is promoted by The Westminster Collection / Change Checker, trading divisions of 288 Group Ltd.
6. Employees of 288 Group and their families are not eligible to enter.
26 new UK commemorative 10p coins are being released into circulation…TODAY! 
We get excited when 1 new coin is announced, so imagine the scenes at Change Checker HQ when The Royal Mint announced that they would be releasing 26 (yes 26!!) brand new commemorative 10p coins!
The coins will each feature a different letter from A-Z and each letter will celebrate a different Great British icon.
Click here for all the details you need to know
Will we find the A-Z 10p coins in our change?
The circulating coins will be distributed through The Post Office network from the first week of March.  They will be distributing the coins through normal transactions so you'll be able to find these coins in your change throughout the month.  It is unlikely that most Post Offices will be willing to simply swap a 10p coin.
The Royal Mint will also release additional coins in relevant locations across the UK throughout 2018.
How many coins are being made?
Initially, more than 2.6 million circulating 10p coins have been struck across the 26 designs and more coins will continue to be struck throughout the year to meet the demand from The Post Office, banks and cash centres.
How scarce are the A-Z 10p coins?
We expect these coins to be very collectible. Take a look at past history and you'll see that over 75% of the 2012 Olympic 50p coins have now been taken out of circulation.
With more coins to be released, and some letters likely to be more popular than others, it's impossible to determine an accurate scarcity for these coins at the moment.
We will release the first A-Z of Great Britain 10p Scarcity Index early April when we have collected vital information from our web app and Swap Centre.
Scarcity Index updates will continue to be released throughout the year to ensure you have access to the most accurate scarcity ratings for your 10p coins.
Who designed the A-Z 10p coins?
The coin designs were created by a whole team of people, including Royal Mint designers. Each design had to be approved by Her Majesty The Queen.
Can I collect and swap these coins online?
Yes.  You can find, collect and swap your coins online with the free Change Checker web app: www.changechecker.org/10pApp.
---
The Complete CERTIFIED Early Strike A-Z 10p Set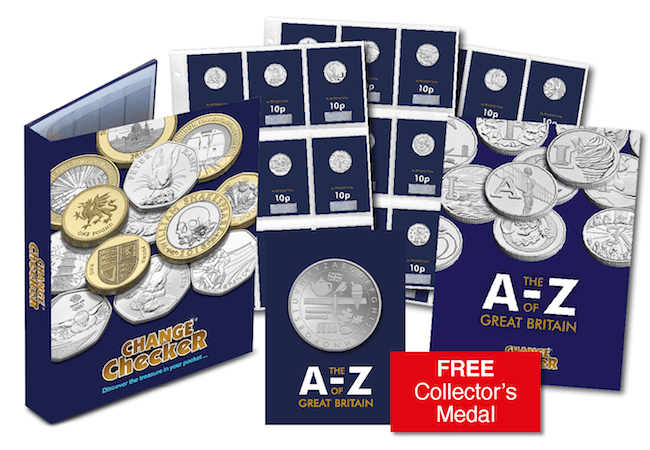 Can't wait to find all 26 in your change? Click here to secure them in Change Checker CERTIFIED EARLY STRIKE quality now >>