Posts Tagged 'Guernsey 50p'
It's time to dust off your stockings and light the fire because Christmas is officially round the corner!
And, there's nothing like a carol service to get you in the Christmas spirit. So, to celebrate this very festive tradition, FIVE brand new coins have been authorised for release by Guernsey Treasury!
The Christmas Carol 50p Coin Collection
Each coin features a specially commissioned design of some of the most renowned Christmas carols including; Away in a Manger, Hark the Herald Angels Sing, O Little Town of Bethlehem, While Shepherds watched their flocks, and We Three Kings.
These coins have been authorised for release by Guernsey Treasury and fully approved by Her Majesty the Queen.
The Christmas Carol 50p BU Set
Available in Brilliant Uncirculated quality, all five coins are housed in a festive presentation pack and importantly, this is one of the only ways to own all five of these coins as a complete set!
Don't miss out on adding these festive coins to your collection, or securing them as a gift for your loved ones, for JUST £30. Click here to find out more >>
The Christmas Carol 50p Silver Proof Set
Or, for those collectors looking for a little more Christmas sparkle, these coins are also available in stunning .925 Solid Silver.
What's more, they feature stunning coloured illustrations by Jo Goodberry (you may remember she designed the immensely popular Pantomime 50ps last year) and have been struck to a pristine Proof finish.
These 50ps are only available as a set and if you don't want to miss the chance to own them, you'll need to act fast, as they have been issued with some incredibly low edition limits…
An extremely limited worldwide mintage of JUST 2,020 has been set for the incredible .925 Silver set.
The coins will arrive ready to display in a deluxe presentation case with a numbered certificate of authenticity.
Hark the Herald 50p Christmas Card
Struck to a superior Brilliant Uncirculated quality, the 'Hark the Herald' 50p from the Brand New Christmas Carol 50p collection has been presented in a beautiful Christmas card which has been left blank inside to write your own personalised message to someone special.
This specially commissioned design by Jo Goodberry features a silhouette of an angel with the title of the carol 'Hark the Herold' to the right of the coin. What's more, the 'Hark the Herold' Christmas 50p is the only coin from the collection to be available individually within this stunning Christmas card.
The 50p has firmly established itself as the collector's favourite, and as such demand for this BRAND NEW Christmas 50p is bound to be incredibly high, especially when you consider the popularity of last year's Christmas Pantomime 50ps.
You can secure the Hark the Herald 50p Christmas card today for JUST £7.99 (+p&p) by clicking here >>
The Christmas Carol 50p BU Complete Cover
For the creme-de-la-creme, and by far the most limited way to own these coins, the Christmas Carol 50p BU Complete Cover has been issued.
Each coin has been struck to a Brilliant Uncirculated finish, and is one of just 750 that have been allocated for use in your cover. Almost certainly, this is the smallest edition presentation of the new BU 50p coins that you're likely to see.
Paired alongside your coins is the complete set of elusive 1984 Official Royal Mail Christmas Carol Stamps. Featuring classic carols such as While Shepherds Watch and We Three Kings, these stamps are without a doubt the perfect pairing to your coins.
Each stamp has also been officially postmarked on the first day of Advent, 1st December 2020".
Click here to secure one to your collection or to guarantee it as a gift for a loved one this Christmas >>
Sought-after Guernsey coins
Last year, Guernsey Treasury released their FIRST-EVER Christmas coins, the Pantomime 50p collection and these were incredibly popular with collectors both in Guernsey and the UK!
Guernsey mintage figures are known for being much smaller than the UK, which is down to their much smaller population of just over 63,000, which makes their coinage incredibly sought-after!
But it's fair to say that Christmas themed coins make a particularly envious addition to anyone's collection, with the numerous festive 50ps from the Isle of Man proving to be incredibly popular.
Collectors have been known to pay over £20 for a festive 50p from the British Isles and Channel Islands, so we expect these brand new Christmas Carol 50ps to be incredibly sought-after!
---
We love these brand new coins and we're sure collectors everywhere will too!
Which 2020 Christmas Carol 50p is your favourite? Let us know in the comments below!
---
Secure the 2020 Christmas Carol 50p BU Set for JUST £30!
Bring the magic of Christmas home this year, with the brand new Christmas Carol 50p BU Set.
Secure yours for £30 (+p&p) by clicking here >>
With just over a month to go until the official 50th anniversary of the 50p coin, celebrations have now hit Jersey and Guernsey as the British Crown Dependencies mark this monumental numismatic milestone.
As the world's first seven-sided coin, the 50p caused quite a stir when it was first issued in 1969, however it has since become one of the most popular and highly collected coins in circulation, both across Britain and its Crown Dependencies.
To celebrate the 50th Anniversary, a unique pair of Jersey and Guernsey 50p coins have been specially re-issued this year.
This set includes re-issued versions of the 1969 Ducal Cap 50p from the Bailiwick of Guernsey and the 1969 Coat of Arms from the Bailiwick of Jersey. These were the first 50p coins issued in the British Crown Dependencies and the pair have now been re-struck with the 2019 year date in Brilliant Uncirculated quality for collectors.
Whilst Jersey and Guernsey coins aren't legal tender in the UK, they have a history of becoming highly collectable due to their low mintage figures…
Guernsey 50p Mintage Figures
Two definitive 50p coin designs have been issued in Guernsey since decimalisation – The Ducal Cap and Freesia Flowers.
The 1969 Ducal Cap 50p has been re-issued in the smaller specification for the 50th Anniversary of the 50p.
Anthony Wagner's design features the Ducal Cap of the Duke of Normandy on the reverse.
Unlike UK coins, the obverse of the Guernsey Freesia Flowers 50p feature the Guernsey Coat of Arms, which includes three lions next to Queen Elizabeth II's portrait. This makes the 50p particularly distinguishable.
Whilst Guernsey coins aren't legal tender in the UK, they do turn up in our change from time to time. And if you're lucky enough to come across one, make sure you check to see if you've been able to find Guernsey's rarest definitive 50p – the 1987 Freesia Flowers.
A tiny 5,000 Freesia Flowers 50ps were released in 1987 – that means there's only enough for roughly 8% of the population of Guernsey to own one of these coins each!
Jersey 50p Mintage Figures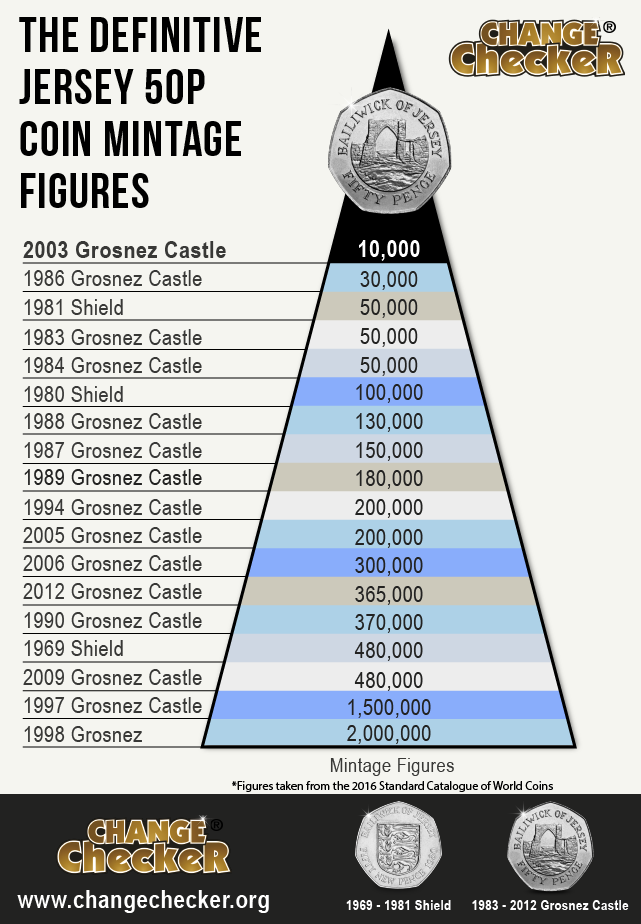 Two definitive 50p coin designs have also been issued in Jersey since decimalisation – the Shield and Grosnez Castle.
The 1969 Shield 50p has been re-issued in the smaller specification for the 50th Anniversary of the 50p.
George Kruger Gray's design features three lions on a shield on the reverse. The obverse features Arnold Machin's portrait of Her Majesty the Queen.
Again, these coins aren't legal tender in the UK, so if you do find one in your change it would have found its way to you by accident, perhaps due to a holiday maker spending it by mistake.
Whether you find yourself checking your change in Jersey or the UK, you'll want to keep a watchful eye on any Grosnez Castle 50ps that you might be lucky enough to find, as one year in particular is very rare…
Just 10,000 Grosnez Castle 50ps were issued in 2003 – compare that to the 23,583,000 Britannia 50ps released in the UK in 2003 and you'll appreciate just how rare this coin really is!
Have you been lucky enough to come across any Jersey or Guernsey 50ps, either in circulation in the UK or when you've been on holiday to the British Isles? And will you be securing the special 50th Anniversary pair to mark this milestone moment?
---
Own the BRAND NEW 50th Anniversary of the 50p Pair
This unique pair of 50p coins includes Jersey and Guernsey's first year of issue designs 50ps from 1969 – re-issued with the 2019 year date!