Posts Tagged 'Low mintage'
Exciting news! The Royal Mint have revealed the latest mintage figures for 2019 coins!
Three 50p coins entered circulation in 2019 and collectors across the nation have been debating how rare each one might be.
What's more, we were all eagerly awaiting the reveal of the mintage figures for the 2019 A-Z 10p coins.
But now the official figures have been revealed and it looks like there are some particularly rare ones we should be looking out for…
The Rarest A-Z 10p Coins!
Whilst each of the 2018 dated A-Z 10p coins had the same mintage of 220,000, this year the mintages are varied among the designs!
Collectors who have managed to find the 2019 dated Q, W, Y, Z, and R 10p coins will be delighted to see that these have a lower mintage than the other 21 designs from that year.
The 2019 World Wide Web, Yeoman Warders and Zebra Crossing 10p coins all have a mintage of JUST 63,000! When you compare that to the rarest 50p in circulation, the Kew Gardens 50p, which has a circulating mintage of 210,000, it puts into perspective just how rare these 10p coins are.
When you combine the 2018 and 2019 mintages for these coins, it confirms that a total of 283,000 of each design has entered circulation.
The other 10p coins to look out for are the Robin and Queuing 10p, with a 2019 mintage of 64,000 and 83,000 respectively.
Are you lucky enough to have these coins in your change? Let us know in the comments below!
50p Mintage Update
Sherlock and Paddington Join the Chart!
The Paddington Bear coins are some of the most popular 50ps in recent years and collectors have been waiting to find out just how rare they are.
It's now been confirmed that 9,001,000 of each 2019 design (Paddington at the Tower and Paddington at St. Paul's Cathedral) were issued into circulation.
Whilst these coins aren't exactly rare, they are certainly a collector favourite, with children, parents, and 50p collectors alike all wanting to find all four coins from the series in their change. Have you got these coins in your collection? Let us know in the comments below!
The mintage figure for the 2019 Sherlock Holmes 50p has also been confirmed. 8,602,000 of these 50p coins, celebrating the 160th anniversary of the birth of author Sir Arthur Conan Doyle, were struck for circulation.
What about the Olympic 50ps?
In 2012, the release of the Olympic 50p series kick started a collecting frenzy across the nation.
It's estimated that around 75% of these coins have been removed from circulation by collectors which means they are incredibly sought-after, especially considering these 50ps have some of the lowest mintage figures in circulation…
Many of the Olympic 50ps have a mintage less than 2,000,000 with the rarest (the Olympic Football 50p) having a mintage of just 1,125,500.
Taking these rare 50ps into consideration, the 2018 Peter Rabbit and Flopsy Bunny coins would sit in joint sixth position, below the Kew Gardens, Football, Wrestling, Judo and Triathlon 50ps.
£2 Coin Update
As well as updating the 50p mintage figures, The Royal Mint also revealed that no £2 coins were issued into circulation in 2019.
There have been no new £2 coins issued into circulation since 2016, which may in part be due to the introduction of the new 12-sided £1 coin in 2017.
It was recently confirmed that The Royal Mint has no plans to strike any £2 coins for circulation for the next 10 years, so unfortunately, there may not be any mintage updates for this denomination for a while.
No 1p or 2p coins entered circulation in 2018 either, perhaps suggesting it's time we question what the future has in store for our beloved coppers.
---
Have you been lucky enough to find any of these coins in your change? It's always exciting when new mintage figures are revealed and your realise just how rare the change in your pocket really is!
We'll be updating the Change Checker Scarcity Index this month and it will be exciting to see how these new figures impact the index.
---
If you're interested in coin collecting, our Change Checker web app is completely free to use and allows users to:
– Find and identify the coins in their pocket
– Collect and track the coins they have
– Swap their spare coins with other Change Checkers
Sign up today at: www.changechecker.org/app
2020 marked the 75th anniversary of Victory in Europe Day, and the official end of the Second World War.
Following the Allies' acceptance of Nazi Germany's unconditional surrender on the 8th May 1945, the war in Europe had finally come to a close after a long five years of conflict.
Most UK collectors will be familiar with the United Kingdom 75th Anniversary of Victory in Europe Day £2 coin issued earlier this year to commemorate the historic event.
However, Allied Nations across the globe have been commemorating 75 years since the end of the Second World War and this important anniversary has been marked with unique coin issues from some of the world's most renowned Mints.
Coins issued by the Netherlands, Canada, France, and Belgium, in addition to the UK £2, have been brought together for the first time in the remarkable 75th Anniversary of VE Day Allied Nations Coin Pack.
75th Anniversary of VE Day Allied Nations Coin Pack
Featuring FIVE carefully chosen commemorative coins from world renowned Mints and including The Royal Mint's 75th Anniversary of VE Day £2 coin as the centrepiece, this limited edition Commemorative Coin Pack has been released JUST for Change Checkers.
The coins included with this extraordinary set are:
United Kingdom £2
This brand new United Kingdom £2 coin by Royal Mint designer Dominique Evans features a woman holding a newspaper aloft in crowd of celebrating people, set against a backdrop of the word 'VICTORY'. The edge inscription reads 'JUST TRIUMPH AND PROUD SORROW'.
Canada $2
As a tribute to the fallen and a promise to never forget, Canada have issued a commemorative $2 coin marking the 75th anniversary of the end of the Second World War. This coin re-creates the iconic Victory Nickel design on a brand new $2 coin.
Belgium 2.5 Euro
The Royal Mint of Belgium issued this 2.5 Euro coin designed by Luc Luycx to show Europe lit with fireworks in honor of this 75th anniversary. The reverse shows the newly liberated Brussels on 4th September 1944.
This coin is limited to a maximum circulation of 50,000 pieces worldwide.
Netherlands 5 Euro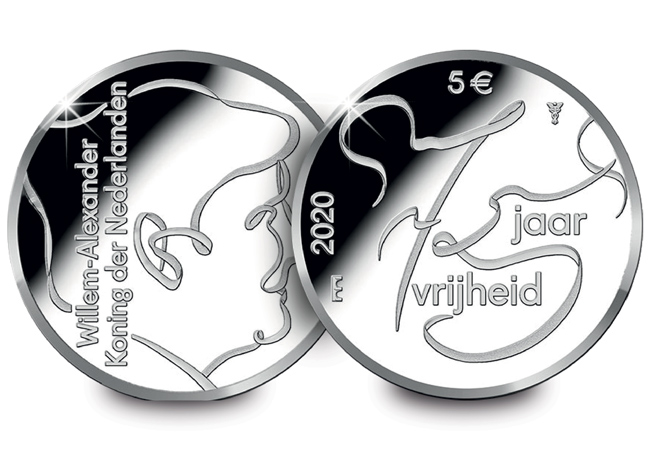 Although part of the Netherlands had already been liberated in 1944, it wasn't until the 5th May 1945 that the whole of the Netherlands was allowed to live in freedom. This 5 Euro is the official commemorative coin to mark such an important moment in history and has been designed by artist Marijke van Warmerdam.
Only 15,000 Silver-Plated pieces are available worldwide!
France 2 Euro
Renowned French army officer and statesman, Charles de Gaulle led the Free French Forces against Nazi Germany in World War II. This 2 Euro coin features two profiles of de Gaulle as both the revered army general during the war, and as President of France during his second term. A Lorraine cross also features on the design as the symbol of free France, chosen by General de Gaulle.
---
All of these incredible coins come presented in the Change Checker 75th Anniversary of VE Day Coin Pack. Which one is your favourite? Let us know in the comments below!
---
Secure the Limited Edition 75th Anniversary of VE Day Coin Pack to your Collection Today!
Due to the difficulty of sourcing these coins, we have only a limited number of these extraordinary packs available!
To ensure you don't miss out on this special anniversary year, please secure your Change Checker 75th Anniversary of VE Day Allied Nations Coin Pack here >>
It's been reported in the media this week that the Sir Isaac Newton coin will become the most scarce 50p in UK circulation.
A number of outlets have suggested that only 375 coins will be released giving it a mintage figure 560 times less than the Kew Gardens 50p coin.
However, we can confirm that this is not the case.
For starters, back in June an unspecified number of Isaac Newton coins were released into circulation. Based on the number of reports we've had from Change Checkers, we would estimate that this initial release was in the thousands.
It is true that The Royal Mint are releasing a small amount of Sir Isaac newton 50p coins at Woolsthorpe Manor in Lincolnshire this week. However, the decision to release a low number coins at the birthplace of Newton is to commemorate the 375th anniversary of the scientist's birth and is not the total amount that will enter circulation.
Further Sir Isaac Newton coins will be released, in a recent press statement The Royal Mint confirmed, "Members of the public from across the UK can expect to see the circulating edition of the coin in their change over the forthcoming months."
However, at this stage it is impossible to say when and how many of the remaining Sir Isaac Newton 50p coins will enter circulation. The release of circulation coins is driven by demand from the banks.
It is quite possible that this coin will have a low mintage figure, maybe even less than 210,000, the number of Kew Gardens 50p coins. However, based on previous commemorative coin releases, we believe this to be unlikely.
Either way, we hope you have good luck in your search!
---
We'd love to know if you've found the Sir Isaac Newton 50p coin in your change. Let us know by answering our poll: