Posts Tagged 'new banknote'
Basingstoke
NatWest, 3 London Street, Old Market Square, Basingstoke, RG21 7NS
Bath
HSBC, 41 Southgate, Bath, BA1 1TN
NatWest, 8-9 Quiet Street, Bath, BA1 2JN
Birmingham
HSBC, 130 New Street, Birmingham, B2 4JU
Lloyds Bank, 36-38 New Street, Birmingham, B2 4LP
NatWest, 144 New Street, Birmingham, B2 4NY
Santander, Unit 6, Caxton Gate, Corporation Street, Birmingham, B2 4LP
TSB, 134 New Street, Birmingham, B2 4NS
Virgin Money, Temple Point, 1 Temple Row, Birmingham, B1 5YB
Bradford
Santander, 9 Nelson Street, Bradford, BD1 5AN
Bristol
Eurochange, Cribbs Causeway, Bristol, BS34 5QT
Cwmbran
NM Money, 15 South Walk, Cwmbran, NP44 1PU
Edinburgh
TSB, 28 Hanover Street, Edinburgh, EH2 2DS
Leeds
HSBC, 33 Park Row, Leeds, LS1 1LD
Santander, PR Work Café, 10-12 Park Row, Leeds, LS1 5HD
Yorkshire Bank, 94-96 Briggate, Leeds, LS1 6NP
Leicester
Santander, Carlton Park, King Edward Avenue, Narborough, Leicester, LE19 0AL
Liverpool
Santander, 45 Lord Street, Liverpool, L2 6PB
TSB, 81-83 Lord Street, Liverpool, L2 6PG
London
Barclays, 2 Churchill Place, Canary Wharf, London, E14 5RB
Barry's Food & Wine, 149 Hoxton Street, London, N1 6PJ
HSBC, 165 Fleet Street, London, EC4A 2DY
Halifax, 118-132 New Oxford Street, London, WC1A 1HL
NatWest, 1 Princes Street, London, EC2R 8BP
NatWest, 34 Henrietta Street, London, WC2E 8NL
NatWest, 10 Southwark Street, London, SE1 1TJ
Post Office, 52 Blackfriars Road, London, SE1 8NN
Post Office, 39-41 Farringdon Road, London, EC1M 3JB
Post Office, 11 White Kennet Street, Houndsditch, London, E1 7BS
Post Office, 19a Borough High Street, London, SE1 9SF
Post Office, 125-131 Westminster Bridge Road, London, SE1 7HJ
Santander, 48-54 Moorgate, London, EC2R 6EJ
Santander, 164-167 Tottenham Court Road, London, W1T 7JE
Santander, 2 Triton Square, Regents Place, London, NW1 3AN
The Cooperative Food, 185 Old Street, Shoreditch, London, EC1V 9NP
TSB, 55 Bow Bells House, Cheapside, London, EC2V 6AT
Virgin Money, 154-158 Kensington High Street, London, W8 7RL
Manchester
Lloyds Bank, 42-46 Market Street, Manchester, M1 1PW
NatWest, 1 Hardman Blvd, Manchester, M3 3AQ
TSB, 21 Market Street, Manchester, M1 1WR
Margate
Santander, 110-112 High Street, Margate, Kent, CT9 1JR
Milton Keynes
Santander, 201 Grafton Gate East, Milton Keynes, MK9 1AN
Newcastle
Santander, 112-118 Northumberland Street, Newcastle, NE1 7DG
Salford
Barclays, Unit 2 Blue, MediaCityUK, Salford, M50 2AD
Lowry Outlet Mall, The Lowry Designer Outlet, Salford Quays, M50 3AH
Sheffield
Post Office, 12 Ellesemere Road, Sheffield, S4 7JB
Yorkshire Bank, Fargate, Sheffield, S1 1LL
Swindon
Nationwide, Nationwide House, Pipers Way, Swindon, SN3 1TA
Wales
Post Office, 56-58 Oxford Street, Mountain Ash, Mid Glamorgan, CF45 3HB
Santander, 5-7 Queen Street, Cardiff, South Glamorgan, CF10 2AF
This morning The Bank of England revealed Alan Turing as the new face of the £50 banknote, which will be released into circulation in 2021.
In their search to find an eminent British scientist to feature on the £50 note, a total of 227,299 nominations were sent to The Bank of England. 989 eligible characters were narrowed down to a shortlist of just 12 before Turing was finally selected.
Codebreaker Alan Turing will be on Britain's new 50-pound currency https://t.co/PcmHWkqre3

— TIME (@TIME) July 15, 2019
Other candidates included Rosalind Franklin, Stephen Hawking, Ernest Rutherford and Mary Anning to name a few.
The Bank's chief cashier, Sarah John said, "The strength of the shortlist is testament to the UK's incredible scientific contribution. The breadth of individuals and achievements reflects the huge range of nominations we received for this note and I would like to thank the public for all their suggestions of scientists we could celebrate."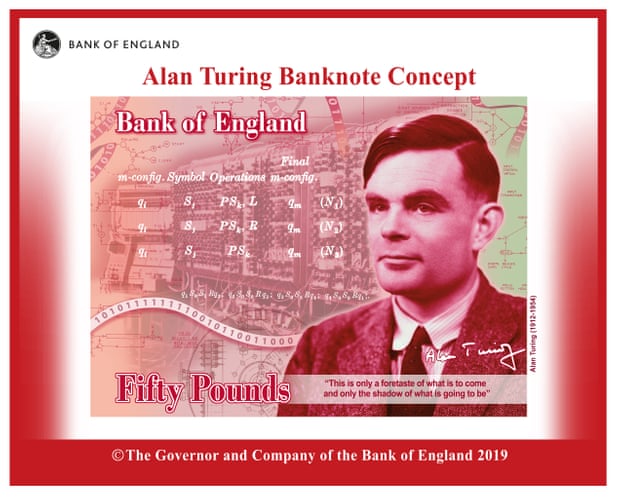 About Alan Turing
Alan Turing is perhaps best known for his outstanding code-breaking which was vital to the Allied victory in WWII.
However, he was also considered a pioneer in computer sciences and the development of the early computer. His work has had an enormous impact on our lives today.
The Bank of England governor, Mark Carney said, "Alan Turing was an outstanding mathematician whose work has had an enormous impact on how we live today. As the father of computer science and artificial intelligence, as well as [a] war hero, Alan Turing's contributions were far ranging and path breaking. Turing is a giant on whose shoulders so many now stand."
Sadly, in 1952 he was prosecuted for homosexual acts and died in 1954 from cyanide poisoning. It was determined that his death was an act of suicide.
The new note
Next year the new £20 polymer note will be issued, featuring British Artist, JMW Turner.
This will be the third UK banknote to be made from polymer and will be swiftly followed by the new £50 note in 2021, thus completing the UK's changeover to plastic banknotes.
These notes are more durable, secure and environmentally friendly than paper notes.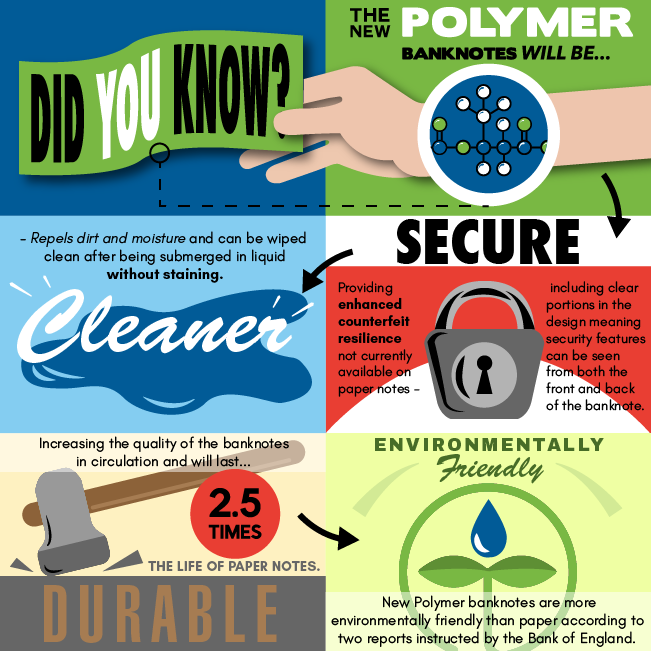 The future of cash
There have been debates in recent years as to whether or not Britain should become a cashless society.
The rise of card and electronic payments means that many see cash as becoming obsolete, with the 1p and 2p coins at the heart of the debate.
In addition to this, the validity of the £50 note has also been questioned, as it is rarely used in everyday payments and is widely thought of as being used by criminals.
The good news for Change Checkers is that the Treasury have confirmed that cash will be around for years to come.
And, with the introduction of the new Alan Turing £50 note in 2021, I think it's fair to say that cash is still king.
---
If you're interested in coin collecting, our Change Checker web app is completely free to use and allows users to:
– Find and identify the coins in their pocket
– Collect and track the coins they have
– Swap their spare coins with other Change Checkers

Sign up today at: www.changechecker.org/app
This weekend, the Bank of England confirmed that the £50 note will remain part of UK currency and a new batch will be issued after the £20 note in 2020 following a public nomination process to select potential characters to appear on it.
In keeping with the new £5 and £10 polymer notes, the £50 will also be printed on thin, flexible plastic polymer material, making them cleaner, safer and stronger.
In September 2016, the first polymer £5 note featuring Winston Churchill entered circulation in the UK. Its success lead to the Jane Austen £10 polymer note being released the following year and plans for the first polymer £20 note featuring artist JMW Turner to be issued in 2020. It will be down to the public to decide who should appear on the new £50 notes, so who would you nominate?
The £50 note was first introduced in 1981 and there are now 330 million in circulation, totalling a combined value of £16.5 billion!
Recently there have been fears that £50 notes are being used for criminal activity such as tax evasion and are rarely used for standard purchases. However, the Treasury has said that this new batch of polymer notes has been designed to be more secure and harder to forge, meaning that they are here to stay.
They will also be more durable and environmentally friendly than their predecessors, lasting roughly 2.5 times longer than paper notes.
Sarah John, the Bank's Chief Cashier, said: "I'm very excited to be starting the process of introducing a new £50 note. At the Bank, we are committed to providing the public with high quality notes they can use with confidence. Moving the £50 note onto polymer is an important next step to ensure that we can continue to do that."
What are your thoughts on the £50 note and who would you like to see feature on the next polymer batch? Let us know in the comments below!
---
If you're interested in coin collecting, our Change Checker web app is completely free to use and allows users to:
– Find and identify the coins in their pocket
– Collect and track the coins they have
– Swap their spare coins with other Change Checkers

Sign up today at: www.changechecker.org/app