In recent years, the 50 pence piece has become the most collected coin in the world.
But here at Change Checker, we get asked a lot about the older specification 50p coins… "How many old 50ps are there to collect? How rare are my old 50ps? Can I still find these coins in circulation?" are just a few of the questions frequently asked.
So, we've put together a guide answering your questions and giving you the key facts we think you need to know about these out-of-circulation coins!
What are old specification 50ps?
The 50p emerged in 1969 as the first coin in the new decimal series.
It was also the world's first seven-sided coin and has since become the most collected coin in the country!
In 1997, the specification for the 50p changed to the size and feel we're familiar with today.
But, between 1969-1997, there were five 50p coins issued in these older specifications. But what was different about these coins?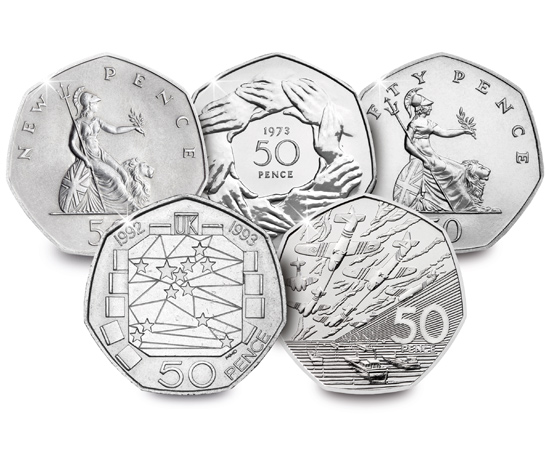 Spot the difference
Pre-1997 (old specification)
1998 onwards (new specification)
Weight
13.05g
8.00g
Diameter
30mm
27.30mm
Metal
Cupro-Nickel
Cupro-Nickel
Obverse
Effigy
1969-1985 – 2nd Portrait, Arnold Machin

1985-1997 – 3rd Portrait, Raphael Maklouf
1998-2015 – 4th Portrait, Ian Rank-Broadley

2015-onwards – 5th Portrait, Jody Clark
As you can see, despite the 50p retaining the same metal composition, the older specification was much bigger and heavier than the coin we're used to today – imagine carrying around a bundle of those in your pockets!
These coins were removed from circulation when the new specifications were introduced, so you won't come across these in your change.
What's more, shop keepers and banks won't accept these as legal tender, so we imagine a lot of these will have been kept by collectors for their private collections!
So, how many of these coins were issued? Let's take a look at our Pre-1997 50p Mintage Chart and see..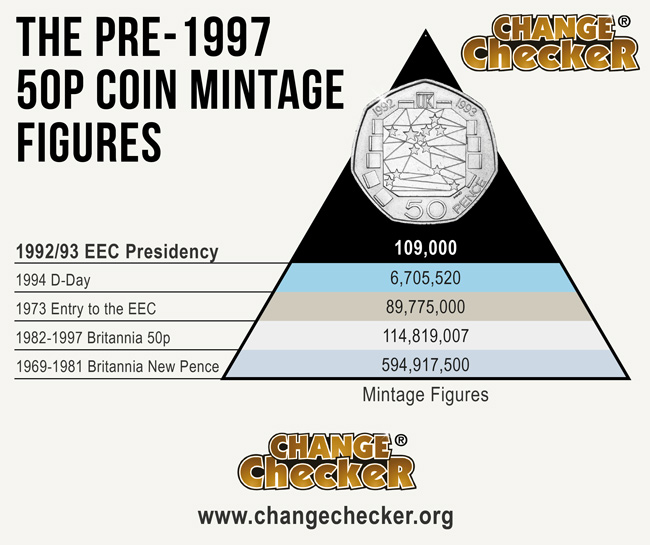 You might have spotted the top coin in our chart has a mintage of JUST 109,000! Let's take a look at each of these coins in closer detail to get the full story..
1969 Britannia New Pence
Fact File:
Year of Issue: 1969-1981
Obverse Designer: Arnold Machin
Reverse Designer: Christopher Ironside
Mintage: 594,917,500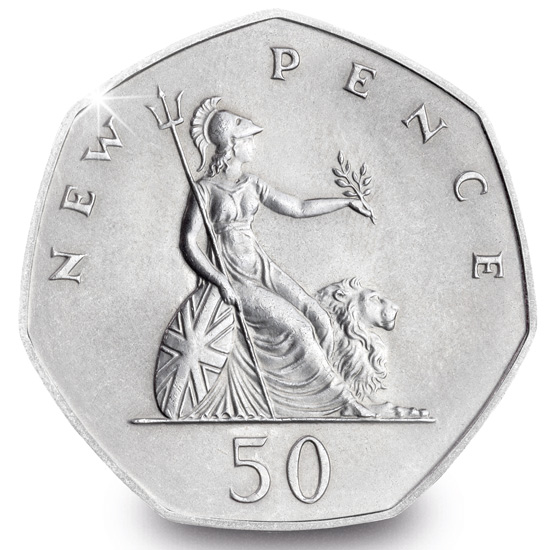 The New Pence 50p was the first 50p coin ever issued and it featured Christopher Ironside's iconic Britannia design.
Britannia first appeared on UK coinage in 1672 and since then has always been present on at least one denomination.
With a mintage of 594,917,500 is the most common of the pre-1997 50p designs, which is hardly surprising as it was the definitive 50p design between 1969-1981.
Despite it's considerably high circulating mintage, this coin is still considered collectible as it's no longer in circulation.
1973 Entry to the EEC 50p
Fact File:
Year of Issue: 1973
Obverse Designer: Arnold Machin
Reverse Designer: David Wynne
Mintage: 89,775,000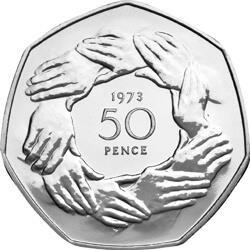 This coin was issued to celebrate the UK's entry to the EU (then called the European Economic Council or the EEC).
With a mintage of 89,775,000 it is less common that the definitive design but not the rarest out there!
It is still incredibly sought-after by collectors though as this was the FIRST-EVER commemorative 50p!
1982 Britannia Fifty Pence
Fact File:
Year of Issue: 1982/83/85
Obverse Designer: Arnold Machin (1982/82) Raphael Maklouf (1985)
Reverse Designer: Christopher Ironside
Mintage: 114,819,007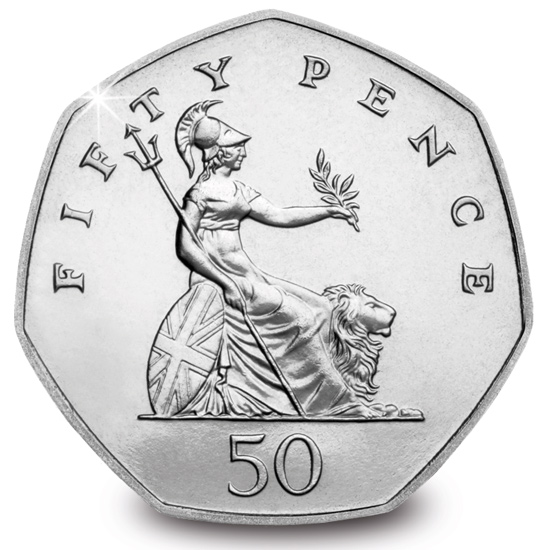 In 1982 the 'New Pence' in the design was replaced with 'Fifty Pence' as the design was no longer considered new.
Although still the definitive design, this coin was only issued in 1982, 1983 and 1985 and featured two different portraits of Her Majesty on the obverse! Machin in '82 and '83 and the new Maklouf portrait in '85.
With a mintage of 114,819,007, it's the second most-common of the Pre-1997 50ps.
1992/93 EC Presidency 50p
Fact File:
Year of Issue: 1992/93
Obverse Designer: Raphael Maklouf
Reverse Designer: Mary Milner
Mintage: 109,000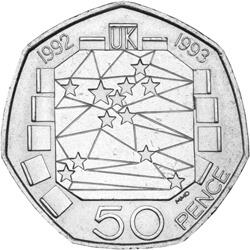 Designed by Mary Milner, this 50p celebrates the UK's presidency of the European Council of Ministers.
Excitingly, this 50p is the RAREST ever UK 50p to enter circulation. With a mintage of just 109,000 it's even rarer than the sought-after Kew Gardens 50p which has a mintage of 210,000.
As this coin is no longer in circulation AND has the lowest ever UK 50p circulating mintage, it's incredibly sought-after by collectors and if you're lucky enough to have one in your collection, you should be extremely pleased!
1994 D-Day Landings 50p
Fact File:
Year of Issue: 1994
Obverse Designer: Raphael Maklouf
Reverse Designer: John Mills
Mintage: 6,705,520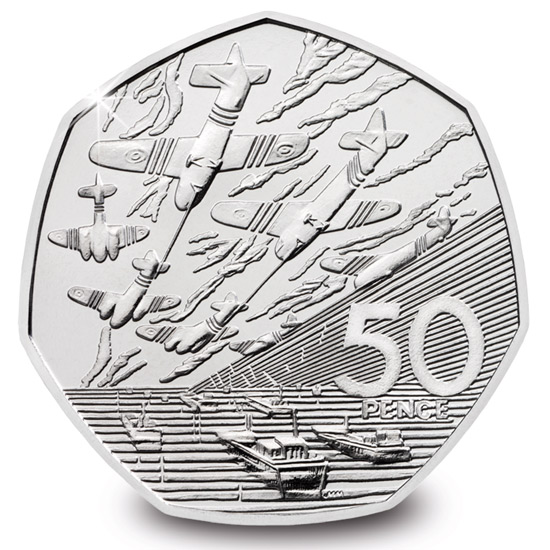 Issued to commemorate the 50th anniversary of the D-Day Landings, this was the final 50p issued in the older specifications.
Interestingly, this has been voted Change Checkers 'Favourite Ever' 50p!
With a mintage of 6,705,520 it is the second rarest of the pre-1997 50p coins.
---
So hopefully our guide to the Pre-1997 50p coins will help you along the way to expanding your collection!
What's most exciting about all five of these coins is that now they're out of circulation, they are all considered particularly sought-after by collectors!
Do you have any of these coins in your collection already? Let us know in the comments below!
---
Own the UK's FIRST-EVER Commemorative 50p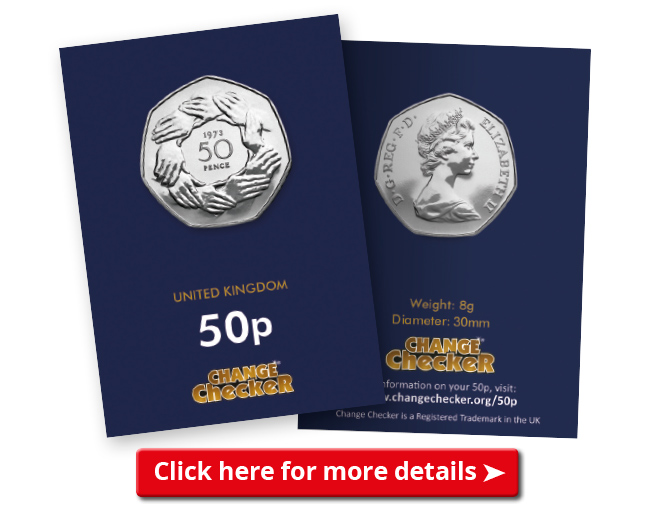 To secure the 1973 Entry to the EEC 50p – the UK's FIRST-EVER commemorative 50p – carefully encapsulated in Change Checker packaging click here >>
Ancient Greek civilisation provided the foundations for Western culture and one of the empire's most recognised legacies is Greek mythology, which had an extensive influence on arts and literature in the West. Greek myths tended to describe the lives of Greek Gods including their births, victories in battle, love affairs and their connection to certain city-states.
One artifact which pays homage to Greek mythology is Ancient Greek coinage. Greek currency was the first to be minted on an imperial scale and has influenced commerce across the world.
Coins were hugely important as a medium of exchange and an important store of value and source of prestige. Greek coins used a combination of figures, symbols and inscriptions to symbolise each ruler's territory. Each city state in Ancient Greece was said to be protected by a certain character from Greek mythology and one of the most identifiable features of Greek coinage are the Gods and Goddesses which are struck on many of the coins of the time.
This blog takes a look at some of the most famous myths that were struck on coins from the time, some over 2,000 years old!
Zeus 'King of the Gods'
Issued in the 2nd century BC this coin depicts Zeus the chief of the gods and believed to be the ruler of mankind. It's believe that Zeus saved his brothers, Poseidon and Hades, after they had been eaten by their father Cronus. The three of them divided creation between them. As the Father God, Zeus was the dispenser of good and evil and the upholder of morality.
Hercules 'Son of Zeus'
Alexander the Great often issued coins depicting himself dressed as Hercules, wearing a headdress made of the scalp of the Nemean lion – one of Hercules' "12 tests". Hercules is famed for being the strongest of all mortals. However, his physical power was offset by a lack of intelligence and strong emotions. Many of Hercules' great deeds occurred while doing penance for stupid acts done in anger or carelessness.

Apollo 'God of Music'
This coin is an example of one of many coins issued depicting Apollo, the son of Zeus. Apollo is considered a complex god of many things including music, poetry, art, oracles, archery, plague, medicine, sun, and knowledge. He is often depicted playing the lyre and is represented as an ever youthful god.

Ares 'God of War'
Issued in the 1st Century BC this coin depicts Ares, the God of war and violence. Fittingly the reverse of this coin features a sword. Ares was a superior fighter in battle and caused great bloodshed and destruction, but he also had a reputation for being cowardly.
The Dioscuri 'Patron Saint of Sailors'
This coin features the Dioscuri; the twin brothers of Castor and Pollux. Pollux, the son of Zeus, was immortal but Castor was mortal. When Castor was murdered, Pollux asked his father Zeus if he could share his immortality with his brother. So they transformed into the constellation Gemini, able to travel back and forth between Olympus and Hades. They are also known as protectors of sailors, able to calm the seas and winds in storms.
Gorgon 'Medusa'
Medusa was the only mortal of the three powerful winged Gorgon sisters. It is believed that Medusa was transformed into a monster by Athena. Medusa's hair was made of snakes, although it is depicted as wild leaves on this coin, and she was said to be able to turn people to stone with a glance. She was killed by the hero Perseus, who used the metal of his shield as a mirror to avoid eye contact with Medusa.
Histiaea 'Patron Saint of Histiaea'
This small silver coin is known as a "tertobol" and weighs just over 2 grams. It pictures Histiaea, the nymph, on both the obverse and reverse. Histiaea was named after the ancient city of Histiaea on the second largest Greek island, Euboea. Mythical Naiads lived in the lakes here and being immortal, were invited to the assemblies of the gods on Mount Olympus.

Poseidon 'God of the Sea'
Poseidon was worshipped as the god of the sea, earthquakes and horses. Poseidon is often portrayed with his best known weapon, the trident, which he used to shake the earth and create storms, causing devastating earthquakes and tsunamis. It is this trident that is featured on the reverse of this coin. The coin was issued by the Syracuse in the 3rd Century BC, as Poseidon was greatly important to them as a maritime city/state.
Tyche 'Goddess of Cities'
Tyche was the personification of fortune and controlled the luck and prosperity of a city. On this coin she is depicted with a crown of city walls and the reverse depicts a cornucopia, a symbol of good fortune. Tyche was said to have carried a large horn containing riches, which she would sporadically spread to individuals and cities. When no cause could be discovered for events such as floods, droughts or political upheaval, they were often attributed to Tyche
I think this just goes to show how historical events, stories and myths are immortalised on coins to be remembered for generations. And in years to come, our own ancestors may look back at the decimal coins from our era as a window into the past…
---
If you're interested in coin collecting, our Change Checker web app is completely free to use and allows users to:
– Find and identify the coins in their pocket
– Collect and track the coins they have
– Swap their spare coins with other Change Checkers
Sign up today at: www.changechecker.org/app
Alexandrina Victoria was born on 24th May 1819. At just 18 years old she acceded to the throne and ruled Britain for 63 years, making her Britain's longest reigning monarch at the time of her death in 1901.
Victoria oversaw the extensive growth and expansion of the British Empire under her rule, with dramatic changes in British culture, industry, and technology. These changes had a significant influence on the development and spread of British coinage.
Victorian currency was minted throughout the world in countries such as India and Australia, as well as Britain. Every coin and portrait tells a unique story – from the 'Young Head' which depicted a promising Queen, right through to the 'Old Head' which represented an ageing but graceful monarch.
In this blog, we'll explore the defining coins of Queen Victoria's reign, as well as taking a look at the modern commemorative coins we see today, issued to celebrate one of Britain's most influential monarchs.
The defining coins of Queen Victoria's Reign
1838 Sovereign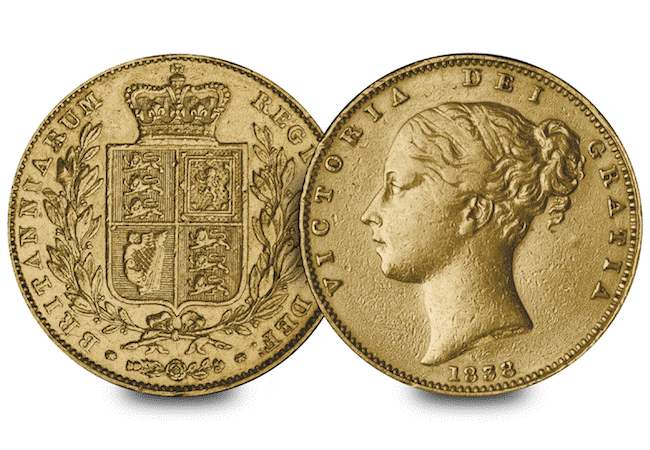 The first Sovereign of Queen Victoria's rule was issued in 1838 with the popular Young Head portrait by William Wyon. The portrait had a particularly youthful look, one that was favoured by Victoria and contributed to the coin's popularity throughout her reign. To this day, it is the longest a portrait has featured on our circulating coinage, having been issued on bronze coins up until 1895. The Young Head effigy is considered the most favoured portrait of Victoria's coinage, undergoing only minor changes throughout its lifespan.
Godless Florin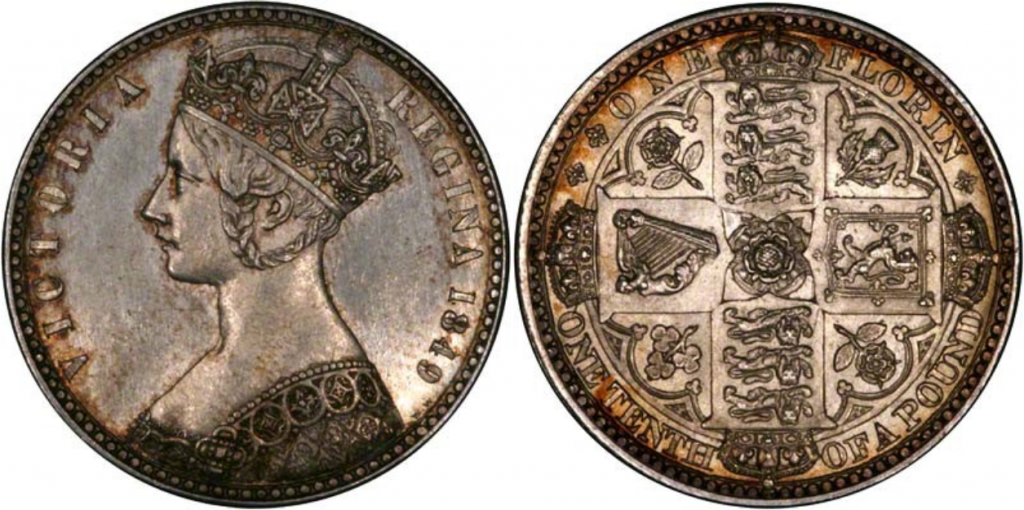 As part of the move towards decimalisation, a coin valued at 1/10th of a pound, the Florin, was introduced in 1849. It featured the Gothic Head portrait by William Wyon which would actually go on to be regarded as one of the most beautiful representations of the Victorian age. However, this coin failed to include the term 'Dei Gratia', which earned it the nickname of the Godless Florin. It was swiftly withdrawn from circulation after three years.
Gothic Florin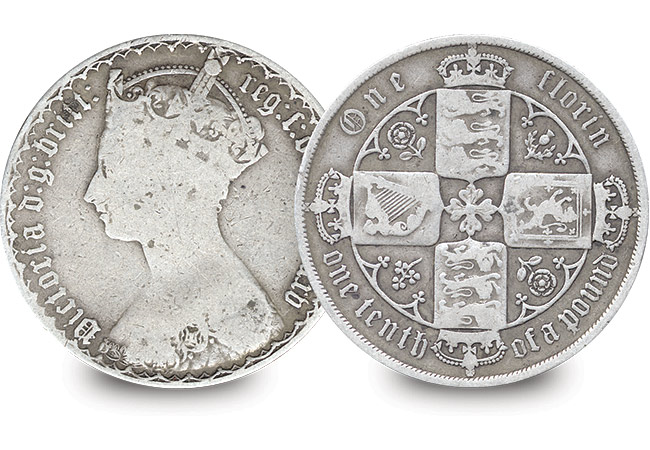 The Gothic Florin was introduced as a replacement to the Godless Florin and contained a very similar design, but this coin included the term 'Dei Gratia'. This particular portrait represents the revival of Gothic culture across Victorian life and draws its name from the distinct gothic font used for the inscription around the edge, and the intricate detail on the crown that Victoria wears, which is considered a numismatic masterpiece. As the second Florin to promote decimalisation, the Gothic Florin again failed to gain popularity but was minted for longer than its predecessor.
Click here to own a genuine Queen Victoria Silver Florin
1855 Sydney Sovereign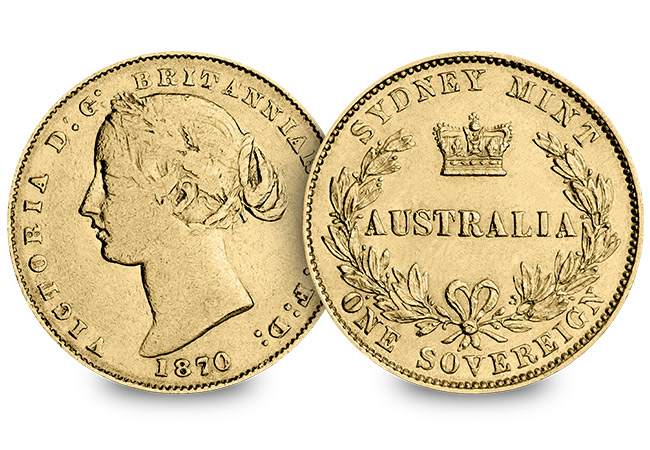 As part of British imperial expansion, the Royal Mint opened a branch in Sydney and the first Sovereign was minted there in 1855. It had the word 'Australia' printed on the reverse and bore a small 'S' mintmark to distinguish it as having been minted in Australia. This portrait was only ever seen on Australian coins, produced exclusively at the Sydney Mint for just 14 years. It depicted a younger queen with a sprig of banksia (an Australia plant) weaved into her hair, which gave it a distinct Australian feel.
Double Florin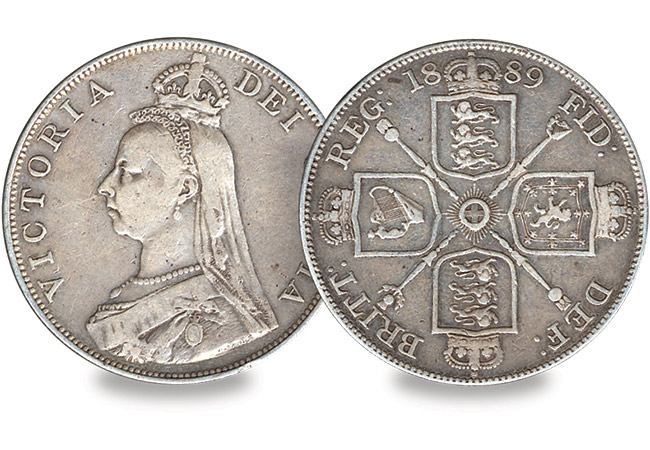 The Double Florin, in another move towards decimalisation, was valued at 1/5th of a pound and pictured the Jubilee Head. The coin was only 2mm smaller than the Crown but valued at a Shilling less, making it difficult to distinguish between the two. Issued between 1887 and 1890, it is one of the shortest circulating coins in British history. The coin was famously nicknamed the 'Barmaid's Ruin', as tavern maids mistook the coin for a Crown, causing the tavern to lose money and the maid to lose their job!
1901 Sovereign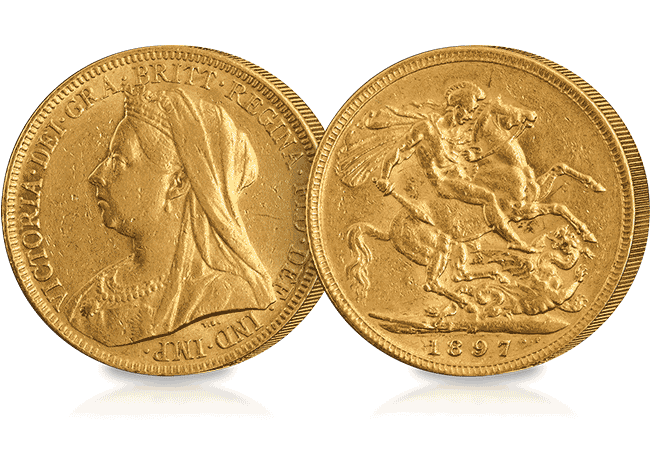 The final Sovereign of Queen Victoria's rule depicted the Old Head portrait by Thomas Brock, showing an elegant Queen in her mourning attire. Victoria's veil had become integral to her image since the death of her husband in 1861, right up until her final years. This is one of the most famous images of Victoria and features on the final sovereign of her reign, issued in 1901 at the end of the Victorian era and the start of a new century.
Modern commemorative coins
Almost 150 years after the birth of Queen Victoria and 120 years after the initial move towards decimalisation, the first decimal coins entered circulation in Britain. The 5p and 10p coins were released in 1968, followed by the 50p coin in 1969.
From the modern coinage we see today, two commemorative £5 coins have been issued in Queen Victoria's honour.
Death of Queen Victoria 100th anniversary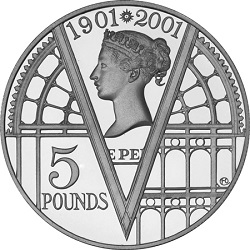 The death of Queen Victoria in January 1901 marked the end of an era which has left its mark on the modern world. Her reign was remarkable for the extraordinary progress in industry, technology, arts and sciences and the expansion of the British Empire. This coin was issued to mark 100 years since her death and the end of the Victorian era. The reverse by Mary Milner-Dickens reproduces the profile of Victoria by William Wyon against the background of the Crystal Palace exhibition of 1851.
Birth of Queen Victoria 200th anniversary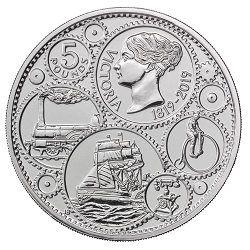 Under Queen Victoria's reign, The British Empire became a superpower during an era of peace and prosperity. Designed by John Bergdahl, the reverse of this coin, issued to celebrate the 200th anniversary of the birth of Queen Victoria, features a portrait of Queen Victoria with the dates 1819 – 2019 alongside a steam train, large sailing ship, telephone, and penny farthing. Each element appears in a mechanical circle to represent the incredible inventions of the Victorian period.
Of all the monarchs, Victoria's reign seems to have captured the imagination of the public more than any other. The coins issued throughout her reign and into the modern age reflect her extraordinary life and rule.
---
Celebrate the 200th Anniversary of the birth of Queen Victoria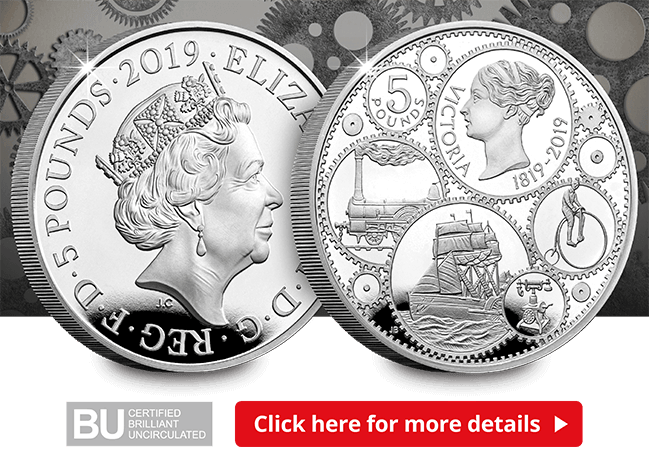 This brand new UK £5 coin has been struck to a superior Brilliant Uncirculated quality and is protectively encapsulated in official Change Checker packaging to ensure that it is preserved for generations.