Posts Tagged 'Peter Rabbit 50p'
We're excited to host our next Change Checker Live Coin Swap on the 13th of April at Drake Circus in Plymouth from 9am to 6pm.
We're back on the road for another Change Checker Live Event and this time we're in Plymouth swapping the brand new 2019 Peter Rabbit 50p.
Our next event takes place on Saturday 13th April at Drake Circus Shopping Centre, Plymouth from 9am to 6pm.
Join us there and swap ANY 50p coin for one of the brand new 2019 Peter Rabbit 50ps in Brilliant Uncirculated condition!
This coin won't be entering circulation, so this is your chance to get hold of one for face value by swapping with us!
PLUS you'll receive an exclusive voucher to SAVE £4.95 on the 2018 Beatrix Potter Complete Pack, including all four 50ps in Brilliant Uncirculated quality.
Please note: Swaps are limited to 1 per person, while stocks last.
Drake Circus Shopping Centre, Plymouth
Drake Circus in Plymouth is the West Country's most popular shopping centre with over 70 of the UK's top brand names and biggest stores in the region all under one roof.
You can find us in the Lower Atrium, at the location marked 3 on the map below:
Drake Circus has loads of places to stop and eat and has 1,270 parking spaces.
The shopping centre is situated in the heart of Plymouth, easily accessed by car and public transport.
The full address is: Drake Circus, 1 Charles Street, Plymouth, Devon, PL1 1EA
Can I swap more than one coin?
Such is the popularity of our Live Coin Swaps and to ensure that it is fair for everybody, we'll be limiting the number of swaps to strictly 1 coin per person.
Will you be doing any more Live Coin Swaps?
That's the plan!
We will be holding more Live Coin Swaps in the future and the plan is to visit a different area of the country each time, giving as many people as possible the opportunity to attend.
We look forward to seeing you there!
---
Secure your 2019 Peter Rabbit 50p today!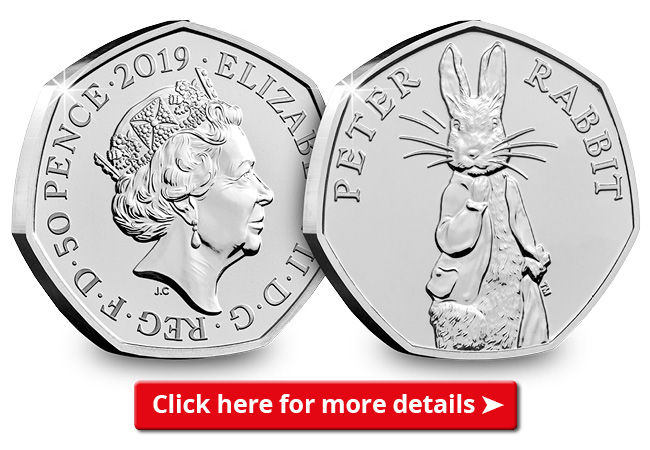 Can't wait to get your hands on the new Peter Rabbit 50p?
Own the brand new coin in brilliant uncirculated quality today!
The BRAND NEW 2019 Peter Rabbit 50p has now been officially released!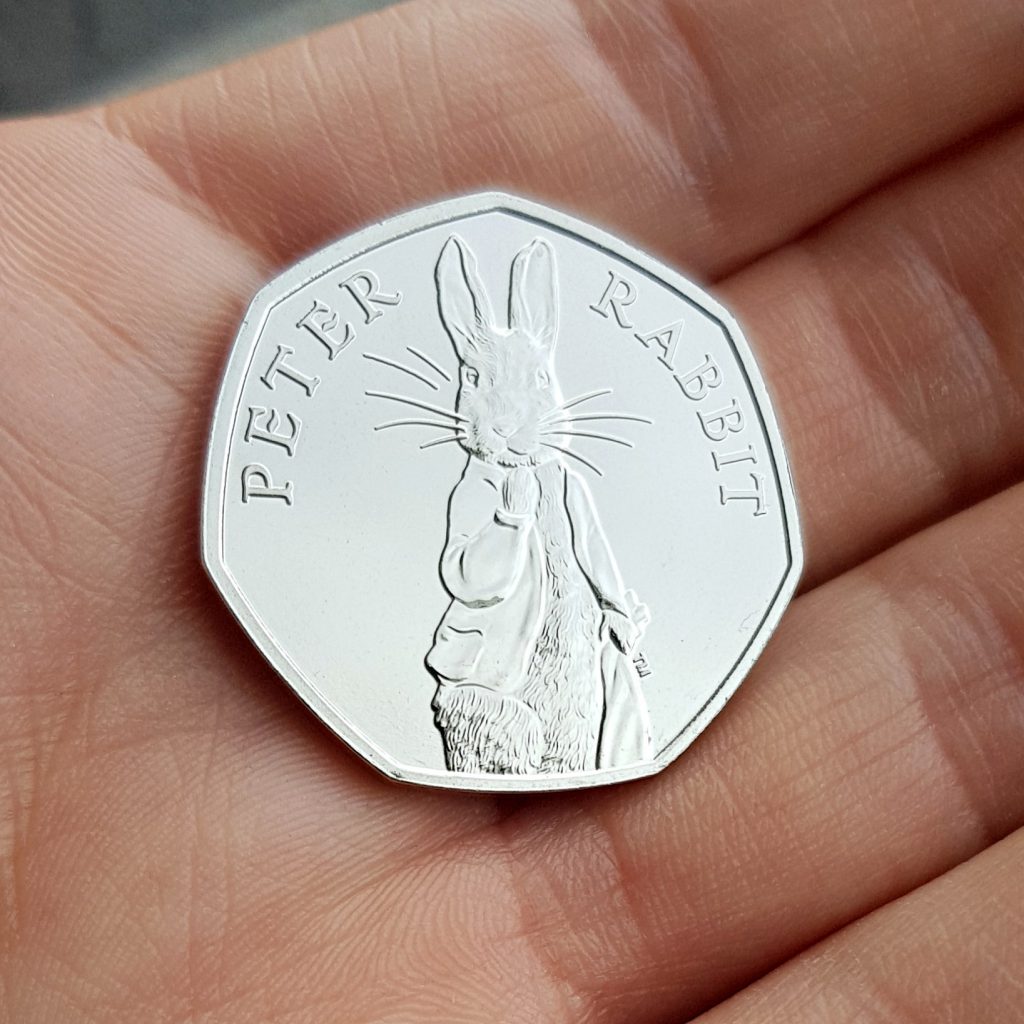 In 2016 this mischievous little bunny re-inspired the nation to start checking their change.
And that's because Beatrix Potter's enchanting tales of countryside characters were brought to life on UK coinage with The Royal Mint's introduction of the Beatrix Potter 50p series.
Likened to the 2012 Olympic 50p collecting sensation that gripped the nation, the release of these 50ps, including the very first UK Peter Rabbit coin, started a collecting frenzy across the UK.
And now this loveable little character has once again found his way out of Mr McGregor's garden and onto a brand new UK 50p coin, for the fourth year running.
First issued to celebrate 150 years since the birth of the renowned Children's author, Beatrix Potter, these 50p coins have been unprecedented in their popularity.
Thirteen coins have been issued since 2016, each featuring one of Potter's delightful characters, from Flopsy Bunny to Mrs Tiggy-Winkle and even a special coin which includes elements celebrating Beatrix as the artist behind some of the best-loved characters in children's literature.
The tale now continues with the 2019 Peter Rabbit 50p coin, featuring an original illustration of Peter Rabbit by Beatrix Potter herself, carefully engraved by Royal Mint coin designer, Emma Noble.
The illustration has been taken from the book, 'The Tales of Benjamin Bunny' and shows Peter Rabbit wearing his blue jacket, which he daringly retrieved from Mr McGregor's garden after losing it in 'The Tales of Peter Rabbit'.
He can be seen clutching a handkerchief which was used to gather onions from the garden to take back for his aunt.
The coin won't be entering circulation, but is available to purchase in Brilliant Uncirculated quality here >>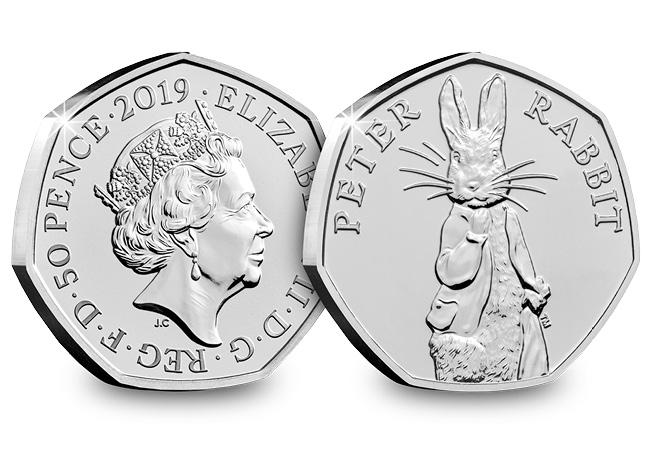 There is no doubt that this Peter Rabbit 50p coin will be as popular as the previous years, and I'm sure collectors won't want to let this bouncy bunny slip through their fingers.
---
Own the BRAND NEW 2019 Peter Rabbit 50p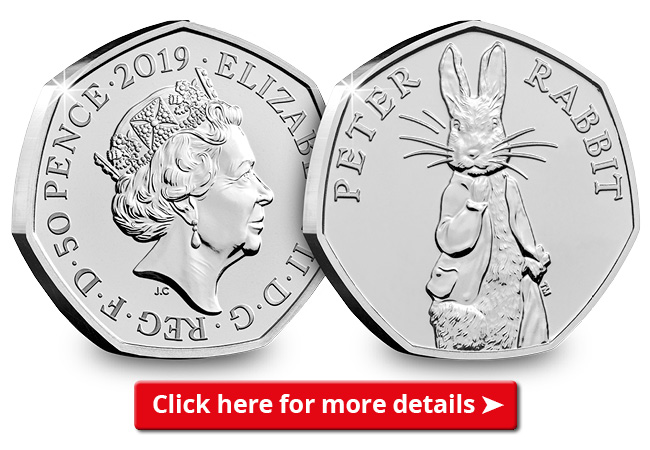 This is your chance to be ahead of the crowd and secure your 2019 Peter Rabbit 50p in superior Brilliant Uncirculated condition.
Secure the Brilliant Uncirculated issue today for just £3.99 (+p&p) >>
---
Sign up for more Beatrix Potter news!
The Royal Mint has not confirmed if more Beatrix Potter coins will be issued this year, but if you'd like to be the first to know about any updates or future Beatrix Potter coins, you can sign up to receive updates using the form below:
I love Peter Rabbit. You love Peter Rabbit. The world, it seems, loves Peter Rabbit.
And so I'm sure you'll be just as excited as I am to hear that The Royal Mint will be releasing a BRAND NEW Peter Rabbit coin for 2019 on the 19th of March!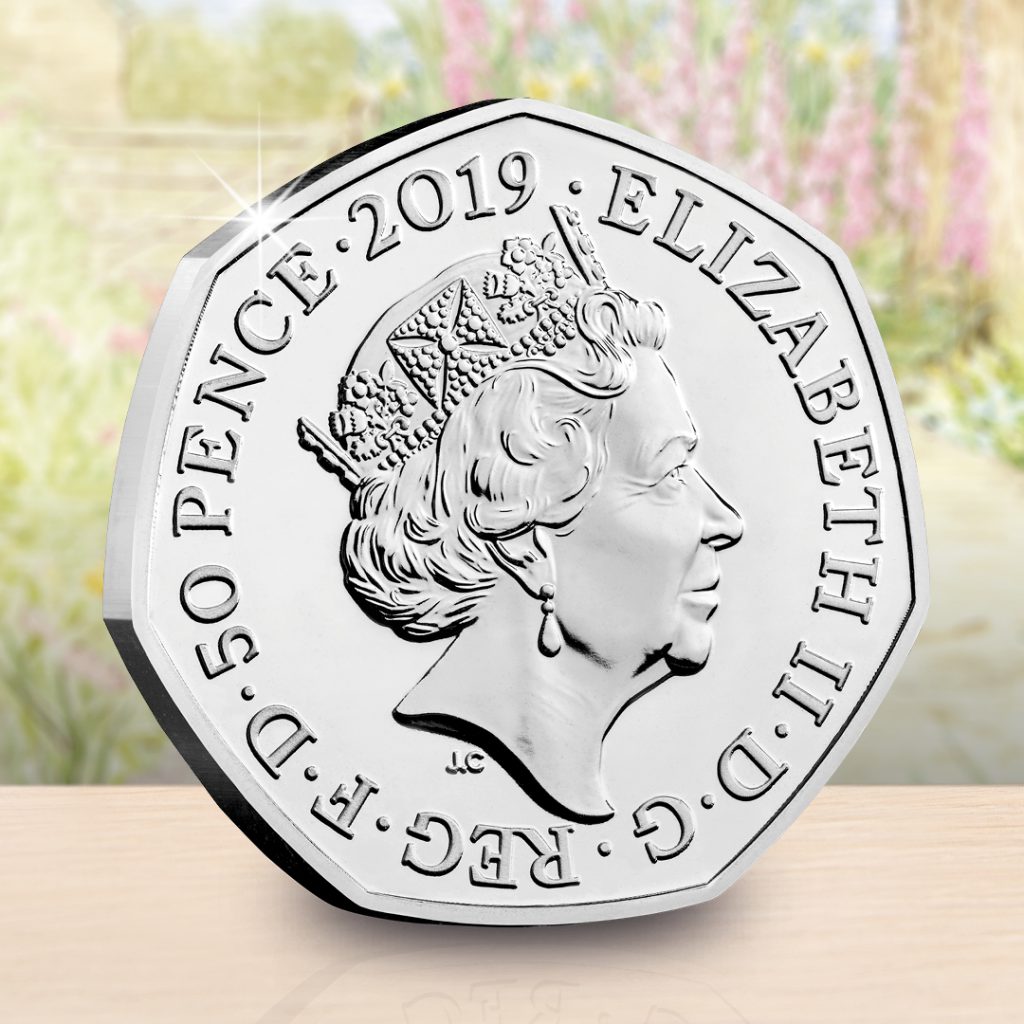 Although all the details have not been released yet and the actual design is still top secret, it seems likely that the Peter Rabbit 50p coin will be hugely popular with the British public and collectors of the Beatrix Potter 50p coin series.
Stay up to date with all the latest 2019 Peter Rabbit news…
Fill in your details below to be kept up to date with all the latest news about the 2019 Peter Rabbit 50p coin and be the first to find out when it becomes available to order.
---
If you're interested in coin collecting, our Change Checker web app is completely free to use and allows users to:
– Find and identify the coins in their pocket
– Collect and track the coins they have
– Swap their spare coins with other Change Checkers
Sign up today at: www.changechecker.org/app