Posts Tagged 'Peter Rabbit 50p'
Peter Rabbit is arguably Beatrix Potter's cheekiest character and he's been one of the most popular and most-loved characters in children's literature since his first creation.
He's featured in books, films and even on the UK's favourite coin, the 50p!
But where did Peter Rabbit's tale begin and how did he end up on FIVE UK 50p coins? In this blog, we run through the exciting tale of the Peter Rabbit 50p series…
Bridging Generations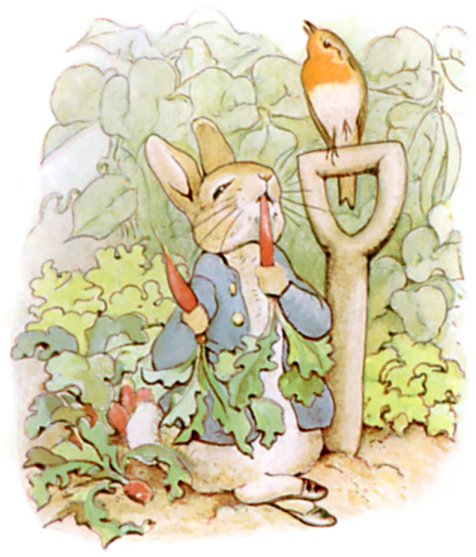 Peter Rabbit first appeared in literature back in 1902, when children's author Beatrix Potter commercially published what was to become her best-seller, The Tale of Peter Rabbit.
The story is centred around Peter, who is far more adventurous than his siblings: Flopsy, Mopsy, and Cotton-tail. Going against his mother's instructions, Peter breaks into Mr. McGregor's garden after being tempted by some delicious looking vegetables… After a close encounter with McGregor, Peter manages to escape, but sadly loses his shoes and iconic blue jacket.
Since 1902, Peter Rabbit has featured in eight books, over 9 tv/film adaptations. and has been made into numerous commemorative souvenirs – including a series of 50p coins!
He's become a household a name across generations and is loved by families up and down the country.
United Kingdom Peter Rabbit 50p Coins
In 2016, to celebrate 150 years since the birth of Peter Rabbit author Beatrix Potter, The Royal Mint issued a series of 50p coins.
2016 Peter Rabbit 50p
The 2016 Peter Rabbit 50p was the first coin to be issued in the series and features a close up portrait of the loveable rabbit with his big whiskers taking centre-stage.
The design, by Emma Noble, uses original illustrations from the books to celebrate Potter's life and works.
9,700,000 of these coins were issued into circulation and proved very popular amongst collectors!
2017 Peter Rabbit 50p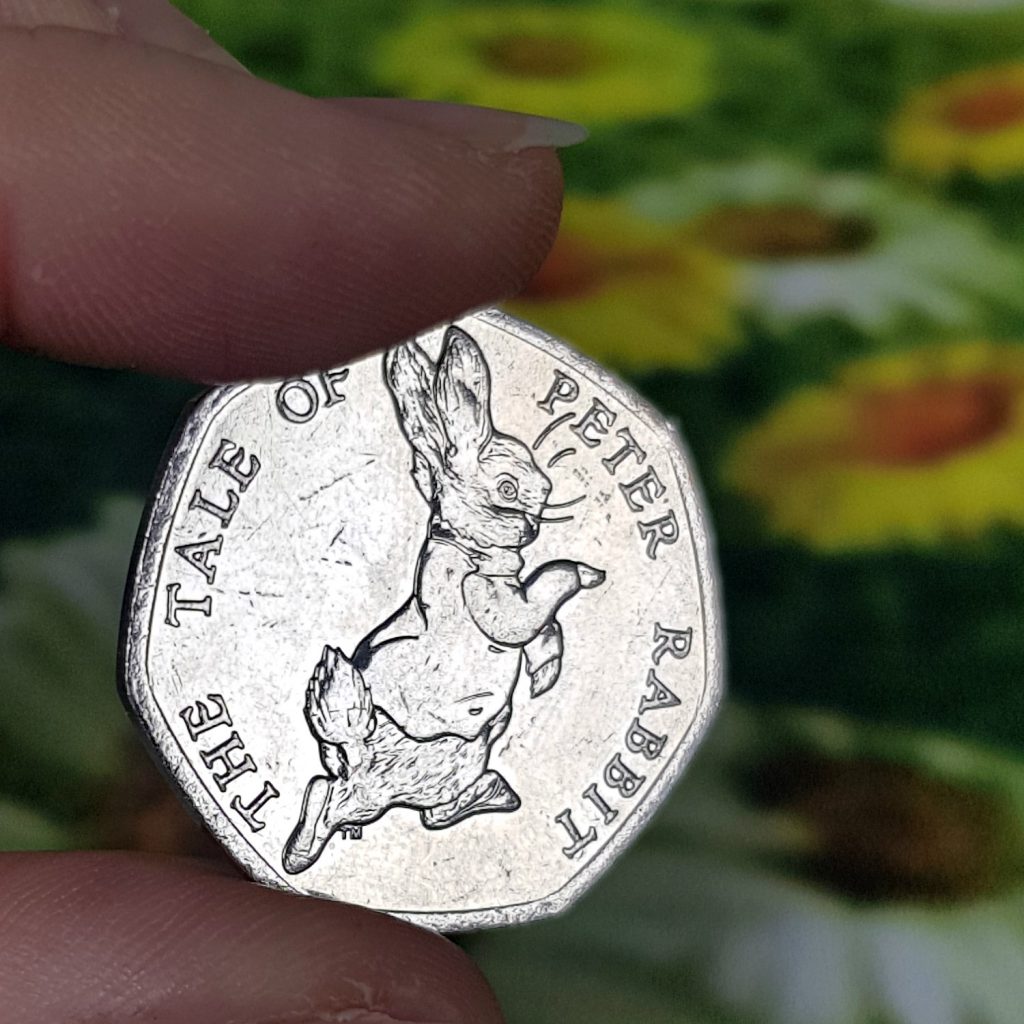 Next up in the series, is the 2017 Peter Rabbit 50p, which is my personal favourite!
Designed by Emma Noble, the coin features Peter Rabbit in his iconic blue jacket in a pose that was to become the emblem of Beatrix Potter's work.
This 50p has a circulating mintage of 19,900,000. Do you have this coin in your collection? Comment below!
2018 Peter Rabbit 50p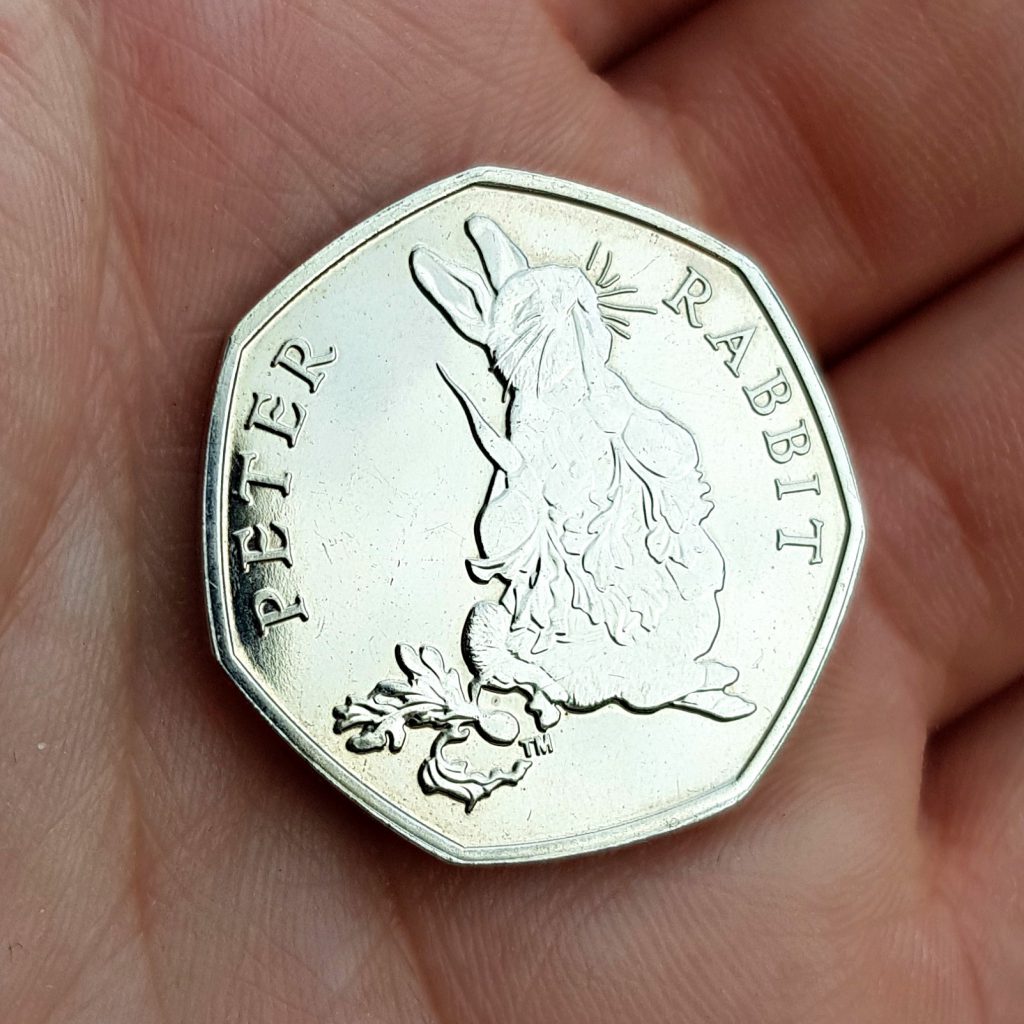 The 2018 Peter Rabbit 50p coin is the third UK coin to feature the much-loved children's character.
Designed by Emma Noble, the reverse features Peter Rabbit munching on radishes and has the joint lowest circulating mintage of all the Beatrix Potter 50p coins.
The 2018 Peter Rabbit and 2018 Flopsy Bunny 50ps have a circulating mintage of just 1,400,000, so if you have this 50p in your collection, consider yourself very lucky!
2019 Peter Rabbit 50p
The tale continued in 2019 with this 50p coin, which is the fourth coin to feature the much-loved Children's character.
Struck by The Royal Mint, the reverse of the coin features an original illustration of Peter Rabbit by Beatrix Potter that has been engraved by Royal Mint coin designer, Emma Noble.
This coin was issued in collector quality only and did not enter general circulation.
2020 Peter Rabbit 50p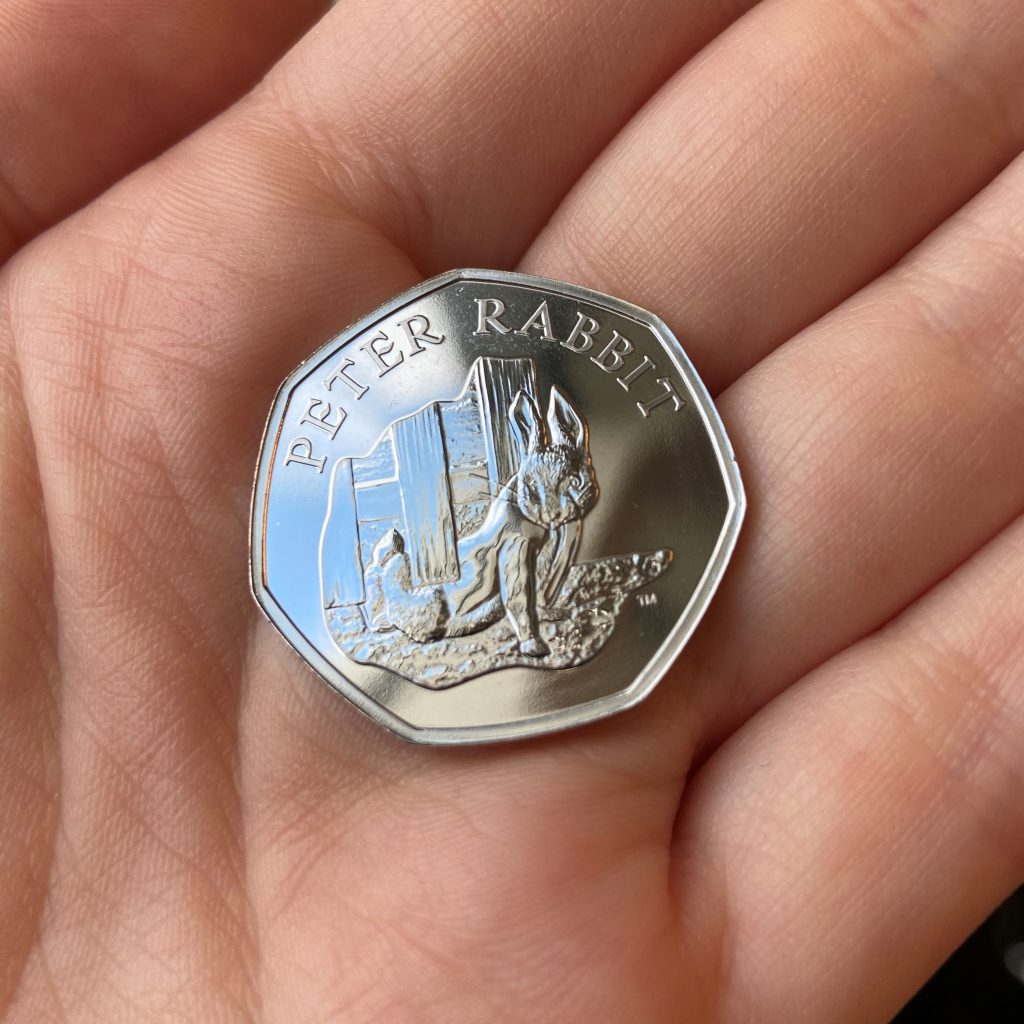 Issued during a world pandemic, this Peter Rabbit 50p is arguably the forgotten coin of 2020.
It was confirmed to be the very last UK Peter Rabbit 50p, sadly bringing his UK 50p tale to an end. Masked by the events of the pandemic, the significance of this coin's issue was missed.
It's reverse features a design of an original Beatrix Potter illustration of Peter Rabbit, scrambling under Mr. McGregor's fence.
It did not enter general circulation and was issued only in collector quality.
---
So, now we've run through all of the UK Peter Rabbit 50p designs, we want to know which is your favourite!
---
Secure the 2017 UK Peter Rabbit 50p to your collection today!
To secure your 2017 UK Peter Rabbit 50p in Brilliant Uncirculated quality for just £4.50 (+p&p), click here >>
With 37 different £2 coin designs in circulation, it's very tough to choose a favourite, but one of mine is certainly the Great Fire of London £2, issued in 2016 to mark the 350th anniversary of one of the most well-known disasters to hit London.
The reverse of the coin, designed by Aaron West, depicts the city of London burning in flames from a distance and makes for an eye catching design which I'm sure many collectors love just as much as I do.
But are you lucky enough to have one of these coins in your collection?
Whilst this coin was previously considered 'Less Common' (as rated on our Scarcity Index), it has now been confirmed that the mintage figure for the Great Fire of London £2 was mistakenly listed and the coin is in fact rarer than we once thought…
Mintage Charts
To reflect the change to the Great Fire of London £2 coin's mintage figure, we've updated our mintage charts to show you how rare this coin actually is compared to the other £2's in circulation.



The Great Fire of London has actually jumped up 15 places on the mintage chart now that the correct figure of 1,625,000 has been confirmed.
The previous figure of 5,135,000 placed the coin in the middle of the pack, just slightly rarer than the Gunpowder Plot £2, however it can now be found amongst the London Underground £2 coins, nearer the top of the mintage chart.
Scarcity Index
These changes are also evident on our latest Scarcity Index update.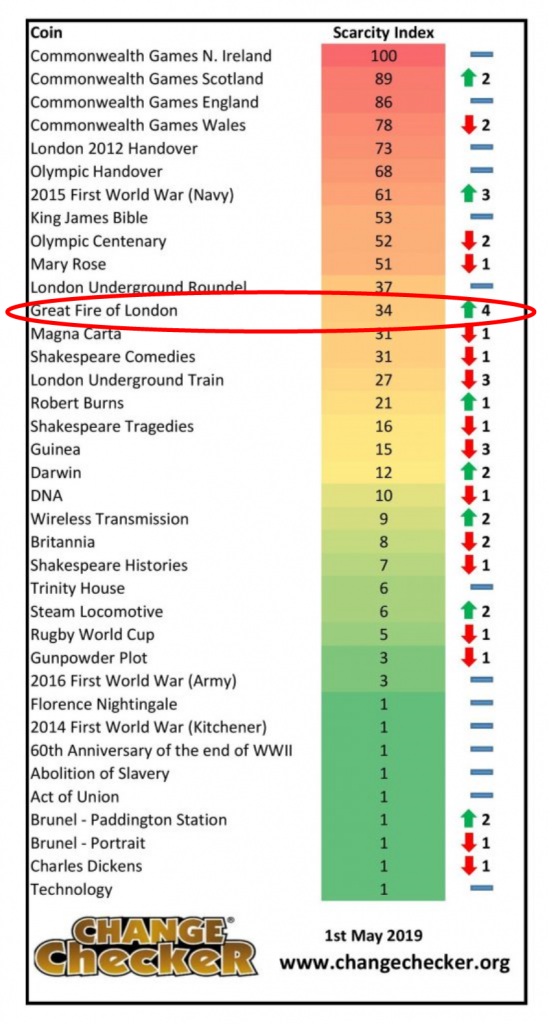 Whilst the coin has only moved up the index by 4 coin places, this is the biggest movement on the £2 index and the coin's Scarcity Index score has actually jumped up from 18 to 34 – almost doubling from the previous index!
Historically, the Great Fire of London £2 has always scored in the mid to high teens, but the updated mintage figures now reflect the fact that the coin is in fact harder than previously believed to find in your change.
Have any other coins been affected?
It wasn't just the Great Fire of London £2 coin which was affected by the updated mintage figures… There were in fact 4 coins from 2016 with previously incorrect figures.



The changes haven't made much of an impact to either of these coin's rankings for the Scarcity Index, with both coins actually moving down 1 place on the index pictured above.
With regards to our mintage figure charts, the two coins have simply swapped positions, as can be seen below.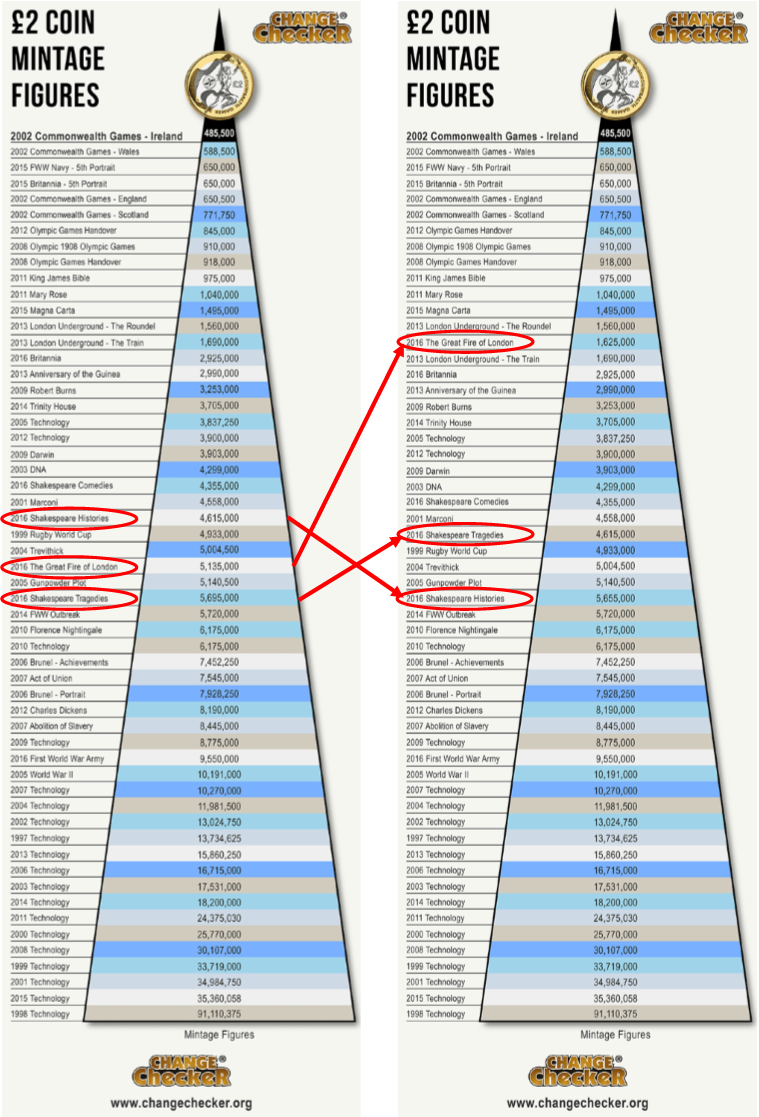 With regards to 50p coins, the only coin affected was the 2016 Peter Rabbit 50p.



This relatively small increase has had no effect on the coin's ranking on the Scarcity Index or position on the mintage figure chart, which can be seen below.


Whilst the changes to the mintage figures for the Shakespeare £2s and Peter Rabbit 50p have made minimal impact, it's fair to say that with almost 4 million less Great Fire of London £2 coins in circulation than previously thought, the scarcity of this coin has definitely increased, making it even more special for those of you lucky enough to have one in your collection.
---
Add the Great Fire of London circulation £2 to your collection!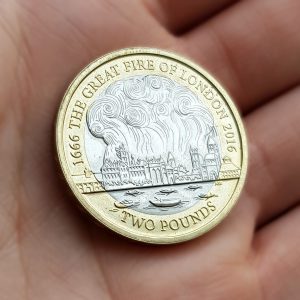 Following the updated mintage figures, I'm sure collectors will be keen to make sure this coin is added to their collection.
Click here to secure the coin in circulation quality for £8.00 with FREE p&p
We're excited to host our next Change Checker Live Coin Swap on the 13th of April at Drake Circus in Plymouth from 9am to 6pm.
We're back on the road for another Change Checker Live Event and this time we're in Plymouth swapping the brand new 2019 Peter Rabbit 50p.
Our next event takes place on Saturday 13th April at Drake Circus Shopping Centre, Plymouth from 9am to 6pm.
Join us there and swap ANY 50p coin for one of the brand new 2019 Peter Rabbit 50ps in Brilliant Uncirculated condition!
This coin won't be entering circulation, so this is your chance to get hold of one for face value by swapping with us!
PLUS you'll receive an exclusive voucher to SAVE £4.95 on the 2018 Beatrix Potter Complete Pack, including all four 50ps in Brilliant Uncirculated quality.
Please note: Swaps are limited to 1 per person, while stocks last.
Drake Circus Shopping Centre, Plymouth
Drake Circus in Plymouth is the West Country's most popular shopping centre with over 70 of the UK's top brand names and biggest stores in the region all under one roof.
You can find us in the Lower Atrium, at the location marked 3 on the map below:
Drake Circus has loads of places to stop and eat and has 1,270 parking spaces.
The shopping centre is situated in the heart of Plymouth, easily accessed by car and public transport.
The full address is: Drake Circus, 1 Charles Street, Plymouth, Devon, PL1 1EA
Can I swap more than one coin?
Such is the popularity of our Live Coin Swaps and to ensure that it is fair for everybody, we'll be limiting the number of swaps to strictly 1 coin per person.
Will you be doing any more Live Coin Swaps?
That's the plan!
We will be holding more Live Coin Swaps in the future and the plan is to visit a different area of the country each time, giving as many people as possible the opportunity to attend.
We look forward to seeing you there!
---
Secure your 2019 Peter Rabbit 50p today!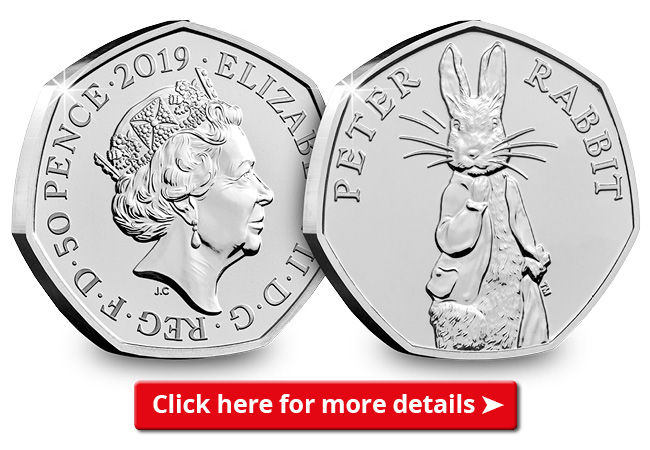 Can't wait to get your hands on the new Peter Rabbit 50p?
Own the brand new coin in brilliant uncirculated quality today!