Posts Tagged 'platinum jubilee'
2022 marks Her Majesty Queen Elizabeth II's Platinum Jubilee – an incredible 70 year reign that makes her the longest reigning living monarch worldwide!
At Change Checker HQ, we've been celebrating this royal milestone with the issue of the brand new 2022 Platinum Jubilee 50p coin, issued earlier this year.
And today, we're excited to announce our National Platinum Jubilee 50p for 50p ballot is open!
This was the UK's first royal 50p and featured a special obverse design of Her Majesty on horseback – never before seen on a UK 50p!
It was so sought-after that the entire limited edition range sold-out within less than 24 hours at The Royal Mint!
In addition to the 50p coins won in our Face Value Coin Ballot, Change Checker also swapped 7,808 Platinum Jubilee 50p coins at our four Live Coin Swap Events (1,952 coins per event!).
And now, we're delighted to have opened our National Platinum Jubilee 50p for 50p ballot, in celebration of the UK's biggest bank holiday, coming in June!
Your chance to own the 2022 Platinum Jubilee 50p for JUST 50p
Today, you have the opportunity to enter the Change Checker ballot for the chance to be one of the 1,952 lucky collectors to own this sought-after coin for JUST 50p!
Simply click here to enter for free!
The winners will be contacted via email on the 1st June with details of how to claim your new 50p coin for just 50p.
Best of luck, Change Checkers!
---
Don't want to miss out?
Secure the brand new 2022 UK Platinum Jubilee 50p for your collection in Brilliant Uncirculated quality today! Simply click here to guarantee yours for £4.99 (+p&p) >>
Your coin will come struck to a Brilliant Uncirculated quality, protectively encapsulated in official Change Checker packaging – the perfect way to preserve your coin for generations to come!
International Women's Day (March 8) is a global day celebrating the social, economic, cultural, and political achievements of women.
To celebrate, in this blog we take a closer look at just some of the incredible women who have been commemorated on our UK coins!
Her Majesty, Queen Elizabeth II
Dame Vera Lynn
Mary Anning
Rosalind Franklin
Agatha Christie
---
There really have been some incredible women celebrated on our UK coins, and this is just a small selection.
Is there an influential women you'd like to see on our coins in the future? Let us know in the comments below!
---
Never miss a UK coin issue!
Join the Change Checker UK CERTIFIED BU Subscription Service and receive new UK coins sent to your door without the hassle of placing orders on the day of release!
Don't miss your chance to get ahead of the crowd and be one of the very first collectors to receive the latest UK new issue coins as soon as possible after their release.
Today, the 2022 Platinum Jubilee 50p coins entered circulation! Issued to commemorate Her Majesty's 70 year service to the throne, this brand new 50p is the very first circulating coin of 2022.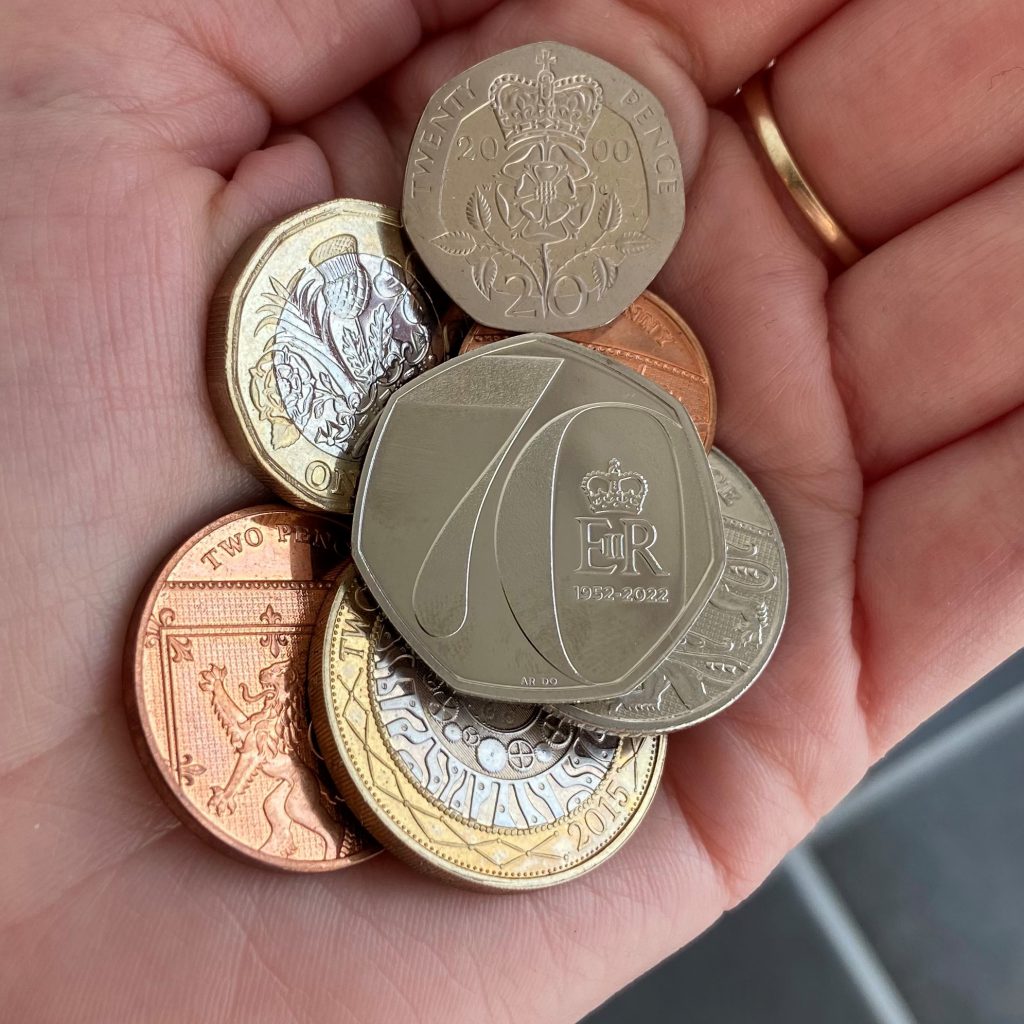 Getting one of the first coins put into circulation can be quite an achievement, especially with a coin as popular as this one.
It was confirmed that an initial 1.3 million would be released from Post Offices on the 7th February, but a further 1 million entered circulation ahead of the Platinum Jubilee weekend in June!
This takes the combined mintage to a total of 2.3 million. The Royal Mint have confirmed that there would be a maximum mintage of 5,000,070 if demand allowed.
Post Offices in Windsor and close to Sandringham were among the first branches to receive the new coin.
Whilst they've been initially released in areas that are significant to the Queen's reign, these coins were gradually dispersed all over the country. And thanks to you, we've been able to plot this 50p's journey around the UK!
We've been keeping track of where Change Checkers have found the 2022 Platinum Jubilee 50p coins and it seems as though it's already travelled far and wide!
From Anglesey, to Tyrone, and Fife, this 50p has reached the far West, whilst also journeying as far as Kent and East Sussex in the East. Collectors in Scotland will also be pleased to see it's reached several locations in central and North East regions.
Have you found this brand new 50p in a location that doesn't appear on our map? Let us know below!
[contact-form to="
[email protected]
" subject="I found a Platinum Jubilee 50p coin!"][contact-field label="Northern Irish Counties" type="select" options="Antrim,Armagh,Down,Fermanagh,Londonderry,Tyrone"][/contact-form] [contact-form to="
[email protected]
" subject="I found a Platinum Jubilee 50p coin!"][contact-field label="Scottish Counties" type="select" options="Aberdeenshire,Angus,Argyll,Ayrshire,Banffshire,Berwickshire,Bute,Caithness,Clackmannanshire,Dumfriesshire,Dunbartonshire,East Lothian,Fife,Inverness-shire,Kincardineshire,Kinross-shire,Kirkcudbrightshire,Lanarkshire,Midlothian,Moray,Nairnshire,Orkney,Peeblesshire,Perthshire,Renfrewshire,Ross-shire,Roxburghshire,Selkirkshire,Shetland,Stirlingshire,Sutherland,West Lothian,Wigtownshire"][/contact-form] [contact-form to="
[email protected]
" subject="I found a Platinum Jubilee 50p coin!"][contact-field label="English Counties" type="select" options="Avon,Bedfordshire,Berkshire,Buckinghamshire,Cambridgeshire,Cheshire,Cleveland,Cornwall,Cumbria,Derbyshire,Devon,Dorset,Durham,East Sussex,East Yorkshire,Essex,Gloucestershire,Hampshire,Herefordshire,Hertfordshire,Isle of Wight,Kent,Lancashire,Leicestershire,Lincolnshire,London,Merseyside,Middlesex,Norfolk,Northamptonshire,Northumberland,North Humberside,North Yorkshire,Nottinghamshire,Oxfordshire,Rutland,Shropshire,Somerset,South Humberside,South Yorkshire,Staffordshire,Suffolk,Surrey,Tyne and Wear,Warwickshire,West Midlands,West Sussex,West Yorkshire,Wiltshire,Worcestershire"][/contact-form] [contact-form to="
[email protected]
" subject="I found a Platinum Jubilee 50p coin!"][contact-field label="Welsh Counties" type="select" options="Anglesey,Blaenau Gwent,Bridgend,Caerphilly,Cardiff,Carmarthenshire,Ceredigion,Clwyd,Conwy,Denbighshire,Dyfed,Flintshire,Gwynedd,Merthyr Tydfil,Mid Glamorgan,Monmouthshire,Neath Port Talbot,Newport,Pembrokeshire,Powys,Rhondda Cynon Taf,South Glamorgan,Swansea,Torfaen,West Glamorgan,Wrexham"][/contact-form]
We can't wait to see where this 50p goes on its tour of the UK!
---
Secure the 2022 UK Platinum Jubilee 50p in collector quality with the special obverse design for your collection!
Your 2022 Platinum Jubilee 50p has been struck to a superior Brilliant Uncirculated quality.
An absolute must-have for collectors, order today to own the UK's FIRST ROYAL 50p, including the special obverse design!