Posts Tagged 'polymer note'
*** UPDATE ***
With the impact of Covid-19 meaning less people are using cash, it seems older, paper banknotes aren't being cashed in! According to reports, 24.5 billion paper banknotes are still out there!
Whilst the paper £20 is technically still legal tender, the new polymer notes have been causing quite a stir in the collecting community.
Back in 2016, the first-ever polymer banknote was issued to replace the paper £5 note, with a cleaner, safer and stronger alternative.
Since then, we've seen the introduction of the polymer £10, featuring the portrait of Jane Austen and this year saw the issue of the polymer £20 note, featuring JMW Turner's portrait.
We've seen the £5 and £10 notes prove incredibly popular with collectors, with particular notes selling on eBay for way over face value!
But what makes a banknote collectable? Well… It's all to do with serial numbers!
We previously listed the serial numbers that you should be looking out for on the Polymer £20 note, from AA01 to AK-47, and unsurprisingly, some are proving more popular than others, but which ones are likely to fetch the most on the secondary market?
Well, we've done the hard work for you by taking a look at which polymer £20 note serial numbers are selling for the most on eBay and which ones you should be looking out for.
'Rare' polymer £20 banknotes
Recurring numbers
If you've been lucky enough to find a £20 note with a series of recurring numbers, like the 777777 serial number, you may want to keep hold of it as we've seen some which are currently selling on eBay for around £400 – over 20 times its face value!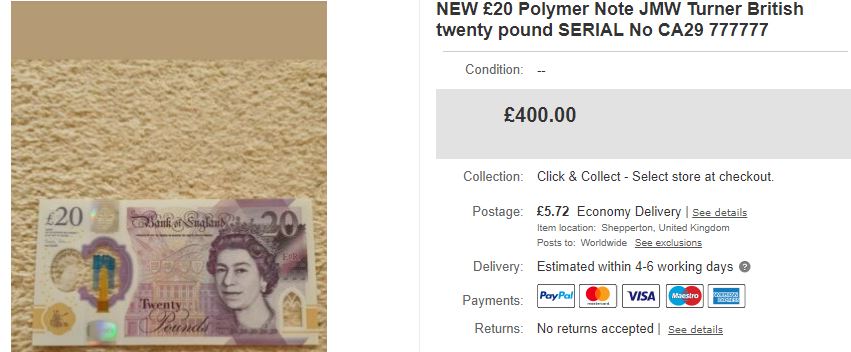 Similar serial numbers have sold for prices within the same range. The 333333 serial number also sold for £400, so it seems collectors everywhere are desperate to get their hands on a recurring number note!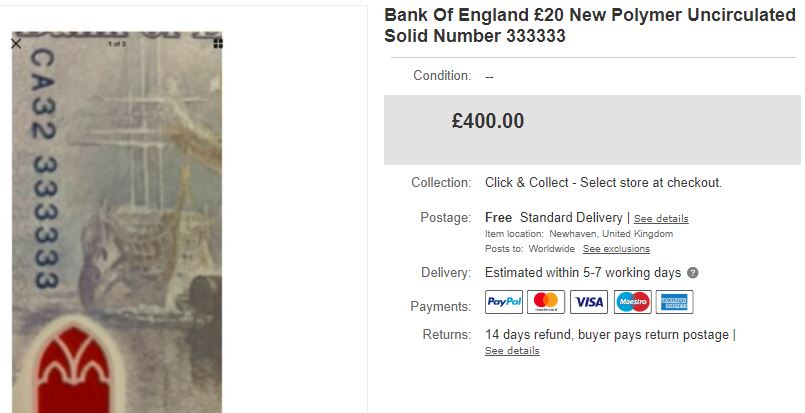 Another type of serial number you should be keeping an eye out for, is a 'ladder'. These are serial numbers that have consecutive numbers, like this '001122' note.
One lucky collector got his hands on this note but at a hefty £529… Other ladder numbers include '012345' and these could currently fetch you a very respectful £350 on the secondary market!
AA numbers
As with previous polymer note issues, the lower serial numbers for the new £20 have proven popular with collectors, with the current average selling price for the AA notes coming in at £40! That's two times the note's face value!
At the annual Bank of England charity auction held at Spink and Son Ltd in London the very first polymer note, the £5, with the serial number AA01 000017 auctioned for £4,150! However, this year, the £20 note with serial number AA01 000010 sold for a staggering £7,500, over FOUR times its starting price!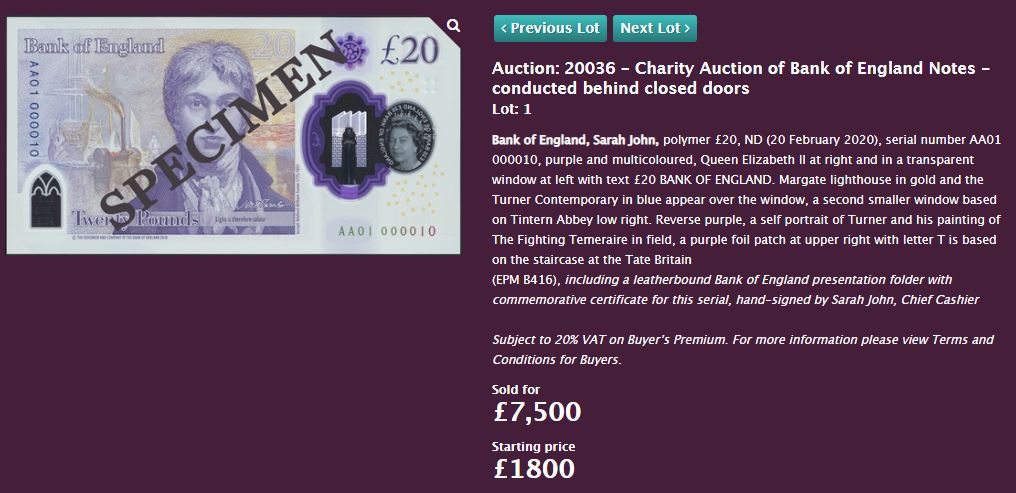 AK47
Considered collectable due to the machine gun connotations, polymer notes with the prefix AK47 were thought to be worth well over face value following the new £5 release in 2016.
A quick look at the most recent eBay sold prices for this serial number, on the new £20 note, show that people are willing to pay £11 over its face value!
What about the £50 note?
The Bank of England will be issuing a new polymer £50 in 2021 featuring the scientist Alan Turing.
We can't wait to see the new polymer £50 when it's issued!
So there we have it, the current selling prices for your polymer £20 notes! With less cash being used during the current climate and therefore less notes in circulation, it's possible this has added to the collectability of these new polymer £20 notes.
Are you a banknote collector and if so, which notes do you have in your collection? Let us know in the comments below!
---
If you're interested in coin collecting, our Change Checker web app is completely free to use and allows users to:
– Find and identify the coins in their pocket
– Collect and track the coins they have
– Swap their spare coins with other Change Checkers
Sign up today at: www.changechecker.org/app
The new design for the polymer £20 note has been officially revealed by the Bank of England and we can't wait to start seeing it in our change next year!
The new £20 is coming on 20 February 2020.

Find out more: https://t.co/A23vZuf7Kg#TheNew20 pic.twitter.com/Lqyi0K2k4z

— Bank of England (@bankofengland) October 10, 2019
The design features JMW Turner, who was selected from the 29,701 nominations submitted by the public, making him the first British artist to feature on a UK banknote.
But what makes the new £20 note even more special is that is has been described by the Bank of England as the most secure note yet, with two windows and a two-colour foil which makes it difficult to counterfeit.
There are over 2 billion £20 notes in circulation, which makes the £20 note Britain's most used (and also most forged) banknote.
Britain's most secure banknote
Special features make the new polymer £20 note more secure, harder to forge and help it to stand out from other notes in circulation:
Hologram – the word changes between 'Twenty' and 'Pounds' when tilted
See-through windows – the foil on the front is blue and gold and the foil on the back is silver. There is also a second, smaller window in the bottom corner
Raised dots – there are clusters of raised dots in the top left corner to help visually impaired people identify the note
Ultra-violet number – under ultra-violet light the number '20' appears in red and green
Purple foil patch – a round purple foil patch contains the letter 'T'
Historical character – JMW Turner's self-portrait circa 1799 can also be seen on display in the Tate Britain
Quote – "Light therefore is colour"
The Queen's portrait – printed on the back with "£20 Bank of England" printed twice around the edge
The Design
The bank note will feature Turner's 1799 self-portrait – an image that currently hangs in the Tate Modern.
In addition, the note also features one of his most recognisable works, The Fighting Temeraire – a tribute to the ship which played a big part in Nelson's victory at the Battle of Trafalgar in 1805.
A final touch of Turner, the note also includes a quote from the artist, 'light is therefore colour' and the signature taken from his will.
Excitingly for collectors though, the new £20 note will be the first to feature the signature of Sarah John – the Bank's new cashier. So keep an eye out for this when you get your first polymer £20 note!
When can we expect to start seeing the polymer £20 note?
The new £20 note is due to enter circulation on 20 February 2020.
Initially the note will be in circulation alongside the existing paper £20 notes, which will eventually be phased out as we have seen with the paper £5 and £10 notes in the past years.
We are also expecting the new £50 polymer bank note featuring mathematician and second world war codebreaker Alan Turing in 2021.
So, how excited are you about the new £20 polymer note? Let us know in the comments below!
---
f you're interested in coin collecting, our Change Checker web app is completely free to use and allows users to:
– Find and identify the coins in their pocket
– Collect and track the coins they have
– Swap their spare coins with other Change Checkers
Sign up today at: www.changechecker.org/app
This morning The Bank of England revealed Alan Turing as the new face of the £50 banknote, which will be released into circulation in 2021.
In their search to find an eminent British scientist to feature on the £50 note, a total of 227,299 nominations were sent to The Bank of England. 989 eligible characters were narrowed down to a shortlist of just 12 before Turing was finally selected.
Codebreaker Alan Turing will be on Britain's new 50-pound currency https://t.co/PcmHWkqre3

— TIME (@TIME) July 15, 2019
Other candidates included Rosalind Franklin, Stephen Hawking, Ernest Rutherford and Mary Anning to name a few.
The Bank's chief cashier, Sarah John said, "The strength of the shortlist is testament to the UK's incredible scientific contribution. The breadth of individuals and achievements reflects the huge range of nominations we received for this note and I would like to thank the public for all their suggestions of scientists we could celebrate."
About Alan Turing
Alan Turing is perhaps best known for his outstanding code-breaking which was vital to the Allied victory in WWII.
However, he was also considered a pioneer in computer sciences and the development of the early computer. His work has had an enormous impact on our lives today.
The Bank of England governor, Mark Carney said, "Alan Turing was an outstanding mathematician whose work has had an enormous impact on how we live today. As the father of computer science and artificial intelligence, as well as [a] war hero, Alan Turing's contributions were far ranging and path breaking. Turing is a giant on whose shoulders so many now stand."
Sadly, in 1952 he was prosecuted for homosexual acts and died in 1954 from cyanide poisoning. It was determined that his death was an act of suicide.
The new note
Next year the new £20 polymer note will be issued, featuring British Artist, JMW Turner.
This will be the third UK banknote to be made from polymer and will be swiftly followed by the new £50 note in 2021, thus completing the UK's changeover to plastic banknotes.
These notes are more durable, secure and environmentally friendly than paper notes.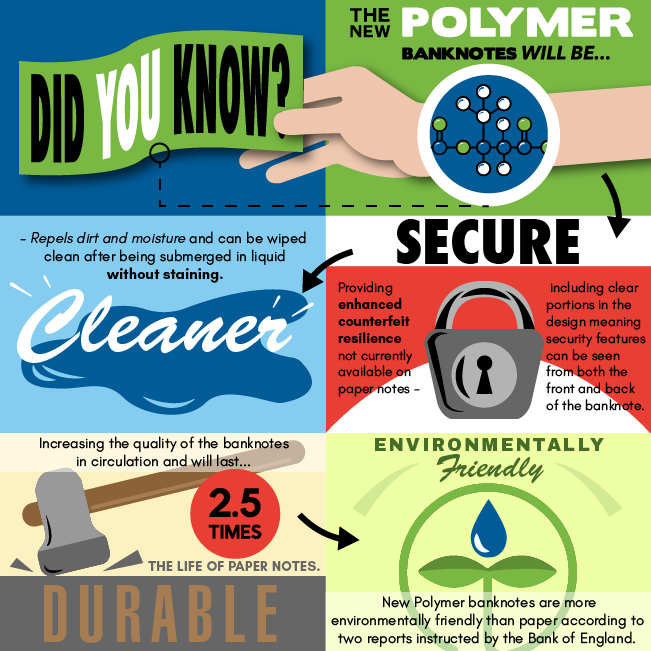 The future of cash
There have been debates in recent years as to whether or not Britain should become a cashless society.
The rise of card and electronic payments means that many see cash as becoming obsolete, with the 1p and 2p coins at the heart of the debate.
In addition to this, the validity of the £50 note has also been questioned, as it is rarely used in everyday payments and is widely thought of as being used by criminals.
The good news for Change Checkers is that the Treasury have confirmed that cash will be around for years to come.
And, with the introduction of the new Alan Turing £50 note in 2021, I think it's fair to say that cash is still king.
---
If you're interested in coin collecting, our Change Checker web app is completely free to use and allows users to:
– Find and identify the coins in their pocket
– Collect and track the coins they have
– Swap their spare coins with other Change Checkers
Sign up today at: www.changechecker.org/app