Posts Tagged 'polymer note'
In 1725, printed banknotes were first introduced in the UK, with the purpose of fixed denominations. The £20 banknote came first and following a shortage of metallic currency during the Seven Years' War in 1759, £10 and £15 notes were issued.
The £5 note was the last to be introduced in 1793. But since their introduction, banknotes have been subject to fraudulent behaviour, so much so, additional banknotes have been executed partly to make forgery of such more difficult.
Fraudulent notes are also called 'counterfeit banknotes' and although less and less are going into circulation — with less than 1 in 40,000 banknotes being counterfeit in 2021 — it's still an important topic to discuss!
Although polymer banknotes are a lot harder to replicate than the traditional paper ones, you should still check your notes when you receive them. But the questions is, how do you spot a counterfeit banknote?
Sizing
For every polymer banknote, a good starting point is to look at its size.
The higher the value, the larger it is. Here we can see the approximate sizes of the £5, £10 and £20 polymer banknotes: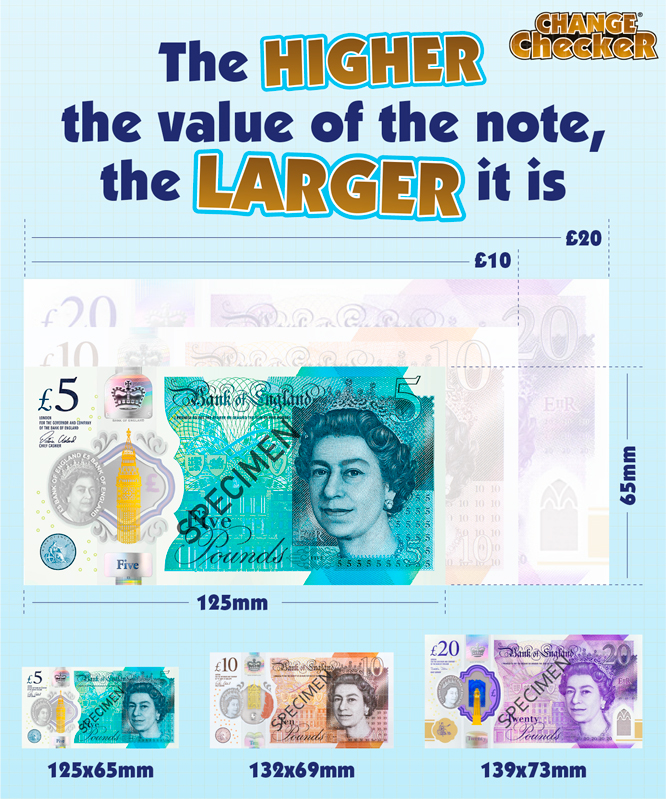 Security Features
Crucially, you should always check your polymer banknotes for the following key security features:
Changing hologram:
All polymer notes when tilted from side to side and up and down, should feature word changes within their holograms.
For the £5 banknote, the words should change between 'Five' and 'Pounds', the £10 banknote between 'Ten' and 'Pounds' and so on.
See-through windows:
Each banknote of denomination has a metallic image over the see-through window on it.
Both the £5 and £10 polymer notes have gold foil on the front of the note within this part and silver on the back.
The £20 note has a blue and gold foil on the front of the note for the metallic image and silver on the back.
Lastly, the £50 note has gold and green foil on the front and silver on the back.
Feel of polymer and raised print:
Polymer is a thin and flexible material so check that the material of your banknote feels this way.
On each denomination banknote as well, the words 'Bank of England' should feel raised.
Foil patches:
Each banknote denomination will have a different foil patch on it.
For the £5 note, this is a green foil patch — it is circular and spells 'BLENHEIM' to commemorate where Churchill was born.
The £10 note has a copper foil patch, and this is shaped as a book.
Check it contains the letters 'JA', in tribute to Jane Austen.
A purple foil patch shaped in a circle with a 'T' at its centre, to represent JMW Turner, is imprinted on the £20 note and lastly, a metallic red foil patch can be found on the £50 note and contains the letters 'AT' for Alan Turing.
The patches can all be located behind the silver crown on the front of the notes.
The queen's portrait in the see-through window:
The Queen's portrait which is printed within the see-through window can be found on all the banknotes with the respective denomination and the words 'Bank of England' printed twice.
For example, on the £5 note the inscription '£5 Bank of England' will be printed twice around the windows edge.
---
This is a just a small selection of the security features that you can find on your polymer banknote. Can you name some of the other features? Let us know in the comments below!
Counterfeit banknotes have no monetary value and cannot be reimbursed. The best thing to do if you encounter a counterfeit banknote is take it to your nearest police station.
They will ask you to fill out a form and once taken from you, will send the suspect note(s) to the National Crime Agency and if found to be counterfeit, to the Bank of England for further examination.
---
If you're interested in coin collecting, our Change Checker web app is completely free to use and allows users to:
– Find and identify the coins in their pocket
– Collect and track the coins they have
– Swap their spare coins with other Change Checkers
Sign up today at: www.changechecker.org/app
On the day that would have been Alan Turing's 109th birthday, The Bank of England have just issued their final banknote in the polymer series, celebrating the famous scientist and mathematician.
The brand new £50 note is full of exciting design and security features, including:
A photo of Turing from 1951 which is part of the National Portrait Gallery's collection,
A design of Turing's trial model of his famous Automatic Computing Engine (ACE) Pilot Machine,
Technical drawings for the British Bombe,
Ticker tape depicting Alan Turing's birth date (23 June 1912) in binary code, and
A large see-through window depicting a metallic microchip image with clovers around the outside in dedication to Bletchley Park, where Turing conducted most of his work in WW2.
You can find out more of the exciting features on the UK's first-ever polymer £50 note here >>
Or, you can watch our video below!
---
Keen collectors will be eager to hunt down the most sought-after serial numbers for the new note.
When the UK's first polymer £5 note was released in September 2016, serial numbers became the talk of a nation and stories of early serial numbers selling for thousands of pounds were commonplace.
In fact, an "AK37 007 James Bond Bank of England Polymer £5 note" even sold for £5,000 on eBay – 1,000 times its face value!
But as this brand new £50 enters circulation, which serial numbers should you be looking to get your hands on?
AA01 – the first notes to be printed
AA01 are the first serial numbers to be printed and always prove popular with collectors.
Our eBay Tracker follows the prices of the UK's Top Coins and Banknotes, including the AA01 polymer £5 and £10 notes, which are currently selling for £10 and £15 respectively. However when the notes were first released we saw a collecting frenzy, with people paying (and demanding) vastly inflated prices for low serial number notes.
Prefixes on the £5 notes started at AA and there are 60 notes on a sheet, AA01- AA60. For each of these cyphers there are 999,000 serial numbers printed: 000001 to 999000. Therefore for the first AA cypher there's an incredible 59,940,000 notes!
Whilst the £50 note is larger than the £5, meaning less notes will be printed per sheet, there are still A LOT of combinations for AA cyphers on the new £50 – so make sure you keep your eyes out for them!
However, The Bank of England will always hold back some of the notes with the earliest serial numbers, donating them to people or institutions that were involved in the development of the note or who traditionally receive a note when a new series is issued.
For example, Bletchley Post Office was one of the first places to have the new £50 note today, in recognition of the the work done by Mr. Turing and his team at Bletchley Park.
Key dates to look out for
It's always worth looking out for certain serial numbers matching key dates relating Alan Turing that could become collectable.
For example, 23 061912 represents Turing's date of birth, whilst 07 061954 relates to his death and 19 121954 would be his birth and death combined.
True Turing fans might also look for 09 071941 representing the date that the enigma code was cracked by Turing and his team at Bletchley Park during WW2.
Novelty numbers and Consecutive notes
There may well also be a rush to find the AK47 serial numbers again and James Bond 007 will likely be popular once more.
Consecutively numbered notes are always interesting to collectors too – one man sold three consecutive AA01 notes for £456!
Q&A
Can you request specific serial numbered notes from the bank?
Sadly not. For the launch of the new £5 note 440 million banknotes were printed and these were printed in very large batches.
To print enough banknotes to service the country's 48,000 ATMs for example, it's just not possible for the bank to separate certain serial numbers.
How much should I pay for a new £50 note?
The simple answer is, it's completely up to you. An early serial numbered £50 note will be a genuine piece of the country's history. It's likely The Bank of England will hold an auction of early editions, so if you have the disposable income, why not?!
Will the old paper £50 note still be legal tender?
You will still be able to use the paper £50 note until The Bank of England withdraw it from circulation on 30th September 2022.
Many banks will accept withdrawn notes as deposits from customers. The Post Office may also accept withdrawn notes as a deposit into any bank account you can access at the Post Office. And, you can always exchange withdrawn notes with The Bank of England directly.
Where will I be able to find the new polymer £50 note?
Whilst not all cash points will offer the option to withdraw a £50 note, most banks should be able to provide you with one. It's worth ringing your local bank in advance to check they have the new note before setting out to collect it.
---
Will you be looking out for any particular serial numbers? Let us know in the comments below!
---
Store, Protect, and Present YOUR Polymer Notes with the Polymer Banknote Collecting Pack!
The Change Checker Polymer Banknote Collecting Pack has space to securely house all four of England's polymer banknotes, including:
2016 Sir Winston Churchill £5 Polymer Banknote
2017 Jane Austen £10 Polymer Banknote
2020 JMW Turner £20 Polymer Banknote
2021 Alan Turing £50 Polymer Banknote
Within your collecting pack we've also included ID cards for each note, an information page about the new banknotes, and a Change Checker album.
With the release of the final £50 polymer banknote in 2021 and the completion of the Bank of England's polymer banknote update, now really is the perfect time to start collecting!
The UK banknotes have gone through some big changes since they were first introduced but do you know the story behind them?
In this blog, we guide you through the history of UK banknotes as we take a look at just how far they've come…
7th Century – China
The first recorded use of 'paper' money was in China back in the seventh century! However, it was until over a thousand years later that paper money made its way to Europe.
16th Century – Goldsmith-Bankers
In the 16th century, the goldsmith-bankers would issue receipts for cash, known as 'running cash notes'. They were made out in the name of the depositor and also carried the words, 'or bearer', after the name of the depositor.
This similar phrase still appears on British banknotes today: "I promise to pay the bearer on demand the sum of…"
1694 – Bank of England
When the Bank of England was established in 1694 to raise money for King William III's war effort, they issued notes in exchange for deposits. These were the first recorded bank notes to feature a cashier's signature!
18th Century – Fixed Denominations
The issuing of fixed denomination notes first started in the 18th century. Notes were printed with the pound sign and the first digit included, but any following digits were then added by hand!
By 1745, notes were issued in denominations ranging from £20 to £1,000 but it wasn't until 1759, as a result of gold shortages caused by the seven years of war, that a £10 note was issued.
The £5 note followed in 1793 at the start of the war against Revolutionary France and by 1797 the £1 and £2 notes were issued.
1853- Fully Printed
In 1853, the first fully printed banknotes were introduced, meaning hand-written denominations on notes were phased out.
Early 20th Century – 10 Shilling Note
During the First World War, the link between notes and gold was broken. The government needed to preserve bullion stocks and so the Bank stopped paying out gold for its notes.
In 1914 the Treasury printed and issued 10 shilling and £1 notes and in 1931, Britain left the gold standard.
Late 20th Century – Feature of Historical Figures
The late 20th century saw the first introduction of historical figures on the designs of UK banknotes. Since 1970, we've seen figures including scientist Isaac Newton, composer Edward Elgar and nurse Florence Nightingale featured on our banknotes.
21st Century – Polymer notes and BAME figures
In the 21st century we have seen the introduction of the polymer £5, £10 and £20 banknote, as a cleaner, safer and stronger alternative to the paper notes.
These notes have become incredibly popular with collectors, with some polymer £20 notes fetching far over their face value on the secondary market!
However, a lack of Black, Asian and Minority Ethnic (BAME) figures being recognised on legal tender led to campaigning for greater inclusivity in 2020.
These campaigns come after Chancellor Rishi Sunak stated he was considering proposals from a campaign group. He has since asked the Royal Mint to come up withnew designs honouring BAME figures who have served the nation – such as military figures and nurses.
Whilst details of these figures and designs remain under consideration, we look forward to hearing more as the story unfolds.
---
Did you know how far back in history our banknotes date? Let us know in the comments below!
---
Secure the last-ever £1 banknote to your collection!
Click here to secure your piece of British Numismatic history for just £10 (+p&p) >>