The latest addition in The Royal Mint's Music Legends £5 series has just been released, and it celebrates the man in the best-selling show…
For the first time ever, the Starman himself, David Bowie, has been featured on a brand new UK coin.
The coin, by Jody Clark, features a design which pays tribute to Bowie's Aladdin Sane era. It depicts the music legend transitioning between his various personas, set against his iconic 'BOWIE' font.
Being a huge Bowie fan myself, my favourite feature of this coin has to be the world-famous lightning bolt that Bowie sported as his alter ego, Ziggy Stardust.
Encapsulating everything Bowie stood for; transformation, non-conformism, and vibrancy, this £5 coin pays the perfect tribute to one of the UK's biggest Music Legends of all time.
Ziggy Stardust
Rock star David Bowie's first hit was the song "Space Oddity" in 1969. The original pop chameleon, Bowie became a fantastical sci-fi character for his breakout Ziggy Stardust album.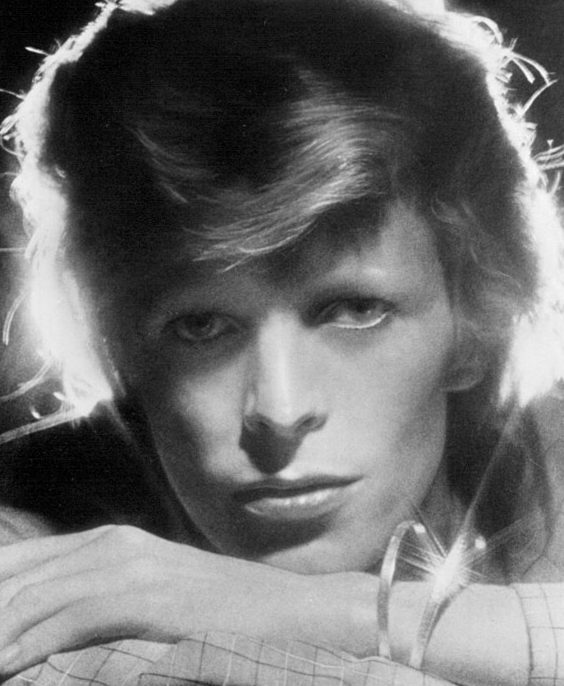 Bowie's songs depicted the ups and downs being an outsider: an alien, a misfit, or even a faraway astronaut! His music appealed to all, with a blend of rock, cabaret, jazz and soul. It was this eclectic mix of style and honest charm that defined him as one of the greatest music legends of the 20th century.
During Bowie's vibrant career, he released 27 studio albums, 128 singles, and 72 music videos. Some of his most famous works include Space Oddity (1969), Life on Mars? (1971), Heroes (1977), and Ashes to Ashes (1980).
Sadly, in 2016 David Bowie passed away just two days after his birthday, leaving behind a legacy of nonconformist music and style.
And, in 2020 his legacy lives on, with the release of this brand new £5.
2020 UK Elton John £5
The second coin in the Music Legends series was released earlier this year, celebrating Sir Elton John, who has been delighting his fans for more than half a century.
Since his very first self-titled album in 1970, Elton John has sold in excess of 300 million records worldwide.
Some of his chart-topping hits include, 'Can You Feel the Love Tonight?', 'Don't Go Breaking My Heart', 'Candle in the Wind', and 'I'm Still Standing'.
He also found success on Broadway, composing for Billy Elliot (2008), which went on to win 10 Tony Awards.
As recognition of his contribution to music, Sir Elton John was knighted in 1998 and in 2020 he was celebrated on a £5 for the first time.
The reverse design of this £5 coin, by Bradley Morgan Johnson represents Elton John's I'm Still Standing era. Speaking of the design, Johnson said, "I'm Still Standing was one of [his] favourite childhood pop tracks" and you can definitely see the influence this song has on the design of this coin.
My favourite feature of this coin design, is that Sir Elton John himself approved it. By owning this coin, you really are in possession of some huge music legend memorabilia.
If you would like to secure the 2020 Elton John £5 to your collection, click here >>
2020 Queen £5 Coin
The very first £5 coin in the Music Legends series was released earlier this year, celebrating one of Britain's most iconic and influential bands ever, Queen.
Formed in London, 1970, Queen instantly rocked the nation and became a British icon, creating unique and timeless songs which are still loved to this day.
As of 2005, Queen's albums have spent the equivalent of 26 years in the UK Album Charts! (According to the Guinness Book of World Records).
The design of this £5 coin by Chris Facey, showcases the iconic instruments of all four founder members of the band: Brian May's Red Special guitar, John Deacon's Fender Precision Bass™, Roger Taylor's Ludwig™ bass drum, and Freddy Mercury's Bechstein™ grand piano.
Band members Brian May and Roger Taylor have officially approved the design of this coin and alongside the fact that this coin is full of numismatic firsts, this coin has already proved incredibly popular with collectors:
The first-time ever Queen have featured on a coin worldwide
The first-time ever a British band has been celebrated on UK coinage
The first coin to be issued in the new series celebrating British Music Legends.
If you would like to add the 2020 UK Queen £5 in Brilliant Uncirculated quality, then click here!
I'm sure you're just as excited as we are by this brand new £5 coin and the continuation of the Music Legends £5 Series. 
Which coin is your favourite in the series? Let us know in the comments!
---
Secure the brand new David Bowie £5 today!
As you would expect with a coin this exciting your brand new UK £5 has been struck to superior Brilliant Uncirculated quality and protectively encapsulated in official Change Checker packaging to preserve its quality forever.
Add this coin, celebrating one of the greatest music legends ever, to your collection right now, by clicking here.
*** UPDATE ***
Following the Royal Proclamation on the 8th November, The Royal Mint have now confirmed there will be a Music Legends coin series!
It's safe to assume Queen will be part of this series, but who else would you like to see on a Music Legends coin? Let us know in the comments below and sign up for updates at the bottom of the blog!
---
As of the Royal Proclamations issued on 8th November 2019, a very exciting United Kingdom £5 coin has been confirmed for 2020.
The reverse design is said to feature 'a keyboard, drum, bass and electric guitar accompanied by a microphone and the inscription "QUEEN"'.
This is the first time a band has been commemorated on a UK coin which makes this announcement particularly exciting.
At the moment, the designs are still top secret but you can fill in our sign-up form below to stay up-to-date with all the latest news about this release.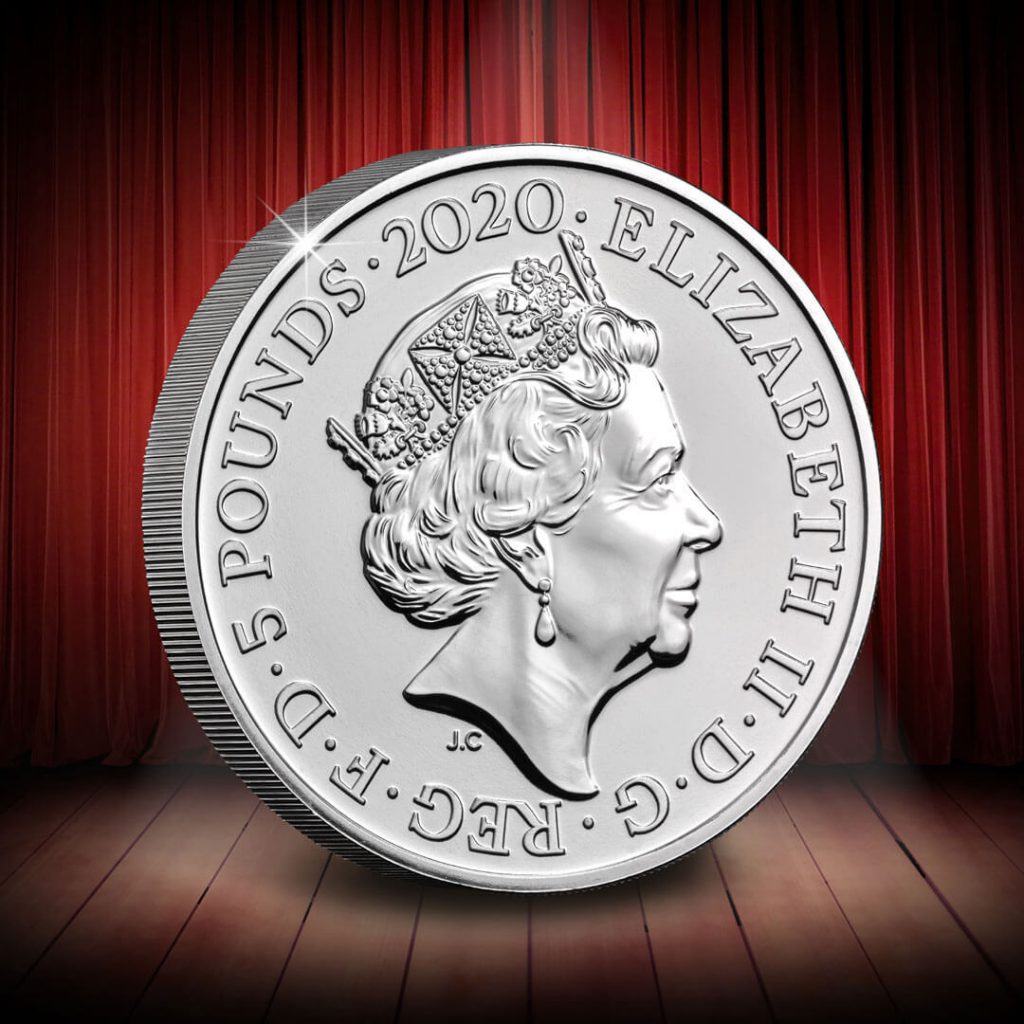 Stay up to date with all the latest Queen £5 news…
Fill in your details below to be kept up to date with all the latest news about the 2020 Queen £5 coin.
---
If you're interested in coin collecting, our Change Checker web app is completely free to use and allows users to:
– Find and identify the coins in their pocket
– Collect and track the coins they have
– Swap their spare coins with other Change Checkers
Sign up today at: www.changechecker.org/app
Alexandrina Victoria was born on 24th May 1819. At just 18 years old she acceded to the throne and ruled Britain for 63 years, making her Britain's longest reigning monarch at the time of her death in 1901.
Victoria oversaw the extensive growth and expansion of the British Empire under her rule, with dramatic changes in British culture, industry, and technology. These changes had a significant influence on the development and spread of British coinage.
Victorian currency was minted throughout the world in countries such as India and Australia, as well as Britain. Every coin and portrait tells a unique story – from the 'Young Head' which depicted a promising Queen, right through to the 'Old Head' which represented an ageing but graceful monarch.
In this blog, we'll explore the defining coins of Queen Victoria's reign, as well as taking a look at the modern commemorative coins we see today, issued to celebrate one of Britain's most influential monarchs.
The defining coins of Queen Victoria's Reign
1838 Sovereign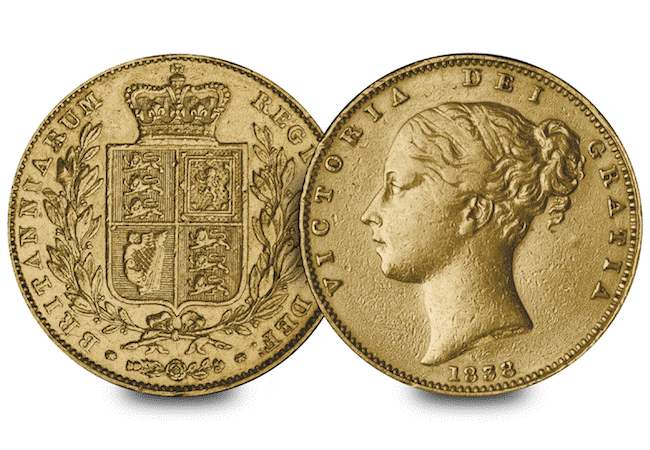 The first Sovereign of Queen Victoria's rule was issued in 1838 with the popular Young Head portrait by William Wyon. The portrait had a particularly youthful look, one that was favoured by Victoria and contributed to the coin's popularity throughout her reign. To this day, it is the longest a portrait has featured on our circulating coinage, having been issued on bronze coins up until 1895. The Young Head effigy is considered the most favoured portrait of Victoria's coinage, undergoing only minor changes throughout its lifespan.
Godless Florin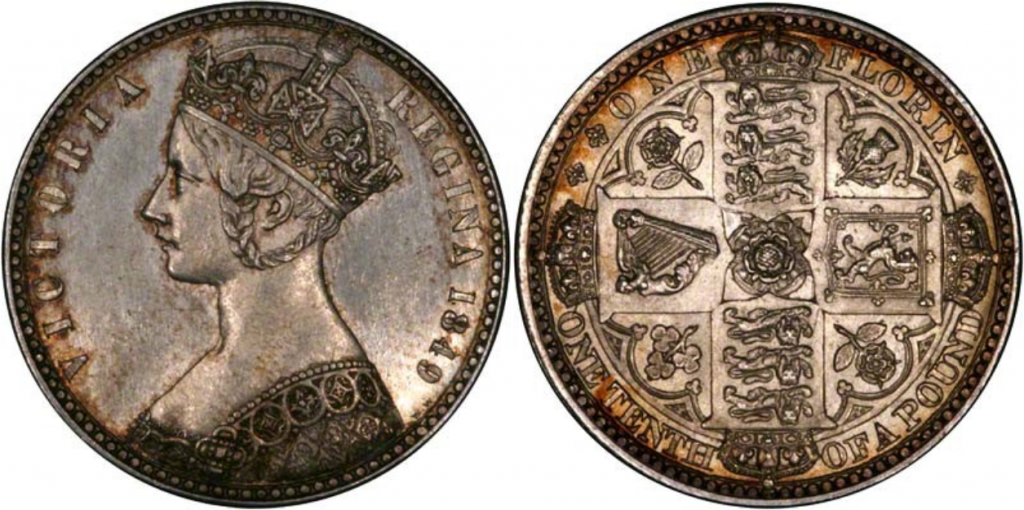 As part of the move towards decimalisation, a coin valued at 1/10th of a pound, the Florin, was introduced in 1849. It featured the Gothic Head portrait by William Wyon which would actually go on to be regarded as one of the most beautiful representations of the Victorian age. However, this coin failed to include the term 'Dei Gratia', which earned it the nickname of the Godless Florin. It was swiftly withdrawn from circulation after three years.
Gothic Florin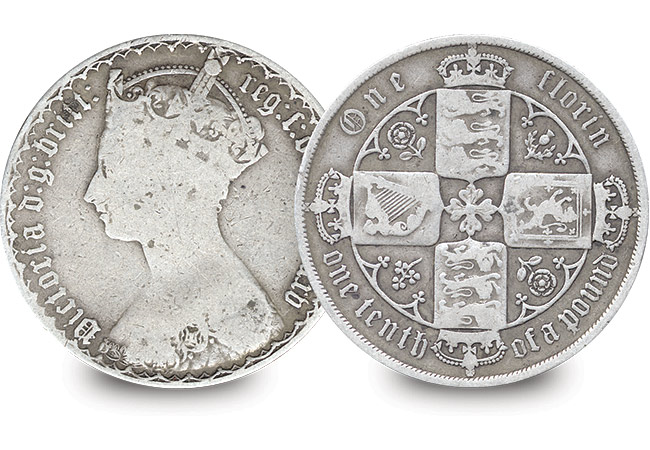 The Gothic Florin was introduced as a replacement to the Godless Florin and contained a very similar design, but this coin included the term 'Dei Gratia'. This particular portrait represents the revival of Gothic culture across Victorian life and draws its name from the distinct gothic font used for the inscription around the edge, and the intricate detail on the crown that Victoria wears, which is considered a numismatic masterpiece. As the second Florin to promote decimalisation, the Gothic Florin again failed to gain popularity but was minted for longer than its predecessor.
Click here to own a genuine Queen Victoria Silver Florin
1855 Sydney Sovereign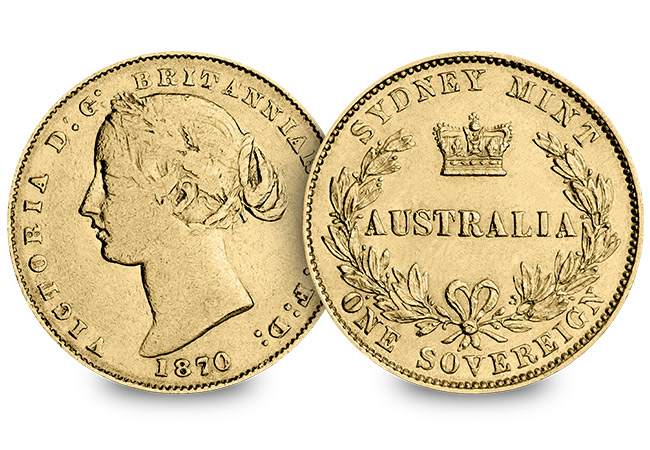 As part of British imperial expansion, the Royal Mint opened a branch in Sydney and the first Sovereign was minted there in 1855. It had the word 'Australia' printed on the reverse and bore a small 'S' mintmark to distinguish it as having been minted in Australia. This portrait was only ever seen on Australian coins, produced exclusively at the Sydney Mint for just 14 years. It depicted a younger queen with a sprig of banksia (an Australia plant) weaved into her hair, which gave it a distinct Australian feel.
Double Florin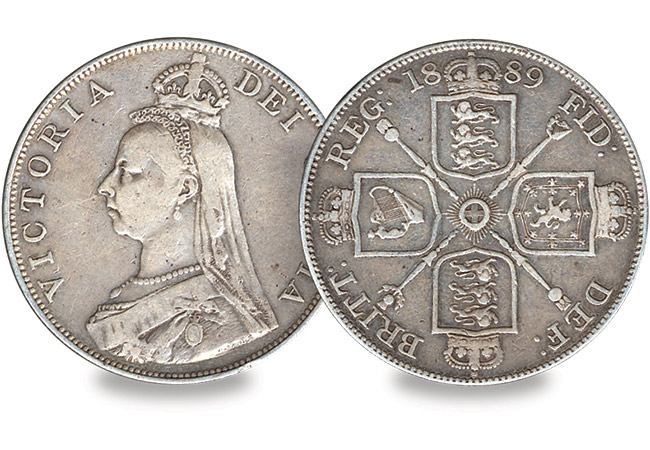 The Double Florin, in another move towards decimalisation, was valued at 1/5th of a pound and pictured the Jubilee Head. The coin was only 2mm smaller than the Crown but valued at a Shilling less, making it difficult to distinguish between the two. Issued between 1887 and 1890, it is one of the shortest circulating coins in British history. The coin was famously nicknamed the 'Barmaid's Ruin', as tavern maids mistook the coin for a Crown, causing the tavern to lose money and the maid to lose their job!
1901 Sovereign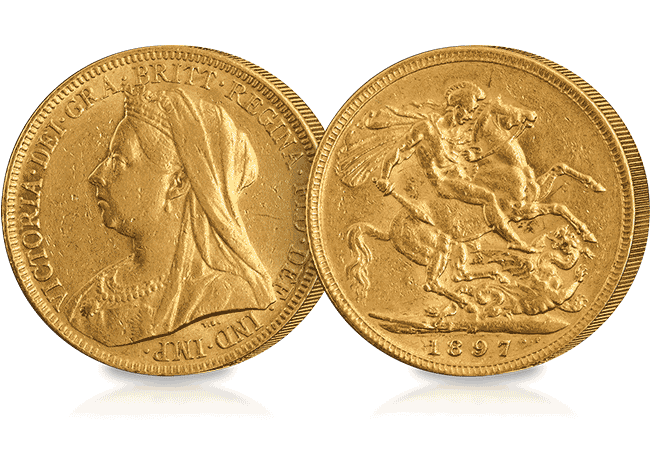 The final Sovereign of Queen Victoria's rule depicted the Old Head portrait by Thomas Brock, showing an elegant Queen in her mourning attire. Victoria's veil had become integral to her image since the death of her husband in 1861, right up until her final years. This is one of the most famous images of Victoria and features on the final sovereign of her reign, issued in 1901 at the end of the Victorian era and the start of a new century.
Modern commemorative coins
Almost 150 years after the birth of Queen Victoria and 120 years after the initial move towards decimalisation, the first decimal coins entered circulation in Britain. The 5p and 10p coins were released in 1968, followed by the 50p coin in 1969.
From the modern coinage we see today, two commemorative £5 coins have been issued in Queen Victoria's honour.
Death of Queen Victoria 100th anniversary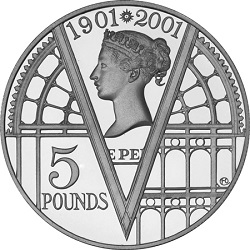 The death of Queen Victoria in January 1901 marked the end of an era which has left its mark on the modern world. Her reign was remarkable for the extraordinary progress in industry, technology, arts and sciences and the expansion of the British Empire. This coin was issued to mark 100 years since her death and the end of the Victorian era. The reverse by Mary Milner-Dickens reproduces the profile of Victoria by William Wyon against the background of the Crystal Palace exhibition of 1851.
Birth of Queen Victoria 200th anniversary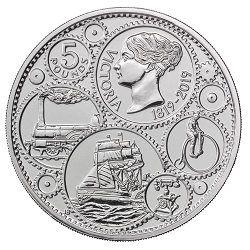 Under Queen Victoria's reign, The British Empire became a superpower during an era of peace and prosperity. Designed by John Bergdahl, the reverse of this coin, issued to celebrate the 200th anniversary of the birth of Queen Victoria, features a portrait of Queen Victoria with the dates 1819 – 2019 alongside a steam train, large sailing ship, telephone, and penny farthing. Each element appears in a mechanical circle to represent the incredible inventions of the Victorian period.
Of all the monarchs, Victoria's reign seems to have captured the imagination of the public more than any other. The coins issued throughout her reign and into the modern age reflect her extraordinary life and rule.
---
Celebrate the 200th Anniversary of the birth of Queen Victoria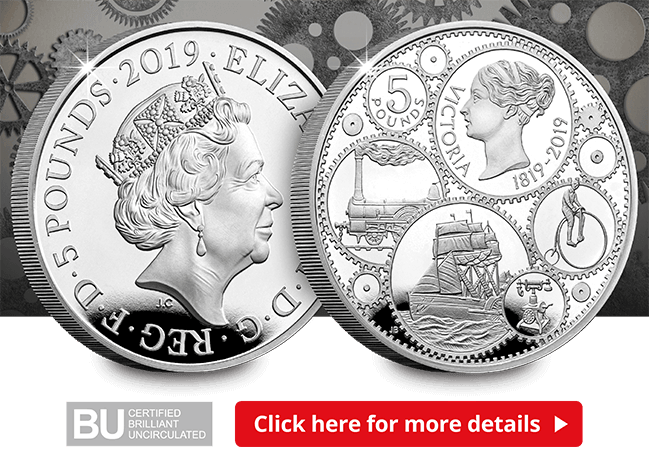 This brand new UK £5 coin has been struck to a superior Brilliant Uncirculated quality and is protectively encapsulated in official Change Checker packaging to ensure that it is preserved for generations.