We're counting down to the 50th anniversary of the 50p and to celebrate this numismatic hero we've put together a special 50p coin quiz!
Have a go at the 50p quiz below to find out if you're a numismatic nerd…
---
Have you joined the Definitive 50p Collecting Challenge?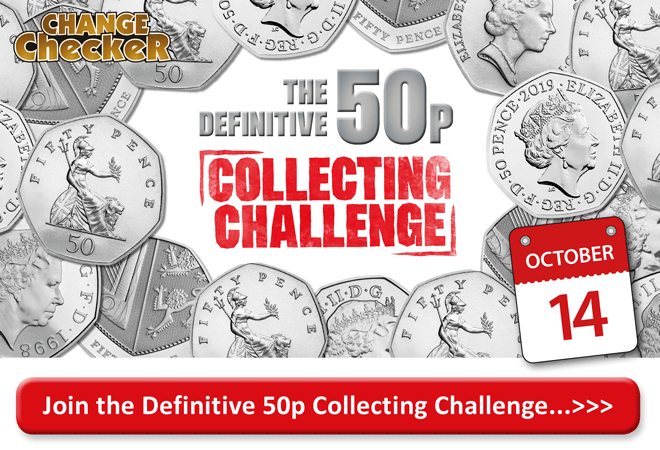 The race is on to find and collect the definitive 50ps in your change in time for the 50th anniversary of the 50p!
Christmas is a time for socialising with friends and family and more often than not that involves playing a game or two.
However, maybe you're bored on the annual family game of Monopoly? Maybe Granny always wins at Cluedo?
So, as an early Christmas present to all you Change Checkers we've created 3 coin inspired games for you to enjoy over the festive period.
Change Checker Christmas Quiz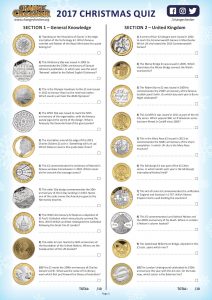 Our quiz consists of 40 questions split over 4 categories: General Knowledge, United Kingdom, History and Sport.
Only a true numismatic whizz will get 40/40 on this quiz; you've been warned, there's some pretty tricky questions!
You can play individually or why not ramp up the festive competitiveness and play as a team.
The winners get to open their presents first!
Download the quiz here: Change Checker Christmas Quiz
Change Checker Word Search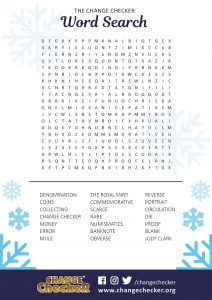 Who doesn't love a Word Search?! There's 21 change collecting words hidden amongst an array of letters and finding them all may take longer than you think.
Who will become the family Word Search champion this Christmas?
The last person to find all the words does the washing up!
Download the Word Search here: Change Checker Word Search
Change Checker Spot The Difference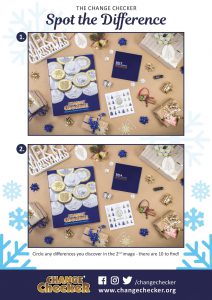 You'll need a very keen eye if you're going to find all 10 differences. While some are more obvious than others, some are fiendishly difficult!
Why not challenge somebody to a race, who can spot all the differences the fastest?
The slowest person has to finish the brussel sprouts!
Download our Spot The Difference game here: Change Checker Spot The Difference
Answers to all the games can be found here