It's time for your latest Scarcity Index update, where we reveal the UK's most sought-after circulation coins of the last three months! As we've been able to go out and spend more cash in recent months, how has this impacted our Scarcity Index?
Well there's been lots of movement across all of our indexes, as new trends have been exposed and one particular coin has moved an impressive 16 spaces!
You can use the updated A-Z 10p, 50p and £2 indexes below to discover how sought-after the coins in your collection really are.
This information has been compiled using data from the Change Checker Swap Centre and presented in the easy to use indexes below, with arrows to signify how many places up or down a coin has moved since the last Scarcity Index.
A-Z 10p Scarcity Index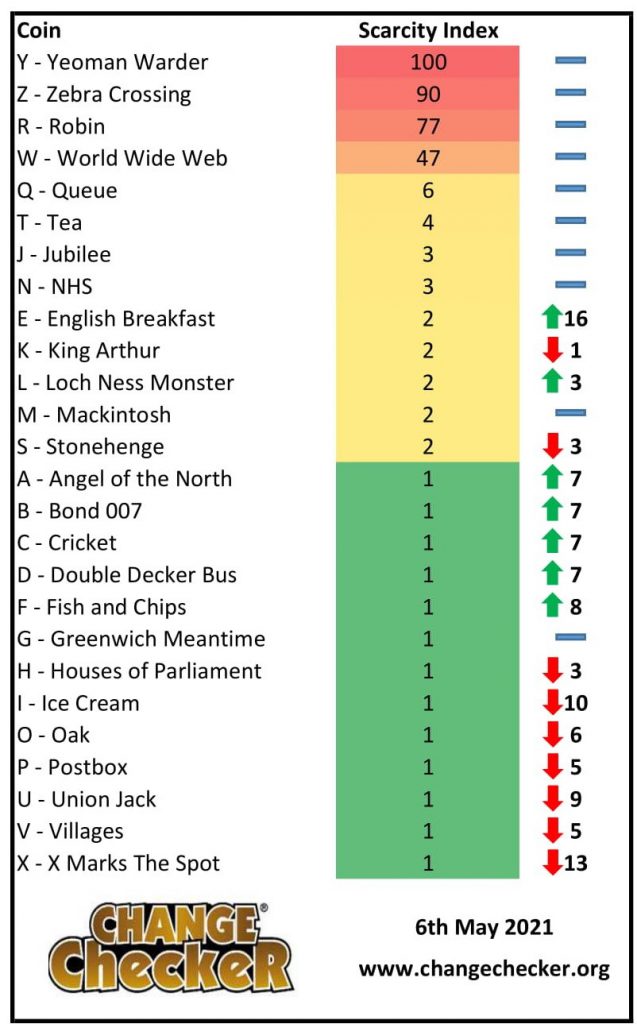 It's English Breakfast time this quarter as this 10p has climbed a huge 16 places on our A-Z 10p Index! This is definitely the one to watch
Whilst the top 8 spots have stayed the same, there have been some really big movers towards the middle and lower half of the table. The Ice Cream and X Marks The Spot 10ps have both dropped 10 and 13 places respectfully, with other big movers including the Union Jack 10p (dropping nine places) and the Fish and Chips 10p (climbing eight places).
All of the lower mintage A-Z 10ps have remained strong at the top of the index; the Y, Z, and W 10ps all have a 2019 mintage of JUST 63,000 so it would take some doing to beat them to the top…
Regardless of where they feature in the above index, if you have any of the A-Z 10ps in your collection you should consider yourself very lucky. A maximum of only 304,000 of each design entered circulation!
Find out which A-Z 10p coins have the lowest mintages here >>
50p Scarcity Index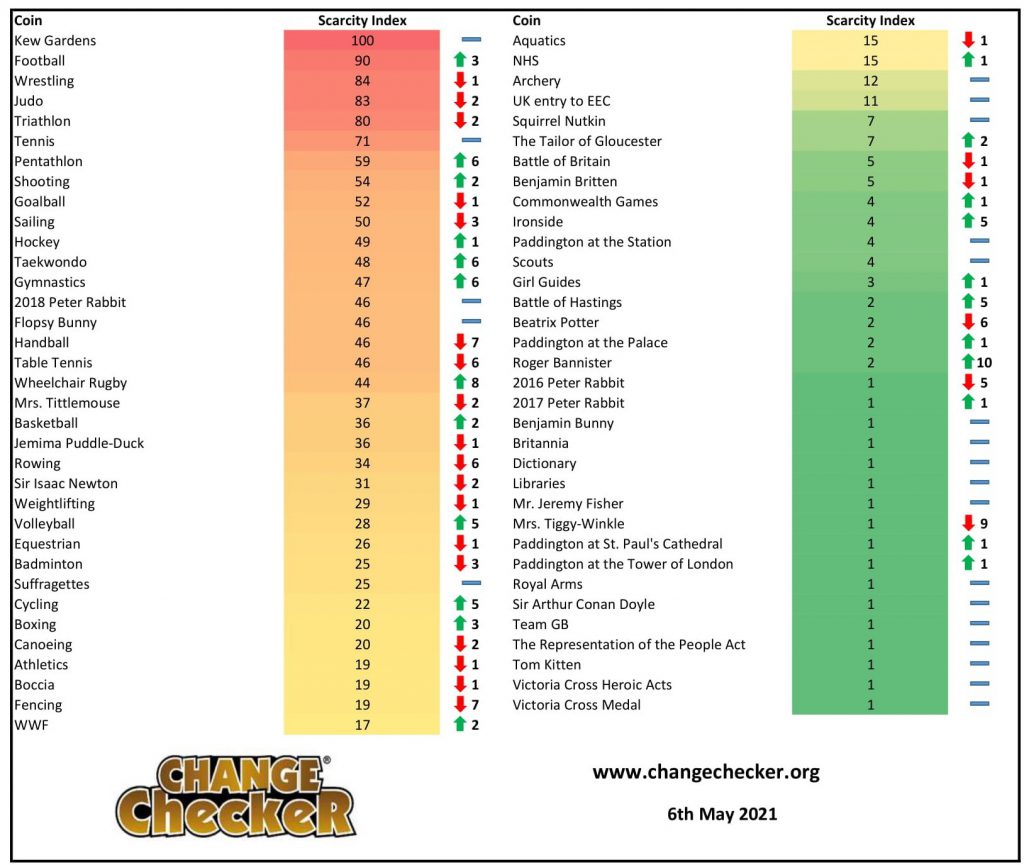 We've had a shake up at the top of our 50p Index this quarter, with the Judo 50p being bumped down two spaces from second to fourth spot.
Last quarter our top six 50ps hadn't moved but this quarter we've seen Football climb back to second spot for the first time in three quarters!
There's also been a lot of shuffling in the middle and lower parts of the index, with Roger Bannister climbing an impressive 10 spots and Handball dropping seven.
The ones to watch are definitely Pentathlon (having climbed 10 places last quarter and a further six this quarter) and Shooting, which climbed two places last quarter and a further two places this quarter. We're excited to see how these coins place in our next update…
£2 Scarcity Index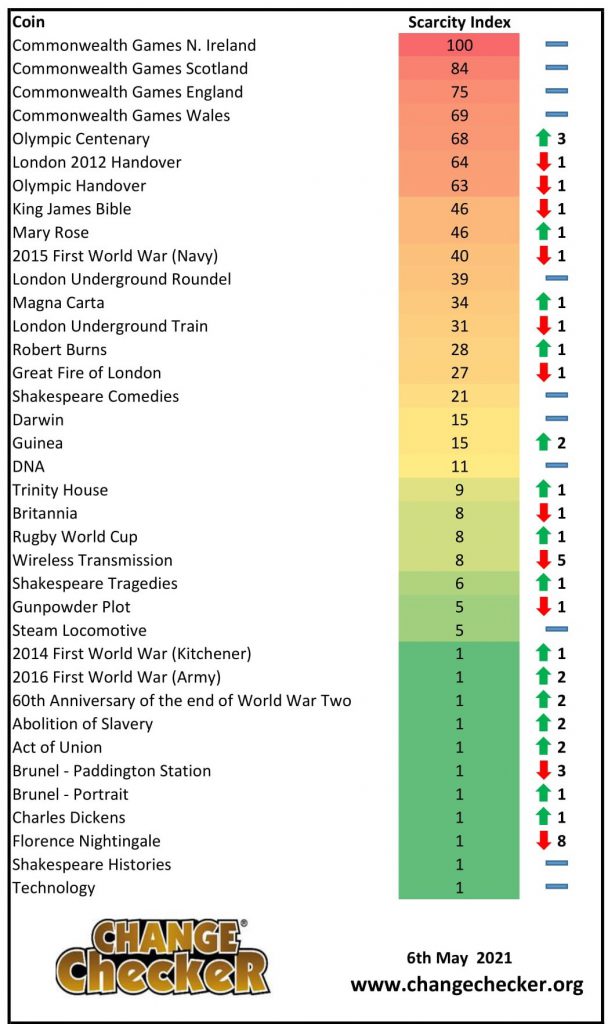 Whilst the Commonwealth Games £2 coins have remained consistent at the top of our Index, we've now got our Olympic trio sitting beneath, with the Olympic Centenary climbing 3 places and the London 2012 Handover and Olympic Handover £2 coins coming in behind.
After climbing 8 places last quarter, the Florence Nightingale has dropped back down again to the bottom of the Index.
The First World War (Kitchener) £2 has climbed up a space after also climbing two spaces last quarter, so this could be one to watch over the coming months…
How your Scarcity Index works
Generally collectors have had to rely upon mintage figures to identify the scarcest coins. But they only tell part of the story. Trying to find a good quality coin from 15 – 20 years ago, even for a higher mintage issue, is much more challenging than a more recent issue, as coins become damaged over time and are ultimately removed from circulation.
Additionally, some designs are more hoarded than others by people who might not normally collect coins – the poignant First World War £2 Coin series being an example. Finally, it can be up to a couple of years before the Royal Mint eventually confirms the actual mintage for an issue.
That's why we have combined the mintage information with two other key pieces of information.
How many of each design are listed as "collected" by Change Checkers, indicating the relative ease of finding a particular coin.
The number of times a design has been requested as a swap over the previous 3 months, showing the current level of collector demand.
Importantly, as new coins are released and popularity rises and falls across different designs the Scarcity Index will be updated quarterly allowing Change Checkers to track the relative performance of the UK's circulation coins.
How much are my coins worth?
The Scarcity Index does not necessarily equate to value but it is certainly an effective indicator. For example, the Kew Gardens 50p coin commands a premium of up to 200 times face value on eBay.
You can use the 6 point guide to help you determine a more realistic value for your coins.
What about £1 Coins?
The £1 Scarcity Index has already been published for the Round £1 coins and, because they are no longer being issued, this is now set in stone.
Receive new UK coins without the hassle of placing orders on the day of release!
Join the Change Checker UK CERTIFIED BU Subscription Service and receive new UK coins sent to your door without the hassle of placing orders on the day of release!
Don't miss your chance to get ahead of the crowd and be one of the very first collectors to receive the latest UK new issue coins as soon as possible after their release.
You might remember our blog from last year reviewing 2016 coin mintages, but we've also updated our Change Checker Guide to UK coin mintages which includes all the details we have so far on the coins issued in 2017.
Have you managed to find any yet?
Not surprisingly, Kew Gardens remains king of the 50p coins, with Jemima Puddle Duck also sitting in top three, however a new contender has knocked this sought-after Beatrix Potter 50p off second spot, as the 2017 Sir Isaac Newton 50p takes 2nd place just below Kew Gardens.
The 2017 Sir Isaac Newton 50p was issued to commemorate the achievements of one of the most influential scientists of all time and a key figure in the scientific revolution, as well as being master at The Royal Mint for three decades. Although this coin comes nowhere near to the Kew Gardens' scarce mintage of 210,000 and is closer to Jemima Puddle Duck's mintage of 2,100,000, still only 1,800,000 of these coins were minted, meaning our top three each have at least 1 million less coins in circulation than any other 50p.
Other newcomers to our updated UK mintage guide include the 2017 Beatrix Potter coins – Jeremy Fisher, Tom Kitten, Benjamin Bunny and Peter Rabbit. These four coins have fairly high mintage figures, with Peter Rabbit in fact having the highest mintage figure of all circulation 50ps at 19,300,000. This is thought to be due to the staggering popularity of the 2016 Beatrix Potter coins and high demand for the Peter Rabbit coin in particular. It will be incredibly interesting to see what the mintage figures for the 2018 Beatrix Potter characters will be.
But what about the 2017 £2 coins?
We haven't been able to include the 2017 Jane Austen £2 or the  WW1 Aviation £2 coins in our charts yet as the mintage figures are yet to be released, however you can view our previous £2 mintage figures here. There hasn't been any feedback from Change Checkers finding these coins in circulation but we're hoping they'll turn up soon. We will of course be the first to update you as soon as we have more information on these coins.
So far in 2018, seven new 50ps have been released, including the Representation of the People Act, Peter Rabbit, Flopsy Bunny, Tailor of Gloucester, Mrs Tittlemouse, Paddington at the Station and Paddington at the Palace. As far as we're aware the coins have not entered circulation and therefore we don't expect the mintage figures to be released for quite a while.
---
Want to add the 2017 Jane Austen £2 to your collection?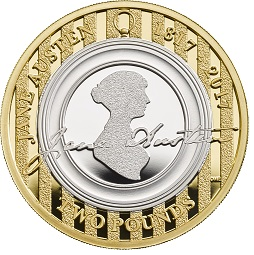 Own it today in Brilliant Uncirculated quality. Secure yours here >>
In 2012, 29 50p coins were released to commemorate the London Olympics and millions rose to the challenge of collecting them all. For many, this marked the start of their interest in coins.
The Royal Mint now estimates that as many as 75% of the Olympic 50p coins have been removed from circulation by collectors, which is a testament to their popularity.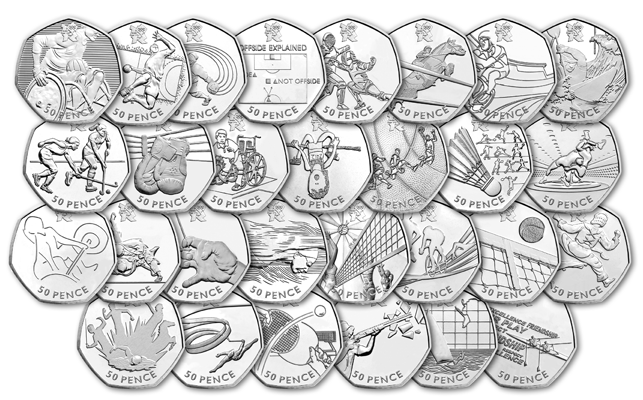 Two Team GB 50p Coins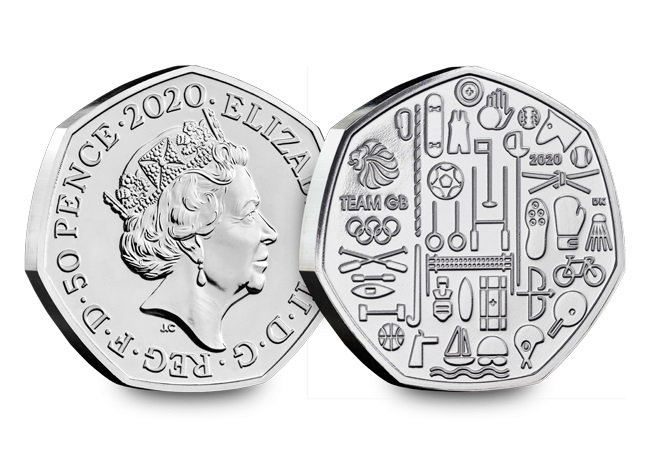 Back in 2020, collectors were delighted by the announcement of the new Team GB 50p, released as part of the 2020 Annual Coin Set, to celebrate Team GB's participation in the upcoming Olympic Games.
However, due to the coronavirus pandemic and the postponement of the Olympic Games to 2021, this 50p was never individually released in 2020.
Collectors were desperately waiting for the chance to get their hands on this coin so when the big day arrived in June, it's no surprise that 2021 Team GB 50p proved incredibly popular!
Excitingly, this means that there are two versions of the coin – one with the obverse dated 2020 from the 2020 Annual Coin Set and one with the obverse dated 2021 from this year's individual release.
What's more, this makes the new 2021 UK Team GB 50p one of only a small handful of UK 50ps to feature a dual-date – only adding to the collectability of the new coin!
Have you secured the 2021 UK Team GB 50p for your collection? Click here to order it in Brilliant Uncirculated quality for JUST £4.50 (+p&p) >>
Do you own the rarest Olympic 50p?
Olympic 50ps have long been a favourite amongst collectors, but did you know that only 1,125,500 Football fifty pence pieces entered circulation? It's definitely the rarest one to look out for and tops our chart as having the smallest mintage figures, which means it is even harder to find than the others.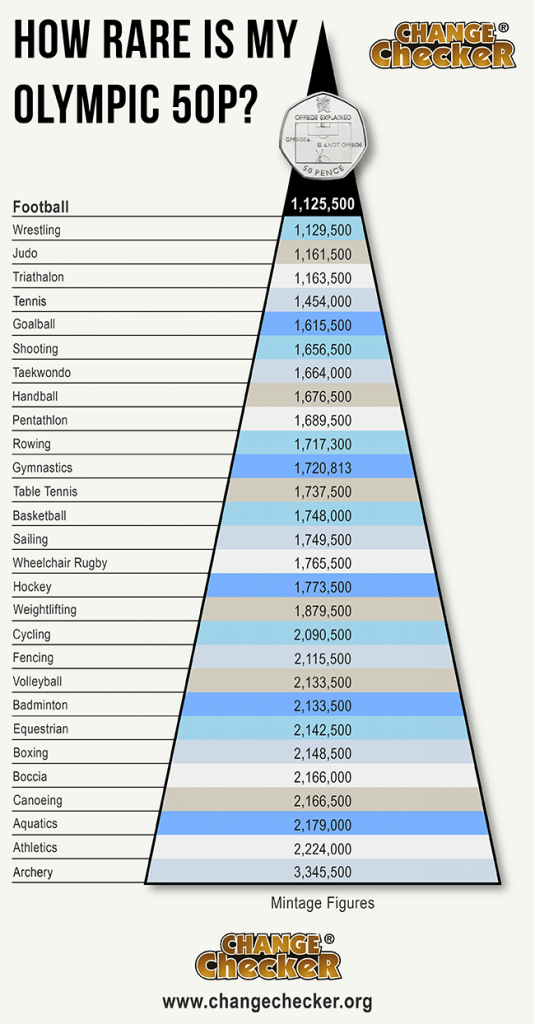 Although the Football 50p narrowly holds the title of the rarest sport in the series, there were still over one million of those struck for circulation. To hold the honourable title as "rare", we must look beyond the official Royal Mint circulation figures…
The withdrawn Aquatics 'error' Olympic 50p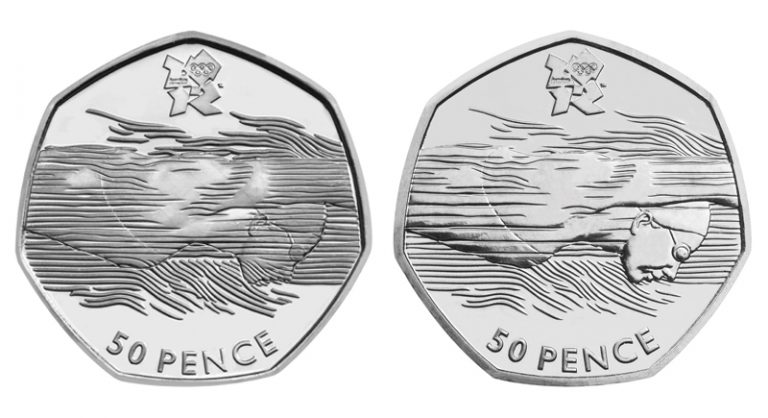 The Aquatics 50p which we are familiar with today is actually a modified version which removed the waves passing over the swimmer's face.
Despite the original design being adapted early on – there are still a few of the original coins in circulation.
Although the exact quantity of the original Aquatics design remains a mystery, we know it's not unusual for these special coins to exchange hands for close to £1000… not a bad return on a 50p coin!
2009 Athletics Olympic 50p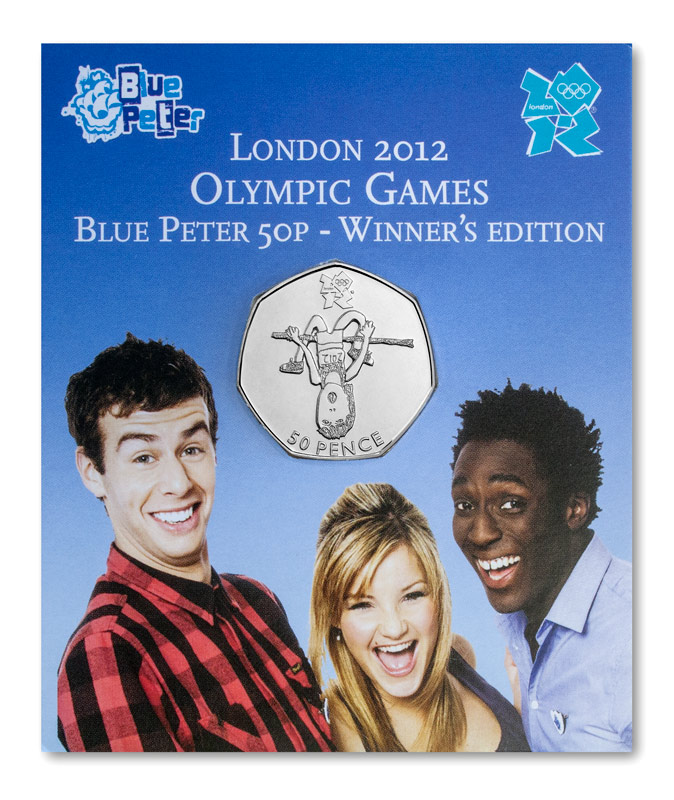 In 2009, nine-year old Florence Jackson became the youngest person to design a coin for circulation in the UK. Her Athletics Olympic 50p design was the ultimate winner of a Blue Peter competition.
Although you may recognise this coin, you may not know that a rare version of this coin exists.When the competition winner was revealed, only 100,000 special edition Blue Peter coin packs were released with a 2009 dated coin – making it the only Olympic 50p without a 2011 date.
That makes this 2009 Athletics Olympic 50p more than twice as rare as the famous Kew Gardens 50p.
The rarest of the series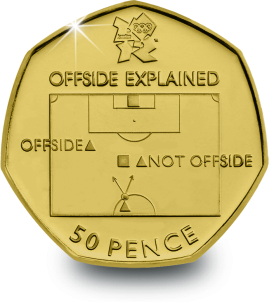 It is without doubt that the gold versions of each 50p remain the rarest of the collection.
Unfortunately for collectors, obtaining one of these is nearly impossible as only one gold version of each design was presented to the respective winning designer.
Aside from the precious metal content, their unique status and significance rank them as potentially the most valuable UK 50p coins in existence.
Is this the 30th Olympic 50p?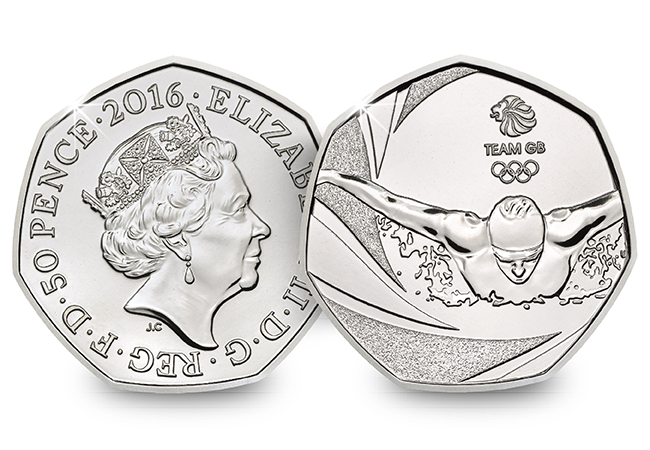 To the delight of many Olympic 50p collectors, in 2016 The Royal Mint issued a special 50p to wish Team GB success for the Rio Games.
The coin's obverse features a swimmer with the Team GB logo, the Olympic rings and the inscription 'TEAM GB'. Designed by Tim Sharp, the coin has been officially endorsed by Team GB and celebrates the spirit of British Olympians – a must have for all Olympic 50p Collectors.
---
Complete your 50p collection
Click here to view the sought-after Olympic 50ps and complete you collection today >>