Posts Tagged 'two pouind'
In 2020, we received the sad news that Dame Vera Lynn had sadly passed away. The iconic wartime singer was famous for boosting the morale of British troops during WWII.
Coined as the 'forces sweetheart', her renditions of We'll Meet Again, the White Cliffs of Dover and I'll be Seeing You, became synonyms with wartime.
Dame Vera Lynn played such a key role during wartime that Buckingham Palace sent a private message of condolence to her family.
And in 2022, to commemorate her life and achievements, The Royal Mint commemorates her on a brand new £2 coin.
Designed by The Royal Mint, this £2 features a detailed portrait of Vera Lynn as she appeared during the height of her fame.
The popularity of her songs carried across generations. In 2020, when many of us were forced apart from one another, her famous song 'We'll Meet Again' spoke to the nation once more, with a similar level of emotion as they did in 1940 – a testament to her charm, skill, and beautiful voice.
To add this stunning commemorative £2 coin to your collection today for JUST £9.50 (+p&p), simply click here >>
---
To learn more about other UK coins which have been issued to commemorate wartime, continue reading…
---
2020 Victory in Europe £2
2020 marked 75 years since Victory in Europe Day, commonly known as VE Day.
This monumental day signified the end of the Second World War in Europe and brought long-awaited peace following Nazi Germany's unconditional surrender of armed forces on the 8th May 1945.
To commemorate this pivotal moment and one of the most historically significant days in British history, a UK £2 coin was issued.
Dominique Evans' design features a woman holding a newspaper aloft in crowd of celebrating people, set against a backdrop of the word VICTORY.
The edge inscription reads 'JUST TRIUMPH AND PROUD SORROW' which is incredibly fitting for a coin which marks such a historic anniversary.
You can secure this coin for your collection for JUST £9.50 (+p&p) by clicking here >>
2019 D-Day £2
In 2019, The Royal Mint issued a £2 coin commemorating the 75th Anniversary of D-Day, the largest seaborne invasion in history.
The invasion took place on the 6th June 1944 and began the liberation of German occupied France and laid the foundations for the Allied Victory.
Initially issued as part of the 2019 Annual Coin Set, the D-Day £2 is favoured among collectors for its innovative design by Stephen Taylor.
The reverse features arrows pointing across the English Channel to Normandy; each arrow has one of the five code-names for the beaches where Allied Troops landed: Utah, Omaha, Gold, Juno and Sword.
2005 St. Paul's Cathedral £2
In 2005, The Royal Mint issued a second £2 in the new bi-metallic specifications to commemorate 60 years since the end of the war.
On 8th May 1945, Winston Churchill announced VE Day – Victory in Europe, which marked the end of World War Two.
Interestingly, the reverse design depicts St. Paul's Cathedral. This is because the cathedral was one of only a few structures which survived the Blitz to become a great symbol of hope to a war-torn nation.
The edge inscription reads 'IN VICTORY: MAGNANIMITY, IN PEACE: GOODWILL' which is part of the famous maxim that prefaces Churchill's history of the Second World War.
10,191,000 entered circulation. Have you found one in your change? Comment below!
---
Secure the 2022 UK Dame Vera Lynn £2 for your collection today!
In the late 1800s, Herbert George Wells created a new breed of novel, pioneering the genre that would later be defined as science fiction.
His creative and forward-thinking novels provide a window to the future and have become famous all over the world, with his audience spanning across generations.
In the year marking the 75th anniversary of his death, a brand new £2 coin has been issued, featuring a design which pays a fitting tribute to his famous novels, Time Machine, The Invisible Man, and War of the Worlds.
2021 UK H. G. Wells £2
Chris Costello's design of this brand new coin takes inspiration from these world-famous novels, with a depiction of the Invisible Man and a Martian encircled by clock numerals.
Issued initially as part of the 2021 Annual Coin Set, this is the first time collectors will have the chance to secure the individual coin in Brilliant Uncirculated quality.
To add this coin to your collection for JUST £8.99 (+p&p), simply click here >>
Have you ever seen a four-legged tripod?
Arguably one of the most controversial and talked about coin designs of the year, the BRAND NEW H. G. Wells £2 pays tribute to the Father of Science-Fiction's best known works and includes a design featuring the Invisible Man as well as a four-legged 'tripod'.
This unusual design hit the headlines this year when eagle-eyed collectors picked up on the additional leg featured on the Martian from Well's famed War of the Worlds when the coin was issued in the 2021 Annual Coin Set.
The coin hit the headlines once more this year for another reason, after another supposed 'error' was spotted on the version issued as part of the 2021 Annual Coin Set. Continue reading our blog to find out more…
H.G. Wells £2 – Blank 'Error'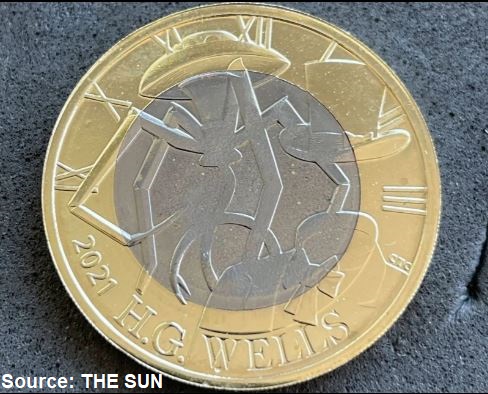 This £2 coin was issued as part of the 2021 UK Commemorative Coin set and it marks the 75th anniversary of the death of science fiction novelist, H. G. Wells.
With the clue in the name, this bi-metallic coin is made up of a combination of a silver coloured cupro-nickel disc and an outer yellow nickel-brass ring.
In the case of this H.G. Wells £2 coin however, it appears that the blank used has a thicker yellow ring, much wider than what we'd see on normal £2 coins.
When striking £2 coins, the first step is to punch a hole through a blank planchet to create the outer section. The inner core is taken from a different metal, sized to fit inside the outer ring.
There have already been estimations that if this coin was to be sold at auction, it could fetch over £1,000! We're going to be eagerly awaiting confirmation from The Royal Mint whether this error is genuine or not. Nonetheless, it certainly makes for interesting collecting!
The Father of Science Fiction
After the publication of his first novel, The Time Machine, in 1895, H. G. Wells became an overnight sensation. He began to write a series of science fiction novels that would define him as a truly original writer.
The War of the Worlds (1898) and The Invisible Man (1897) joined The Time Machine as H. G. Wells most celebrated and well-known novels .
Wells was described by his contemporaries as undeviating and fearless in his efforts for social equality, world peace, and what he considered to be the future good of humanity.
In the 75th anniversary of his death, H. G. Wells' remarkable life and works have been commemorated on this brand new UK £2, acting as a lasting tribute to this world-famous author.
---
Will you be securing this brand new UK £2 coin to your collection? Let us know in the comments below!
---
Add the 2021 UK H. G. Wells £2 to your collection today!
You can secure the brand new 2021 UK H. G. Wells £2 to your collection today for JUST £8.99 (+p&p) by clicking here >>
Your coin has been struck to a superior Brilliant Uncirculated quality and comes protectively encapsulated in Official Change Checker packaging with that all-important hologram to guarantee its superior quality.