Posts Tagged 'Two Pound Coin'
2020 marks 80 years since the 'Miracle of Dunkirk' – one of the greatest turning points of the Second World War.
Known as Operation Dynamo, in 1940 over 300,000 Allied soldiers were evacuated from the beaches and harbour at Dunkirk, France in over 800 hastily assembled vessels.
80 years on, this significant anniversary has been commemorated with the Isle of Man Dunkirk £2 Pair.
2020 Isle of Man Dunkirk £2 Pair
This stunning £2 coin pair features the Isle of Man Steam Company packet ship, the SS Mona's Isle, rescuing soldiers at Dunkirk.
Mona's Isle was the first non-military ship to leave Dover for Dunkirk during the evacuation and the first to complete a round trip, rescuing a total of 2,634 troops.
As a perfect tribute to SS Mona's Isle and the bravery of her crew, this BRAND NEW £2 coin pair has been issued by the Isle of Man.
What's more, JUST 3,000 of each design will be entering circulation on the Isle of Man – making these coins particularly hard to come by as i'm sure collectors on the island will be quick to snap these up for their collections!
To secure the Isle of Man Dunkirk £2 Pair in Brilliant Uncirculated quality, click here >>
To celebrate these brand new releases, we're taking a look back at the other coins issued to commemorate the Second World War…
2020 The End of the Second World War £5
2020 marked 75 years since the end of the Second World War and in commemoration this brand new UK £5 coin was issued, honouring the struggles and sacrifices made to achieve lasting peace.
Designers Matt Dent and Christian Davies have included the words 'WAR' and 'PEACE' on the reverse of this coin.
This £5 coin's design was said to be inspired by stone war memorials, paying tribute to the millions of lives lost during the six years of conflict.
2020 UK Victory in Europe £2
Issued by The Royal Mint, this 2020 VE Day £2 features a woman holding a newspaper aloft in a crowd of celebrating people, set against a backdrop of the word VICTORY.
2020 marks a particularly poignant anniversary as we celebrate 75 years since Victory in Europe Day. Many celebrations had been scheduled to mark this joyous occasion, including rescheduling the Early May Bank Holiday to the 8th, but were not able to take place due to the pandemic.
In place of the big parties that were planned, people took to their doorsteps to sing and raise a glass over their fence with their neighbours!
The edge inscription of this coin reads 'JUST TRIUMPH AND PROUD SORROW' which is incredibly fitting for a coin which marks such a historic anniversary.
2019 75th Anniversary of D-Day £2
D-Day was the largest seaborne invasion in history. It took place on 6th June 1944 and began the liberation of German-occupied France during WWII, laying the foundations of the Allied victory.
Designed by renowned Royal Mint engraver, Stephen Taylor, this coin was issued in 2019 to mark the 75th anniversary of the D-Day landings. It features arrows each pointing across the English Channel to Normandy. Each arrow also has one of the code names used for each of the beaches where Allied troops landed – Utah, Omaha, Gold, Juno, and Sword.
This £2 coin is a timeless tribute to the thousands of Allied troops who fought tirelessly and sacrificed their lives to make the Normandy landings a success.
1994 UK D-Day Landings 50p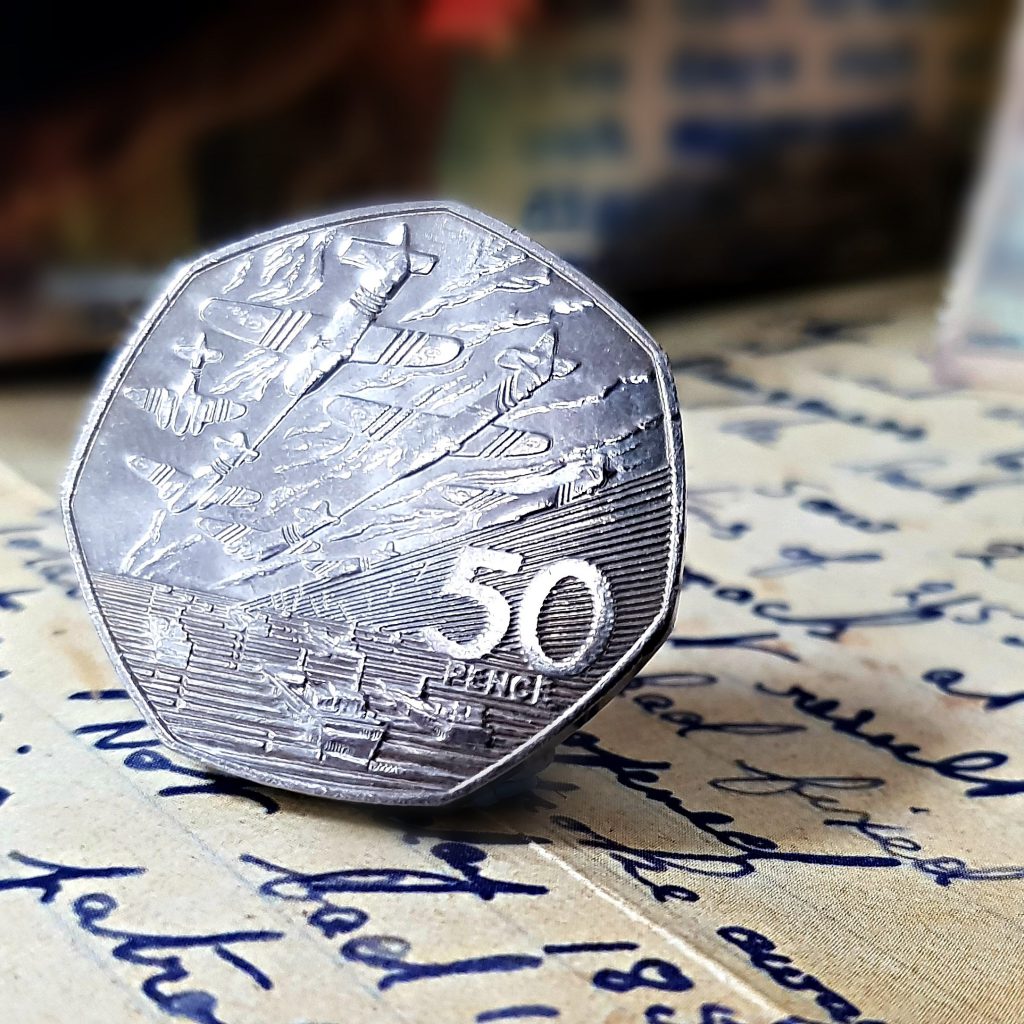 On 6th June 1944 a mighty alliance of British, American and Commonwealth armed forces crossed from England to Normandy and began assault on German forces.
It was the largest seaborne invasion in history and began the liberation of German-occupied France, laying the foundations for the Allied victory of World War Two.
A timeless tribute to the thousands of Allied troops who fought tirelessly in the War, this 50p coin was issued in 1994 to commemorate 50 years since D-Day.
2015 UK Battle of Britain 50p
On 6th June 1944 a mighty alliance of British, American and Commonwealth armed forces crossed from England to Normandy and began assault on German forces.
It was the largest seaborne invasion in history and began the liberation of German-occupied France, laying the foundations for the Allied victory of World War Two.
A timeless tribute to the thousands of Allied troops who fought tirelessly in the War, this 50p coin was issued in 1994 to commemorate 50 years since D-Day.
---
Will you be adding the 2020 Isle of Man Dunkirk £2 Pair to your collection? Let us know in the comments!
---
Secure the 2020 Isle of Man Dunkirk £2 Pair to your collection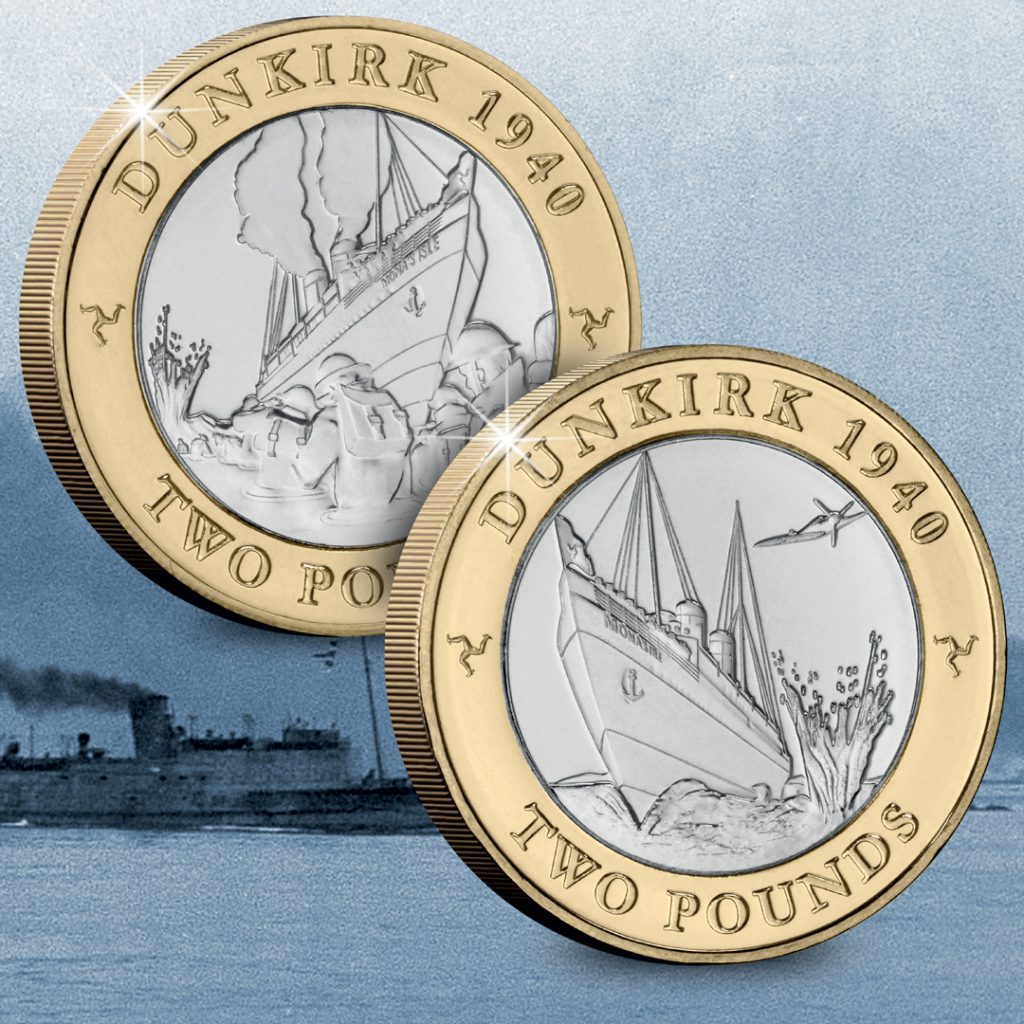 We only have a limited stock available for Change Checkers, so don't miss your chance to secure this pair for your collection for just £16.99 (+p&p).
Add the 2020 Isle of Man Dunkirk £2 Pair to your collection here >>
In March 2015, the UK treasury confirmed that 1p and 2p coins will continue to be used "for years to come". However, it has recently been suggested that due to a cash usage slump, The Royal Mint is set to go ten years without producing anymore 2p coins!
But it's not just our coppers at stake.. The same applies for £2 coins, as it has been revealed that in March 2020, The Royal Mint was sitting on 26 times as many £2 coins as it needed to.
According to the National Audit Office's report into Britain's cash usage, the number of coins produced each year by The Royal Mint fell by nearly two-thirds between 2011 and this year.
Less than a quarter of all payments were made by cash last year, according to figures released in June by the banking trade body UK Finance.
It's fair to assume that even less cash has been used since the start of 2020 due to the coronavirus leading to fears of cash usage and a move to more contactless payments.
However, The Mint told Britain's spending watchdog that there had been 'sharp increases in demand' for change 'as many businesses and consumers hoarded coins in the early months of the pandemic'.
As a result, the Treasury ordered The Royal Mint to strike 60 million additional 1p coins over the summer to meet this new demand. So make sure you keep your eyes peeled for these new 1p coins, especially if you're collecting dateruns!
The Royal Mint are required to forecast the demand for small change to ensure it keeps enough coins in stock without striking too few or too many, but with significant fluctuations in consumer behaviour in recent years, this has no doubt been a challenge.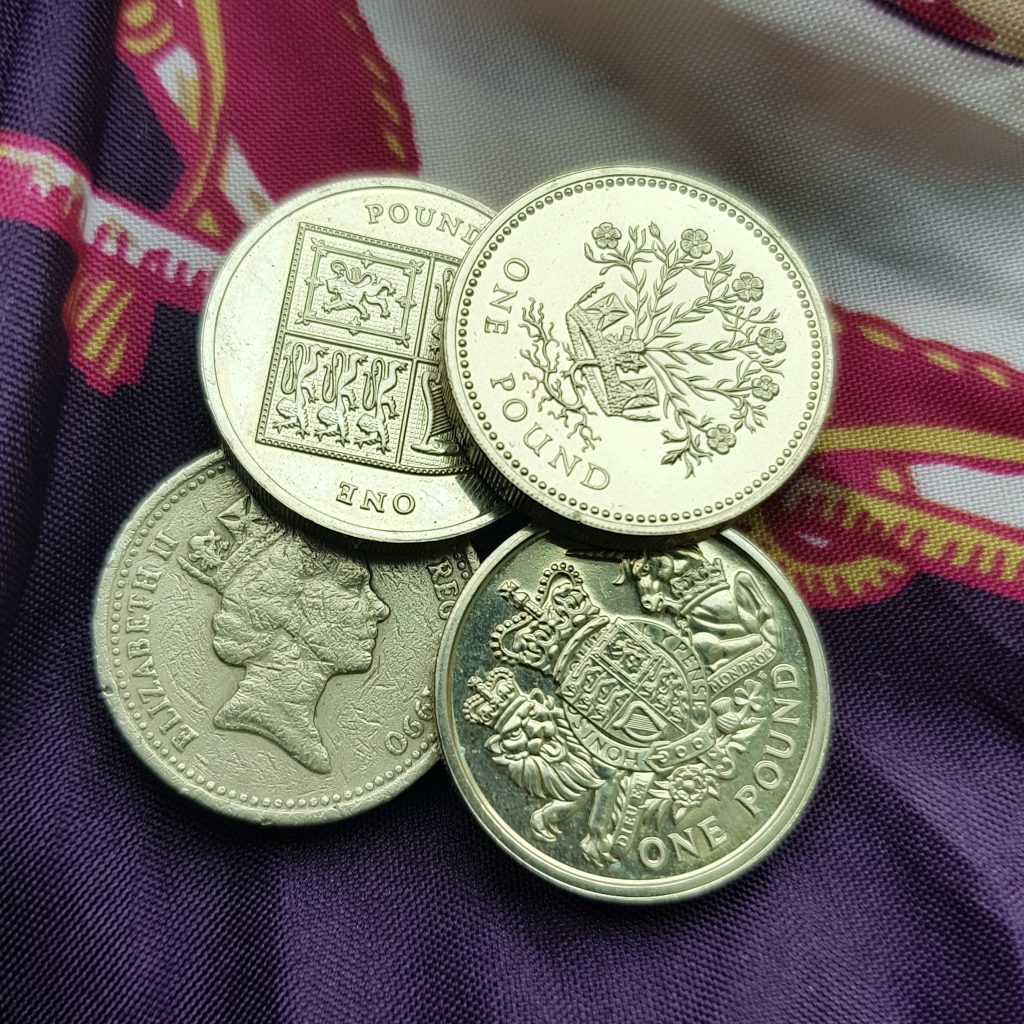 In 2017, after the introduction of the new 12-sided £1, The Royal Mint saw a swell in its coin stocks as people rushed to return their round pounds, ending up returning loose change of other denominations at the same time.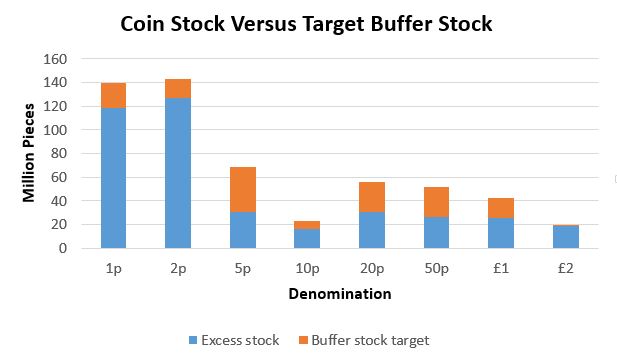 According to the NAO, at the end of March, The Royal Mint aimed to hold 700,000 £2 coins, but actually held 18.7million. And rather than holding its target of 15.9million 2p coins, it held 127.1million.
As a result, in March of this year, The NAO said The Royal Mint had estimated 'it did not envisage producing any new 2p or £2 coins for at least 10 years'.
We haven't seen a £2 enter circulation since 2016, so, could this mean that those 2016 dated £2s and 2017 dated 2p coins are the last of their kind? We certainly hope not.
But what about our coppers? Do you think we still need 1p and 2p coins in circulation? Have your say by voting in our poll on Facebook.
And what could the future for Britain's definitive coinage be if the 1p and 2p coins were removed? Currently the definitive coins from 1p to 50p come together to create The Royal Shield, but with two key pieces missing, could this lead to a complete re-design?
We'd love to hear what you think about the use of cash vs card and the demand for our smaller denominations, so leave us a comment below to share your thoughts.
---
If you're interested in coin collecting, our Change Checker web app is completely free to use and allows users to:
– Find and identify the coins in their pocket
– Collect and track the coins they have
– Swap their spare coins with other Change Checkers
Sign up today at: www.changechecker.org/app
Discover how sought-after your coins are with the latest Scarcity Index update!
This information has been compiled using data from the Change Checker Swap Centre (find out how it works here) and presented in the easy to use indexes below, with arrows to signify how many places up or down a coin has moved since the last Scarcity Index.
A-Z 10p Scarcity Index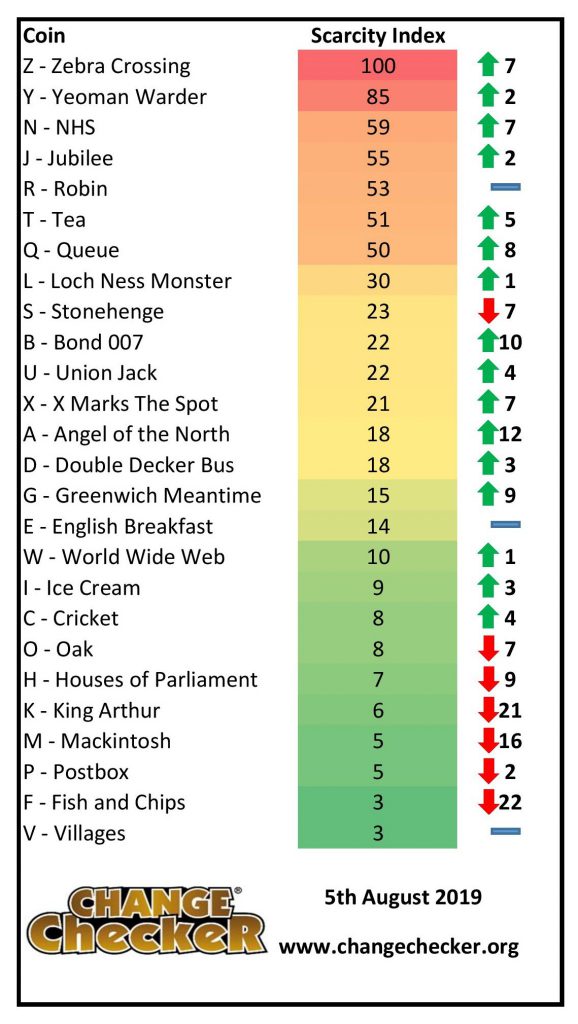 There has been quite a bit of movement on the A-Z 10p Scarcity Index since the last update, which is to be expected as more of these coins start turning up in people's change and duplicates are swapped.
Moving up 7 places to take the top spot on the index is Z for Zebra Crossing, which is now the most sought-after A-Z 10p.
Amongst the top 4 scarcest coins on the index is the N for NHS 10p, which has also jumped up 7 places, although the biggest upward movement actually goes to A for Angel of the North. This coin has managed to move up the index by 12 places and now sits in the middle of the pack.
Conversely, the biggest downward movement goes to K for King Arthur (previously at the top of the index) which has now dropped by 21 places to sit amongst the bottom 5 coins.
It's important to note that the A-Z 10p Scarcity Index is currently based on estimated mintage figures, assuming each coin has been struck in equal quantities. This includes the extra 2.1 million coins released in 2019. It will certainly be interesting to see what happens to the index once the official mintage figures are confirmed.
50p Scarcity Index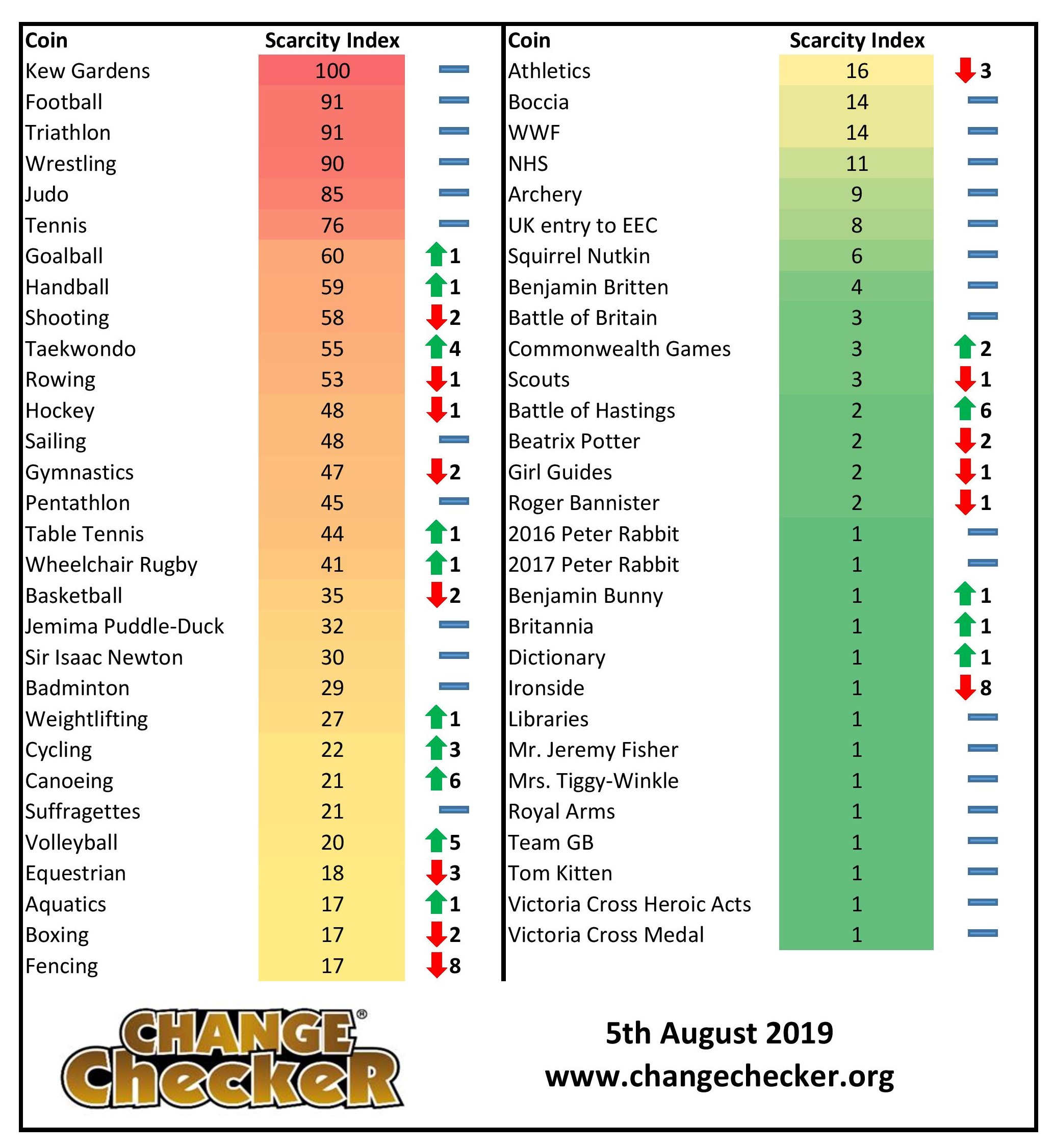 There's no surprises at the top end of the 50p Scarcity Index, with the Kew Gardens remaining on top and the next top 5 coins remaining unchanged.
Whilst there has been some small movement amongst the Olympic 50ps, aside from the Kew Gardens, these coins dominate the top 17 places on the index.
In fact, the only non-Olympic 50ps to feature on the first half of the index are the Kew Gardens, Jemima Puddle-Duck, Sir Isaac Newton and Suffragettes 50ps, which remain in the same position as the last update.
The biggest upwards movement for the 50p index actually goes to Canoeing and the Battle of Hastings, both of which have moved up by 6 places.
The Battle of Hastings 50p was re-issued this year as part of the 50th Anniversary of the 50p Military Set, which might have increased demand for the circulation coin.
Both Fencing and Ironside 50ps have actually moved 8 places down the index since the last update, although it's worth noting that Ironside moved up 9 places on the last index, so is mostly likely just settling back into place following increased popularity last quarter.
We're eagerly waiting for when the mintage figures for 2018 coins will be released so that we can update the Scarcity Index and add some new coins into the mix!
£2 Scarcity Index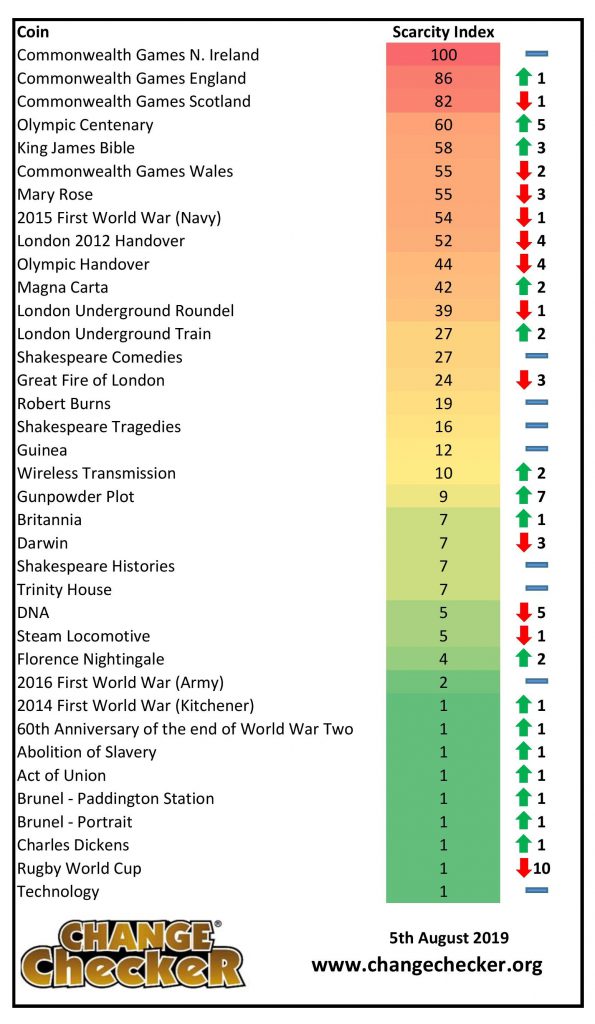 There's been quite a shuffle on the £2 index this quarter and whilst the Commonwealth Games Northern Ireland £2 remains on top, the other Commonwealth Games coins have had a move around.
In fact, the Commonwealth Games Wales £2 has now been overtaken by Olympic Centenary and King James Bible which have managed to break up the Commonwealth Games coins by pushing Wales down to 6th place on the index.
The biggest increase goes to the Gunpowder Plot £2, which has moved up the index by 7 places to now sit nearer the middle of the pack.
Rugby World Cup has taken a big hit this quarter and has actually moved down 10 places to second from the bottom.
This has effectively bumped up the bottom few coins by one or two places each.
It will be really interesting to see how the £2 index will change in future if more £2 coins enter circulation and mix up the rankings.
How your Scarcity Index works
Generally collectors have had to rely upon mintage figures to identify the scarcest coins. But they only tell part of the story. Trying to find a good quality coin from 15 – 20 years ago, even for a higher mintage issue, is much more challenging than a more recent issue, as coins become damaged over time and are ultimately removed from circulation.
Additionally, some designs are more hoarded than others by people who might not normally collect coins – the poignant First World War £2 Coin series being an example. Finally, it can be up to a couple of years before the Royal Mint eventually confirms the actual mintage for an issue.
That's why we have combined the mintage information with two other key pieces of information.
How many of each design are listed as "collected" by Change Checkers, indicating the relative ease of finding a particular coin.
The number of times a design has been requested as a swap over the previous 3 months, showing the current level of collector demand.
Importantly, as new coins are released and popularity rises and falls across different designs the Scarcity Index will be updated quarterly allowing Change Checkers to track the relative performance of the UK's circulation coins.
How much are my coins worth?
The Scarcity Index does not necessarily equate to value but it is certainly an effective indicator. For example, the Kew Gardens 50p coin commands a premium of up to 200 times face value on eBay.
You can use the 6 point guide to help you determine a more realistic value for your coins.
What about £1 Coins?
The £1 Scarcity Index has already been published for the Round £1 coins and, because they are no longer being issued, this is now set in stone.
---
If you're interested in coin collecting, our Change Checker web app is completely free to use and allows users to:
– Find and identify the coins in their pocket
– Collect and track the coins they have
– Swap their spare coins with other Change Checkers
Sign up today at: www.changechecker.org/app