For the first time, iconic characters from the original Star Wars™ trilogy feature on official UK coins in a four-coin collection celebrating 40 years since the release of Return of the Jedi™.
Darth Vader™ & Emperor Palpatine™ 50p
The eagerly awaited second coin in the UK Star Wars™ 50p series has finally been released, and this one takes us over to the Dark Side…
That's right, the latest coin in the UK Star Wars™ series features the deadly duo of Darth Vader™ and Emperor Palpatine™. A far cry from the loveable R2-D2™ and C-3PO™ who featured on the very first UK Star Wars™ coin.
Special design features
This brand new UK 50p features enemies of the Rebel Alliance, Darth Vader™ and Emperor Palpatine™, as well as a special lenticular feature. On the Darth Vader™ and Emperor Palpatine™ 50p, this unique feature shows the symbol of the Galactic Empire when tilted one way, and the Death Star when tilted the other way.
We rarely see this minting technology on UK 50p coins, which is bound to add to the collectability of these already popular coins.
Darth Vader™ can be seen wielding his lightsaber in the foreground, whilst a cloaked Emperor Palpatine™ lurks in the background. In terms of villains in the Star Wars™ franchise, no duo is more memorable than Vader™ and Palpatine™, so it's only fitting that they represent the Dark Side on this coin.
---
R2-D2™ & C-3PO™ 50p
The collection began with a design featuring R2-D2™ and C-3PO™, which appeared on the first official UK coin dedicated to the iconic movie franchise.
This lovable duo can be seen inside the famed Millennium Falcon, but eagle-eyed collectors will notice a special feature appearing on this new 50p…
The special lenticular feature on the R2-D2™ and C-3PO™ 50p changes between Tatooine and the Rebel Alliance Starbird when tilted in different ways.
Discover a new galaxy of coins
Created in partnership with the Walt Disney Company and Lucasfilm, a total of four coins will be released in the Star Wars™ 50p series.
The remaining coins will feature Luke Skywalker™ & Princess Leia™ and Han Solo™ & Chewbacca™, and can be pre-ordered now.
What's more, each coin in the UK Star Wars™ 50p series comes housed in new, bespoke packaging, which fits perfectly into your Change Checker Album.
Find out how you can add these coins to your collection here >>
Huge demand expected
Many collectors will want to add these 50ps to their collection simply because they're new UK releases.
But as they're also the FIRST official UK coins celebrating Star Wars™ which is such a huge worldwide phenomenon, we're expecting an additional surge in demand from enthusiasts all over the world!
And, as the Star Wars™ movie franchise has such strong ties right here in Britain, UK collectors will want to act fast to secure these coins.
Will you be adding the new Star Wars™ 50ps to your collection? Let us know in the comments below!
Continue your Star Wars™ 50p collection!
Don't miss this chance to add the brand new 2023 UK Star Wars™ Darth Vader™ and Emperor Palpatine™ 50p to your collection for just £4.99 (+p&p)!
2023 marks 75 years of our NHS, and to celebrate, a new UK 50p has been issued.
This coin may look familiar, and that's because it featured in the 2023 Annual Coin Set released earlier this year, but now you can finally own it individually!
The nation's service
Since it was established in 1948, the National Health Service has played a pivotal role in the lives of the British public. It provides millions of people with vital care and medical services. This was especially apparent in recent years during the challenges of the Covid-19 pandemic.
A closer look
The 2023 UK NHS 50p represents the nation's appreciation for NHS workers and services, with an original design by Alice Lediard. The reverse design features key words associated with the NHS such as dedication, hope, support and compassion. The words 'National Health Service 75' can also be seen highlighted in the centre of the coin.
What's more, The Royal Mint are donating 100% of the profit made from these coins to NHS Charities Together. Over 230 NHS Charities across the UK provide additional support and resources for both staff and patients.
What better way to say thank you for the last 75 years or service.
Numismatic history of the NHS
This isn't the first time the NHS has been celebrated on a UK coin…
1998 50th Anniversary of the NHS 50p
In 1998, a UK 50p was released to commemorate the 50th anniversary of the NHS.
The reverse design by David Cornell shows a pair of hands cupping rays of light along with the inscription 'NHS FIFTIETH ANNIVERSARY'.
2018 A-Z 'N' NHS 10p
Almost 20 years later in 2018, the NHS 10p was released as part of the 26 coin A-Z 10p series.
The series celebrated all things British, so it's no surprise that the NHS was chosen to represent the letter N. The reverse design shows a stethoscope wrapped around the letter N in the shape of a heart.
The A-Z 10ps have become some of the hardest UK circulation coins to find, with a mintage of only 304,000 per letter.
---
And that brings us to 2023 and the new 75th anniversary of the NHS 50p, which you can own in brilliant uncirculated quality.
Secure your 2023 UK 75 Years of the NHS Certified BU 50p
Your 2023 UK NHS 50p is presented in official Change Checker packaging so it's safely preserved for generations to come. Secure yours here >>
If you were born after the UK's coinage system turned decimal, or it's simply been a while since you've thought about pre-decimal coinage, it can be a bit confusing!
From the farthing, to the Thrup'nny bit, there's a lot of coins to get your head around. So, Change Checker is on hand with your guide to the UK's pre-decimal currency!
The Farthing
The farthing equaled that of a quarter of a penny and it was issued for circulation for nearly 100 years (1860-1956).
This small but significant coin featured the portraits of 11 monarchs, including George I, Queen Victoria, and Queen Elizabeth II.
Half Penny
Suggestive of its name, the half penny was worth, literally half of a penny in value. Two farthings would therefore make a half penny!
The last half penny issued for circulation was dated 1967.
Penny
The pre-decimal One Penny, also known as 1d, held a lot less value than the modern 'New' Penny – there were 240 pennies in a pre-decimal pound!
They were used in circulation from 1714 and the last One Penny was struck in 1967, before the introduction of the 'New' Penny in 1971.
Threepence
The 12-sided threepenny (or 3d) is fondly remembered for its individuality. There was quite literally nothing quite like it before, and it holds the proud title of Britain's first non-circular coin since milled coins were introduced in the 17th century.
The unconventional shape and thickness of the new brass Thrup'nny Bit made it easy to identify amongst other coins in loose change and it quickly proved to be a very popular new addition.
Alongside this brass version of the threepenny, a silver 3d also circulated through the reign of King George V. It even sometimes circulated alongside the brass coin!
Its name derived from it's value, being equal to exactly three pennies.
Sixpence
Also called a 'Tanner' the sixpence was equivalent to one-fortieth of a pound sterling, or half a shilling.
It was first minted in 1551, during the reign of Edward VI, and circulated until 1980.
Throughout centuries, the sixpence has been considered lucky, with fathers slipping one into their daughter's shoe on their wedding day, and families hiding one in their Christmas pudding, in the hope it would bring prosperity and good fortune.
The sixpences continued to be legal tender until 1980 with a value of 2 and a half new pence. The public were so fond of the sixpence, that there was even a 'Save Our Sixpence' campaign!
Shilling
A shilling (or 1/-) was worth 12 pennies and there were 20 in the pre-decimal pound sterling.
The shilling was technically replaced by the five new pence in 1968 in preparation for the decimal changeover in 1971 but they were used as five pence pieces until the 5p was made smaller in 1990.
Florin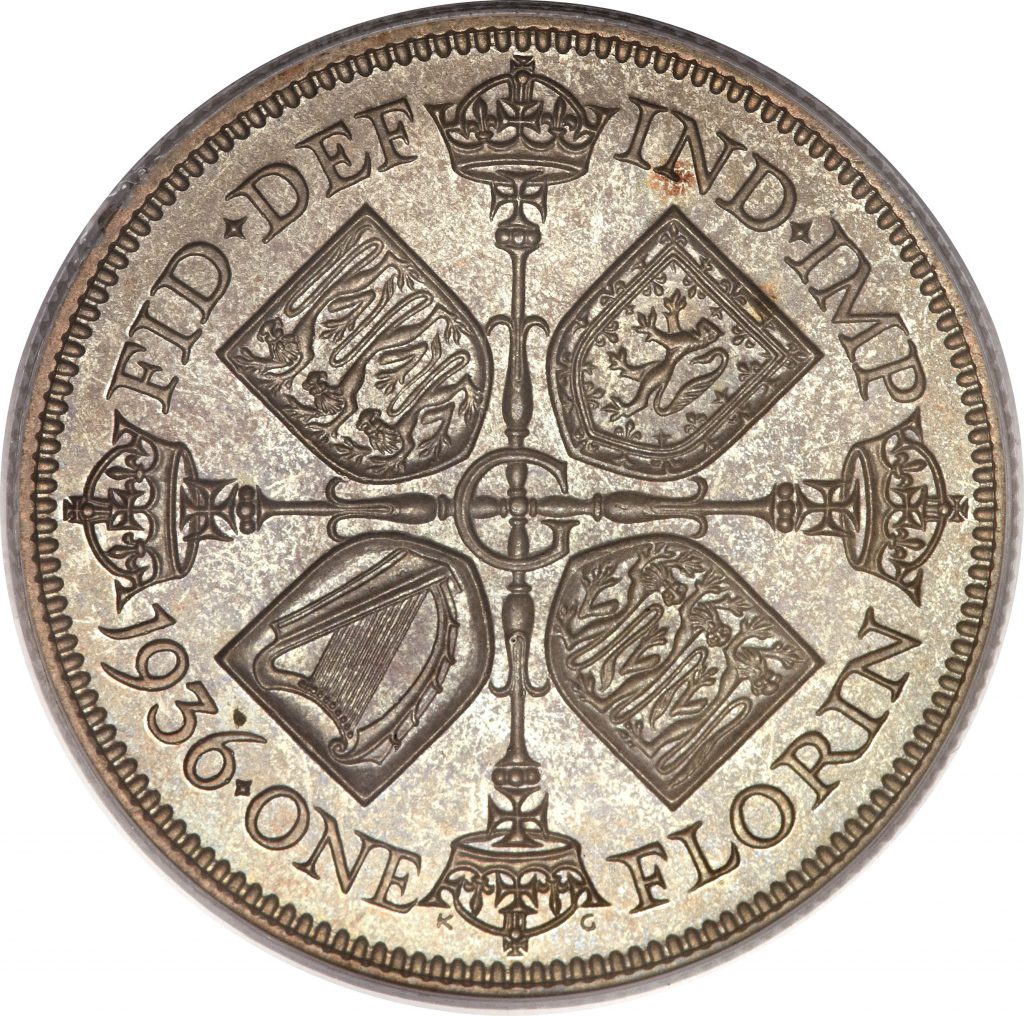 The Florin (or Two Shillings, 2/-) was worth 24 pre-decimal pence or two shillings. It was introduced by Victorians in a step towards decimalisation because it was worth one tenth of a pre-decimal pound sterling.
The last Florin intended for circulation was dated 1967 but these coins were used as Ten new pence until the 10p was made smaller in 1990.
Half Crown
The Half Crown (2/6) was worth 30 pre-decimal pence (or two shillings and sixpence). There were eight Half Crowns in a pound sterling.
The last crown for circulation was dated 1967.
Crown
The English crown was introduced by order of King Henry VIII in 1544 but it wasn't until 1707 that we saw the British crown. It was the successor to the English crown and the Scottish dollar, and it came into being with the Union of Kingdoms of England and Scotland.
It was worth 60 pre-decimal pence or 1/4 of a pound sterling. The legal tender value of the crown remained as 25p until 1990 when their face value was increased to £5 in view of its relatively large size compared to other coins.
With its large size, many of the later coins were primarily commemoratives. The 1965 issue carried the image of Winston Churchill on the reverse, the first time a non-monarch or commoner was ever placed on a British coin, and marked his death.
In 2010, Crowns (£5) were no longer available from banks or post offices and other distributors for face value. They are now reserved for significant anniversaries, birthdays or celebrations and are available to purchase from The Royal Mint and other distributors.
Half Sovereign and Sovereign
Sovereigns had a face value of 20 Shillings (or one pound) and Half Sovereigns of 10 Shillings. As they are made of 22ct Gold, they have a much higher metal value and have not been used as currency in recent years due to this.
Sovereigns are now reserved for flagship royal or historical anniversaries and are only available to purchase from The Royal Mint or official distributors.
---
Now that you've read your guide to the UK's pre-decimal currency, do you have a favourite coin from the ones we've mentioned? Let us know in the comments below!
---
Secure the Complete Decimalisation Coin Collection & Display Card for JUST £30.00 (+p&p)
2021 will mark 50 years since this pivotal moment in British history and so in tribute, Change Checker has issued this Complete Decimalisation Set.
It includes the 14 coins which were affected by the decimal changeover on 'D-Day' in 1971 and makes for the perfect heirloom for any aspiring collector, or for those interested in the heritage of British coins.
Secure yours here for JUST £30.00 (+p&p) >>