In 1999, coin collecting in America was changed forever with the release of the US State Quarters series.
These coins proved so popular that almost half the US population (that's roughly 150 million people) took part in collecting these coins and they quickly became the most widely collected in all of America, and arguably, the world!
Following this wild success, a brand new series of US Quarters was released in 2010, celebrating the beauty of America and its national parks.
US National Park Quarters Complete Set
Each stunning reverse design captures the magnificence and history of America's most beautiful locations, whilst the obverse features a smaller restoration of the original Washington quarter portrait.
5 new National Park Quarters were released each year from 2010 to 2020, with a final design issued in 2021 to complete the series of 56 coins.
But, these quarters were minted and released for only 10 weeks each before never being produced again, making the series particularly sought after…
What's more, this second series of US Quarters has been released in significantly lower numbers, with a total mintage just over HALF that of the highly sought-after US State Quarters series!
And, with a significant proportion of these coins now taken out of circulation into private collections, they are sure to become scarcer than ever, meaning collectors will want to act fast to avoid missing out on the complete collection.
To secure your US National Park Quarters Complete Set of 56 coins for your collection for JUST £65.00 (+p&p), click here >>
American coinage is one of the most competitive coin collecting markets in the world… Read on to find out more about some of America's most infamous coins!
Indian Head Penny (1859-1909)
The Indian Head Penny is famous for celebrating Native Americans, but it actually doesn't show a Native American.
According to legend, designer James B. Longacre used a portrait of his 12 year old daughter, Sarah, wearing a headdress. It is, however, more likely that the portrait was based on a classical Greco-Roman statue Venus Accroupie (Crouching Venus).
Either way, the 'Indian' is not a Native American! The obverse features the head of Lady Liberty wearing a headdress, while the reverse depicts a wreath as well as the words 'One Cent' and a shield in the middle at the top of the coin.
Morgan Silver Dollar (1878-1921)
For the new silver dollar, designer George T. Morgan decided to portray Liberty as a goddess, inspired by Philadelphian school teacher, Anna Williams who had a fair complexion, Grecian nose and golden hair. Morgan eventually persuaded Anna Williams to sit as the model for Liberty for the obverse of the Morgan Silver Dollar.
In 1878 artists' models were considered immoral, therefore, Morgan publicly stated that the model was a statue in a Philadelphia museum. Word soon leaked out, however, and it is rumoured that Williams was fired from her teaching job!
'No Cents' Liberty Head Nickel (1883)
When the new Liberty Head Nickel was issued in 1883, the denomination was nowhere to be seen, instead a large 'V' (Roman '5') was on the reverse.
The coins were the size of the $5 gold coin in circulation at the time which created an opportunity for unscrupulous crooks who came up with a cunning plan to pass them off as $5 by gold plating the new nickels and cutting reeds into the edge by hand. The U.S Mint soon became aware and within a few weeks the design was changed to include the word 'Cents' under the 'V'. The 'No Cents' coins are also known as 'Racketeer' Nickels.
Lincoln Penny (1909)
Designer Victor David Brenner added his 'VDB' initials to the new Lincoln Penny design in 1909 which was issued to commemorate the 100th anniversary of Abraham Lincoln's birth.
While the public generally loved the Lincoln cent when it was first released, they didn't like the prominence of Brenner's initials. The U.S. Mint quickly removed the initials as it appeared as though Brenner was either boasting or advertising. This was the first cent to feature Abraham Lincoln's motto 'In God we trust' on the obverse.
Morgan Dollar (1921)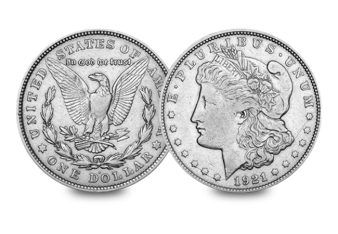 When notorious outlaws Bonnie and Clyde were shot and killed by police in 1934, a 1921 Silver Morgan Dollar was recovered from the jacket of Clyde Barrow among other possessions. The outlaw lovers were believed to have committed 13 robberies among other felonies between 1932 and 1934.
The hunt for the duo captured the nation's imagination during the Great Depression and their fame was heightened by their practice of leaving glamourous photos of themselves at crime scenes.
Even more so now, the 1921 coin is forever associated with Bonnie and Clyde.
Roosevelt Dime (1946)
In 1945 plans were quickly laid for the introduction of a new coin to honour Roosevelt after his passing. The task was assigned to John Ray Sinnock and coinage began in 1946. Controversy soon arose because sculptor Selma Burke claimed that Sinnock had stolen her design without giving her credit, however Sinnock strongly denied this.
In addition, conspiracy theorists claimed that Sinnock's initials 'JS' (at the base of Roosevelt's neck) actually referred to Russian leader Joseph Stalin because of Roosevelt's supposed 'communist' learnings.
---
These are just some of the incredible American coins that have been issued over the decades, including the 56 US National Park Quarters!
Have you ever seen these coins before? Let us know in the comments below!
---
Secure the Complete US National Park Quarters Set!
Through our contacts in the US we have managed to secure a limited amount of complete sets for our collectors, to ensure you have the opportunity to include this impressive set in your collection.
All 56 US National Park Quarters will come presented in a custom display folder, including a map to pinpoint each quarter in the series. This really is the perfect way to display your collection and preserve all 56 coins for generations to come.
Don't miss your limited opportunity to secure this iconic collection and order yours today >>
The United States are facing a nationwide coin shortage in the midst of the coronavirus pandemic – urging members of the public to use cash where possible to help ease the coin crisis.
As more people turn to online shopping and contactless payments and avoid using physical money due to the virus, the normal flow of currency has been severely interrupted.
Last year, third-party coin processors and retailers accounted for around 83% of coins in the US coin supply chain.
However, as many stores have been closed and with the US Mint briefly slowing production to implement safety measures, further interruptions to this supply chain have been caused.
The effects mean that as stores are reopening, retailers are quickly exhausting their cash inventories, with some now advising customers they may not be able to provide change in coins.
Solving the US coin supply problem
The US Mint is now asking people to return any coins they might have lying around and to use exact cash for purchases to help replenish the country's supply.
The Fed have even convened a US Coin Task Force, working to restore the vital coin supply chain.
And what's more, one particular bank has even started paying members of the public to return any spare change.
UK Coin Shortage?
With the UK public being urged to use contactless where possible during the pandemic, could we too being facing a similar issue soon?
In recent years demand for cash in the UK has dropped, not simply because card payments have increased, but also due to the introduction of the 12-sided £1 coin in 2017.
As members of the public were tasked with returning their old round pound coins to the bank, other denominations, loose change and unwanted coins were also returned, meaning a surplus of cash was injected into the system.
We've certainly felt the effects of this with the lack of new coins entering circulation in the last few years.
Secondary Market Coin Prices
We recently updated the Change Checker eBay Tracker, revealing the average selling prices for the top 10 UK coins and banknotes.
Amazingly, there's been an 18% increase in the overall value of these issues – the biggest increase we've seen since the Tracker began!
With less cash being used in the past few months, it's likely collectors are heading to the secondary market to get hold of certain coins, rather than waiting to find them in their change.
Additionally, with more time being spent at home and people seeking new hobbies to keep themselves entertained, new collectors are perhaps becoming more aware of rare and collectable coins that might be worth owning and as a result, are heading to the secondary market to get hold of one.
We've seen this increased demand on the secondary market driving up the prices, particularly for the more rare and sought-after coins.
Now, as more retailers open up shop in the UK and the country starts to head towards the 'new normal', will we start to see more cash exchanging hands once again? And will collectors be able to start hunting down coins in their change once more?
Perhaps one of the biggest questions on collector's lips will be whether we'll see an increase in demand, leading to new commemorative coins being released into circulation…
At Change Checker HQ we've certainly got our fingers crossed!
---
If you're interested in coin collecting, our Change Checker web app is completely free to use and allows users to:
– Find and identify the coins in their pocket
– Collect and track the coins they have
– Swap their spare coins with other Change Checkers
Sign up today at: www.changechecker.org/app
We were recently asked to identify an unusual coin, which on first glance appeared to be a US Trade Dollar from 1885. However, once we started researching this coin, it became obvious that it must have been a fake.
Here's why a genuine 1885 Trade Dollar would be impossible to find…
One of the rarest coins on the planet
Earlier this year, the finest known 1885 Trade Dollar was sold for an eye watering $3.9 million at Heritage Auctions! Whilst this US coin may not be familiar to UK Change Checkers, it is incredibly rare – perhaps one of the rarest coins on the planet.
The US Trade Dollar was designed by William Barber and features Lady Liberty seated on a pedestal of merchandise, facing across the sea and holding an olive branch. On the reverse an eagle holds branches ladon with berries within its talons – an iconic American image. This design remained unchanged besides minor modifications up until the last coin of the series was struck.
Creation of the Trade Dollar
Made from .900 Silver, these coins were struck primarily for trade with Asia and were competing against the other large silver trade coins which had already become popular in the East.
The 1873 Coinage Act made these coins legal tender for payments up to five dollars and many made their way into American commercial channels, despite the majority being sent to Asia.
As their distribution across America became more widespread and the price of silver fell the coins were demonetised, although many 1873 – 1883 Trade Dollars can still be found on the secondary market today and are often sought-after by US collectors.
The greatest numismatic mystery…
In 1878, production of circulation strikes officially stopped. The Philadelphia Mint continued to strike Trade Dollars after this, however the coins were only issued in proof quality for numismatic purposes.
It was initially believed that the final year of production was 1883, however over two decades later, 1884 and 1885 dated Trade Dollars created a sensation when they appeared on the secondary market.
Incredibly, just 10 1884 proof quality Trade Dollars were struck and more astonishing still is that only 5 of these coins were struck in 1885!
Imagine how exciting it would have been to first find out about these secret coins, and how desperate American collectors must have been to get their hands on one!
Lack of documentation means the origins behind their creation still remains one of the greatest numismatic mysteries… It's actually thought that employees from the Philadelphia Mint secretively struck the coins after production was halted.
Sold for $3.9 million!
All 5 coins from 1885 are now accounted for and are owned in private collections, meaning the public rarely get the chance to see these coins exhibited.
A few of the 1885 Trade Dollars have sold at private auction, reaching phenomenal prices.
One of the finest specimens from the Eliasberg Collection appeared at Heritage Auctions this year and sold for $3.9 million!
President of Heritage Auctions, Greg Rohan said, "Owning the finest-known [1885 Trade Dollar] specimen is to own an enduring symbol of numismatic and American history."
So, whilst the 1885 Trade Dollar would be an exceptional coin for any collector to come across, as all 5 1885 Trade Dollars are accounted for, the only explanation for the coin we were asked to look at is that unfortunately it must have been a fake.
It really would be amazing to be able to own a coin as rare as this though! What would you do if you came across such a unique coin in your change?
There are so many fascinating stories about different coins from all around the world and if you have a story about a rare or unusual coin, we'd love to hear it!
---
Discover the coins USA Change Checkers are collecting!
The famous mints in the United States of America, such as in Denver and Philadelphia, have hundreds of years of history producing some of the most collected and sought-after coins in the world, and with this USA coinage pack you can secure a piece of US history.
Click here to order your USA Coin Set for just £10.00 (+p&p).