We were recently asked to identify an unusual coin, which on first glance appeared to be a US Trade Dollar from 1885. However, once we started researching this coin, it became obvious that it must have been a fake.
Here's why a genuine 1885 Trade Dollar would be impossible to find…
One of the rarest coins on the planet
Earlier this year, the finest known 1885 Trade Dollar was sold for an eye watering $3.9 million at Heritage Auctions! Whilst this US coin may not be familiar to UK Change Checkers, it is incredibly rare – perhaps one of the rarest coins on the planet.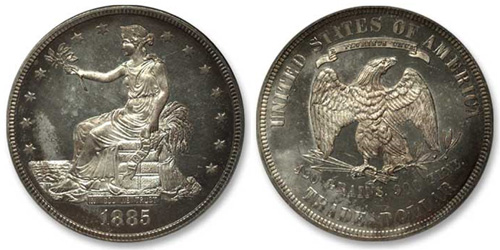 The US Trade Dollar was designed by William Barber and features Lady Liberty seated on a pedestal of merchandise, facing across the sea and holding an olive branch. On the reverse an eagle holds branches ladon with berries within its talons – an iconic American image. This design remained unchanged besides minor modifications up until the last coin of the series was struck.
Creation of the Trade Dollar
Made from .900 Silver, these coins were struck primarily for trade with Asia and were competing against the other large silver trade coins which had already become popular in the East.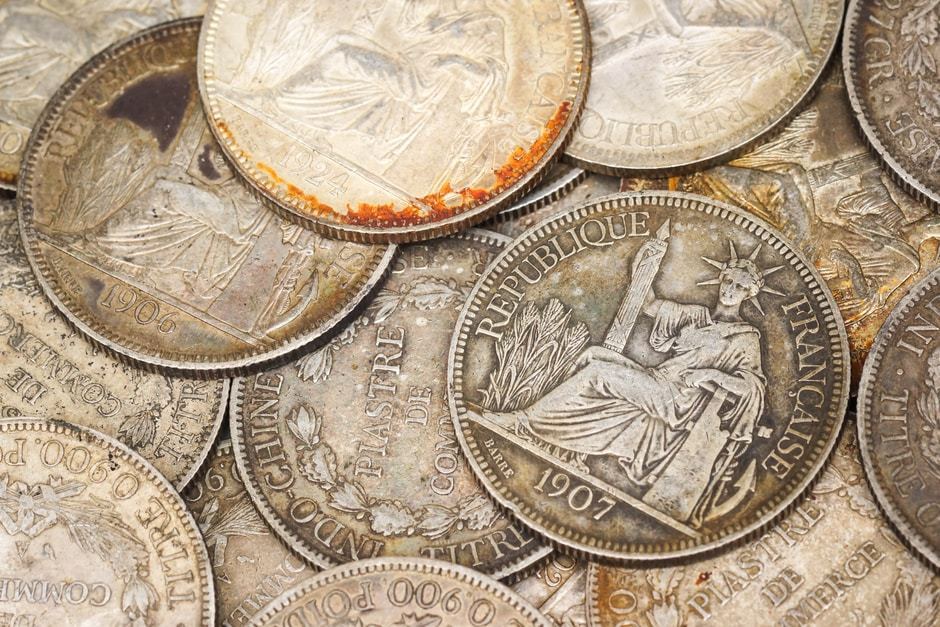 The 1873 Coinage Act made these coins legal tender for payments up to five dollars and many made their way into American commercial channels, despite the majority being sent to Asia.
As their distribution across America became more widespread and the price of silver fell the coins were demonetised, although many 1873 – 1883 Trade Dollars can still be found on the secondary market today and are often sought-after by US collectors.
The greatest numismatic mystery…
In 1878, production of circulation strikes officially stopped. The Philadelphia Mint continued to strike Trade Dollars after this, however the coins were only issued in proof quality for numismatic purposes.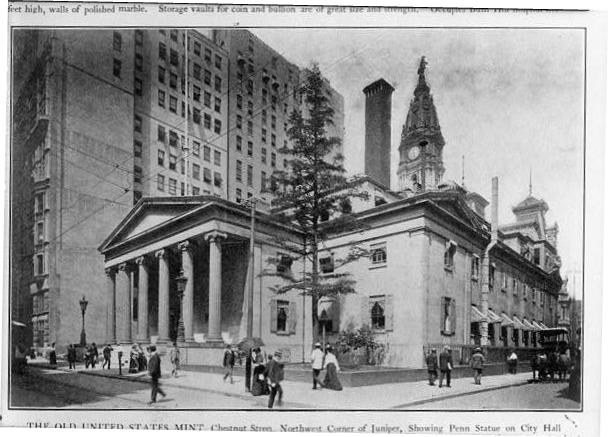 It was initially believed that the final year of production was 1883, however over two decades later, 1884 and 1885 dated Trade Dollars created a sensation when they appeared on the secondary market.
Incredibly, just 10 1884 proof quality Trade Dollars were struck and more astonishing still is that only 5 of these coins were struck in 1885!
Imagine how exciting it would have been to first find out about these secret coins, and how desperate American collectors must have been to get their hands on one!
Lack of documentation means the origins behind their creation still remains one of the greatest numismatic mysteries… It's actually thought that employees from the Philadelphia Mint secretively struck the coins after production was halted.
Sold for $3.9 million!
All 5 coins from 1885 are now accounted for and are owned in private collections, meaning the public rarely get the chance to see these coins exhibited.
A few of the 1885 Trade Dollars have sold at private auction, reaching phenomenal prices.
One of the finest specimens from the Eliasberg Collection appeared at Heritage Auctions this year and sold for $3.9 million!
President of Heritage Auctions, Greg Rohan said, "Owning the finest-known [1885 Trade Dollar] specimen is to own an enduring symbol of numismatic and American history."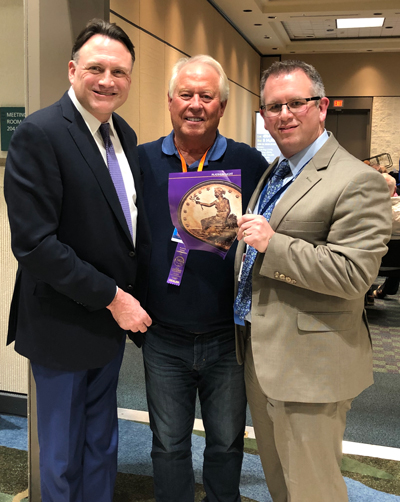 So, whilst the 1885 Trade Dollar would be an exceptional coin for any collector to come across, as all 5 1885 Trade Dollars are accounted for, the only explanation for the coin we were asked to look at is that unfortunately it must have been a fake.
It really would be amazing to be able to own a coin as rare as this though! What would you do if you came across such a unique coin in your change?
There are so many fascinating stories about different coins from all around the world and if you have a story about a rare or unusual coin, we'd love to hear it!
---
Discover the coins USA Change Checkers are collecting!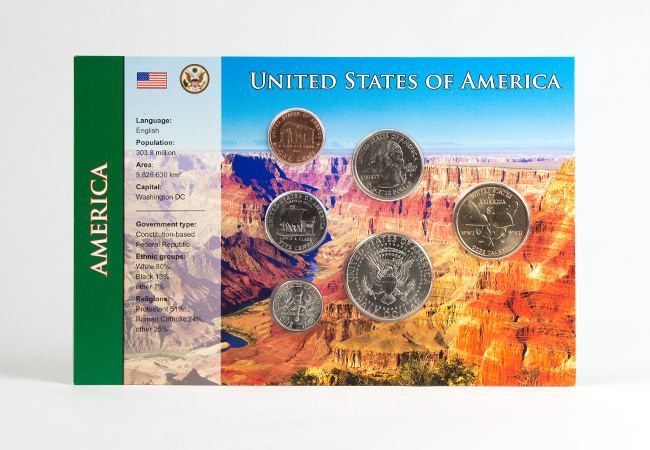 The famous mints in the United States of America, such as in Denver and Philadelphia, have hundreds of years of history producing some of the most collected and sought-after coins in the world, and with this USA coinage pack you can secure a piece of US history.
Click here to order your USA Coin Set for just £10.00 (+p&p).
In 1999 the first 5 coins of a remarkable series made their way into the hands of the American public. Designed to give a boost to the nation's interest in numismatics, these specially themed 'State' Quarter Dollars rapidly became the most popular collecting phenomenon in American history.
In 1993 a committee was formed to investigate ways to generate interest from younger collectors in the American numismatic market. Little did they know the ideas proposed in that very meeting would transcend all ages and interests and become the most widely collected series of coins in American history, and arguably, the world.
The key proposal was a collection of 50 new quarters – one for every state. 5 quarters were released a year over a ten year period, with the reverse designs representing the history and heritage of each state – a timeless reminder of the breadth and diversity of American culture. To make room for these intricate designs the familiar writing 'Quarter Dollar', 'Liberty' and 'In God We Trust' was moved onto the obverse.
The planning process to get such a momentous series of coins produced is estimated to have involved 3.5 million people, whether that was submitting design concepts or voting for their favourite.
The hard work resulted in a series of coins which are a true spectacle, each a miniature work of art. From the Wright Brothers Plane on the North Carolina coin, Mount Rushmore on the South Dakota coin, to Chimney Rock on the Nebraska coin, and the Grand Canyon on the Arizona coin, each design is a talking point and little piece of US history.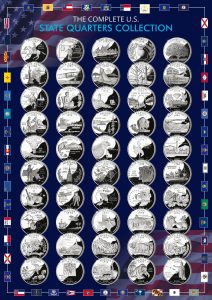 Despite their obvious popularity there was a time when their very survival was in jeopardy. Various reports state that the US Treasury was opposed to the idea, unconvinced by the figures and unsure of the concept. Nevertheless the State Quarters Programme made it through a strict feasibility study unscathed, and the first coins were struck in 1999 – the rest is history…
It's estimated that nearly half of all Americans collected these coins in some form or another. That's roughly 150 million people!
But as the series was technically intended for circulation it could sometimes take years for a collector to find all the quarters in their change. And as each coin was struck for just 10 weeks, never to be struck again, finding every single one of these coins would still take a monumental effort. Especially as a significant proportion of the coins were taken out of circulation straight away into private collections, making them harder to find than ever before.
The coins were so popular that in 2009, following the conclusion of the 50 State Quarters Program, a one year follow up series began featuring six additional Quarters that represented the six US jurisdictions that aren't classified as states.
What's more, these extra coins had a significantly lower mintage of 636,200,000 – a tiny amount compared to the 50 State Quarters Program that had its lowest mintage in 2008 with just 2,438,200,000 Quarters being issued.
These 56 US Quarters in total clearly make for an excellent collection of US coinage and it's not surprising that this collection became the most successful numismatics program in history!
---
Start collecting today with 6 of the MOST WANTED US Quarters
Start your very own journey with the collection of US State Quarters that Half of America Collected… and save yourself all the hard work of searching for each of these quarters individually.
Start by securing the 6 MOST WANTED US Quarters for just £15 >>
Today is American Independence Day and we thought there could be no better way to join in the 4th of July celebrations than to share five fun facts you might not know about US coinage!
1) The reverses are struck upside down.
Did you know that on US coins, the reverses are stuck upside down? This is arguably due to the fact that originally, the Mint wanted to differentiate their coins from their medals. The medals' faces are struck with the same orientation as they are supposed to be worn, and therefore when rotated, still show an upright image.
2) By law, US coin designs must give "an impression emblematic of liberty."
The USA, as a nation, are well known for being one of the most patriotic countries in the world. They uphold strong values of liberty and freedom, from everyday life to sporting events and even on their coinage! As a result of this, US coin designers are legally required to display an impression emblematic of liberty in their coin designs.
3) The coinage act of 1792, establishing the U.S. Mint, made defacing, counterfeiting, or embezzling of coins by Mint employees punishable by death.
The death penalty is still legal in 31 US states and the coinage act of 1792 is still in place today. This states that any Mint employee caught defacing, counterfeiting or embezzling coins can be, in theory, sentenced to death. Whether or not this would be upheld in today's court of law is debatable.
4) Origin of the "buck".
This well-known slang term for an American dollar is thought to have originated in the early US frontier days when the hide of a male deer (a buck) was common currency, due to the scarcity of coinage. The term has since been adopted into everyday language and certainly seems to be here to stay for a while!
5) The U.S. Mint's coin production has grown over 131,000,000% since production first started in 1793.
The US Mint's operation has grown and advanced greatly since the first mintage in 1972, when production consisted of 11,178 copper cents. Today the Mint produces an average of 14.7 million coins per day. The first mint in Philadelphia actually used horses to drive the machinery, whereas today, much more modern techniques are used and  greater numbers of coins can be produced.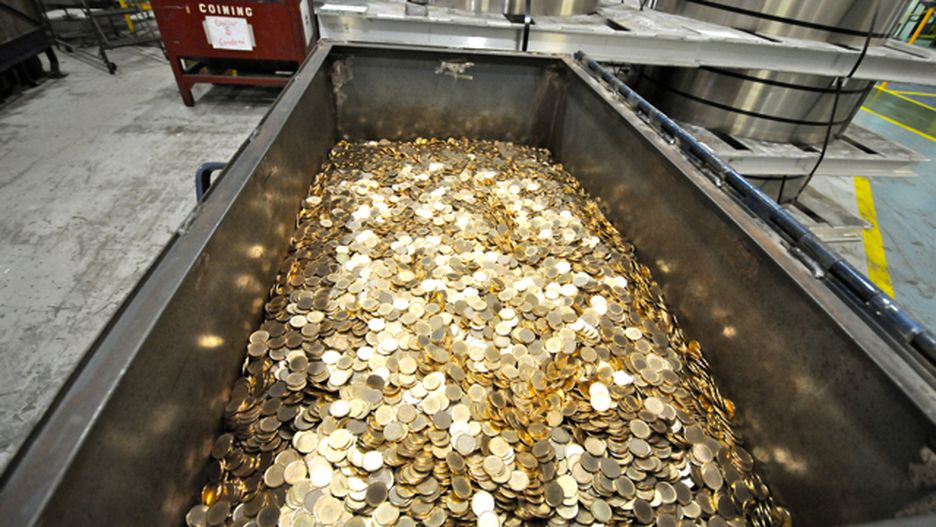 So there we have it, five fun facts about US coinage! Whether they come in handy at your next quiz night, give you something interesting to bring up in conversation, or even spark your interest in collecting US coins, we hope you've enjoyed finding out more about US coins.
---
Own the US Coin Pack today!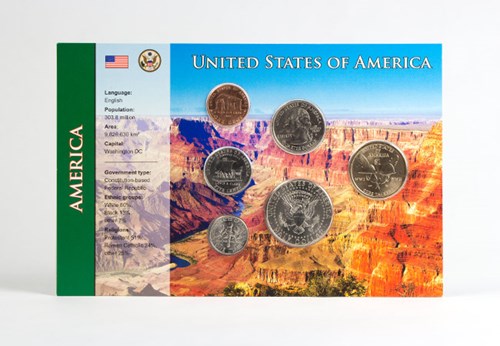 If this has sparked your interest in US coins, why not own the coin pack containing 6 US coins from the 1 Cent to the 1 Dollar? Each coin is protectively encapsulated in display packaging with an image of the iconic Grand Canyon and additional information about the USA and their coinage.