The A-Z of Great Britain 10p coins have been a firm favourite with collectors since they were first released last year, with 26 Quintessentially British designs capturing the public's imagination.
Unsurprisingly, some designs are proving more popular than others, but which ones are likely to fetch the most on the secondary market?
We've done the hard work for you by taking a look at which A-Z 10p coins are selling for the most on eBay and which ones you should be looking out for.

The Ones to Watch…
If you've been lucky enough to find the 'B' for Bond 10p in your change, you may want to keep hold of it as it currently sells on eBay for around £3.05 – over 30 times its face value!
This coin also currently holds the top spot on our Scarcity Index, so it seems collectors everywhere are desperate to add this 10p to their collection!
In very close second, the 'C' for Cricket 10p sells for an average of £2.98, followed by 'J' for Jubilee in third, which has been selling for around £2.69.
How Many A-Z 10ps Are Out There?
Earlier this year it was confirmed that there were only 220,000 of each individual design released into circulation in 2018. We know that there were 2.1 million coins issued for 2019 but we're yet to find out the individual mintage figures for each design.
When the official figures are released we could well see some of these coins increasing in value on the secondary market due to their low mintage!
These coins are notoriously tricky to find, but have you been lucky enough to come across any in your change? Let us know in the comments below.
---
Own the 2019 Complete Certified Uncirculated A-Z 10p Set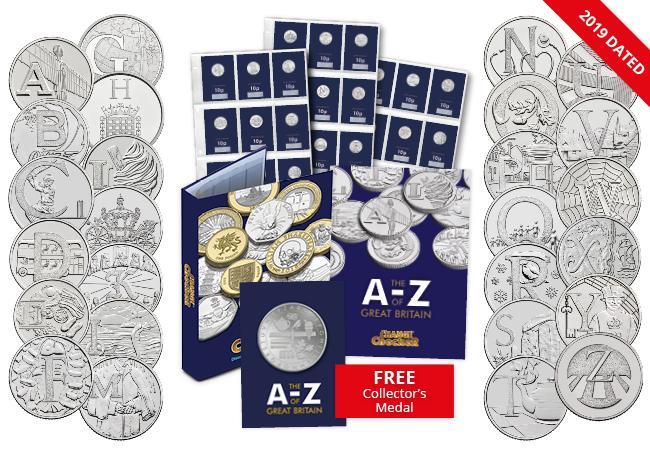 To secure the 2019 Complete Certified Uncirculated A-Z 10p Set, click here
So, you've been hunting down that coin for what feels like a lifetime and now it's finally turned up in your change! But after the excitement and thrill of finding that elusive coin, you find yourself asking the question, "What do I do next?"…
There are a number of options for deciding what to do with your coin and whilst many collectors enjoy holding onto them to build their collection, pass down to children, or potentially see their value change, lots of people look to sell these coins on auction sites, through dealers or on eBay.
The rarest coins out there can sell for far more than their face value, for example the Kew Gardens 50p is currently selling for an average of £80 on eBay – that's 160 times face value (*correct as of June 2018).
Before deciding whether to sell or save, you should first take a run through our 6 point guide to make sure you're getting the most out of your coin:
1) How does your coin rate on the Scarcity Index?
The Change Checker Scarcity Index tracks which coins are the most scarce and collectable using a unique combination of mintage, collecting and swap data to give the most up-to-date picture of the collecting market. View our latest index here >>
The higher the Scarcity Index score for your coin, the more sought-after it will be to collectors.
2) How much is your coin worth?
It can be difficult to work out an exact valuation, as this depends on so many variants, however once you have completed point 1 you will have a better understanding of how collectable your coin might be. The next step is to check previously sold items on auction sites such as eBay to see how much potential buyers are willing to pay. Luckily, we've done the hard work for you and have put together our eBay Tracker which takes the last 9 sold prices achieved on eBay for 10 of the UK's most popular coins and banknotes. This gives the median price achieved (rounded to the nearest 50p).
*Note: It is very important to check 'Sold listings' rather than active listings, as the price a coin is listed for may not be the actual price it sells at.
3) How easy is it to buy your coin?
If your coin can still be purchased in Brilliant Uncirculated quality from an official Royal Mint distributor, it is unlikely that a collector would pay the same price for a circulation quality coin which might have imperfections.
4) What condition is your coin in?
Understandably, collectors are likely to pay a little extra for a coin in pristine condition, rather than a coin showing signs of wear and tear. However, there are some rare
coins (such as the Commonwealth Games £2) which are very hard to find in good condition and yet they still sell way above face value.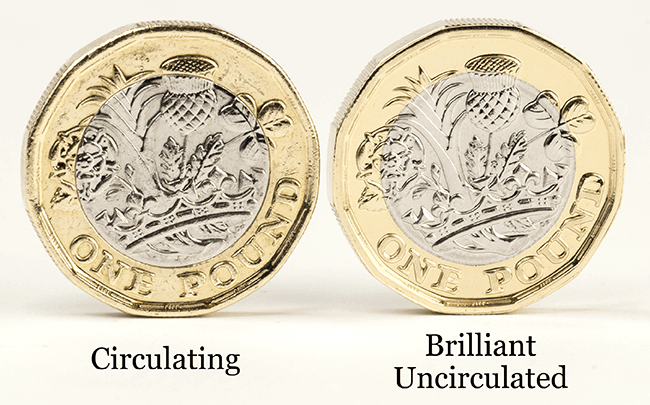 5) Does your coin have a story?
It's often true that the coins with an interesting story behind them are the hardest to get hold of and so it's worth researching your coin to see if you can find anything that stands out or any exciting facts about the coin.
A prime example are the 2008 20p mules which were accidentally struck without a date. These coins are now regarded as the Holy Grail of change collecting even though there are as many as 250,000 coins in circulation.
And as every keen collector knows, it's worthwhile paying close attention to the small details of your coins as it's the only way you can ever hope to spot an error or mis-strike like the undated 20p or inverted effigy Britannia £2. However, it's also important to know when you have a genuine rarity as the mass production minting process is never completely exempt from human error, so remember to always check your change carefully. Mistakes happen, and when it comes to coins, these mistakes can often be worth a lot money to sharp-eyed collectors. Make sure you're aware of the most popular coin mis-strikes and myths in UK coinage.
If you do need extra clarification on your coin, The Royal Mint offer an authentication service starting from £10 and will provide you with a letter to confirm the coin's authenticity.
6) Where can you sell your coin?
Now that you have a better idea of how much you could sell your coin for and why, it's time to find a seller that's willing to pay! Coin dealers, auction sites, Facebook coin groups and eBay are your best bets.
You can contact a member of the British Numismatics Trade Association who will advise you on auctioning your coin, although they do charge for this service. If you're selling on eBay, be sure to set a minimum price equal to or higher than face value and be mindful that if your coin 'sells' at a high price, the sale may not actually go through.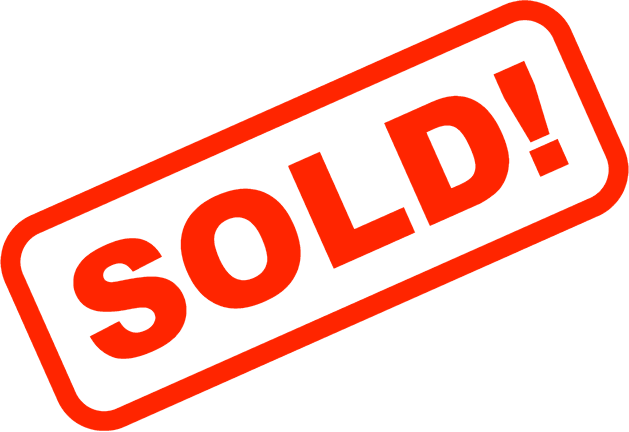 Remember, your coin is legal tender and therefore will always be worth at least face value.
Whether or not you decide to sell your coin, I think you can agree that the buzz of finding rare coins in your change is second to none and one of the best hobbies to have!
---
If you're interested in coin collecting, our Change Checker web app is completely free to use and allows users to:
– Find and identify the coins in their pocket
– Collect and track the coins they have
– Swap their spare coins with other Change Checkers

Sign up today at: www.changechecker.org/app
Have I just found a rare coin? It's a question which collectors ask daily, and to help answer it, we've put together these charts listing each coin in order of its rarity.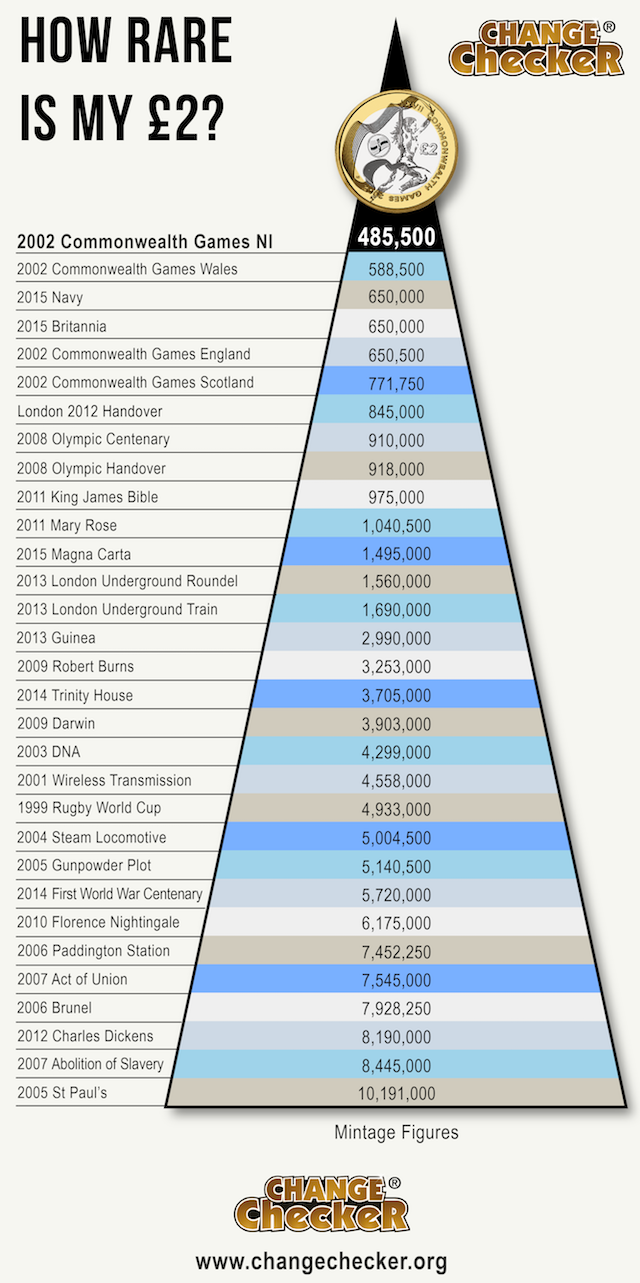 The Northern Ireland 2002 Commonwealth Games is the rarest £2 coin currently in circulation – in fact the four designs in the 2002 Commonwealth Games series occupy the top ten list.  There were only 485,500 Northern Ireland 2002 Commonwealth Games £2 coins minted, that's just 0.1% of all the £2 coins ever struck!
Others to look out for include the 2015 Navy £2 and the 2015 Britannia £2, both coins have recently been issued into circulation and share joint third place on our graph.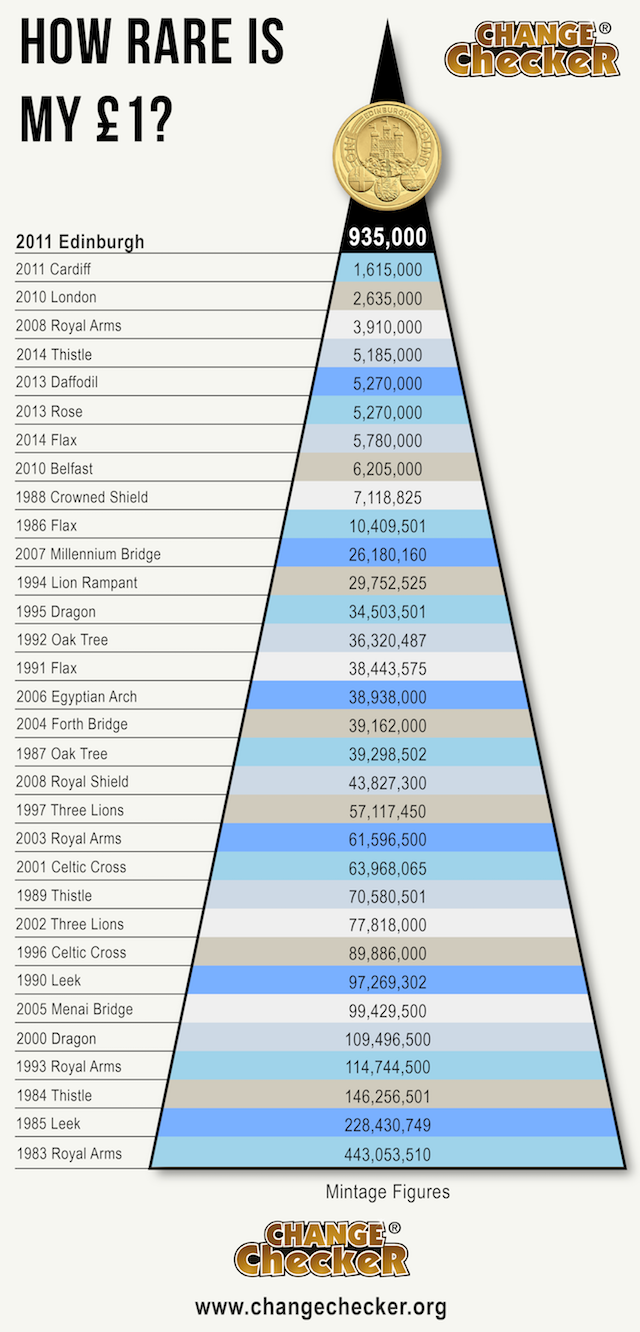 Themes have followed a similar pattern over the years with the four constituent countries of the United Kingdom being represented in cycles. The rarest One Pound coin currently in circulation is the Edinburgh £1 which was part of the series depicting the capital cities of the UK.
The Edinburgh design is the only £1 coin with a mintage below 1 million and by way of comparison, over 443 million Royal Arms shield £1 coins were issued in 1983. The 2011 Cardiff £1 and the 2010 London £1 follow closely behind, so all very sought after £1 coins to have.
Another coin to look out for is The Royal Arms £1. Although this is a common design which is regularly ignored, make sure to look out for one with a 2008 date – that's actually the fourth rarest £1 coin.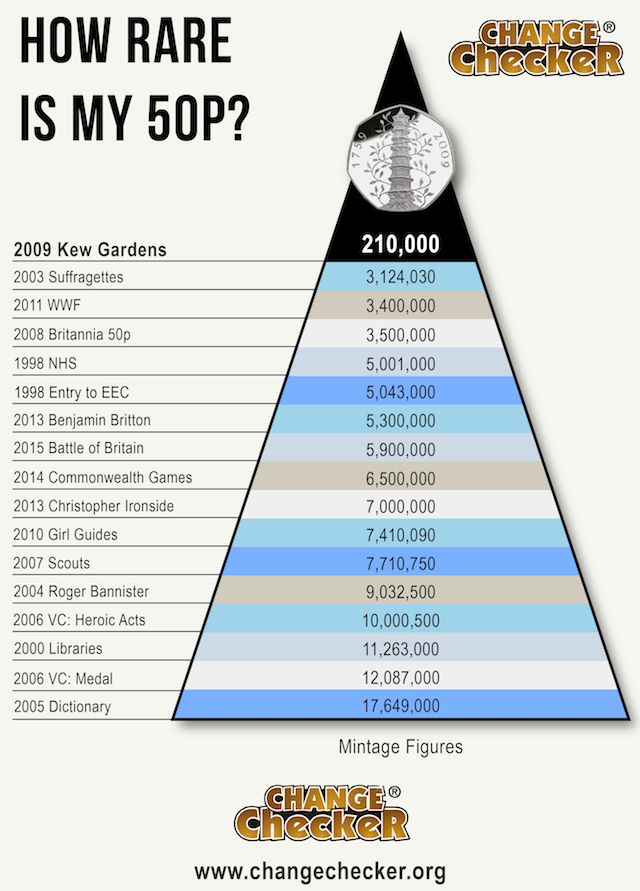 The rarest coin in circulation, of any denomination, is the Kew Gardens 50p. the Kew Gardens 50p has been valued at up to £50 on online market place eBay. Its status as the most scarce coin has been well publicised, and as a result, many are hoarded by collectors. This chart illustrates just how rare it is compared with other Fifty Pence designs.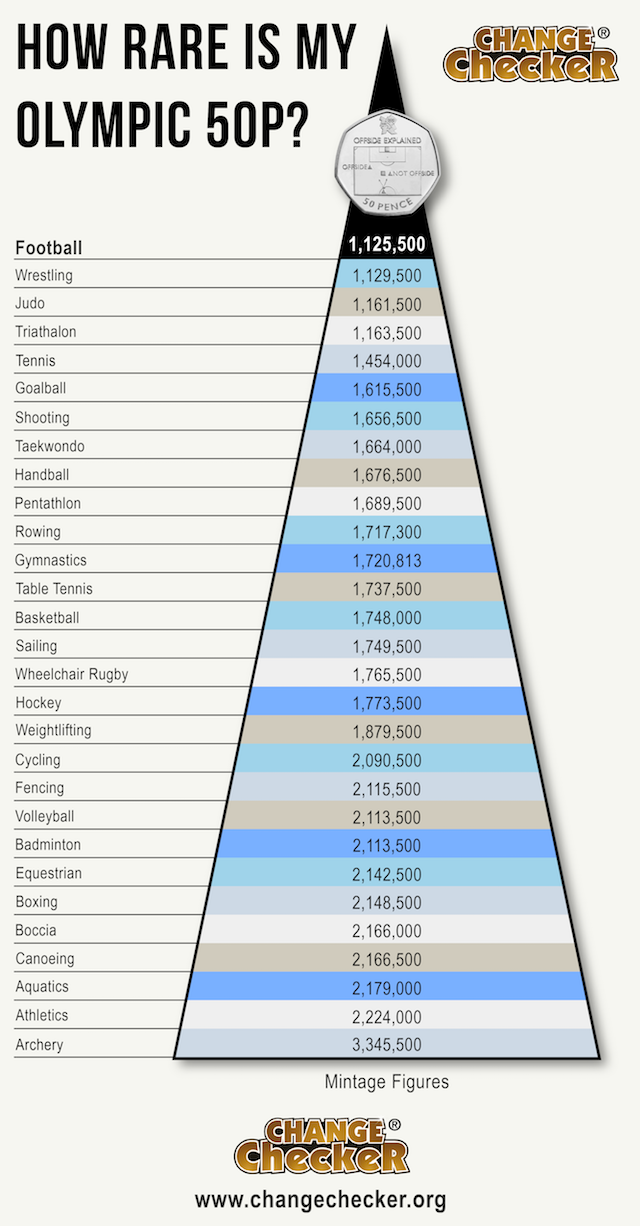 The Olympic Fifty Pence series is very popular with Change Checkers, but in terms of rarity, there really isn't much separating the top 10 designs. The Football 'Offside Rule' 50p was certainly one of the most talked about designs, and it also narrowly ranks as the scarcest.
So, keep hold of your coins. You never know what they might be worth in the future! And remember you can Find, Collect and Swap all your coins for FREE with the Change Checker App: www.changechecker.org