Standing strong for over 1,100 years throughout Britain's wars, political upheavals, social and economic progress and technological and scientific advances, The Royal Mint's history can be traced back through our country's coinage.
But it was 50 years ago today that The Queen herself opened the new site for The Royal Mint, which was moved to a purpose-built site in Llantrisant following 157 years at Tower Hill, London.
This was the first time since its inception that The Royal Mint had been based outside of London, and marked an incredibly important moment in the history of our coins.
In 1966 it was announced that Britain would adopt a new decimal currency, which meant that hundreds of millions of new coins would need striking. Tower Hill simply didn't have enough space to cope with this demand and so the decision was made to find a new location for The Royal Mint.
Llantrisant made it onto the shortlist of the top 7 locations, and as James Callaghan (Chancellor of the Exchequer, Master of the Mint and an MP for Cardiff) supported a move to Wales, Llantrisant was chosen for the big move.
The announcement was made in 1967 and construction soon began on the new site. For the Llantrisant area, the move meant more work and a regeneration of the town, as well as adding to the sense of history and tradition. It was estimated that the move would provide 10,000 jobs to South Wales.
It was in 1968 that the site was officially opened by Her Majesty The Queen when she switched on the coining presses to begin production of decimal bronze coins.
Llantrisant was built to house the most advanced coining machinery in the world and have a larger capacity than any other mint in Europe, necessary to cope with the amount of new coinage needed.
When the site opened, the circulating coin presses could strike up to 200 coins per minute, however the latest generation of presses today strike around 750 coins per minute!
Today the Royal Mint is the market leader and the largest single supplier of plated coins and blanks in Europe. They can produce 90 million coins and blanks a week – that's almost 5 billion coins a year!
And all this has been made possible thanks to the advanced facilities at Llantrisant, as pictured above, without which the move to decimal coinage simply wouldn't have been possible.
---
Own this Historic Royal Mint anniversary DateStamp™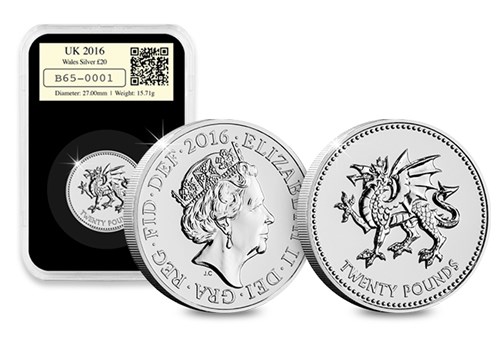 To mark the move of The Royal Mint to Llandistrant, you have the opportunity to own the Royal Mint in Wales 50th Anniversary DateStampTM.
Featuring the 2016 Wales £20 coin with the iconic Welsh dragon design, and postmarked 17th December 2018, exactly 50 years since The Royal Mint moved to Wales.
As part of the Great One Pound Coin Race, we want to find out Britain's ultimate favourite £1 coin.
Over the last couple of months we've been asking Change Checkers to vote for their favourite UK, Scottish, Northern Irish, Welsh and English £1 coin designs.
Now this is the last poll left to vote in until we find out which £1 coin is Britain's all-time favourite design.
Please vote for your favourite £1 coin from the finalists in the below poll:
You have just 250 days to collect all 24 Round £1 Coin Designs.

They've been a part of our lives for 33 years but the Round Pound Coin will be withdrawn from circulation forever on the 15th October this year.
Starting from today, we're encouraging collectors across the UK, to join the biggest race of its kind ever held – The Great One Pound Coin Race.
It's totally FREE to enter the Race and by entering you'll be able to:
Collect all 24 circulating £1 coins direct from your change
Receive collecting tips and suggestions to help you complete your One Pound Collection
Track your progress with the Change Checker web app or on your FREE downloadable £1 Coin Race Sheet
Swap coins online with other collectors to help complete your collection
Win exclusive Gold-plated One Pound Coin Race Participant's Medals
Receive exclusive participant's discounts and savings

33 Years of Round £1 Coins. 24 Designs. Gone in 250 days.
The first £1 coin entered circulation right back in 1983 and featured the Royal Coat of Arms as its design. It was quickly followed the next year with a Scottish thistle design, followed by the Welsh leek, Northern Irish flax and the English oak in subsequent years.
In total 24 different designs have entered circulation with five different series representing the component countries of the UK. The remaining four designs have all been variations on the theme of the Royal Coats Arms. A final, twenty-fifth Round Pound Coin was issued by The Royal Mint in 2016 but it never entered general circulation.
Scarce £1 Coins still available for face value in your change
Of course some £1 coins are much rarer than others. It's partly because mintages of the different designs vary vastly, from less than 1 million coins to over 300 million. But that's only part of the story. Older issues are also often more difficult to find, especially in good condition.
The three lowest mintage £1 coins in circulation come from a series of UK Capital City coins issued in 2010/11, with Edinburgh being the rarest with a mintage of 935,000 coins – just 0.04% of all the £1 coins ever struck.
But it's still possible to find even these rare coins in your change along with all of the other 21 circulation £1 coins. But only for the next 250 days.
Once the 15 October has passed, you will have little chance of building a complete collection of £1 Coins at anything like their face value. So …
on your marks…
Get set…
Go…
The Great One Pound Coin Race is on. Start your race today, before it's too late.