2019 marks 50 years since the very first 50p was first released into circulation.
To celebrate this anniversary we've taken a look back at the history of the 50p over the last 50 years…

---
If you're interested in coin collecting, our Change Checker web app is completely free to use and allows users to:
– Find and identify the coins in their pocket
– Collect and track the coins they have
– Swap their spare coins with other Change Checkers
Sign up today at: www.changechecker.org/app
The results are in and I can now reveal your top 3 coin designs of 2016!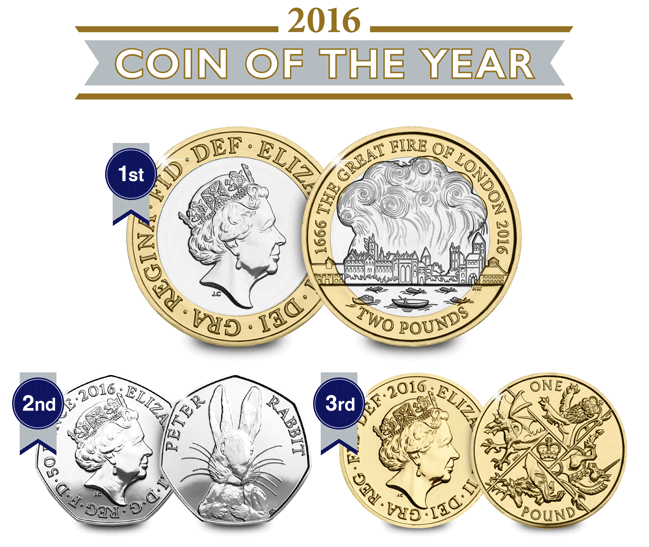 3rd place – The Last 'Round' Pound Coin
2nd Place – The Peter Rabbit 50p
And the winner….
1st Place – The Great Fire of London £2 Coin
Thanks for all your votes! The Great Fire of London £2 was designed by Royal Mint engraver Aaron West and really captures the devastating moments that changed London forever.
Now it's time to look forward to the new issues for 2017. We can't wait to see what's in store for Change Checkers!
With 25 days to go until the Olympic Games in Rio this Summer, the Royal Mint have released a coin that's sure to excite the hundreds of thousands of people who collected the Sports 50p coins for the London 2012 Olympics.
This UK 50p coin has been released to wish Team GB success in Rio this summer.
The coin's obverse design features a swimmer with the Team GB logo, the Olympic rings and the inscription 'TEAM GB'. Designed by Tim Sharp, the coin has been officially endorsed by Team GB and celebrates the spirit of the British Olympians.
The 30th Olympic 50p
In the lead up to the 2012 Olympic Games, 29 million Olympic 50p coins were released into circulation across 29 different designs – 1 for each Olympic sport.
Remarkably the Royal Mint estimated that 75% of those coins were removed from circulation as collectors clamoured to complete the collection, with many coins like Football and Judo barely ever seen in your change today.
[read more about which Olympic 50p coins are the rarest]
The new Team GB coin will surely become known as the "30th Olympic 50p" and with so many established collectors, it seems certain that its release will be greeted with much excitement.
---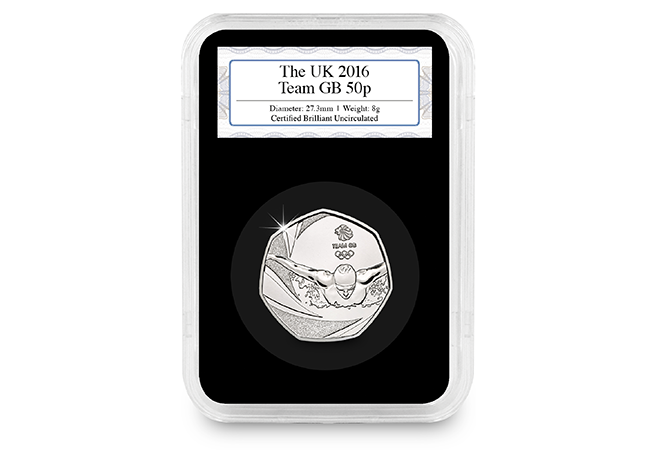 The 2016 UK Team GB 50p
If you can't wait to find this coin in your change you can add the Brilliant Uncirculated Team GB 50p to your collection now.