With 25 days to go until the Olympic Games in Rio this Summer, the Royal Mint have released a coin that's sure to excite the hundreds of thousands of people who collected the Sports 50p coins for the London 2012 Olympics.
This UK 50p coin has been released to wish Team GB success in Rio this summer.
The coin's obverse design features a swimmer with the Team GB logo, the Olympic rings and the inscription 'TEAM GB'. Designed by Tim Sharp, the coin has been officially endorsed by Team GB and celebrates the spirit of the British Olympians.
The 30th Olympic 50p
In the lead up to the 2012 Olympic Games, 29 million Olympic 50p coins were released into circulation across 29 different designs – 1 for each Olympic sport.
Remarkably the Royal Mint estimated that 75% of those coins were removed from circulation as collectors clamoured to complete the collection, with many coins like Football and Judo barely ever seen in your change today.
[read more about which Olympic 50p coins are the rarest]
The new Team GB coin will surely become known as the "30th Olympic 50p" and with so many established collectors, it seems certain that its release will be greeted with much excitement.
---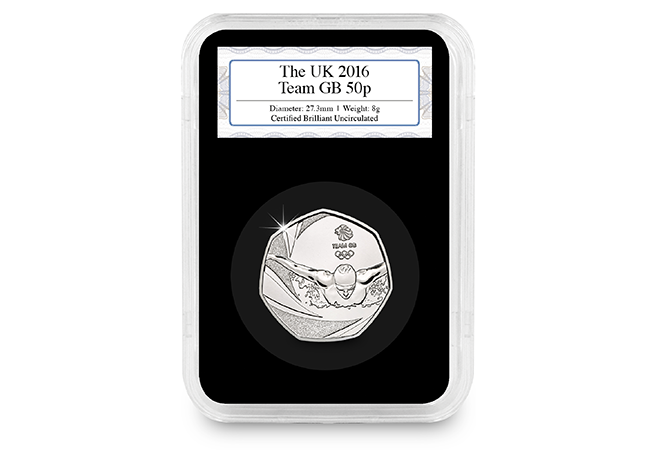 The 2016 UK Team GB 50p
If you can't wait to find this coin in your change you can add the Brilliant Uncirculated Team GB 50p to your collection now.
Have I just found a rare coin? It's a question which collectors ask daily, and to help answer it, we've put together these charts showing the TOP 10 rarest coins for each of the four denominations on the Change Checker App.
How does your coin stack up against the others?
The Northern Ireland 2002 Commonwealth Games is the rarest £2 coin currently in circulation – in fact the four designs in the 2002 Commonwealth Games series occupy the four top spots. Others to look out for include both 2008 and 2012 Olympic Handover Two Pound Coin designs.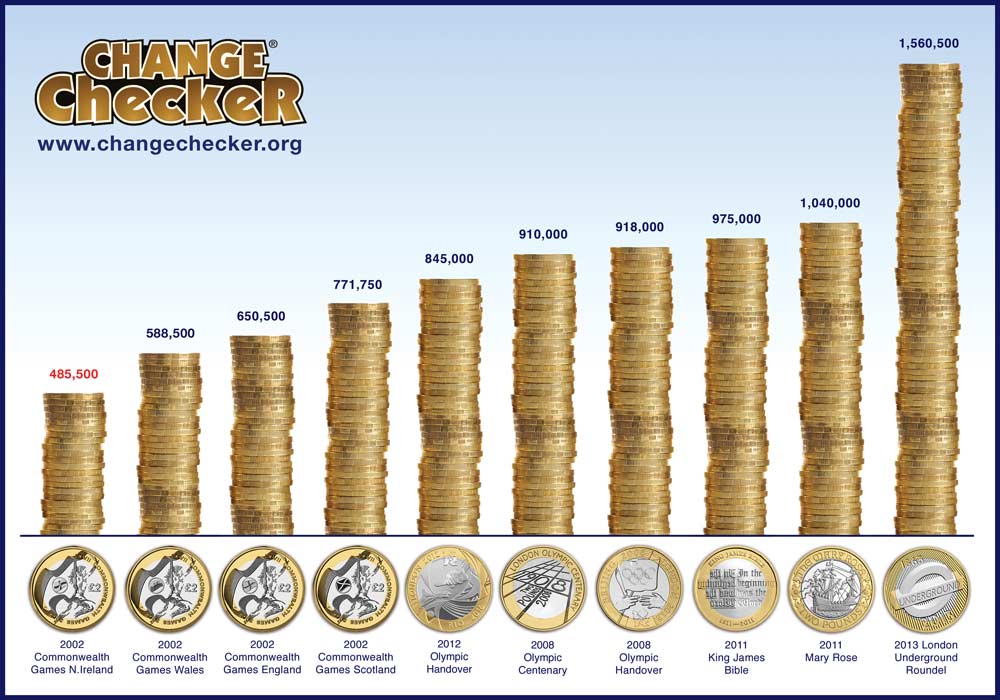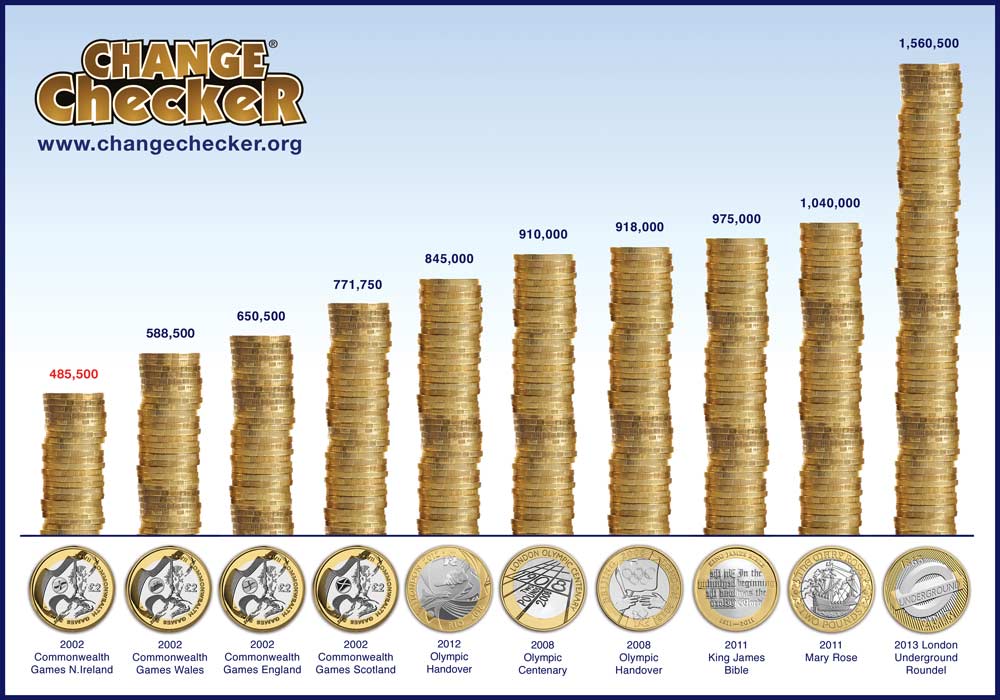 The rarest One Pound coin currently in circulation is the Edinburgh £1 – have you ever spotted one in your change? The Royal Arms is a common design which is sometimes ignored, but remember to look out for one with a 2008 date – that's actually the fourth rarest.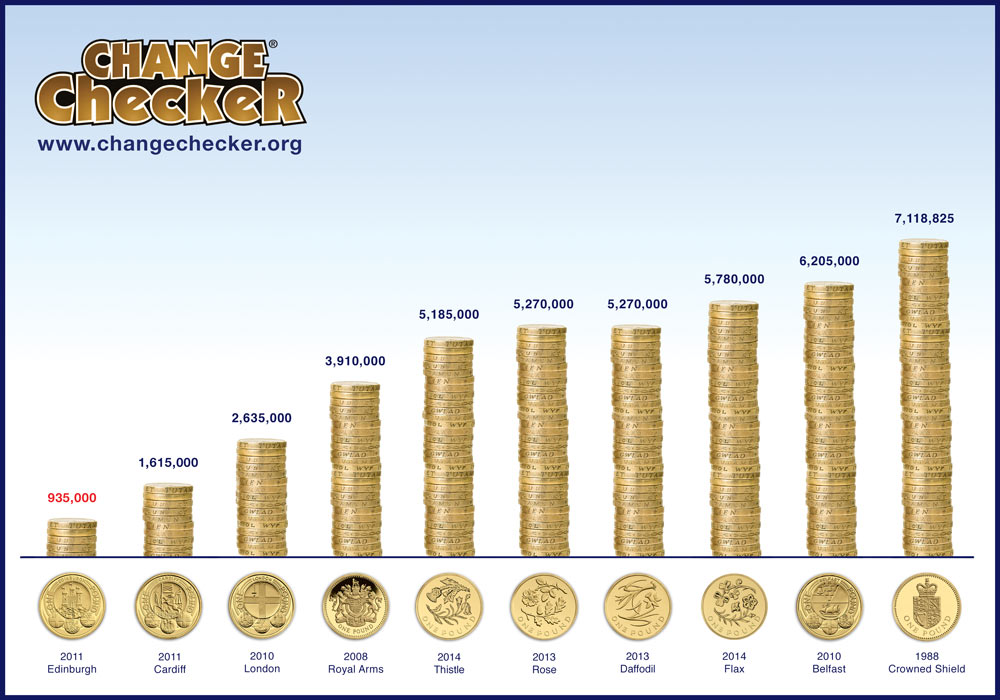 The Olympic Fifty Pence series is very popular with Change Checkers, but in terms of rarity, there really isn't much separating the top 10 designs. The Football 'Offside Rule' 50p was certainly one of the most talked about designs, and it also narrowly ranks as the scarcest.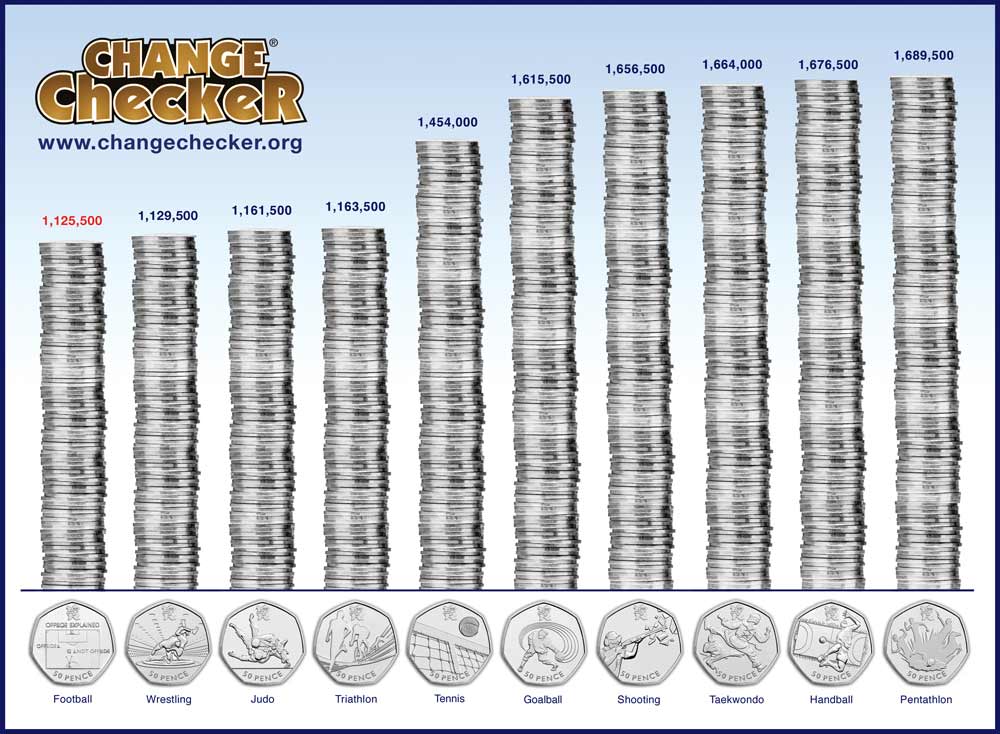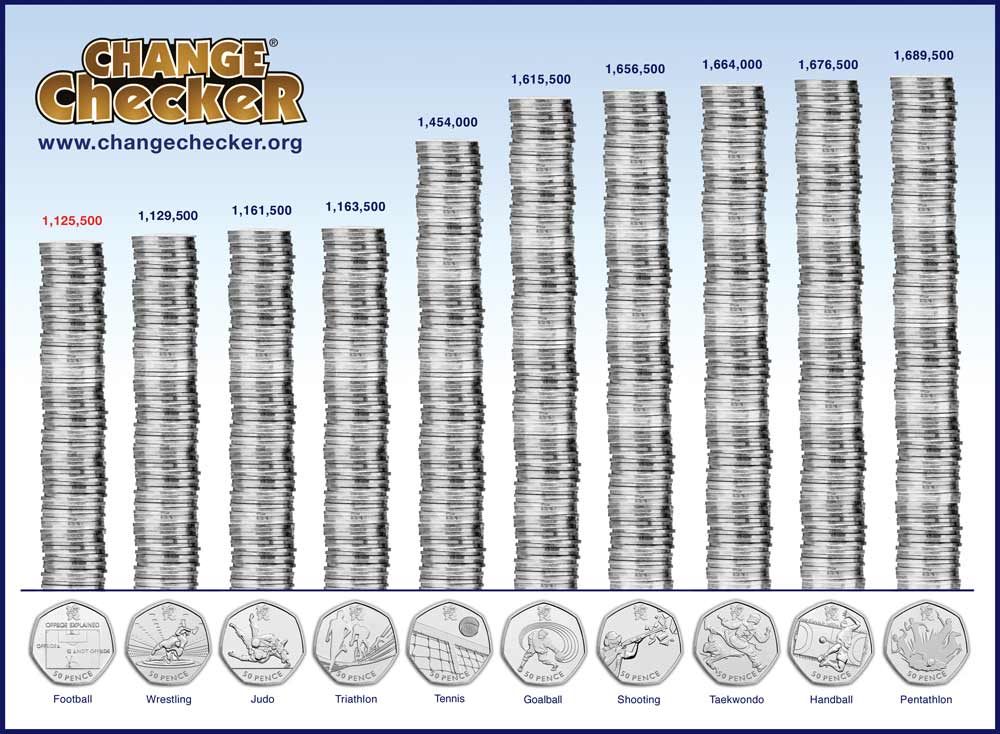 As mentioned in our previous blog the rarest coin, of any denomination, is the Kew Gardens 50p. Its status as the most scarce coin has been well publicised, and as a result, many are hoarded by collectors. The chart below illustrates just how rare it is compared with other Fifty Pence designs.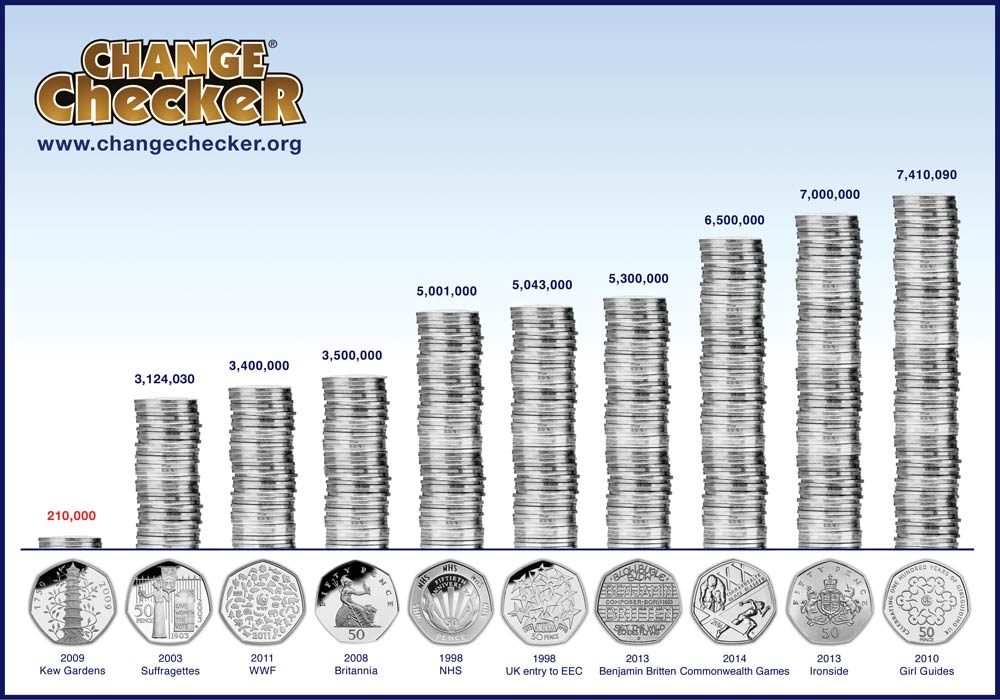 ---
Hopefully our charts will help you identify which coins you should be looking for in your loose change, and remember you can Find, Collect and Swap all your coins for FREE with the Change Checker App: www.changechecker.org
The Olympic sports 50p series was a revelation in coin collecting – for many it represents the start of their interest in UK circulation coins and thousands rose to the challenge of finding them all from their change.
But the mintage of each coin in the 29-piece collection is different, and so the likelihood of finding one varies accordingly. Football narrowly holds the title of the rarest sport in the series, but there were still over one million of those struck for circulation. A coin with such a high mintage can hardly be considered as "rare". For that honourable title, we must look beyond the official Royal Mint circulation figures…
The withdrawn Aquatics Olympic 50p
In September last year, we reported on an Aquatics 50p which sold on eBay for £820. As you might suspect, it wasn't an ordinary Olympic 50p which we would typically pull out of our change – it has a very specific minting error.
The Aquatics 50p which we are familiar with today is actually a modified version which removed the waves passing over the swimmer's face. However, a small number of the original design were produced before being withdrawn, although this quantity remains a mystery.
What we do know is that it is not unusual for these special coins to exchange hands for close to £1,000 – not a bad return on a 50 pence coin!
The 2009 Athletics Olympic 50p
In 2009, nine-year old Florence Jackson became the youngest person to design a coin for circulation in the UK. Her Athletics Olympic 50p design was the ultimate winner of a Blue Peter competition and her creation featuring an athlete midway through a high-jump can be now be found in our change up and down the country.
You probably recognise the coin, but what you may not know is that a rare version of this coin exists. When the competition winner was revealed, a special edition Blue Peter presentation pack was issued with a 2009 dated coin, making it the only Olympic 50p without a 2011 date. Just 100,000 of these packs were issued, meaning it is more than twice as rare as the famous Kew Gardens 50p.
The winner's gold editions
But rarest of all are the gold versions of each 50p which were presented to their respective winning designers. Only one of each design exists. You certainly won't find one of those in your change, and they will be quite literally gold dust for years to come.
Aside from their precious metal content, their unique status and significance rank them as potentially the most valuable UK 50p coins in existence.
---
Are you interested in owning any of the Olympic 50ps? We have a limited number available in the Change Checker Shop. Click on a sport below to add it to your collection. All available with FREE P&P
Aquatics Archery Athletics Badminton Basketball Boccia Boxing
Canoeing Football Goalball Gymnastics Handball Hockey Pentathlon
Rowing Sailing Shooting Table Tennis Taekwondo Tennis Volleyball
Weightlifting Wheelchair Rugby Wrestling