*** UPDATE ***
With the impact of Covid-19 meaning less people are using cash, it seems older, paper banknotes aren't being cashed in! According to reports, 24.5 billion paper banknotes are still out there!
Whilst the paper £20 is technically still legal tender, the new polymer notes have been causing quite a stir in the collecting community.
Back in 2016, the first-ever polymer banknote was issued to replace the paper £5 note, with a cleaner, safer and stronger alternative.
Since then, we've seen the introduction of the polymer £10, featuring the portrait of Jane Austen and this year saw the issue of the polymer £20 note, featuring JMW Turner's portrait.
We've seen the £5 and £10 notes prove incredibly popular with collectors, with particular notes selling on eBay for way over face value!
But what makes a banknote collectable? Well… It's all to do with serial numbers!
We previously listed the serial numbers that you should be looking out for on the Polymer £20 note, from AA01 to AK-47, and unsurprisingly, some are proving more popular than others, but which ones are likely to fetch the most on the secondary market?
Well, we've done the hard work for you by taking a look at which polymer £20 note serial numbers are selling for the most on eBay and which ones you should be looking out for.
'Rare' polymer £20 banknotes
Recurring numbers
If you've been lucky enough to find a £20 note with a series of recurring numbers, like the 777777 serial number, you may want to keep hold of it as we've seen some which are currently selling on eBay for around £400 – over 20 times its face value!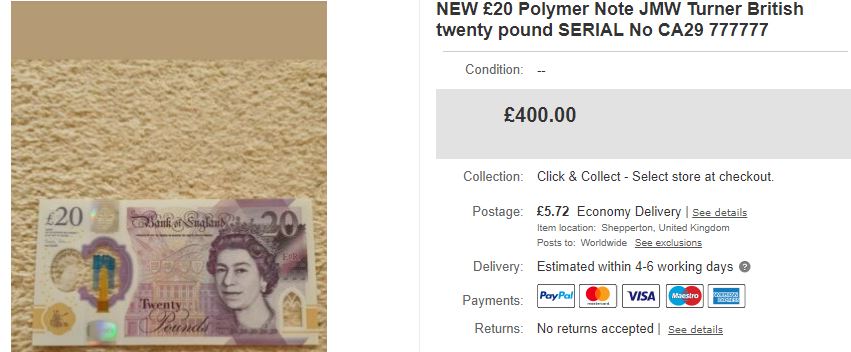 Similar serial numbers have sold for prices within the same range. The 333333 serial number also sold for £400, so it seems collectors everywhere are desperate to get their hands on a recurring number note!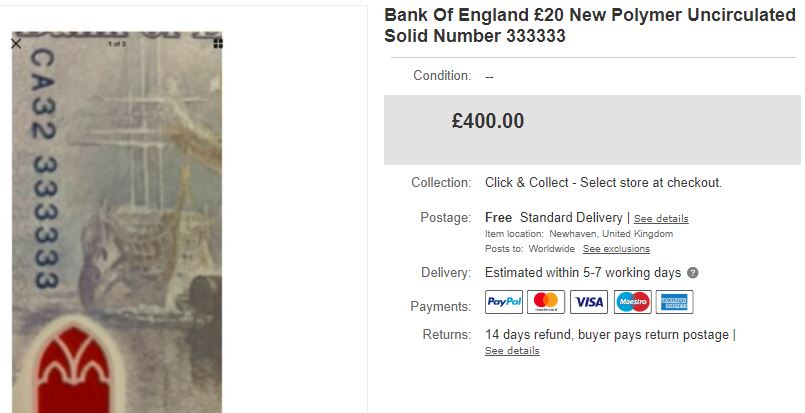 Another type of serial number you should be keeping an eye out for, is a 'ladder'. These are serial numbers that have consecutive numbers, like this '001122' note.
One lucky collector got his hands on this note but at a hefty £529… Other ladder numbers include '012345' and these could currently fetch you a very respectful £350 on the secondary market!
AA numbers
As with previous polymer note issues, the lower serial numbers for the new £20 have proven popular with collectors, with the current average selling price for the AA notes coming in at £40! That's two times the note's face value!
At the annual Bank of England charity auction held at Spink and Son Ltd in London the very first polymer note, the £5, with the serial number AA01 000017 auctioned for £4,150! However, this year, the £20 note with serial number AA01 000010 sold for a staggering £7,500, over FOUR times its starting price!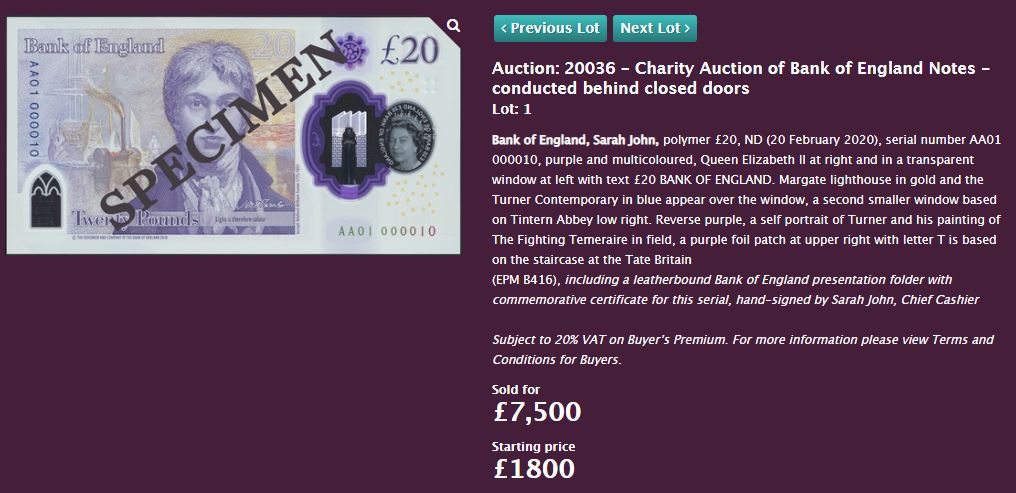 AK47
Considered collectable due to the machine gun connotations, polymer notes with the prefix AK47 were thought to be worth well over face value following the new £5 release in 2016.
A quick look at the most recent eBay sold prices for this serial number, on the new £20 note, show that people are willing to pay £11 over its face value!
What about the £50 note?
The Bank of England will be issuing a new polymer £50 in 2021 featuring the scientist Alan Turing.
We can't wait to see the new polymer £50 when it's issued!
So there we have it, the current selling prices for your polymer £20 notes! With less cash being used during the current climate and therefore less notes in circulation, it's possible this has added to the collectability of these new polymer £20 notes.
Are you a banknote collector and if so, which notes do you have in your collection? Let us know in the comments below!
---
If you're interested in coin collecting, our Change Checker web app is completely free to use and allows users to:
– Find and identify the coins in their pocket
– Collect and track the coins they have
– Swap their spare coins with other Change Checkers
Sign up today at: www.changechecker.org/app
Basingstoke
NatWest, 3 London Street, Old Market Square, Basingstoke, RG21 7NS
Bath
HSBC, 41 Southgate, Bath, BA1 1TN
NatWest, 8-9 Quiet Street, Bath, BA1 2JN
Birmingham
HSBC, 130 New Street, Birmingham, B2 4JU
Lloyds Bank, 36-38 New Street, Birmingham, B2 4LP
NatWest, 144 New Street, Birmingham, B2 4NY
Santander, Unit 6, Caxton Gate, Corporation Street, Birmingham, B2 4LP
TSB, 134 New Street, Birmingham, B2 4NS
Virgin Money, Temple Point, 1 Temple Row, Birmingham, B1 5YB
Bradford
Santander, 9 Nelson Street, Bradford, BD1 5AN
Bristol
Eurochange, Cribbs Causeway, Bristol, BS34 5QT
Cwmbran
NM Money, 15 South Walk, Cwmbran, NP44 1PU
Edinburgh
TSB, 28 Hanover Street, Edinburgh, EH2 2DS
Leeds
HSBC, 33 Park Row, Leeds, LS1 1LD
Santander, PR Work Café, 10-12 Park Row, Leeds, LS1 5HD
Yorkshire Bank, 94-96 Briggate, Leeds, LS1 6NP
Leicester
Santander, Carlton Park, King Edward Avenue, Narborough, Leicester, LE19 0AL
Liverpool
Santander, 45 Lord Street, Liverpool, L2 6PB
TSB, 81-83 Lord Street, Liverpool, L2 6PG
London
Barclays, 2 Churchill Place, Canary Wharf, London, E14 5RB
Barry's Food & Wine, 149 Hoxton Street, London, N1 6PJ
HSBC, 165 Fleet Street, London, EC4A 2DY
Halifax, 118-132 New Oxford Street, London, WC1A 1HL
NatWest, 1 Princes Street, London, EC2R 8BP
NatWest, 34 Henrietta Street, London, WC2E 8NL
NatWest, 10 Southwark Street, London, SE1 1TJ
Post Office, 52 Blackfriars Road, London, SE1 8NN
Post Office, 39-41 Farringdon Road, London, EC1M 3JB
Post Office, 11 White Kennet Street, Houndsditch, London, E1 7BS
Post Office, 19a Borough High Street, London, SE1 9SF
Post Office, 125-131 Westminster Bridge Road, London, SE1 7HJ
Santander, 48-54 Moorgate, London, EC2R 6EJ
Santander, 164-167 Tottenham Court Road, London, W1T 7JE
Santander, 2 Triton Square, Regents Place, London, NW1 3AN
The Cooperative Food, 185 Old Street, Shoreditch, London, EC1V 9NP
TSB, 55 Bow Bells House, Cheapside, London, EC2V 6AT
Virgin Money, 154-158 Kensington High Street, London, W8 7RL
Manchester
Lloyds Bank, 42-46 Market Street, Manchester, M1 1PW
NatWest, 1 Hardman Blvd, Manchester, M3 3AQ
TSB, 21 Market Street, Manchester, M1 1WR
Margate
Santander, 110-112 High Street, Margate, Kent, CT9 1JR
Milton Keynes
Santander, 201 Grafton Gate East, Milton Keynes, MK9 1AN
Newcastle
Santander, 112-118 Northumberland Street, Newcastle, NE1 7DG
Salford
Barclays, Unit 2 Blue, MediaCityUK, Salford, M50 2AD
Lowry Outlet Mall, The Lowry Designer Outlet, Salford Quays, M50 3AH
Sheffield
Post Office, 12 Ellesemere Road, Sheffield, S4 7JB
Yorkshire Bank, Fargate, Sheffield, S1 1LL
Swindon
Nationwide, Nationwide House, Pipers Way, Swindon, SN3 1TA
Wales
Post Office, 56-58 Oxford Street, Mountain Ash, Mid Glamorgan, CF45 3HB
Santander, 5-7 Queen Street, Cardiff, South Glamorgan, CF10 2AF
The polymer £20 note has been in circulation for over a year now and we've certainly been enjoying seeing them being exchanged!
This is the third polymer banknote to be released in the UK, following the release of the polymer Churchill £5 in 2016 and the polymer Jane Austen £10 note in 2017.
Keen collectors have eagerly been hunting down the most sought-after serial numbers for the new note.
When the UK's first polymer £5 note was released in September 2016, serial numbers became the talk of a nation and stories of early serial numbers selling for thousands of pounds were commonplace.
In fact, an "AK37 007 James Bond Bank of England Polymer £5 note" even sold for £5,000 on eBay – 1,000 times its face value!
But as we await the release of the new note on the 20th of February, which serial numbers should you be looking to get your hands on?
AA01 – the first notes to be printed
AA01 are the first serial numbers to be printed and always prove popular with collectors.
Our eBay Tracker follows the prices of the UK's Top Coins and Banknotes, including the AA01 polymer £5 and £10 notes, which are currently selling for £10 and £15 respectively. However when the notes were first released we saw a collecting frenzy, with people paying (and demanding) vastly inflated prices for low serial number notes.
Prefixes on the £5 notes started at AA and there are 60 notes on a sheet, AA01- AA60. For each of these cyphers there are 999,000 serial numbers printed: 000001 to 999000. Therefore for the first AA cypher there's an incredible 59,940,000 notes!
Whilst the £20 note is larger than the £5, meaning less notes will be printed per sheet, there are still A LOT of combinations for AA cyphers on the new £20 – so make sure you keep your eyes out for them!
However, The Bank of England will always hold back some of the notes with the earliest serial numbers, donating them to people or institutions that were involved in the development of the note or who traditionally receive a note when a new series is issued.
For example, the Queen receives AA01 000001 and for the release of the £5 note the Churchill War Rooms received one with serial number AA01 001945, the date that WWII ended.
Key dates to look out for
It's always worth looking out for certain serial numbers matching key dates relating JMW Turner that could become collectable.
For example, 23 041775 represents Turner's date of birth, whilst 19 121851 relates to his death and 17 751851 would be his birth and death combined.
True Turner fans might also look for 18 381839 representing the date he painted 'The Fighting Temeraire' (featured on the new £20 note) and the date the painting was exhibited at the Royal Academy respectively.
Novelty numbers and Consecutive notes
There may well also be a rush to find the AK47 serial numbers again and James Bond 007 will likely be popular once more.
Consecutively numbered notes are always interesting to collectors too – one man sold three consecutive AA01 notes for £456!
Q&A
Can you request specific serial numbered notes from the bank?
Sadly not. For the launch of the new £5 note 440 million banknotes were printed and these were printed in very large batches.
There will be even more new £20 notes printed than the £5, to service the country's 48,000 ATMs for example, so it's just not possible for the bank to separate certain serial numbers.
How much should I pay for a new £20 note?
The simple answer is, it's completely up to you. An early serial numbered £20 note will be a genuine piece of the country's history. It's likely The Bank of England will hold an auction of early editions, so if you have the disposable income, why not?!
Will the old paper £20 note still be legal tender?
You will still be able to use the paper £20 note until The Bank of England withdraw it from circulation. This will be announced after the new note has been issued and they will give six months' notice of the withdrawal date.
Many banks will accept withdrawn notes as deposits from customers. The Post Office may also accept withdrawn notes as a deposit into any bank account you can access at the Post Office. And, you can always exchange withdrawn notes with The Bank of England directly.
Where will I be able to find the new polymer £20 note?
We will be publishing a list of locations where the polymer £20 note will be available on the 20th, when the new note is released.
---
With the brand new Alan Turing £50 set to be released on June 23rd, it's important to refresh your memory on which serial numbers are worth looking out for…
Will you be looking out for any particular serial numbers? Let us know in the comments below!
---
Own one of the first £1 banknotes issued since decimalisation in 1971 in mint uncirculated condition!
This £1 banknote, which is in mint uncirculated condition, was issued by The Bank of England in 1978-1981. It was part of the Series D Pictorial Issue series of £1 banknotes, and was the first £1 banknote issued since decimalisation in 1971.