Posts Tagged '2019 Beatrix Potter'
"Peter Rabbit made his way back to his cosy burrow, where he lived with his family" – Beatrix Potter
Well, we're certainly pleased to see Peter Rabbit return to the cosy burrow of UK coinage!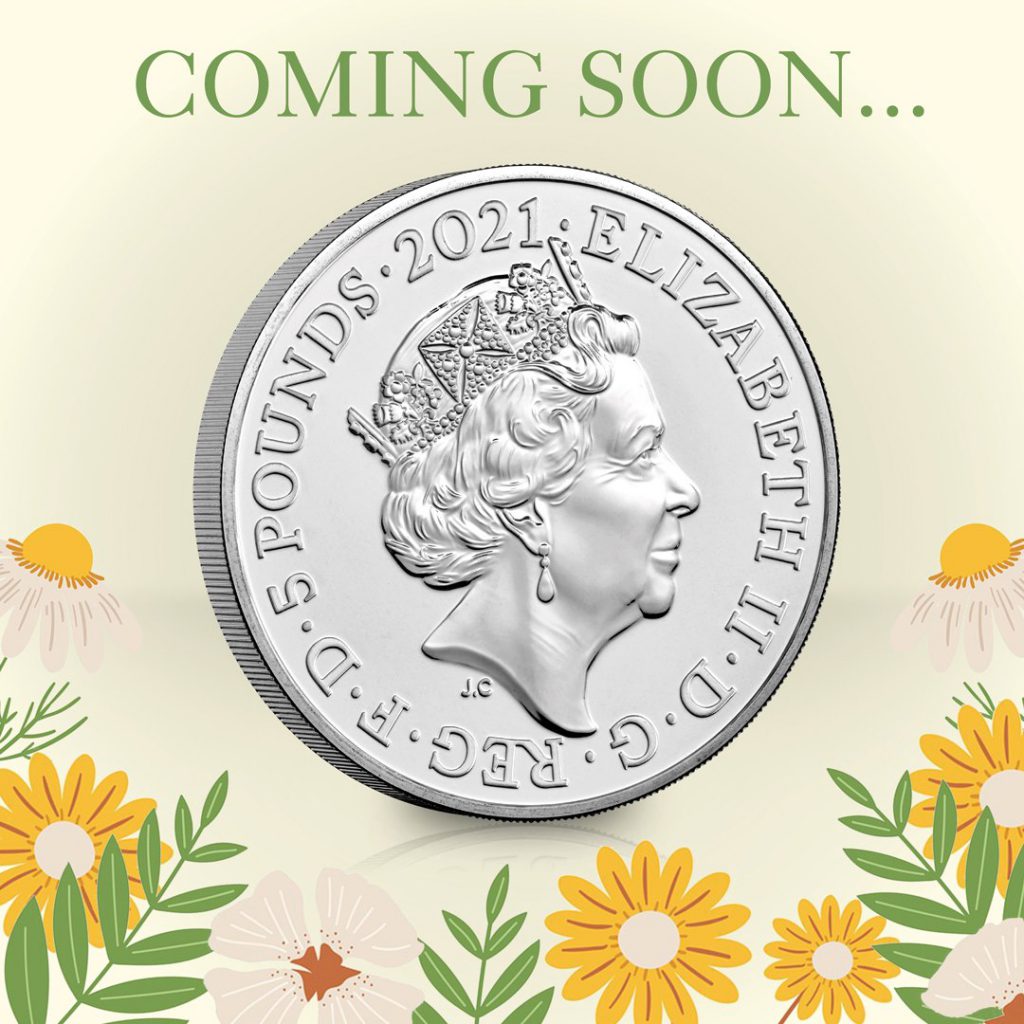 In 2020, it was confirmed that Peter Rabbit's 50p tale had come to an end, with an incredible total of five 50ps celebrating the loveable character.
Collectors and Beatrix Potter fans alike have adored the Peter Rabbit coins released in recent years and now we are delighted to reveal that as of the Royal Proclamation on 12th March 2021, a brand new £5 coin is set to celebrate the cheeky character.
Whilst the complete design remains top secret, the coin is said to feature a depiction of Peter Rabbit, Mrs Rabbit, and three other rabbits. What's more, the coin will feature the inscription, "NOW RUN ALONG, AND DON'T GET INTO MISCHIEF. I AM GOING OUT" – a quote from the famous tales.
If the Beatrix Potter 50p series is anything to go by, we're sure this coin will be adorable! We can't wait to see it.
You can guarantee you don't miss out on this exciting new issue and any future releases by signing up to the Change Checker £5 Subscription Service >>
Peter Rabbit 50p Coins
Peter Rabbit first appeared in literature back in 1902, when children's author Beatrix Potter commercially published what was to become her best-seller, The Tale of Peter Rabbit.
Since then, Peter Rabbit has featured in eight books, over 9 tv/film adaptations. and has been made into numerous commemorative souvenirs – including a series of 50p coins!
These coins have proved so popular with collectors, with the 2018 Peter Rabbit 50p specifically rising to fame when it was revealed that JUST 1,400,000 entered circulation!
Do you have a favourite Peter Rabbit 50p? Cast your vote below!
---
We can't wait to see the design of this brand new Peter Rabbit £5. Are you excited? Let us know in the comments below!
---
Don't miss out on the very latest UK coin releases!

Join the Change Checker UK CERTIFIED BU Subscription Service and receive new UK coins sent to your door without the hassle of placing orders on the day of release!
Simply choose the perfect subscription for you here >>
The BRAND NEW 2019 Peter Rabbit 50p has now been officially released!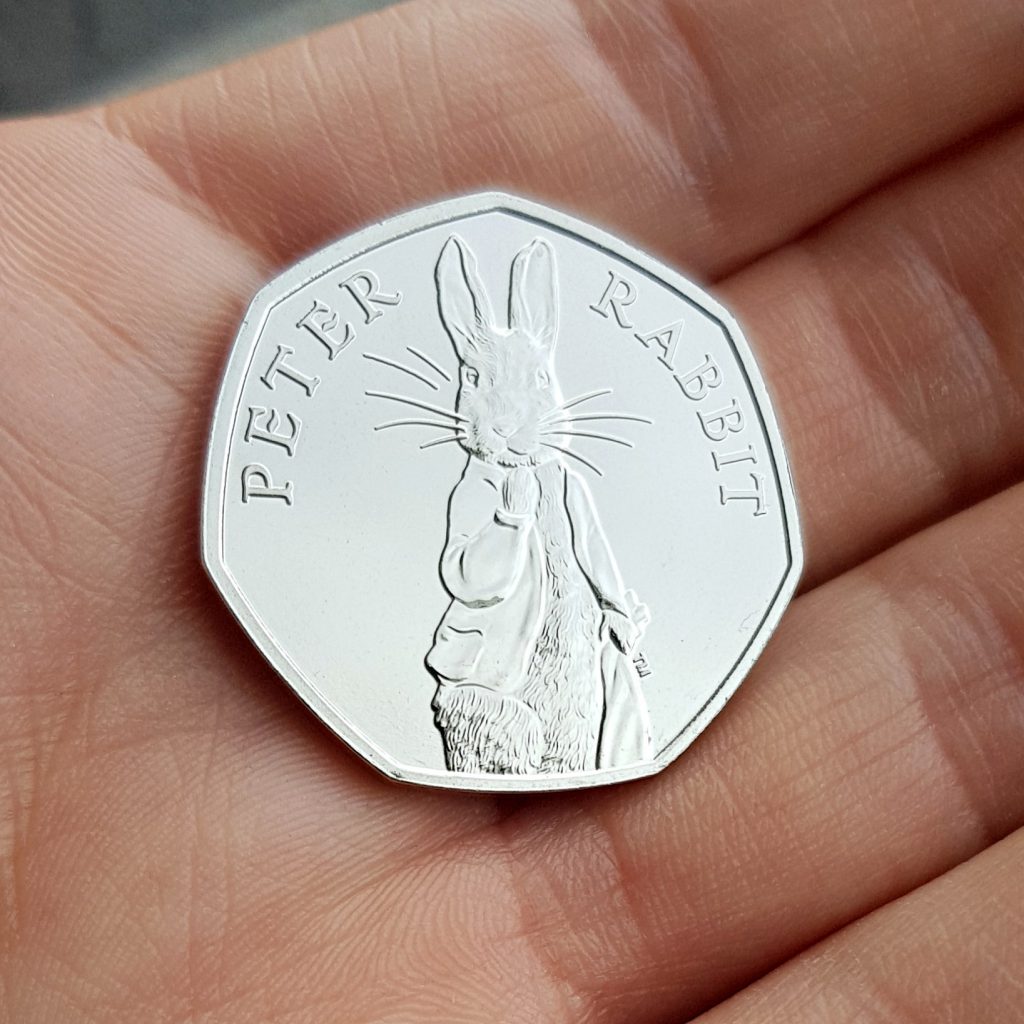 In 2016 this mischievous little bunny re-inspired the nation to start checking their change.
And that's because Beatrix Potter's enchanting tales of countryside characters were brought to life on UK coinage with The Royal Mint's introduction of the Beatrix Potter 50p series.
Likened to the 2012 Olympic 50p collecting sensation that gripped the nation, the release of these 50ps, including the very first UK Peter Rabbit coin, started a collecting frenzy across the UK.
And now this loveable little character has once again found his way out of Mr McGregor's garden and onto a brand new UK 50p coin, for the fourth year running.
First issued to celebrate 150 years since the birth of the renowned Children's author, Beatrix Potter, these 50p coins have been unprecedented in their popularity.
Thirteen coins have been issued since 2016, each featuring one of Potter's delightful characters, from Flopsy Bunny to Mrs Tiggy-Winkle and even a special coin which includes elements celebrating Beatrix as the artist behind some of the best-loved characters in children's literature.
The tale now continues with the 2019 Peter Rabbit 50p coin, featuring an original illustration of Peter Rabbit by Beatrix Potter herself, carefully engraved by Royal Mint coin designer, Emma Noble.
The illustration has been taken from the book, 'The Tales of Benjamin Bunny' and shows Peter Rabbit wearing his blue jacket, which he daringly retrieved from Mr McGregor's garden after losing it in 'The Tales of Peter Rabbit'.
He can be seen clutching a handkerchief which was used to gather onions from the garden to take back for his aunt.
The coin won't be entering circulation, but is available to purchase in Brilliant Uncirculated quality here >>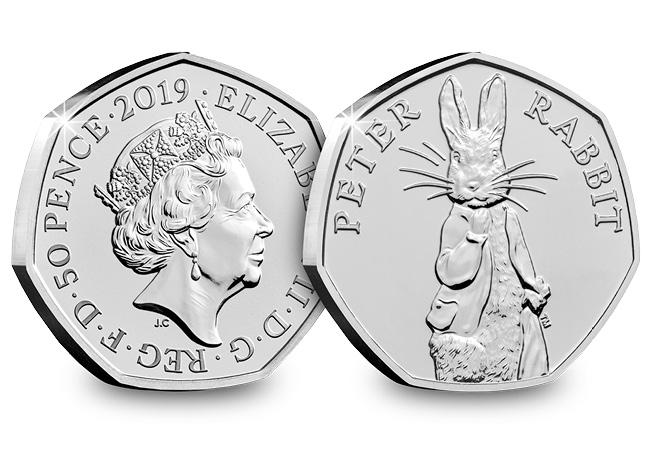 There is no doubt that this Peter Rabbit 50p coin will be as popular as the previous years, and I'm sure collectors won't want to let this bouncy bunny slip through their fingers.
---
Own the BRAND NEW 2019 Peter Rabbit 50p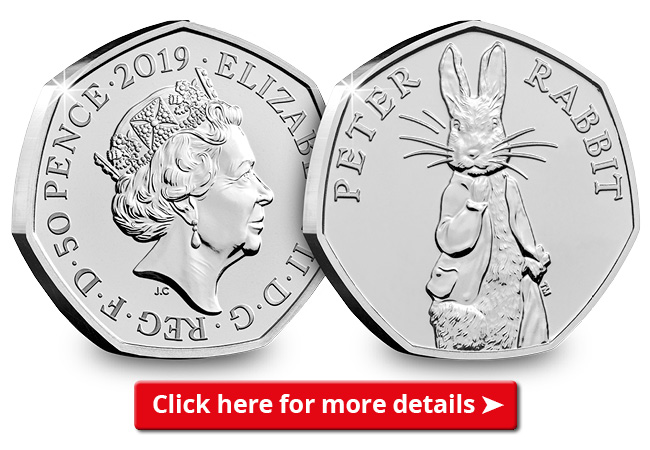 This is your chance to be ahead of the crowd and secure your 2019 Peter Rabbit 50p in superior Brilliant Uncirculated condition.
Secure the Brilliant Uncirculated issue today for just £3.99 (+p&p) >>
---
Sign up for more Beatrix Potter news!
The Royal Mint has not confirmed if more Beatrix Potter coins will be issued this year, but if you'd like to be the first to know about any updates or future Beatrix Potter coins, you can sign up to receive updates using the form below: