In March 2015, the UK treasury confirmed that 1p and 2p coins will continue to be used "for years to come". However, it has recently been suggested that due to a cash usage slump, The Royal Mint is set to go ten years without producing anymore 2p coins!
But it's not just our coppers at stake.. The same applies for £2 coins, as it has been revealed that in March 2020, The Royal Mint was sitting on 26 times as many £2 coins as it needed to.
According to the National Audit Office's report into Britain's cash usage, the number of coins produced each year by The Royal Mint fell by nearly two-thirds between 2011 and this year.
Less than a quarter of all payments were made by cash last year, according to figures released in June by the banking trade body UK Finance.
It's fair to assume that even less cash has been used since the start of 2020 due to the coronavirus leading to fears of cash usage and a move to more contactless payments.
However, The Mint told Britain's spending watchdog that there had been 'sharp increases in demand' for change 'as many businesses and consumers hoarded coins in the early months of the pandemic'.
As a result, the Treasury ordered The Royal Mint to strike 60 million additional 1p coins over the summer to meet this new demand. So make sure you keep your eyes peeled for these new 1p coins, especially if you're collecting dateruns!
The Royal Mint are required to forecast the demand for small change to ensure it keeps enough coins in stock without striking too few or too many, but with significant fluctuations in consumer behaviour in recent years, this has no doubt been a challenge.
In 2017, after the introduction of the new 12-sided £1, The Royal Mint saw a swell in its coin stocks as people rushed to return their round pounds, ending up returning loose change of other denominations at the same time.
According to the NAO, at the end of March, The Royal Mint aimed to hold 700,000 £2 coins, but actually held 18.7million. And rather than holding its target of 15.9million 2p coins, it held 127.1million.
As a result, in March of this year, The NAO said The Royal Mint had estimated 'it did not envisage producing any new 2p or £2 coins for at least 10 years'.
We haven't seen a £2 enter circulation since 2016, so, could this mean that those 2016 dated £2s and 2017 dated 2p coins are the last of their kind? We certainly hope not.
But what about our coppers? Do you think we still need 1p and 2p coins in circulation? Have your say by voting in our poll on Facebook.
And what could the future for Britain's definitive coinage be if the 1p and 2p coins were removed? Currently the definitive coins from 1p to 50p come together to create The Royal Shield, but with two key pieces missing, could this lead to a complete re-design?
We'd love to hear what you think about the use of cash vs card and the demand for our smaller denominations, so leave us a comment below to share your thoughts.
---
If you're interested in coin collecting, our Change Checker web app is completely free to use and allows users to:
– Find and identify the coins in their pocket
– Collect and track the coins they have
– Swap their spare coins with other Change Checkers
Sign up today at: www.changechecker.org/app
When the UK switched to decimal coinage in 1971, it was decided that the word 'new' would be included in the denomination on some of our coins to avoid confusion between the new decimal coinage and the old currency.
By 1982 the coins were no longer new so the word was dropped, and the 2p design changed from 'New Pence' to 'Two Pence'.
A common misconception is that all 'New Pence' coins are rare, but in fact almost 1.5 billion of these coins were initially issued in 1971 and circulating mintage figures from decimalisation to 1981 (after which the design changed) are actually all in the hundreds of millions: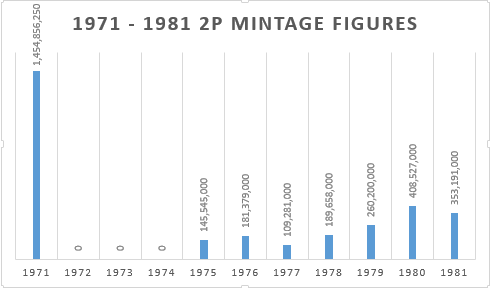 As you can see from the chart above, no 2p coins were issued for circulation between 1972 and 1974, so if you find one of these in your change it will actually be taken out of a Proof set, not intended for circulation.
1983 'New Pence' Error 2p
After the design changed from 'New Pence' to 'Two Pence' in 1982, a mistake was made during production of a small number of 1983 coins…
These coins were actually struck with the old inscription – 'New Pence'.
Whilst it's not known exactly how many of these error coins were struck, in 1983 2p coins were only struck for commemorative sets and not issued for circulation. Evidence seems to suggest that affected coins were issued as part of special souvenir sets that also did not enter general circulation – although if these sets were broken open and spent then you could be in with the chance of finding one in your change…
How much is it worth?
If you're lucky enough to find a 1983 'New Pence' 2p in your change, not only does the rarity of this coin make it more collectable, but the coin was also struck in uncirculated quality – meaning it won't have the scratches and blemishes of circulation coins.
This means a collector would most likely be willing to pay a little more to get hold of one on the secondary market.
The individual 1983 2p coin has been known to sell for £500 – £700, however the 1983 coin sets have been known to sell for over £1,000 on the secondary market!
If you do decide to look for this coin on the eBay and other secondary market sites, beware of fraudsters looking to pass off a 'New Pence' 2p from any other date as a rare coin.
The image below shows a 1971 2p coin listed for £2,000! Although this coin might be considered more collectable as it was the first UK 2p ever issued, this also means that nearly 1.5 billion 1971 2p coins were struck, making it the most common 2p coin issued.
Remember that it's the 1983 version of the coin which was struck in error and this is the one you should be looking out for.
Have you ever come across a 1983 'New Pence' 2p coin? Let us know in the comments below!
---
If you're interested in coin collecting, our Change Checker web app is completely free to use and allows users to:
– Find and identify the coins in their pocket
– Collect and track the coins they have
– Swap their spare coins with other Change Checkers
Sign up today at: www.changechecker.org/app