Posts Tagged 'Beatrix Potter coin'
"What heaven can be more real than to retain the spirit-world of childhood?" – Beatrix Potter
The Tale of Peter Rabbit and other Beatrix Potter stories span across generations, with each and every one of us having fond childhood memories of these wonderful characters.
Get ready to journey back to childhood as Change Checker is foot-thumpingly excited to reveal that the UK's FIRST-EVER Peter Rabbit™ £5 coin is available to add to your collections!
Inspired by Beatrix Potter's classic tales that have enchanted readers of all generations for more than 100 years, this brand new release is set to be incredibly popular amongst Beatrix Potter fans and collectors alike.
The reverse design by Ffion Gwillim perfectly captures a heart-warming scene from the original, much-loved Beatrix Potter stories.
To secure this UK FIRST for your collection in Brilliant Uncirculated quality, in official Change Checker packaging for JUST £10.99 (+p&p), simply click here >>
Since 2016, Peter Rabbit has encouraged a whole new generation to start collecting – featuring on not just one, but FIVE 50p coins in the Beatrix Potter series. And now the tale continues as Potter's most famous character makes his debut appearance on a UK £5 coin.
Join us in this blog, as we journey down the cosy burrow of the Beatrix Potter series and explore the tale of the sought-after 50ps…
A Woman Ahead of Her Time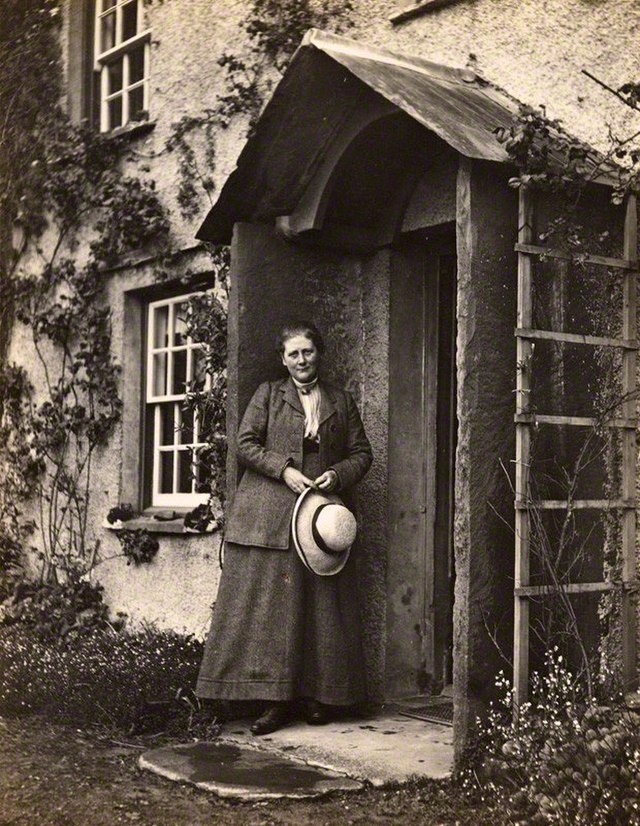 Beatrix Potter truly was a woman ahead of her time. Not only was she an accomplished children's author and illustrator, she was a passionate and knowledgeable farmer and conservationist – long before it became popular.
Potter was always encouraged to draw, and she spent many hours of her childhood making intricate sketches of animals and plants, revealing an early fascination for the natural world that would continue throughout her life.
However, it's fair to say her enchanting tales of countryside characters, including Peter Rabbit and Mrs. Tiggy-Winkle skyrocketed her to stardom. The Tale of Peter Rabbit was published in 1902 and it instantly became a best-seller!
The Series That Inspired a New Generation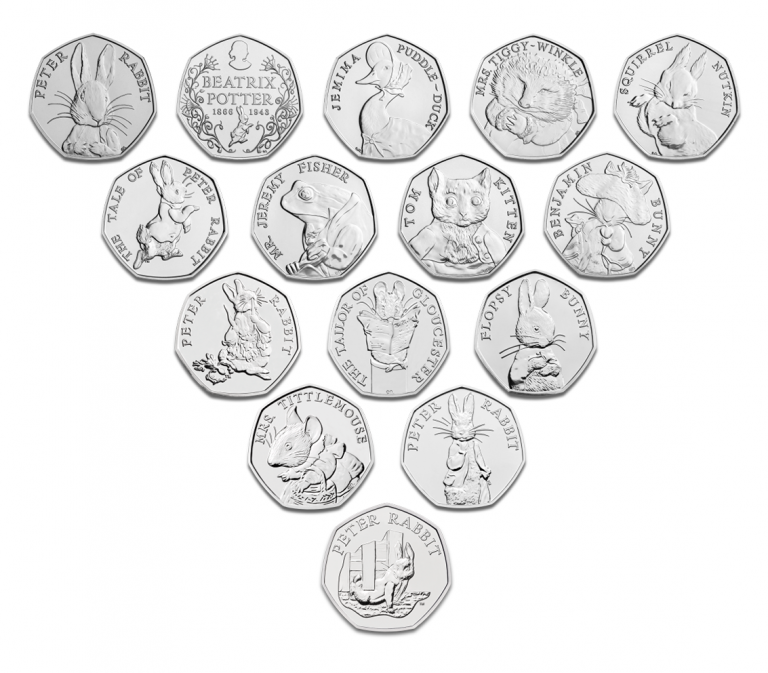 It was in 2016 that Peter Rabbit escaped from Mr. McGregor's garden and made his first debut on United Kingdom coinage.
Issued to celebrate 150 years since the birth of renowned Children's author, Beatrix Potter, this 50p changed coin collecting forever.
This series of coins continued into 2017, 2018 and 2019. Fifteen Beatrix Potter coins have now been issued since 2016, each featuring one of Potter's delightful characters, from Flopsy Bunny to Mrs. Tiggy-Winkle.
Peter Rabbit is the only character to feature more than once in the Beatrix Potter 50p series, with no less than 5 coins issued to celebrated the nation's favourite little rabbit.
In 2020, The Royal Mint confirmed that Peter Rabbit's 50p tale had sadly come to an end with the issue of a brand new coin.
This means there are fifteen Beatrix Potter 50p coins to collect and now we're delighted to see a brand new £5 coin has been added to the mix.
With Peter Rabbit proving to be one of the UK's most popular characters to ever feature on UK coins, this new release is set to prove incredibly sought-after amongst Beatrix Potter fans and collectors alike.
---
Will you be securing this brand new £5 coin for your collection? Let us know in the comments below!
---
Secure the 2021 UK Peter Rabbit™ £5
This Peter Rabbit™ £5 coin has been specially struck and encapsulated as a Change Checker CERTIFIED Brilliant Uncirculated issue.
It has then been protectively encapsulated in Official Change Checker packaging with the all-important security hologram to guarantee its quality forever.
Own the 2021 UK Peter Rabbit™ £5 today in superior Collector Quality, for JUST £10.99 (+p&p) by clicking here >>
"Peter Rabbit made his way back to his cosy burrow, where he lived with his family" – Beatrix Potter
Well, we're certainly pleased to see Peter Rabbit return to the cosy burrow of UK coinage!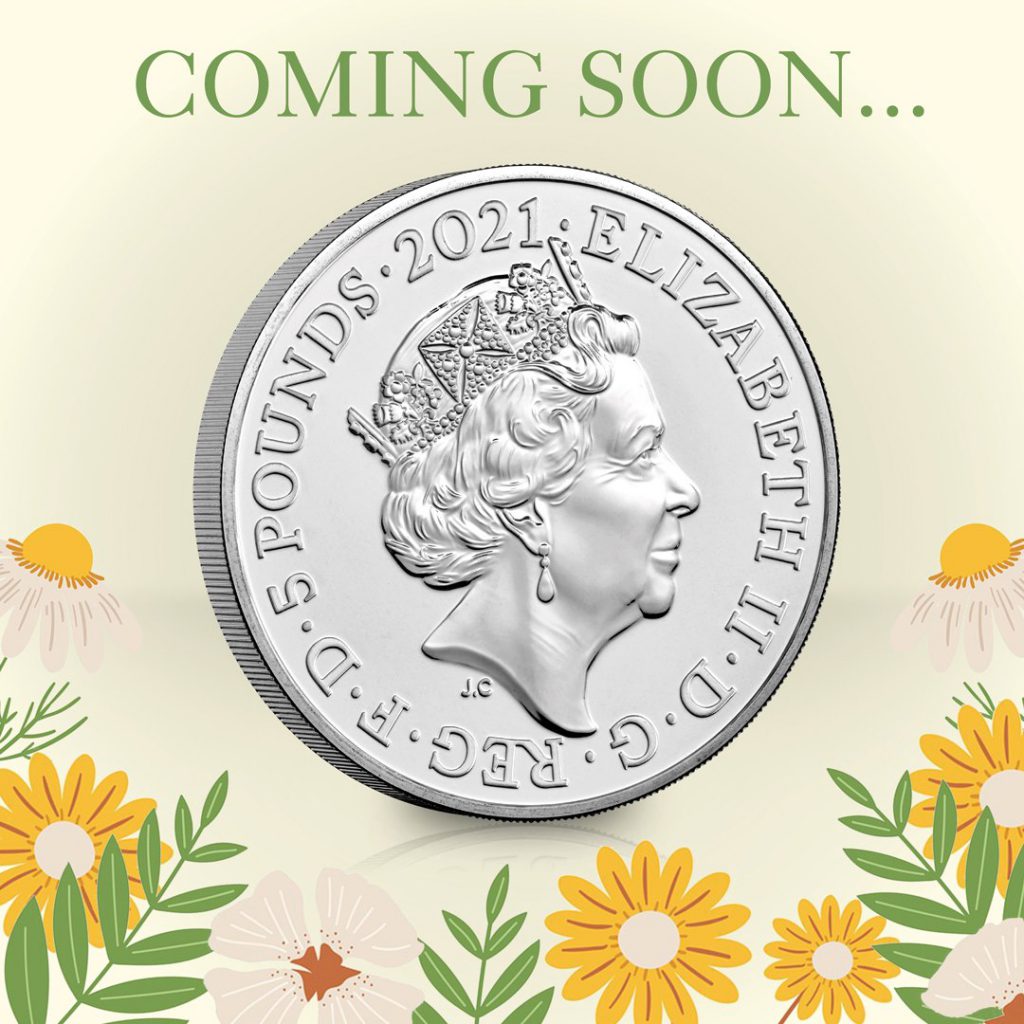 In 2020, it was confirmed that Peter Rabbit's 50p tale had come to an end, with an incredible total of five 50ps celebrating the loveable character.
Collectors and Beatrix Potter fans alike have adored the Peter Rabbit coins released in recent years and now we are delighted to reveal that as of the Royal Proclamation on 12th March 2021, a brand new £5 coin is set to celebrate the cheeky character.
Whilst the complete design remains top secret, the coin is said to feature a depiction of Peter Rabbit, Mrs Rabbit, and three other rabbits. What's more, the coin will feature the inscription, "NOW RUN ALONG, AND DON'T GET INTO MISCHIEF. I AM GOING OUT" – a quote from the famous tales.
If the Beatrix Potter 50p series is anything to go by, we're sure this coin will be adorable! We can't wait to see it.
You can guarantee you don't miss out on this exciting new issue and any future releases by signing up to the Change Checker £5 Subscription Service >>
Peter Rabbit 50p Coins
Peter Rabbit first appeared in literature back in 1902, when children's author Beatrix Potter commercially published what was to become her best-seller, The Tale of Peter Rabbit.
Since then, Peter Rabbit has featured in eight books, over 9 tv/film adaptations. and has been made into numerous commemorative souvenirs – including a series of 50p coins!
These coins have proved so popular with collectors, with the 2018 Peter Rabbit 50p specifically rising to fame when it was revealed that JUST 1,400,000 entered circulation!
Do you have a favourite Peter Rabbit 50p? Cast your vote below!
---
We can't wait to see the design of this brand new Peter Rabbit £5. Are you excited? Let us know in the comments below!
---
Don't miss out on the very latest UK coin releases!

Join the Change Checker UK CERTIFIED BU Subscription Service and receive new UK coins sent to your door without the hassle of placing orders on the day of release!
Simply choose the perfect subscription for you here >>

At Change Checker HQ we are bursting with excitement, as we can now announce that our Jeremy Fisher 50p Coin Swap is officially open!
Following the buzz of the Beatrix Potter coins, we've made collecting the series a little easier by offering you the chance to add this fantastic Beatrix Potter coin to your collection with a fair and simple 50p for 50p swap!
The 2017 Jeremy Fisher 50p is the latest coin in the Beatrix Potter series to be released into circulation and, as you know, all too often the newest coins can often be the trickiest to get hold of…
But don't despair, because we have managed to get our hands on 10,000 Jeremy Fisher 50p's and we're going to swap them ALL with Change Checkers.
As one of the most highly anticipated coin releases we've had, this swap is set to be one of busiest ever! So if you want to secure this coin, you'll have to act fast!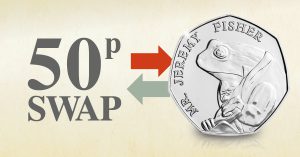 Here's how the swapping process works:
1) Choose THREE commemorative 50p coins that you would like to swap – these must be of a reasonable quality that you'd be happy to have in your collection
2) Complete our quick online form – we will email you a copy of this form to print out and send with your coins
3) Send us your completed form and 50p coin(s) (max. 3) in the post (remember to get proof of posting)
4) You'll receive your 2017 Jeremy Fisher 50p(s) within 10 working days of posting your coins to us
It's as easy as that!
Remember, only commemorative 50p coins can be swapped – the shield 50p and Britannia 50p cannot be accepted. Please also remember to obtain proof of postage from the Post Office – this will help us with any customer service queries should they arise.
Ready to swap?
For full terms and conditions and FAQ's click here >>
---
If you're interested in coin collecting, our Change Checker web app is completely free to use and allows users to:
– Find and identify the coins in their pocket
– Collect and track the coins they have
– Swap their spare coins with other Change Checkers

Sign up today at: www.changechecker.org/app