Posts Tagged 'Beatrix Potter coin'

At Change Checker HQ we are bursting with excitement, as we can now announce that our Jeremy Fisher 50p Coin Swap is officially open!
Following the buzz of the Beatrix Potter coins, we've made collecting the series a little easier by offering you the chance to add this fantastic Beatrix Potter coin to your collection with a fair and simple 50p for 50p swap!
The 2017 Jeremy Fisher 50p is the latest coin in the Beatrix Potter series to be released into circulation and, as you know, all too often the newest coins can often be the trickiest to get hold of…
But don't despair, because we have managed to get our hands on 10,000 Jeremy Fisher 50p's and we're going to swap them ALL with Change Checkers.
As one of the most highly anticipated coin releases we've had, this swap is set to be one of busiest ever! So if you want to secure this coin, you'll have to act fast!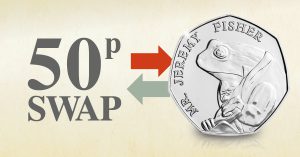 Here's how the swapping process works:
1) Choose THREE commemorative 50p coins that you would like to swap – these must be of a reasonable quality that you'd be happy to have in your collection
2) Complete our quick online form – we will email you a copy of this form to print out and send with your coins
3) Send us your completed form and 50p coin(s) (max. 3) in the post (remember to get proof of posting)
4) You'll receive your 2017 Jeremy Fisher 50p(s) within 10 working days of posting your coins to us
It's as easy as that!
Remember, only commemorative 50p coins can be swapped – the shield 50p and Britannia 50p cannot be accepted. Please also remember to obtain proof of postage from the Post Office – this will help us with any customer service queries should they arise.
Ready to swap?
For full terms and conditions and FAQ's click here >>
---
If you're interested in coin collecting, our Change Checker web app is completely free to use and allows users to:
– Find and identify the coins in their pocket
– Collect and track the coins they have
– Swap their spare coins with other Change Checkers

Sign up today at: www.changechecker.org/app