Serving as Canada's Head of State for 7 decades, Queen Elizabeth II has been commemorated on a new $2 coin.
Just shy of 5 million $2 coins entered circulation in December 2022, giving Canadian collectors a special way of remembering Her Majesty.
When you consider Canada's population is over 38 million, you'll appreciate just how sought-after this coin is.
I've successfully secured a limited allocation of these unique coins with my supplier in Canada.
However, you'll need to act fast if you don't want to miss this chance to add this coin to your collection.
Get your 2022 Canadian $2 Honouring Queen Elizabeth II for just £4.99, by clicking here >>
The obverse features the portrait of Queen Elizabeth II, created by Susanna Blunt and the reverse features the traditional $2 Polar Bear design by Brent Townsend.
But, what makes this $2 coin extra special is the outer ring…
The outer ring features a striking black nickel finish and is reminiscent of a mourning band, in a touching tribute to Her Majesty.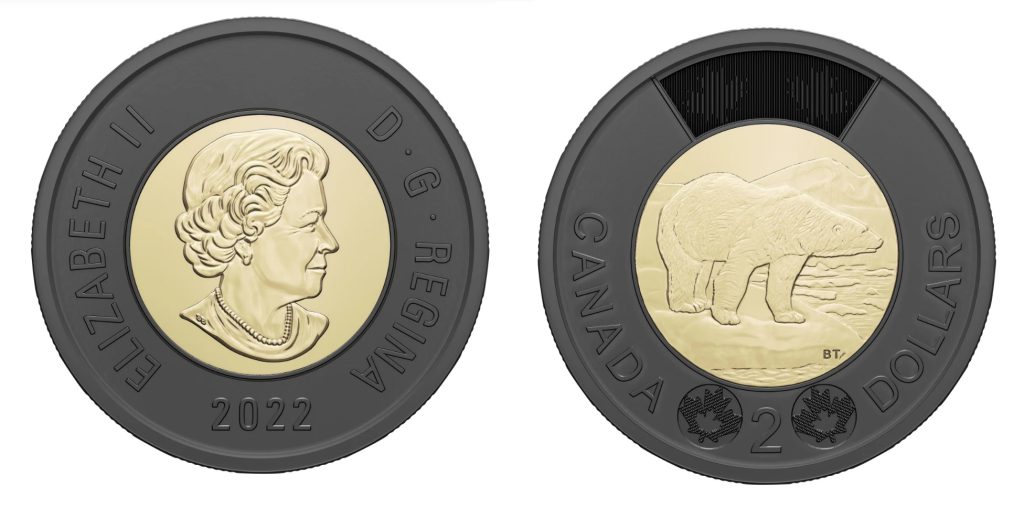 We won't be able to find this coin in our UK change so if you're wanting to secure this sought-after coin for collection, you'll need to click here.
In December, 4.9 million UK Queen Elizabeth II Memorial 50ps also entered circulation in the UK.
9.6 million in total are allocated for circulation, meaning 1 in 70 of us will be able to find one!
To help increase your chances of finding one in your change, we created an interactive map of where the coins were being found. We've tracked it up and down the country thanks to your help!
Queen Elizabeth II memorial coins are now some of the most sought-after collectables out there.
With such limited stock available, demand for these Canadian $2 coins is sure to exceed supply.
Own the 2022 Canadian $2 Honouring Queen Elizabeth II
Secure your Queen Elizabeth II Canadian $2 coin for just £4.99 (+p&p) here >>
On 6th June 1944, the D-Day Landings turned the tide of the Second World War. Allied troops landed at five different beaches, famously codenamed: Utah, Omaha, Gold, Juno, and Sword.
At these beaches, the largest amphibious assault in history was launched and this attack paved the way for the liberation of German-occupied France and is largely considered the start of the victory on the Western Front.
Most UK collectors will be familiar with the United Kingdom 75th Anniversary of D-Day £2 coin issued in 2019 to commemorate the historic event. However, Allied Nations across the globe have been commemorating this important anniversary with unique coin issues from their very own Mints.
Today, we will be looking at the extraordinary coins issued by Australia, Canada and Belgium, in addition to the UK £2, that have been brought together in a strictly limited presentation pack.
United Kingdom £2
Over sixty-one thousand British Troops were deployed as part of the D-Day Operations, landing on the 6th June at Gold and Sword. What's more, by 1944 over 2 million troops from over 12 countries were in Britain in preparation for the invasion.
To commemorate Britain's great effort in opening up this second front against the German army, The Royal Mint issued a United Kingdom £2 coin for 2019.
This coin was produced in collaboration with Imperial War Museums and was designed by Stephen Taylor. Speaking about his work on the design, Taylor emphasises that he wanted to 'build up the scale of the operation' and that the 'fonts are inspired by markings on US, Canadian and British landing craft, capturing the spirit of the international cooperation.'
Canada $2
Operating within the British command structure, Canadian troops provided the third largest force for Allied operations in Western Europe. Landing at Juno, between British troops at Gold and Sword, over 21,000 Canadian troops were involved in the D-Day Landings.
The Canadians played a crucial role in the action that effectively ended the Normandy campaign a few months later, cutting off German forces at the Falaise gap.
To commemorate such a huge achievement, The Royal Canadian Mint issued a $2 coin, following their proud tradition of honouring Canada's rich military history with commemorative $2 coins.
The design, by Alan Daniel, features unique touches of selective colour to honour this most special anniversary.
Australia $1
On D-Day, over 2,000 Australian airmen took part in the battle of the skies above the invasion beaches, in addition to 500 Australian sailors serving in the escort fleets.
Notably, Australian officers held places in various British units throughout the campaign, gaining experience of British practises which they could then take home after the war.
Designed by Bronwyn King, the intricate design on this Australian $1 shows a flight of planes all heading in a single direction, with an Australian Kangaroo featured at the bottom.
Belgium 5 Euro
Although there are few recorded Belgium troops on 6th June D-Day Landings, Belgium soldiers played a key part in the Battle of Normandy, which followed the initial D-Day Landings operation.
What many people also don't know is that the exiled Belgium government in the UK raised its own units in Britain, and Belgium pilots flew in the RAF.
Designed by Luc Luycx, this remarkable 5 euro features a map of Normandy with arrows pointing across to the beaches where troops landed on D-Day. The reverse of the coin shows a map of Europe with 'Belgium' in the country's three languages: French, Dutch and German.
A total of 156,000 Allied Troops took part in the D-Day Landings from across 12 countries – it truly was an international effort!
---
75th Anniversary of D-Day Allied Nations Coin Pack
To commemorate this most important anniversary year, Change Checker have brought together these four remarkable coins from four world-renowned Mints to create the Change Checker 75th Anniversary of D-Day Allied Nations Coin Pack.
To add one to your collection and commemorate the international troops who fought in D-Day, click here >>
As today is Random Acts of Kindness day, I've decided to take a look and some of the most random, weird and wonderful coins issued from all around the world.
Whilst these coins haven't entered circulation, I'm sure you will agree that they are works of art from truly innovative Mints. It's been really exciting to discover the unique coins different countries have to offer, so take a look at the designs below to see some of the fascinating coins international mints have produced. 
Germany's see through 5 Euro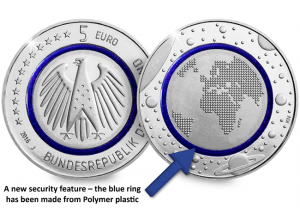 Developed by Dr Peter Huber and Günther Waadt, this unusual coin is a first of its kind. Released in 2016, the see through coin features a blue plastic ring in the middle and has been named 'Blue Planet Earth'.
Not only is the blue ring easy to identify and authenticate by the naked eye, it is made of polymer plastic which behaves like a form of insulation between the pieces of two different metals and will be easy for cash machine to recognize whether it is real or fake.
A German Minting Technology team has spent a decade developing this new security feature. In fact, it's the first coin to be made from a combination of metal and plastic materials which are rumoured to change colour when exposed to UV light. 
In 2017, five more coins were created to reflect Earth's climatic zones with the use of a different coloured plastic polymer ring to represent each zone. The series will continue releasing one coin per year until 2021.
Canada's 3D Snowball Fight 50 Cents
We all love a snowball fight and this wonderful Canadian 50 Cent coin allows you to bring to life the magic of a snowball fight on an innovative 3D coin! 
The Royal Canadian Mint is renowned for their forward thinking technology, and in 2018 they used lenticular printing to create artist Tony Bianco's fun-filled design with an illusion of depth, which actually appears to move as the coin is viewed from different angles – so watch out for those snowballs!
It really put a smile on my face when I came upon this coin in my research, and with a mintage of just 20,000 I'm sure those few Canadian Change Checkers who were lucky enough to add this coin to their collection will really treasure this coin.
Palau's Bottle Top Coin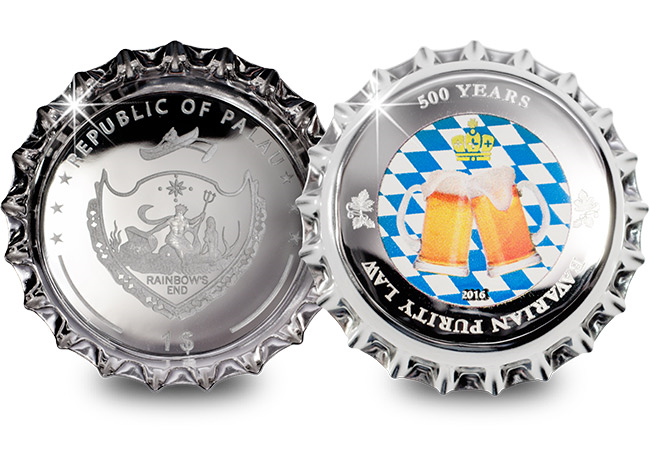 This is the world's first ever 'beer bottle top-shaped' legal tender coin. Issued in 2016 to honour the 500th Anniversary of the Bavarian Purity Law – the enactment by Duke Wilhelm IV of Bavaria in 1516 states that only 4 ingredients can be used to produce the beer and even provides a restriction on pricing.
Whether you're a beer lover or coin enthusiast – or both – I'm sure you'll agree that this unusual coin is a fitting tribute to this landmark occasion in the history of brewing. 
The obverse of the crown-cap-shaped coin shows the coat of arms of the issuing state below an outrigger canoe. Whilst the reverse shows two toasting beer mugs and a crown.
Nauru's First Issue of the Euro 10 Dollars
This unique and incredibly intricate ten dollar coin was issued in Nauru (a tiny island in Micronesia, northeast of Australia) in 2002 to commemorate the first Euro coinage.
The unusual coin is shaped as a map of Europe and has been struck in .999 pure silver.
On the obverse you can see the Bank of Nauru's coat of arms and on the reverse is a gold plated Euro coin and the words '2002 – FIRST ISSUE OF THE EURO'.
Chad's Earth Meteorite Gold Proof 3000 Francs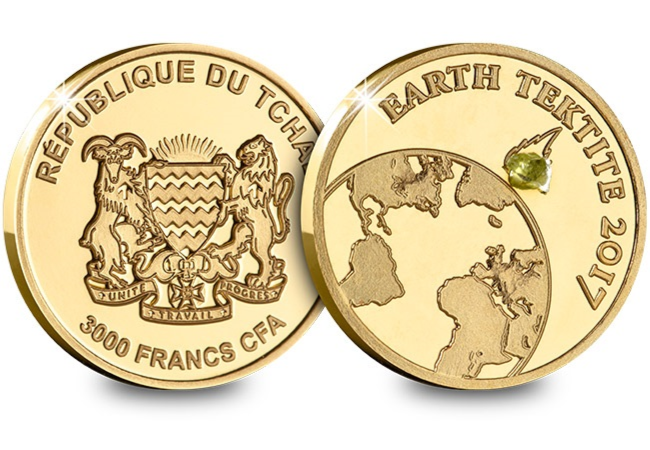 Within this Pure Gold Proof coin, issued in Chad in 2017, is a Moldavite Tektite gemstone – unique evidence of what can happen on the incredibly rare occasion that a meteorite hits the Earth.
These gemstones can only be found at five locations on Earth, and throughout the Middle Ages, they were highly prized and strictly reserved for those born of royal blood and nobility.
Struck from 0.5g of pure Gold, this coin is what is known as 'small' Gold – a collecting craze that is proving to be extremely popular among collectors worldwide, making this already very unique coin even more special.
With so many fascinating coins issued around the world, you don't have to look far to find inspiration for your international collection. What do you think about the coins above and have you found any weird and wonderful coins for yourself? 
---