Posts Tagged 'Collecting'
The countdown has begun and in just 50 days time our much-loved 50p coin will celebrate its 50th anniversary!
Join the challenge!
To celebrate this hero of the numismatic world, we've launched the Change Checker Definitive 50p Collecting Challenge – a race to collect every UK definitive 50p coin in circulation as we count down to this important numismatic anniversary.
There are currently 21 different definitive 50p coin designs to be found in your daily change. Your mission is to collect all of them before the anniversary on the 14th October.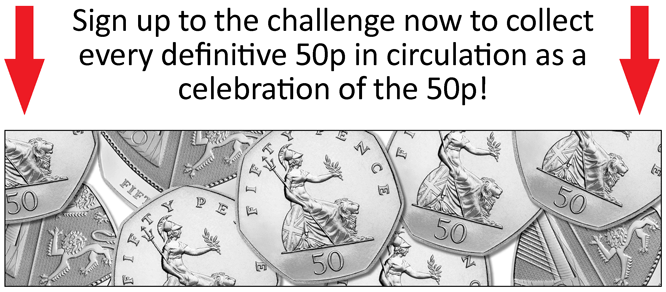 Definitive 50p coins
The mintage chart below shows how many of each UK definitive 50p coin is currently in circulation.
The rarest definitive 50p is the 2017 Royal Shield, so make sure you keep your eyes peeled and check the dates on your Royal Shield 50ps on the hunt for this coin.
Yasmin and I were actually lucky enough to come across the 2017 Royal Shield during a 50p coin hunt, so it can be done and they most certainly are out there if you check your change!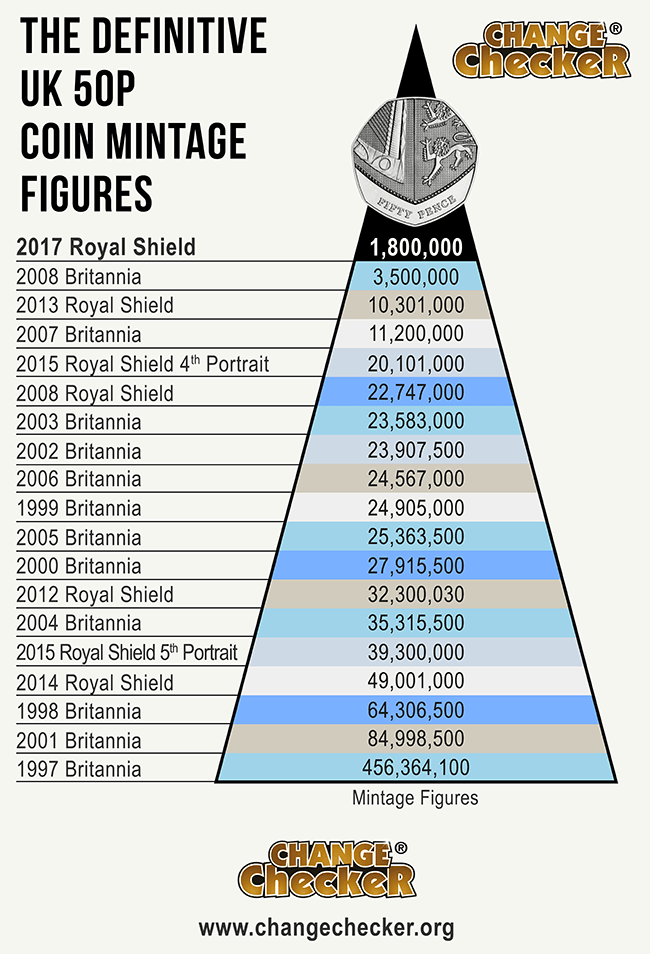 We don't yet know the mintage figures for 2018 and 2019 50p coins, so these coins haven't been included on the chart, however it's worth holding onto these coins as you never know how rare they might turn out to be!
You might have also noticed that no definitive 50p coins were issued for circulation in 2009, 2010, 2011 and 2016. These coins won't be included in the Definitive 50p Collecting Challenge, however if you do manage to find one in your change you will be very lucky as they would have come from an Annual Coin Set and are not intended for circulation.
Register for FREE!
Register for The Definitive 50p Collecting Challenge for FREE today to receive:
Collecting tips and suggestions to help you complete your Definitive 50p Collection
Exclusive discounts and savings for your collection
The chance to own the Definitive 50p Collecting Challenge Participant's Medal, plus a FREE 1997 UK Britannia 50p to kick start your collection
So, check your pockets, piggy banks, whisky jars and down your sofa – the challenge starts now!

You can download and print the Definitive 50p Collecting Challenge checklist here to keep track of the coins you've managed to find so far.
---
Start your collecting challenge today with the Definitive 50p Collecting Challenge Kit and SAVE £5.00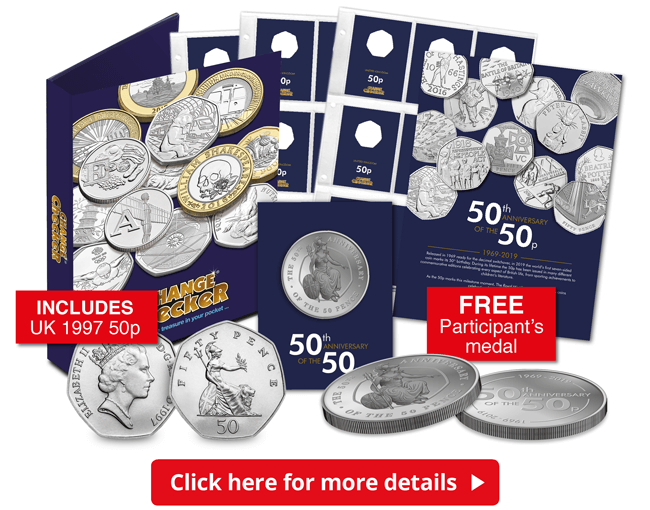 To help with your challenge, we've created the Definitive 50p Collecting Challenge Kit which includes everything you need to get you on your way!
We'll even give you a FREE 1997 UK Definitive 50p – the first one in your challenge – to get you started! And what's more, you'll receive a FREE participant's medal which we'll send to you in the anniversary month (October).
Click here to secure your Definitive 50p Collecting Challenge Kit and SAVE £5.00.
Buying and selling coins on the secondary market can be a bit of a minefield and excessive coin prices on eBay can leave collectors confused as to how much these sought-after coins are really selling for.
So we've simplified the process for you by sharing our UPDATED Change Checker eBay Tracker and Valuation Index for the Top 9 coins and banknotes …
Valuation Index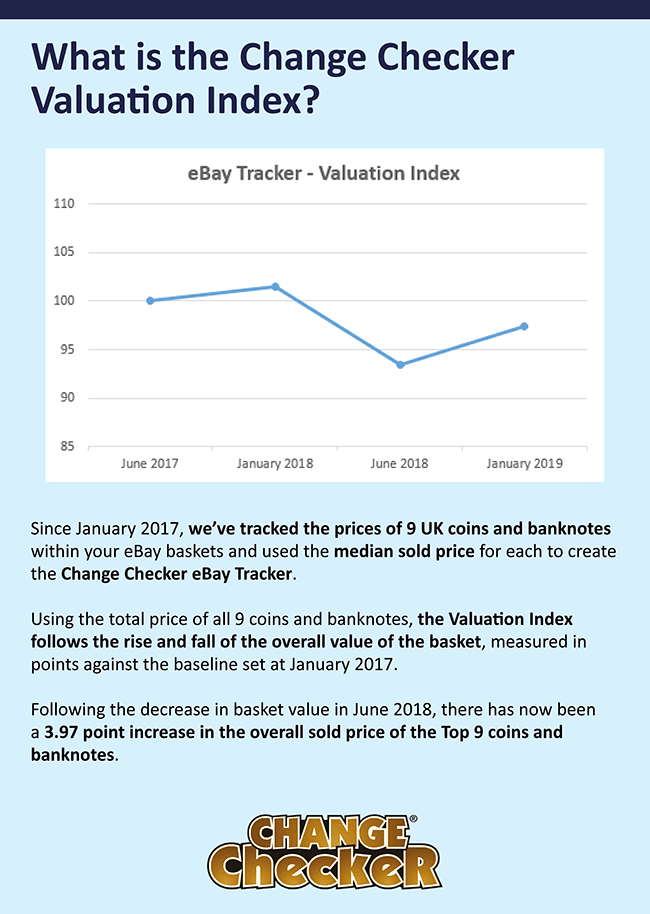 Find out which coins and notes have been the key movers and shakers in the updated eBay Tracker below.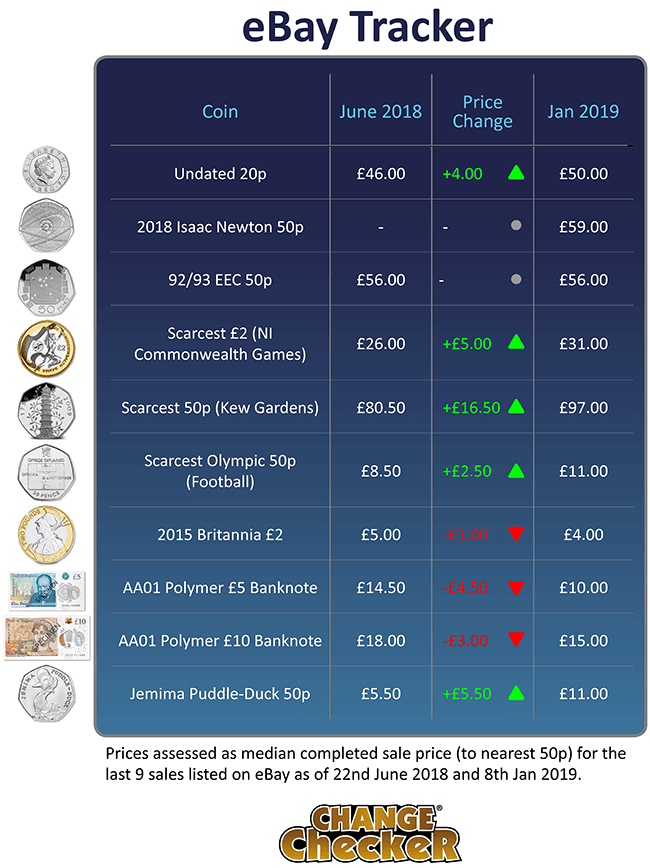 There has been an overall increase in the price of our Top 9 most sought-after coins and notes, with the most notable increase going to the Jemima Puddle Duck 50p, which has jumped from an average sold price of £5.50 in June to £11.00 in January!
After dropping 19% last year, the Olympic Football 50p has now rocketed up by 29% and is also currently selling at £11.00. The Commonwealth Games Northern Ireland £2 and the Undated 20p have also seen improvement since June, with the £2 increasing by 20% to a phenomenal £31.00 and the 20p now selling for £50.00 on average.
Of course the highest selling coin of our Top 9 is the highly sought-after Kew Gardens 50p. This coin remains king, selling for an incredible £97.00, which is a 20% increase on June's figures. There has been a lot of excitement regarding the 2019 re-issued Kew Gardens 50p coin which has led to increased press coverage of this coin, which could be a factor in the higher prices people are willing to pay to get hold of one for their collection.
You'll notice with this update that the Inverted Effigy £2 has been removed and this is due to the fact that the rarity of this coin means very few are available and the prices are volatile. This combined with the fact that we have not been able to find 9 of these coins sold in a qualifying period means that it has been removed and replaced with the 2018 Sir Isaac Newton 50p.
Could this newcomer be the rarest coin on the eBay Tracker?
This newcomer to the eBay Tracker was only available at The Royal Mint Experience as a Strike Your Own Sir Isaac Newton 50p coin and the mintage figures are unknown, but due to the short time frame and visitor numbers, there could well be substantially less than 210,000 of these coins struck, meaning the 2018 Sir Isaac Newton 50p coin could very possibly have a lower mintage figure than even the Kew Gardens 50p! And this is certainly reflected in the price people are willing to pay for the coin, with an average sold price of £59.00.
Whilst the average sold price for the 92/93 EEC 50p remains unchanged at £56.00, the 2015 Britannia is the only coin in our Top 10 to have decreased in value since June, with a decrease of 20% meaning the average sold price is now £4.00.
Both banknotes in our Top 10 have also taken a hit, with the AA01 Polymer £5 slipping from £14.50 to £10.00 and the AA01 Polymer £10.00 from £18.00 to £15.00. However we must remember that this is still double the face value of the £5 note and 1.5X face value for the £10, which certainly isn't a bad profit to be made!
So now that you're up to date with our latest eBay Tracker, will you be selling any of the coins in your collection or will you continue to save them? Let us know in the comments below.
How does the eBay Tracker work?
The Change Checker eBay Tracker takes the last 9 sold prices achieved on eBay and gives the median price achieved (rounded to the nearest 50p). By taking the median, rather than an average, we avoid skewing created by one or two excessive prices achieved.
Please note that the Change Checker eBay Tracker is only ever designed to be a guide as to prices achieved on eBay. Prices may vary depending on collector demand and the quality of the coin being sold. It does not provide any guarantee as to future values of coins.
---
If you're interested in coin collecting, our Change Checker web app is completely free to use and allows users to:
– Find and identify the coins in their pocket
– Collect and track the coins they have
– Swap their spare coins with other Change Checkers

Sign up today at: www.changechecker.org/app
How much is my coin worth? It's a question I'm asked multiple times each day, and with some coins selling for many times their face value, I understand why you'd be keen to know.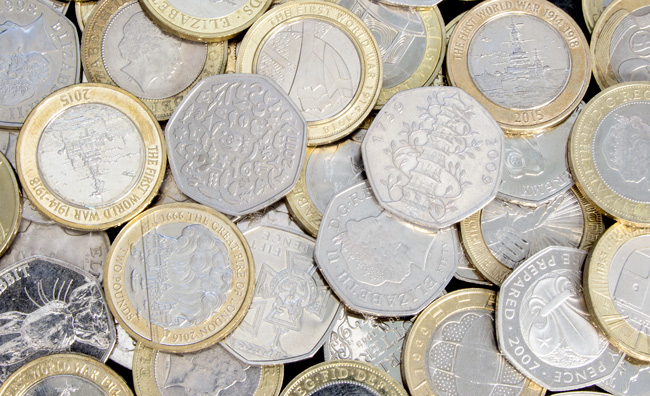 The truth is, it's very hard to tell you exactly what your coin is worth as it depends on so many variants. Coins are no different to any other kind of collectible in many ways; there are certain criteria which you should always look out for, which can help you to determine how collectible or valuable your coin is.
Often it's a very difficult question to answer but with a little bit of detective work you should be able to work out an accurate value for your coin. I've put together some useful tips, in our 5 point guide below, to get you started:
1. Change Checker Scarcity Index
The first place to start is our Change Checker Scarcity Index. I believe this to be the single most accurate way of determining how scarce your coins are. Whilst it doesn't give you an actual value we know that the value of a coin is directly linked to scarcity.
Historically, when trying to determine the scarcity of a coin, the mintage figure was considered the most accurate indicator. Whilst the mintage figures are undoubtedly important, our Scarcity Index also takes into consideration some very useful data from our Change Checker web app.
We combine the mintage information with two other key pieces of information:
How many of each design are listed as "collected" by Change Checkers, indicating the relative ease of finding a particular coin.
The number of times a design has been requested as a swap over the previous 3 months, showing the current level of collector demand.
It's very simple to work out how scarce your coin is, each coin is given a score out of 100, the higher the score the more scarce that coin is.
2. eBay is best
Once you've determined the scarcity of your coin the next step would be to take a look at what has recently sold on eBay. It's very important that you make sure you look at 'recently sold' coins and not just those that have been listed. Essentially, anybody can list a coin on eBay and charge whatever amount they wish.
By checking the recently sold items (and I'd suggest you look at the previous 3-5 coins sold) you will get an accurate indication of what people are willing to pay for a particular coin.
Also, if you are looking to sell any coins in your collection, I'd definitely recommend eBay as the easiest, and importantly, the most secure platform to do this.
3. Are your coins still available to buy in BU quality?
Next, it's worth checking if the coin in your collection is still available to purchase in superior Brilliant Uncirculated quality from an official Royal Mint distributor. If it is still for sale, it's unlikely that people would purchase a circulation quality coin for the same price.
If there are no longer any BU coins available to buy, this will work in your favour as collectors will then look for circulation quality coins to add to their collections.
4. Coin condition
It's definitely worth checking the condition of your coin as this will, almost always, have an effect on the value. It's no surprise that collectors favour the more pristine coins to those that are showing signs of wear and tear due to circulation.
However, your coin's condition is not the be all and end all; it's very rare to find a circulation 2002 Commonwealth Games £2 coin in good condition yet these sell for many times their face value.
5. Is there a story?
This can often tie-in with rarity, as the coins with a good story behind them tend to be the ones which are difficult to get your hands on! The "undated 20p" is a recent example of a such a coin. It is known as a 'mule' – a coin with a mismatched obverse and reverse (heads and tails). The name derives from a mule being the hybrid offspring of a horse and donkey.
In 2008 when the reverse of the 20p coin changed to the new Royal Shield design, approximately 100,000 coins were accidentally struck with the previous obverse die and therefore there was no date on the coin.
In a similar way to the Kew Gardens story, some of the prices being quoted as a result of media coverage were extraordinary. Mules are highly sought after by collectors, and an undated 20p will certainly be worth more than its face value in years to come.
It's always good to remember that

if your coin is legal tender, it will always be worth at least its face value.The good news…

That's why I think change collecting is the best hobby you could have!
---
If you're interested in coin collecting, our Change Checker web app is completely free to use and allows users to:
– Find and identify the coins in their pocket
– Collect and track the coins they have
– Swap their spare coins with other Change Checkers

Sign up today at: www.changechecker.org/app