2018 marks the 50th anniversary of arguably the most important moment in British numismatic history – the first coins issued for decimalisation.
In 1968, the British public would have found 5p and 10p coins in their change for the very first time, issued as part of Britain's conversion to a system of decimal currency.
The coins bore new heraldic designs, but were exactly the same size and value as shillings and florins, which meant the changeover process should have been a smooth transition. However, after generations of pounds, shillings and pence, the Decimal Currency Board still needed to reassure suspicious Britons to go decimal – a case which had actually been argued as long ago as 1696 by Sir Christopher Wren.
It was the 1960 report by the Association of British Chambers of Commerce and the British Association for the Advancement of Science which finally set into action a currency based upon simple multiples, a system already adopted by a number of Commonwealth countries including Australia, New Zealand and South Africa.
A massive number of coins were required for the changeover, forcing The Royal Mint to move location from Tower Hill to its new production facility in Llantrisant, South Wales, where the first of almost six billion coins required for decimalisation went into production.
It was then on the 23rd April 1968 that the new 5p and 10p coins went into circulation, operating as legal tender up to the sum of £5, with mintage figures of 98,868,250 and 336,143,250 respectively.
The humble 5p featured the Christopher Ironside reverse design until 2008 and has since featured Matthew Dent's reverse design, following a public competition held by The Royal Mint. On the 27th June 1990, a reduced size version of the coin was introduced and the older, larger coins were withdrawn on the 31st December 1990, although the design remained unchanged.
Similarly, the 10p coin also featured Christopher Ironside's reverse design up until 2008 when this was replaced by Matthew Dent's. However, the 10p remained a larger coin until the 30th September 1992, when the reduced size version was introduced, with the larger coin being removed from circulation a year later.
As we seem to move ever closer towards a cashless society, the questions lingers as to how long these decimalised coins will remain a necessity… However, this year's release of 26 brand new A-Z of Great Britain 10p coin designs just goes to show that the demand for the smaller denomination coins is still there. In fact, these little coins have become incredibly sought-after and have dominated news stories and conversations amongst collectors, with everyone wanting to get their hands on the elusive coins!
Although the nation seemed reluctant to accept these decimal coins back in 1968, I think it's fair to say that they have now become a much loved part of British coinage and as we celebrate the 50th anniversary of the first decimalised coins, we can look back with fondness for the 5p and 10p coins.
---
Own the very first coins issued for decimalisation!
The First Decimalised Coins include the original 5p and 10p coins from their first year of issue, 1968.
Order yours today to mark the 50th anniversary of the introduction of these significant coins  >>
For the past few months at Change Checker HQ, we've been really enjoying researching different coins from around the world. And the coinage from the sunny climes of Egypt has really caught our attention…
After a bit of digging around, we've found out some interesting facts about these fascinating coins… Did you know that Egypt, just like us, uses the 'pound' as their currency?
But wait! Before you pack your bags and prepare for a trip abroad without the hassle of exchange rates, you need to be aware that this is not the British pound as we know it, but the Egyptian Pound!
Each pound is made up of 100 piastres (what we would refer to as pennies), and 22 Egyptian pounds convert to 1 British Sterling pound. Egyptian coins are in denominations of 1, 5, 10, 20, 25 and 50 piastres, along with the 1 pound coin of course.
Egypt's currency design is based largely on its ancient history, with pharaohs, pyramids and past dynasties proving to be popular themes across Egypt's coinage, including Tutankhamun, Cleopatra and the Pyramids of Giza. 
When exploring further into the background of these coins, it's no wonder Tutankhamun has been chosen as such a poignant design, featuring on the highest denomination, the £1 coin.
As one of the only perfectly preserved Egyptian Royal Tombs, the myth of Tutankhamun is world-famous, making him the best-known King of Egypt. In terms of coinage, Tutankhamun has not only featured in Egyptian minting, but worldwide on various coins (including this recently released coin from Ghana struck in the shape of Tutankhamun's mask).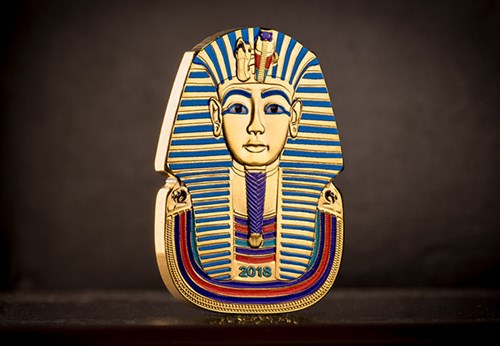 Cleopatra also features heavily on Egyptian coins, as the last active ruler of the Ptolemaic Kingdom of Egypt. Her name directly translates to 'Glory of her father', and it was rumoured she was romantically involved with Julius Caesar and Mark Anthony. Her legacy is ever standing due to what she represented in a male-dominated society – a strong woman able to hold a country together throughout warfare just as well as her male counterparts. A fitting face for any coin I think!
It's clear that the currency of Egypt sits on a proud heritage that maps out its ancient world through the striking designs of its coins. But what do you think about these coins? Let us know in the comments below!
In just a few weeks, Britain's one pound coin will undergo a major makeover. The familiar round pound will change to become bi-metallic and 12-sided and will also have several new security features. But the shape of this new £1 coin is actually a throwback to the thrup'nny bit – an old favourite from the pre-decimal era.
The 12-sided threepenny is fondly remembered for its individuality. There was quite literally nothing like it before, and it holds the proud title of Britain's first non-circular coin.
But, of course, it's not the first major change in the nation's £1.
I've taken a look back at some of the key changes for Britain's coinage over the last 50 years to welcome the brand new 12-sided £1 coin, when it is issued on 28th March.

The 28th March 2017 is sure to become a historic day as we welcome the new coin which has been billed to become the most secure circulating coin in the world. This will be the first specification change to our £1 coin in more than 3 decades.
But the Thrup'nny Bit deserves recognition for being the inspiration behind our new £1 coin which is sure to become a collecting sensation. The Thrup'nny Bit was eventually withdrawn from circulation in 1971  after the introduction of decimal coinage which didn't include Three Pence as a denomination. However, its legacy lives on, and is still widely regarded as one of the most iconic coins in British history.
---
The Story of the new £1 Collector's Pack
Click here to secure the 'Story of the £1 Collector Pack' which has space for you to house the new 12-sided £1 coin once you find it in your change, alongside the UK Brass 12-Sided Threepence Coin.