How well do you know your 50p coin designers?
With so many beautiful 50p coins out there, it's important to recognise the highly talented artists behind the designs, and so we've put together a handy chart to do just that!
Take a look at the 50p designers below and the wonderful coins they've created, then let us know who is your favourite by voting in our poll at the bottom of this blog. *excludes Olympic 50p coins

Vote for your favourite 50p designer!
[crowdsignal poll=10391071]
---
Join the Definitive 50p Collecting Challenge!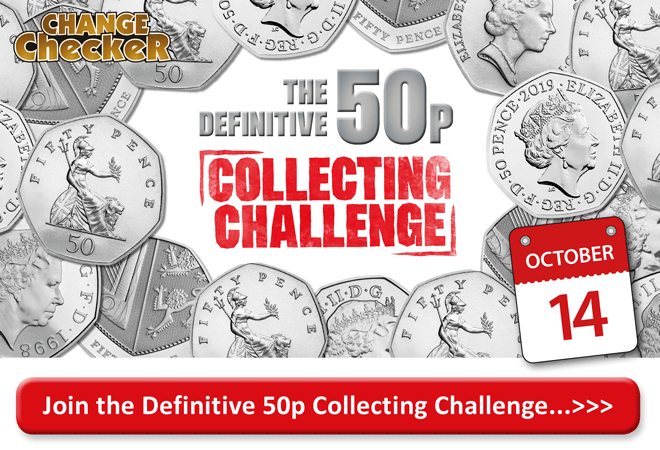 The race is on to collect all 21 definitive 50p coins in circulation by the 14th of October as we count down to the 50th anniversary of the 50p!
Join the challenge for FREE today to receive top collecting tips, exclusive discounts and opportunities to win a Gold Plated Participant's Medal.
At the recent World Money Fair held in Berlin, Germany, 'The Coin of the Year' (sponsored by World Coin News) winners were announced.
First held back in 1984, the awards are designed to, "…recognise the best of the coiner's art and to encourage world mints to continue to challenge themselves in creating these great numismatic works."
It's safe to say that some of the winning coins are spectacular! I hope you enjoy looking through this range of amazing coin designs, don't forget to let us know which is your favourite!
Best Circulating Coin
Most Inspirational Coin
Best Bi-Metallic Coin
Most Artistic Coin
Most Innovative Coin
---
As part of the Great One Pound Coin Race, we want to find out Britain's ultimate favourite £1 coin.
Over the last couple of months we've been asking Change Checkers to vote for their favourite UK, Scottish, Northern Irish, Welsh and English £1 coin designs.
Now this is the last poll left to vote in until we find out which £1 coin is Britain's all-time favourite design.
Please vote for your favourite £1 coin from the finalists in the below poll:
[polldaddy poll="9721785″]