Posts Tagged 'Isle of Man'
It's an exciting time in the collecting world, with many 'firsts' to look forward to as we enter a new era of King Charles III coinage.
From the first ever King Charles III portrait featuring on our coins, to the UK's first ever Coronation 50p, there's already been some remarkable milestones celebrated on the coins you can find in your change.
These issues will undoubtedly become increasingly sought-after in years to come. But demand for King Charles III coins is already proving to be high!
In August, the Isle of Man released the FIRST King Charles III Decimal Coin Set – including all seven of their decimal coins, which lucky islanders will be able to find in their change.
Isle of Man Manx Wildlife Set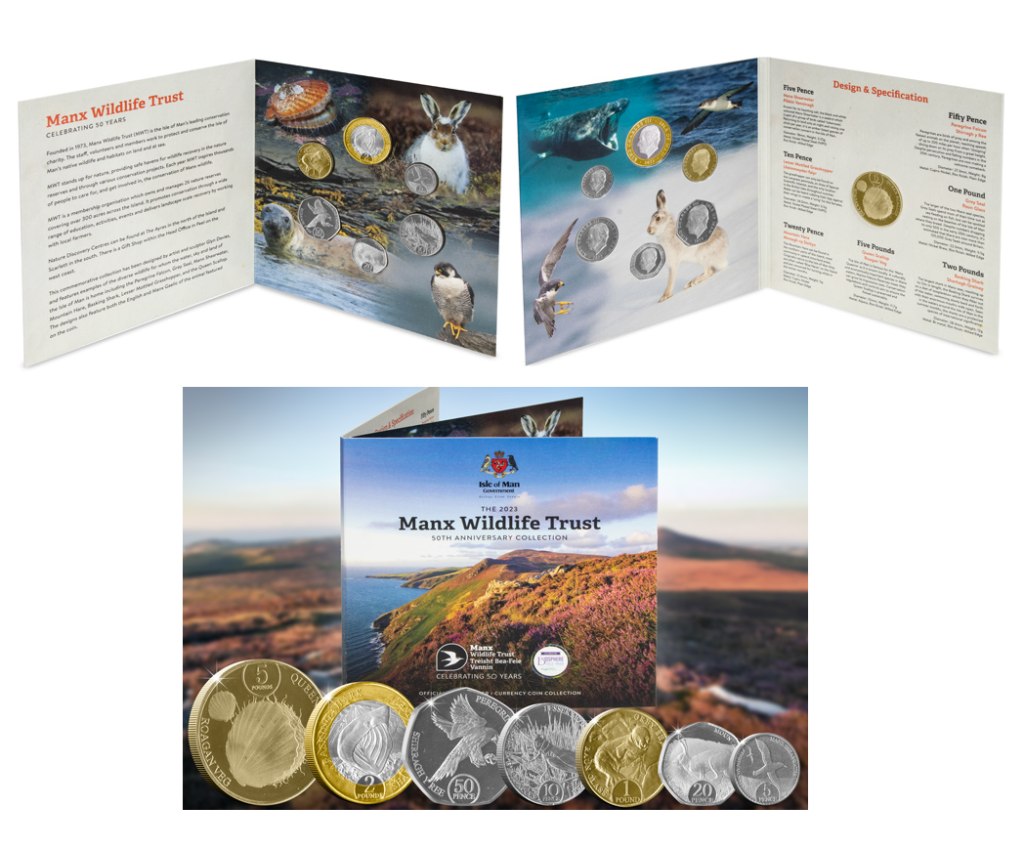 I knew these coins would be popular, but I was shocked at just how quickly we sold through our allocation… In fact, all our stocks had completely sold out in just a few days!
Popularity for the first full King Charles III coin set has certainly got us thinking about what could lie ahead for UK coins and just how high the demand might be when we start to see more King Charles coins released.
So far, the 2022 Memoriam 50p and 2023 Coronation 50p have found their way into our change and we released collector maps for both so that Change Checkers can track where across the country these coins are being found.
If you're lucky enough to have found the new Coronation 50p in your change, make sure you add it to our map here >>
In the meantime, I (like many other collectors) am eagerly awaiting the chance to find more King Charles III coins in my change and build up a new collection.
For almost 70 years, our definitive and commemorative coins have featured the Queen's portrait, but with a new era of King Charles III coinage upon us, the collecting race begins once again!
---
Own the Queen Elizabeth II LAST Definitive Coin Set
2022 marked the final year of Her Majesty's reign and, as such, these 2022 dated definitives coins were the last ever to be issued with the Queen's portrait on the obverse.
We have limited stocks available, so don't miss the chance to secure yours for just £35 (+p&p) here >>
We're just over a week away from the first Isle of Man Manx Grand Prix race of 2023!
This world-famous event sees the likes of motorcycle legends, Carl Fogarty, Steve Hislop, and Michael Dunlop (to name a few) tackle the infamous Isle of Man mountain roads.
Crowds flock to the island from the world over and, as 2023 marks the centenary, this year is set to be the biggest yet!
So, it's only fitting that to celebrate 100 years of the Manx Grand Prix, a BRAND NEW £2 coin has been released.
A Winning Design
The eye-catching design of this new £2 coin features the renowned Manx Grand Prix A.B. Crookall trophy, which is awarded by the Manx Motorcycle Club each year to winner of the Senior Manx Grand Prix.
You'll also spot the official MGP logo on the reverse, bordered by a decorative laurel wreath. Meanwhile, the obverse design features King Charles III's effigy by Glyn Davies.
Iconic Isle of Man Sporting Coins
Ask any British Isles collector and you can bet that one of their top themes will include the Isle of Man sporting coins.
For years, the TT race coins have been sought-after among collectors, with many selling for hefty sums on the secondary market.
The first Isle of Man TT coin was a 50p issued in 1981, and a new TT 50p has been released most years since.
Now we see a new Isle of Man sporting £2 – issued to celebrate 100 years of the Manx Grand Prix – I've no doubt collectors will be racing to get their hands on this coin!
The Race is on to Own the Manx Grand Prix £2
Start your engines! We have a small initial allocation of CERTIFIED Brilliant Uncirculated coins available in Change Checker packaging, so the race is now on to own the 2023 Isle of Man Manx Grand Prix £2!
Click here to secure yours in superior Brilliant Uncirculated quality for just £12.50 (+p&p) >>
The Isle of Man TT races, an annual tradition since 1907, returns this year. Riders and spectators from around the world will travel to the island for what has been nicknamed 'the most dangerous race in the world'.
It's become somewhat of a tradition for the Isle of Man to issue coins to commemorate the TT races each year. 2023 is no exception, as this year we'll see a brand new Isle of Man £2, issued to mark 100 years since the sidecar entered the races.
But the most exciting news for collectors is that it'll be the FIRST EVER King Charles III TT £2 coin!
The design
In 1923, the first Sidecar was introduced to the TT races. This meant both racer and passenger could take part in the 'Ultimate Road Race'. The design shows an incredibly detailed depiction of the Sidecar riding through Parliament Square on the Isle of Man.
For the first time ever on an Isle of Man TT coin, the obverse features King Charles III's effigy. Since the first King Charles III coin was issued last year, we've seen demand for new UK coins soar. With every Isle of Man TT coin since 1981 having featured Queen Elizabeth II, this change is sure to catch the eye of collectors wanting to add a highly collectable issue to their collection.
Entering circulation
Previous Isle of Man TT coins have always been popular with both collectors and motor enthusiasts. This is due to their small mintages compared to their UK counterparts and the fact that they sometimes crop up in UK coinage. Although Isle of Man coins aren't legal tender in the UK, there is a chance you could spot one in your change.
And excitingly, a 15,000 2023 Isle of Man TT £2 coins will be released into circulation on the island. So it's time to beat the crowds and add this coin to your collection now >>
Numismatic history of the TT races
The first Isle of Man TT coin was a 50p issued in 1981, and a new TT 50p has been released most years since. The TT 50ps, along with other denominations have proved incredibly popular amongst collectors and motoring enthusiasts alike, with some selling for hefty amounts on the secondary market.
Here are a few of our favourite Isle of Man TT coins.
2022
After a 2 year break due to the Coronavirus Pandemic, the TT races returned in 2022 and two new £2 coins were issued to celebrate.
One of the coins featured the iconic TT Grandstand which marks the start and end of the race. The other represented the TT race marshals, most of whom are usually volunteers or motorsports enthusiasts.
A Crown coin was also issued in celebration of the event. It featured the official TT logo in front of the race route map and a chequered flag background.
2019
In 2019, the Isle of Man released two £2 coins marking 112 years since the first TT race in 1907.
The reverse designs features legendary rider, Steve Hislop, racing the Tourist Trophy track.
Steve 'Hizzy' Hislop is an 11 time winner of the notorious Tourist Trophy races. His extraordinary racing career has cemented him as a hero of the TT mountain circuit.
2018
These coins were issued in 2018 to celebrate racing legend Mike Hailwood. 2018 marked 60 years since his first TT race and 40 years since his triumphant return.
Just 3,000 of each coin entered circulation on the Isle of Man and we saw unprecedented demand from collectors looking to add the coins to their British Isles collection.
1998
Another famous race that takes place annually on the island, is the Rally Isle of Man.
The Rally Isle of Man – previously known as The Manx Trophy Rally – was first held in 1963 and became a well known event in the British Open Rally Championship.
In 1998, the Isle of Man released the Isle of Man Car Circulation £2 coin featuring three old-style race cars on the track.
1981
The first Isle of Man TT 50p issued in 1981 features famous motorcyclist Joey Dunlop.
Only 5,000 coins of this design were struck. Were you lucky enough to find this in your change on the Isle of Man? Let us know in the comments below!
---
Do you have any Isle of Man TT races coins in your collection? Let us know in the comments below!
---
Secure the 2023 Isle of Man TT Races £2 Coin for your collection!
Your 2023 Isle of Man TT £2 Coin has been struck to a Superior Brilliant Uncirculated condition and is carefully encapsulated in official Change Checker packaging.
We only have a small initial allocation, so now's the time to join the race to secure your 2023 Isle of Man TT £2, whilst stocks last!