Posts Tagged 'Isle of Man'
Are you a collector of Isle of Man coinage?
The island has released some truly beautiful coins in recent years, and as their mintage figures are typically much lower than UK coins, they are often highly sought-after by collectors…
The recent release of a second Christmas themed £2 coin has got everyone at Change Checker HQ talking, and so in this blog I've decided to take a look at some of our favourite Isle of Man coins!
1) 2019 Santa £2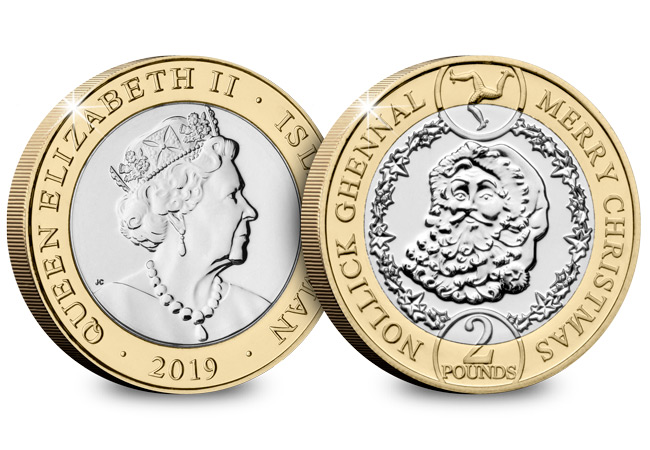 The Isle of Man is renowned for their Christmas themed coins.
Traditionally the island release Christmas themed 50ps most years, however last year an incredibly popular Christmas £2 coin was released for the very first time, and this has now been followed by a second £2 this Christmas.
This year's magical design features an enchanting portrait of Old St. Nick and bears the inscription 'Nollick Ghennal' which is Manx for 'Merry Christmas'.
At the top of the coin, the distinctive Isle of Man Triskelion (three armoured legs) can be seen.
2) 2019 Peter Pan Set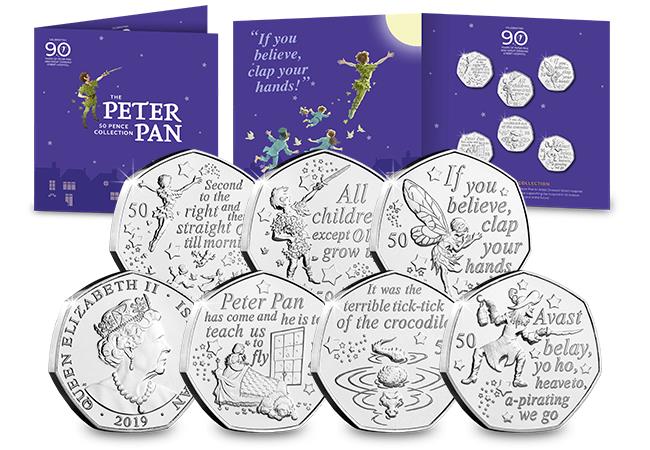 This year, collectors were swept off their feet by this set of 6 commemorative Peter Pan 50p coins.
These are the very first coins to feature 'the boy who never grew up' and the set has been issued to commemorative the 90th anniversary of Peter Pan author, JM Barrie, gifting the rights to the story to Great Ormond Street Hospital.
The first coin in the series features an engraving of Peter Pan from David Wyatt's illustration from the Oxford University Press edition and includes the iconic quote from the book, 'Second to the right and straight on till morning'.
25,000 of each design entered circulation, but only on the Isle of Man so you'd be incredibly lucky if you managed to come across one in your UK change!
3) 2017 Triskelion £5 Coin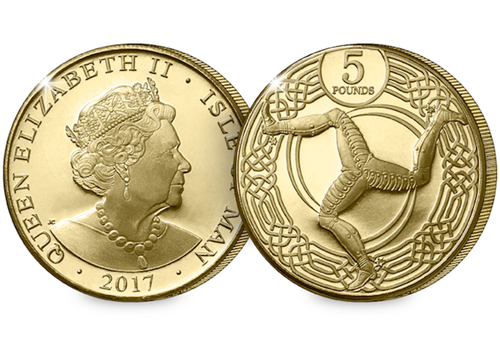 This £5 coin from 2017 features the Triskelion (three armoured legs) which is arguably the most recognised symbol of the island (featured on both the coat of arms and the flag).
The Isle of Man is the only country that circulates £5 coins, which means you could actually spend this coin in shops on the island!
But if you were lucky enough to have one I doubt you'd want to spend it, as it's so unusual to have a circulation £5 coin in your change!
The coin is reasonably light when compared to our UK £5 coins. In fact, its size is 6mm smaller than the traditional UK commemorative £5 coins – so light enough to carry in your pocket!
4) 2003 Christmas 50p: The Snowman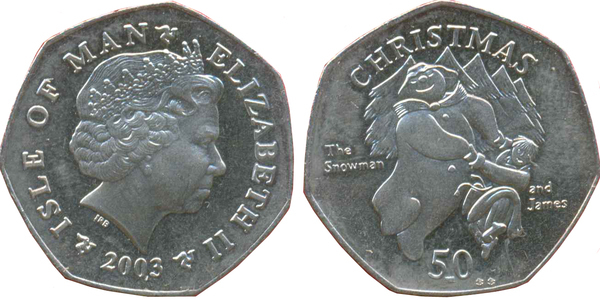 2003 marked the very first time The Snowman featured on circulating coinage.
The Isle of Man released a limited-edition coin to mark the 25th anniversary of the release of the 'The Snowman' by Raymond Briggs.
Only 10,000 of these coins were ever minted, which makes it incredibly sought-after. In fact, this coin sells for well over face value on the secondary market, often fetching more than £200!
Since 2003, the Snowman has featured on a number of Isle of Man Christmas coins, and has even made two appearances on UK coins, which have been incredibly popular with collectors.
5) 1997 TT Races 50p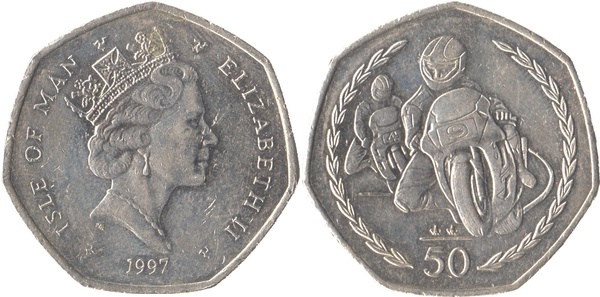 This highly sought-after 50p commemorates the 1997 TT races on the island – 90 years since the very first race in 1907.
The Isle of Man has become synonymous with the legendary TT races and each year since 1981 coins have been issued on the island to celebrate the occasion.
The 1997 coin celebrates eleven-time TT race winner Philip McCallen and is one of the most popular TT 50ps released by the Isle of Man.
Whilst there are many Isle of Man TT 50p coins in circulation, this isn't the only denomination issued for the event…
6) 2018 TT £2 pair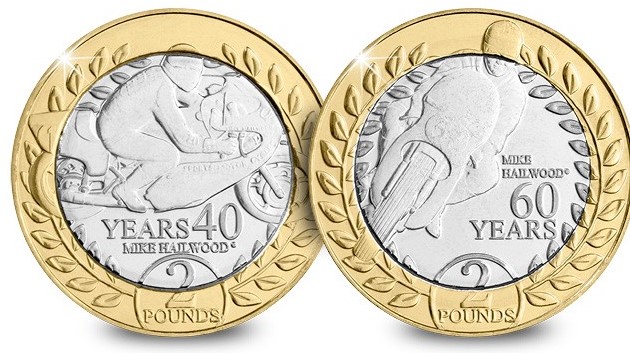 £2 coins such as these have also been issued to celebrate the Isle of Man TT races.
These particular coins from 2018 mark 60 years since fan favourite 'Mike the Bike' first raced the International Isle of Man TT and 40 years since he returned to the event. They were officially licensed by the Isle of Man TT & Mike Haliwood foundation.
Mike Haliwood secured 14 Isle of Man victories during his racing career and his triumphant return to the TT has been described as 'one of the most emotional moments of 20th century sport'.
Only 3,000 of each coin entered circulation on the Isle of Man, making them very hard to come by and practically impossible to find in your UK change.
7) 2011 Tosha Cat £2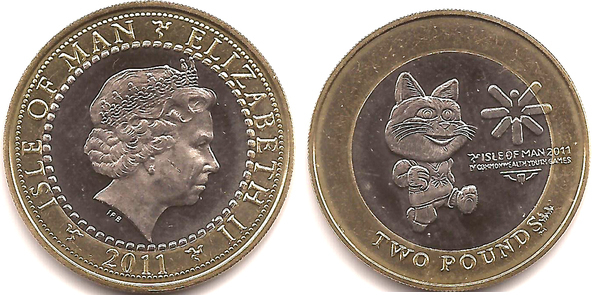 In 2018, this coin caused a stir on Facebook coin groups and was even voted 'Coin of the Year' by the coin collecting community.
The £2 was actually issued in 2011 to commemorate the fourth Commonwealth Youth Games, held on the Isle of Man for the very first time.
However the coin seemed to be overlooked for the next 7 years until it piqued the interest of collectors on Facebook and prices on the secondary market started to skyrocket!
Sold prices for the coin vary and buyers must beware of fakes, however in some cases you'd be looking at parting with over £100 to get hold of one.
8) 2017 Round £1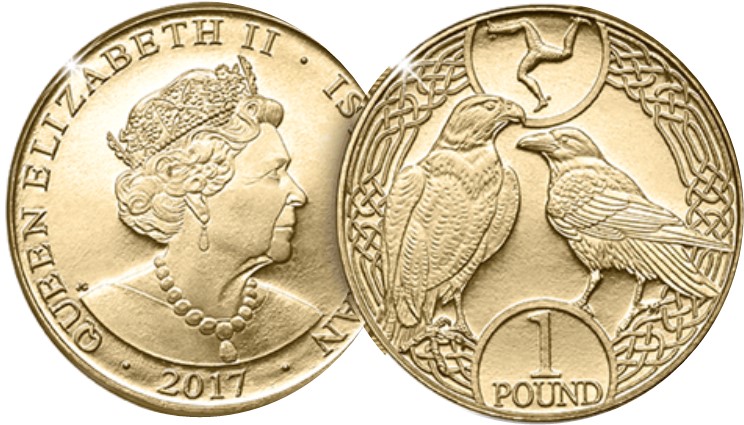 In 2017, when the UK welcomed the brand new 12-sided £1 coin, the Isle of Man confirmed they would be keeping the familiar round pound coin – making them the only British Isles country to do so.
However, their round pound was to feature a complete redesign. It now featured a Falcon and a Raven which are symbolically associated with the Island and feature on the Coat of Arms.
The new round pound features Jody Clark's sixth effigy of HM Queen Elizabeth II, which also features on coins from Crown dependencies and Commonwealth countries.
You might recognise the portrait from the £5 coin mentioned earlier as both look fairly unusual due to the inclusion of the Queen's shoulders on the design.
9) 1978 Definitive £1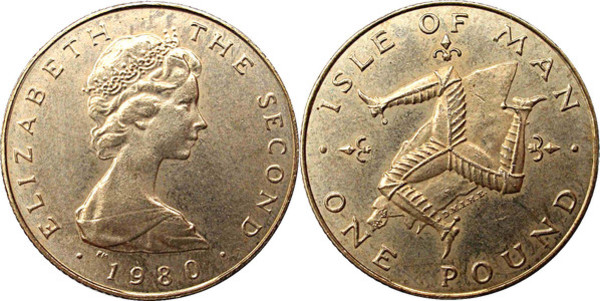 When it comes to pound coins, the Isle of Man were ahead of the game…
In fact, the world's first base-metal circulating £1 was actually issued on the Isle of Man – five years ahead of the first £1 coin issued in mainland Britain.
It features the Three Legs of Man against a map of the island on the reverse and was issued as part of the Isle of Man £1 coin series.
These old style £1 coins were withdrawn from circulation in 1983, but would certainly make for an interesting addition to any collection.
10) 1990 'Penny Black' Crown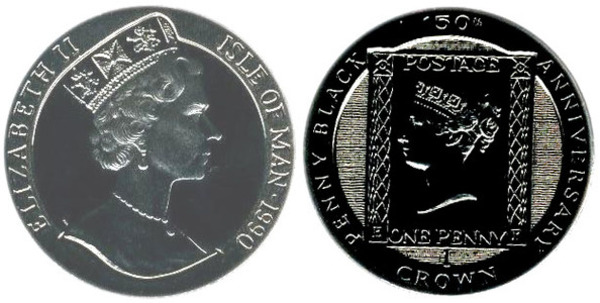 In 1990, to commemorate the 150th anniversary of the first postage stamp – the 'Penny Black Stamp' – the Isle of Man released this striking Crown coin.
The coin features an image of the stamp which was designed by Henry Corbould in 1840, showing the profile of the young Queen Victoria.
Struck in 'pearl black' Copper-Nickel, this highly innovative coin was awarded with three Coin of the Year Awards – Best Crown, Most Innovative Coinage and overall Coin of the Year.
A reissued version of this coin was struck in 2015 to celebrate the 175th anniversary.
Do you collect British Isles coinage and are you luck enough to have any of these beautiful Isle of Man coins in your change? Let us know in the comments below!
---
Celebrate the festive season with the BRAND NEW 2019 Isle of Man Christmas Santa £2 coin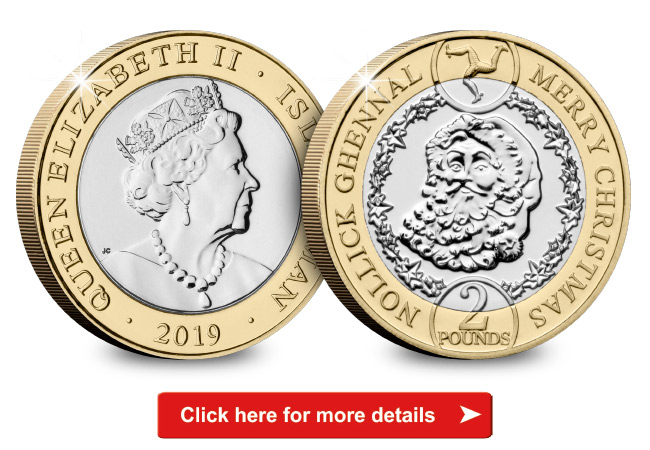 The 2019 Isle of Man Christmas Santa £2 coin is a truly unique festive addition to any collection this Christmas season, or could even make the perfect Christmas gift or stocking filler for a friend or relative!
Click here to secure yours in Brilliant Uncirculated quality.
In September 2011, the fourth Commonwealth Youth Games were hosted on the Isle of Man and to commemorate this sporting event, Pobjoy Mint issued a new £2 coin on behalf of the Isle of Man Treasury.
This £2 coin featured the official Commonwealth Youth Games Mascot, Tosha the Cat and the official logo of the games.
But what makes this £2 coin so special?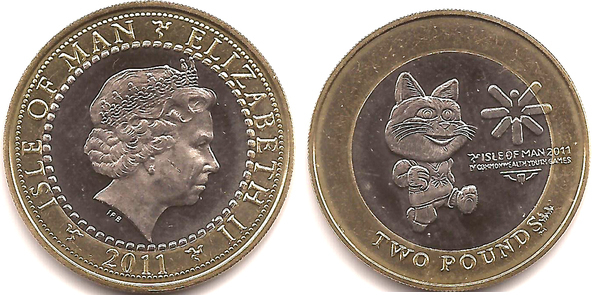 The name 'Tosha', meaning 'first' in Manx Gaelic is fitting considering this was the first time the games were held on the island. However, even though this significant sporting event and the fun design representing it would make this coin a great find for collectors, the popularity of the Tosha Cat £2 on the secondary market remains a force to be reckoned with…
The rise of the Tosha Cat £2
So how did this £2 coin come to be so popular?
Whilst rarity is normally a large factor in how collectable a coin is, mintage figures for British Isles coins are notoriously hard to track down and this coin is no exception. No one actually knows the true mintage figure, so it can't be said how rare the coin is, although we do know that British Isles coins typically have lower mintages than UK coins due to the smaller population.
One thing we do know for certain is that the Isle of Man Tosha Cat £2 is definitely sought-after amongst collectors.
Although the Tosha Cat £2 was issued in 2011, it wasn't until it was posted on Facebook coin groups in 2018 that the price started skyrocketing on the secondary market. In fact, in 2018 this coin became 'Coin of the Year' on Facebook coin groups, and this is where it really found its success.
Following the Facebook hype surrounding the Tosha £2, eBay bidding wars began. At a time when the Kew Gardens was selling for around £80 on eBay, this coin was regularly selling for double that!
Listed for thousands of pounds on eBay!
In fact, listings on eBay continue to regularly exceed £100 and even go up to thousands of pounds for this Isle of Man coin!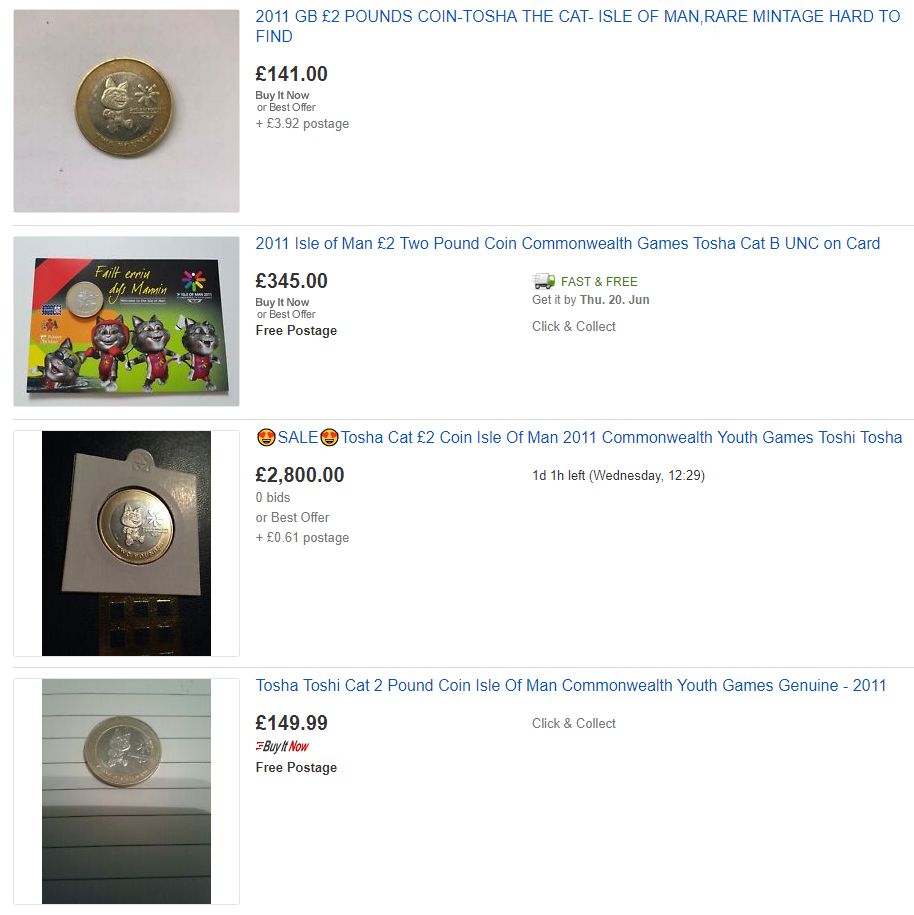 Although the coin may not actually sell for such eye watering amounts, a quick check of the recent 'sold' listings shows that some collectors are willing to pay more than 50 times face value to own this coin!
More commonly the coin sells for around £12, which is still an impressive 6 times its face value.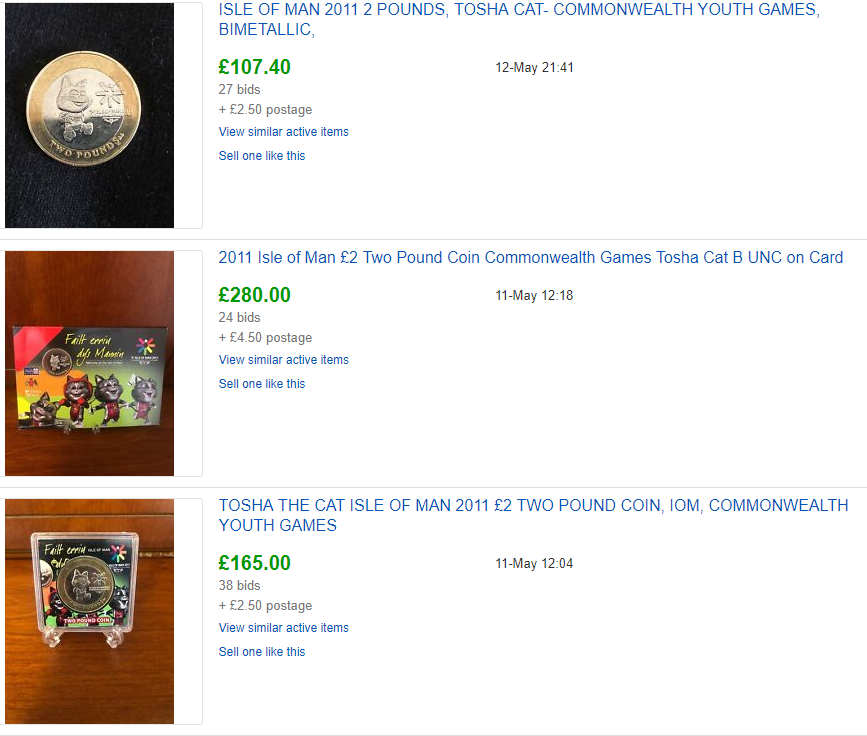 Beware of Fakes!
As is the story with the Kew Gardens 50p, the popularity of this coin has unfortunately led to fakes being produced and sold on the secondary market, taking advantage of unsuspecting collectors who would be willing to pay well over face value to own the coin.
If you're looking to secure the Isle of Man Tosha Cat £2 for your collection, it's certainly worth doing your research, buying/swapping from a reputable seller (look for eBay feedback or successful swaps on Facebook groups) and checking the images of the coin to make sure it looks legitimate.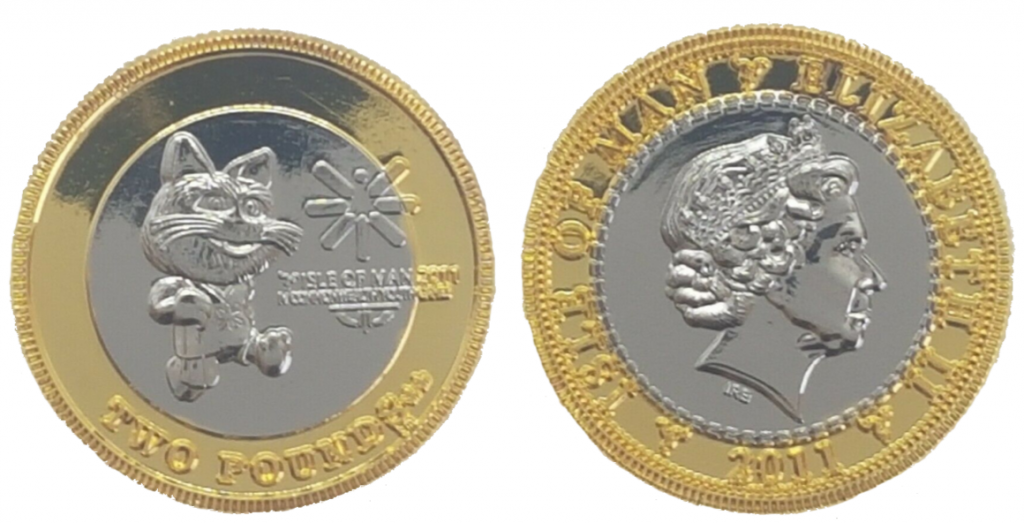 The image above gives you an idea of what a fake Tosha Cat £2 coin may look like.
Fake coins will be overly shiny, the strike will be much less defined and the coin may well weigh less than the standard 12g £2 coin.
Popular Isle of Man Coins
The Isle of Man has released some fantastic coins over the years, including the much-loved Christmas 50ps, TT race coins and most recently, this year's hugely popular release of the Peter Pan 50ps.
As the Isle of Man has some wonderful coin designs and really exciting collecting opportunities, you can see why more and more UK collectors are turning their attention to British Isles coins. But do you have any in your collection?
---
Own both 2019 Isle of Man TT £2 coins!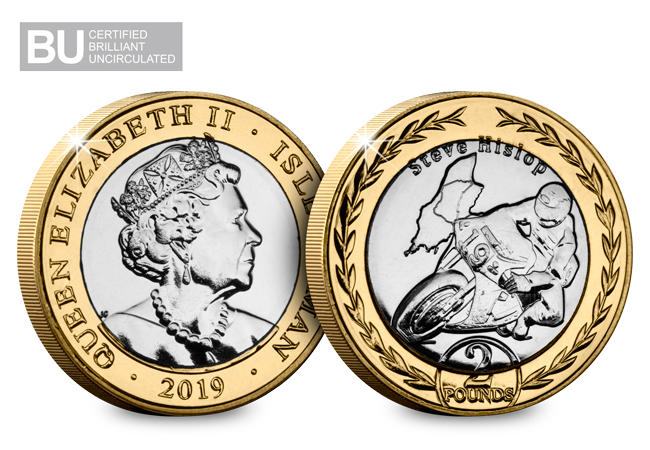 If you're interested in collecting Isle of Man coins, you'll love the 2019 Isle of Man TT £2 coin duo, which is now available in Brilliant Uncirculated condition.
The wait is finally over and it is with great excitement that we can reveal the brand new Isle of Man Peter Pan 50p coins to you all…
These amazing coins have been developed in partnership with Great Ormond Street Hospital Children's Charity to celebrate 90 years since Peter Pan author, J.M. Barrie, gifted all future rights in Peter Pan to them.
Our friends at the Westminster Collection say, "It has been an honour working with this fantastic charity to create the WORLD'S FIRST Peter Pan 50ps, and for every coin sold a donation will go directly to GOSH Charity to support the hospital's most urgent needs: fund support services, pioneering research, equipment and refurbishment."
Peter Pan remains one of the most cherished and loved children's stories of all time and as such demand for these new 50p coins is expected to be extremely high.
Whether you're an avid 50p collector, a Peter Pan fan, or just a big kid at heart, I'm sure these coins are bound to sweep you off your feet.
The Official Peter Pan 50p Coin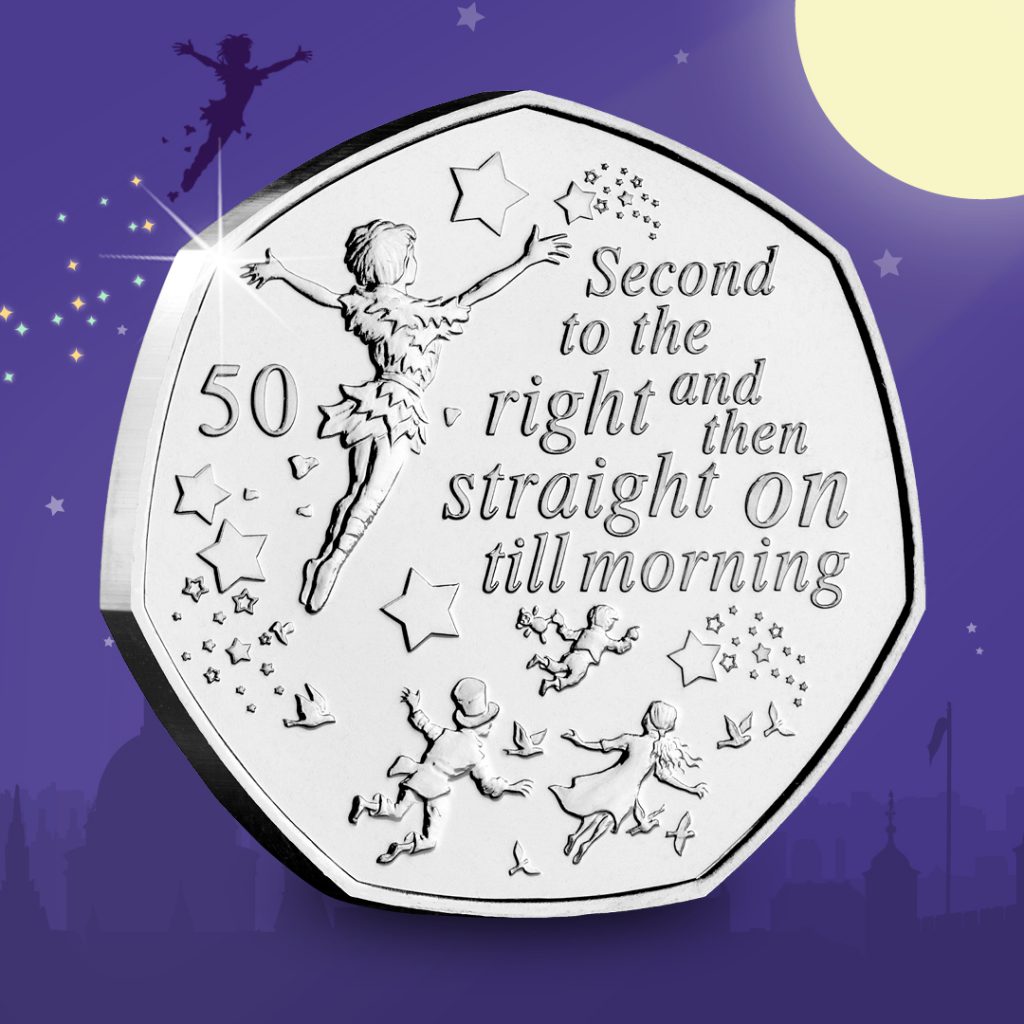 The brand new Peter Pan 50p features an engraving of David Wyatt's illustration from the Oxford University Press edition of Peter Pan, alongside a well-known and much loved quote from the book.
This is the first time ever that Peter Pan has featured on a 50p coin and I'm sure that this magical design will go down a treat with collectors, especially following the popularity of previous book character coins.
The COMPLETE Peter Pan 50p Set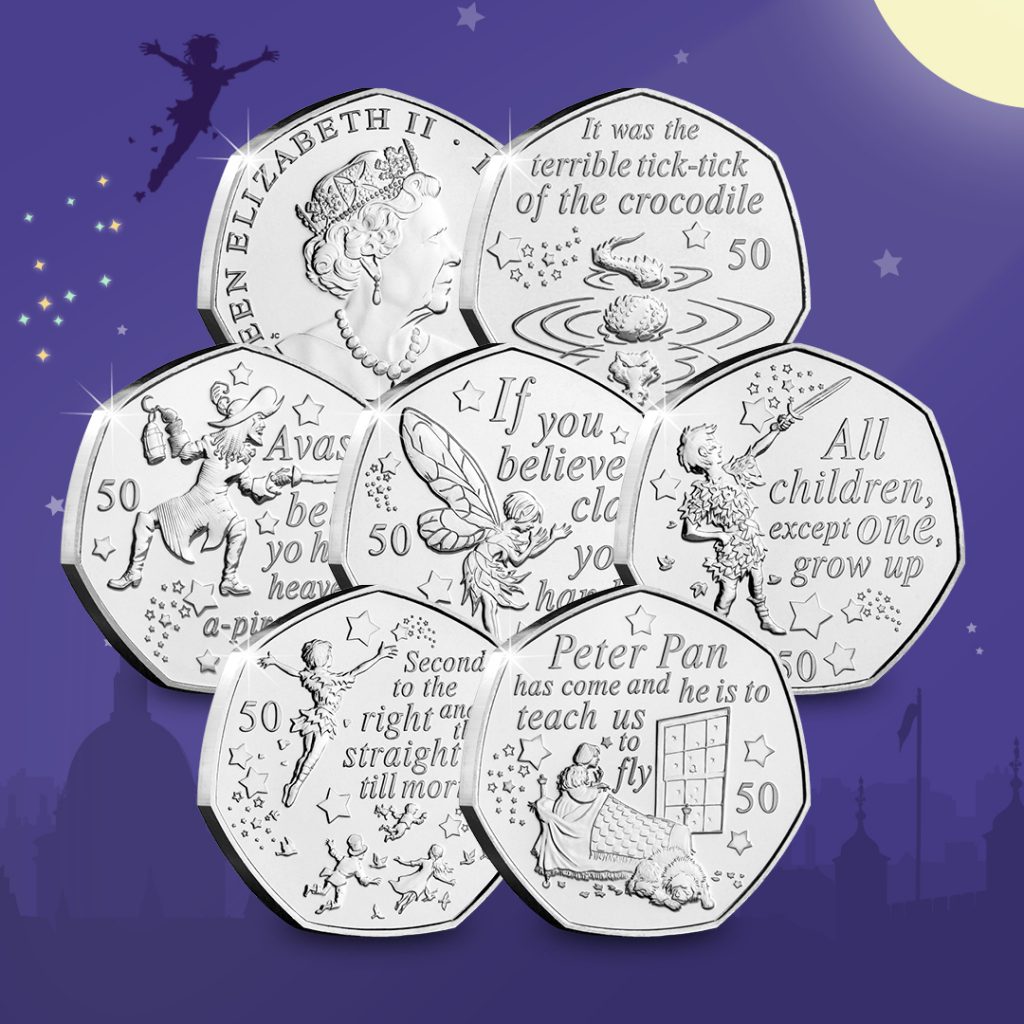 Six coins have been created in total, each featuring a different quote and an accompanying specially commissioned design showcasing one of David Wyatt's stunning illustrations from the Oxford University Press edition of Peter Pan.
Each coin is dedicated to a favourite character from the book, including Peter Pan, Captain Hook, Tick-Tock the Crocodile, Tinkerbell, Wendy and Nana.
Whilst I'm sure you'll agree each design is truly beautiful, my personal favourite has got to be Tinkerbell! Let me know in the comments below which design you prefer.
But these coins aren't just available in Brilliant Uncirculated quality; they will in fact be available in a range of other finishes too…
The Silver Proof Peter Pan 50p Coins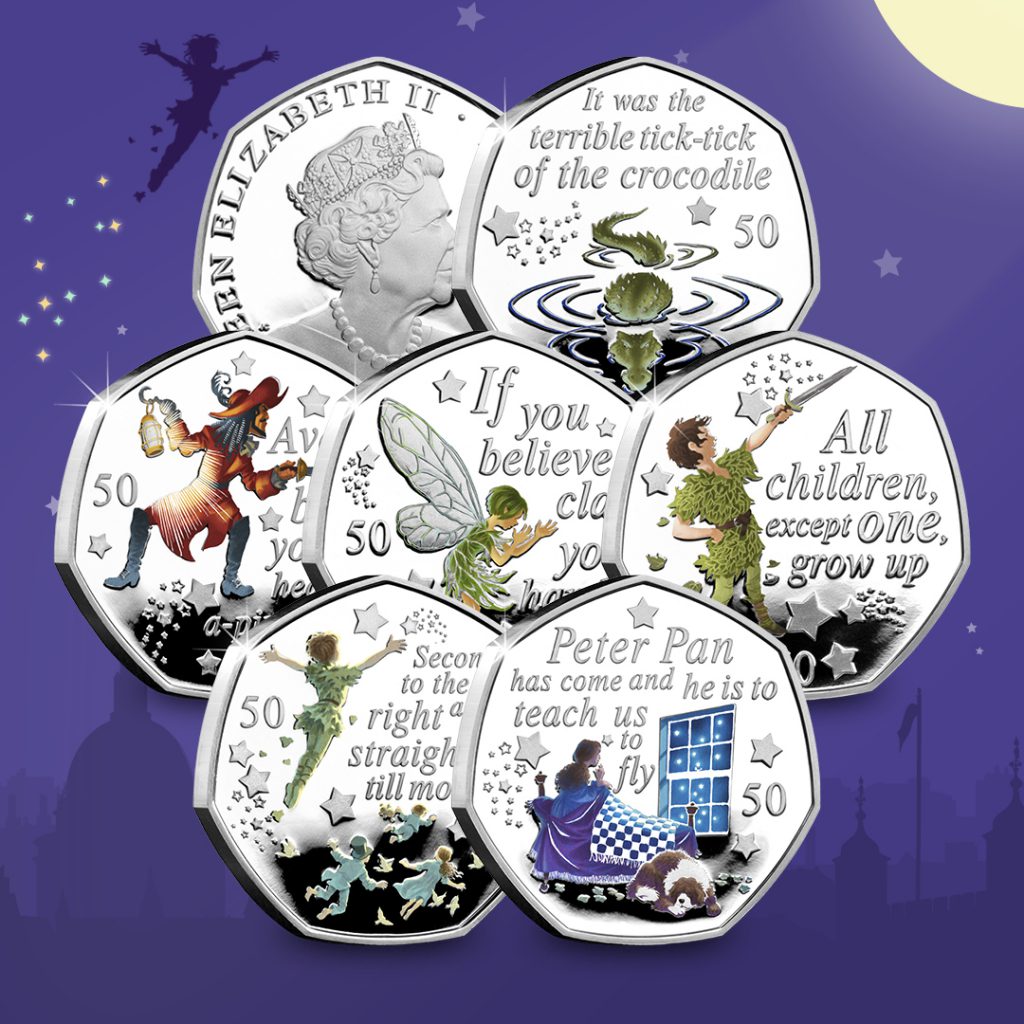 Struck in Sterling Silver to an immaculate Proof Finish, these coins feature an impressive full-colour illustration of the stunning designs, really bringing the magic of the story to life.
Silver Proof 50p's are amongst the most sought-after new issues around and with JUST 10,000 of the individual Peter Pan Silver Proof 50p and JUST 1,995 of the Silver Proof set available worldwide, a sell-out is expected.
The Gold Proof Peter Pan 50p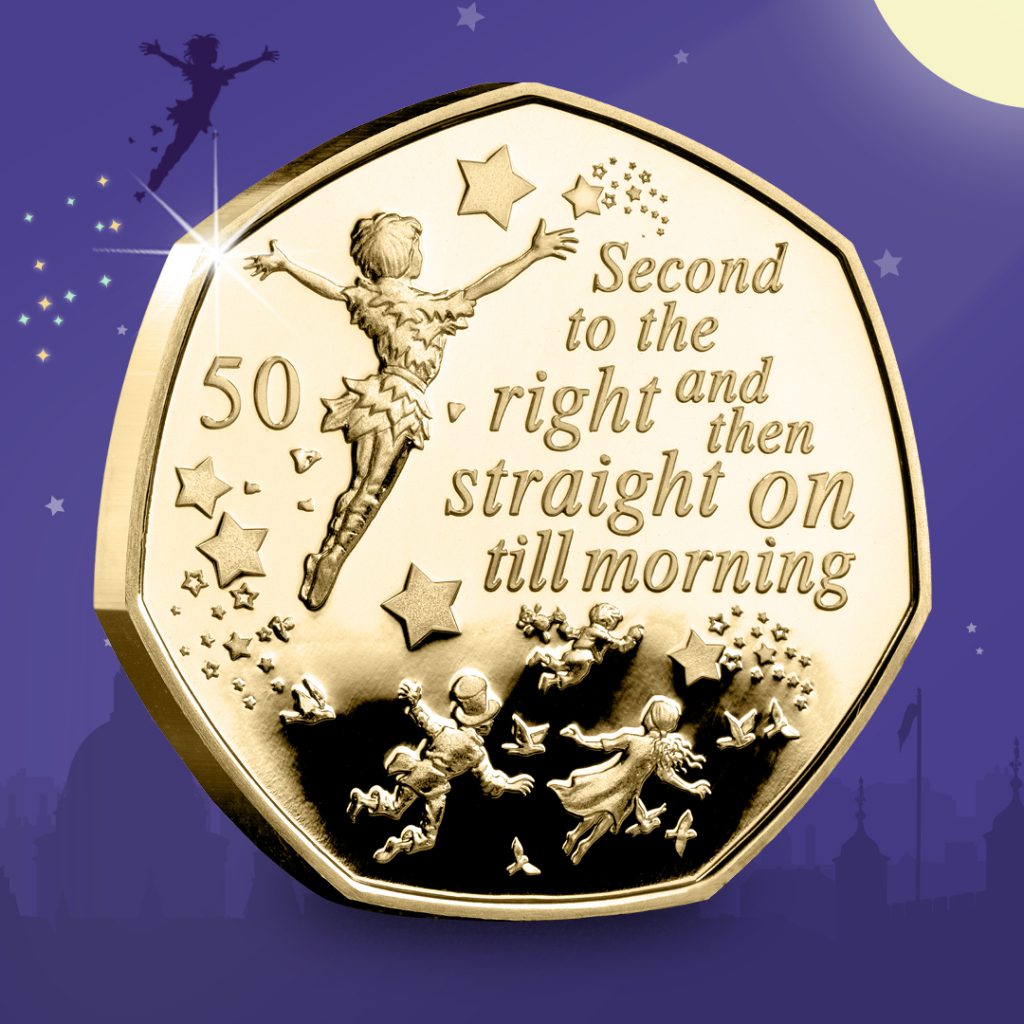 This is the crème de la crème of the range you could say…
Struck from 22 Carat Gold to a perfect Proof Finish, JUST 500 lucky collectors worldwide will be able to own this prestigious new coin.
New Gold Proof 50p's have a strong sell-out history and high demand is expected for the Gold Proof Peter Pan 50p.
The British Isles really have had some fantastic releases recently and I must say that these coins from the Isle of Man have got to be some of my favourites! But what do you think about these coins? Let us know in the comments below!
---
Add the 2019 Peter Pan 50p coins to your collection!

These beautiful new coins are now available to add to your British Isles collection, starting from £6.25 for the individual Peter Pan coin in Brilliant Uncirculated quality and £37.50 for the Brilliant Uncirculated set.
If you'd like to take a piece of magic home with you, click here to order your Peter Pan 50p coins.