Posts Tagged 'king charles iii coin'
2023 has been quite the year for King Charles III. As well as being crowned King on 6th May, His Majesty celebrates his 75th birthday on 14th November 2023.
To celebrate his milestone birthday, The Royal Mint have issued a UK £5 coin featuring a reverse design representing The King's love of nature.
In case you missed it…
You may recognise the King Charles III 75th Birthday £5 from earlier this year, as it was one of 5 commemorative coins issued in the 2023 Annual Coin Set. It's actually the final coin from the set to be released individually, so now's the time to secure it if you missed out on the 2023 Annual Set.
A passion for nature
Inspired by King Charles' passion for nature and conservation, designer Dan Thorne has created a beautiful reverse design on this new UK £5. It includes The King's royal cypher along with the number 75, all framed within oak leaves and delphiniums. The design was even personally approved by The King himself.
It's not just nature that His Majesty is passionate about, he also has a keen interest in the arts, architecture and supporting disadvantaged young people. In 1976, when he was His Royal Highness The Prince of Wales, The King founded The Princes Trust, an organisation committed to improving the life of young people in the UK.
He's also been an avid campaigner for environmental issues and sustainability, living by the principle that it's better to work with nature than against it.
A closer look
As well as the main aspects of the design such as the plants, royal cypher and the years 1948-2023, there are a few features on the coin you may not have noticed at first glance.
On closer inspection, we can see a ladybird, 4 bees and a dragonfly hidden within the design – another nod to The King's love of nature.
New UK Coinage for King Charles III
The King's love for nature and his passion for conservation is also reflected in the UK's New Coinage. The 8 brand new coins feature designs themed around British wildlife and conservation, whilst the obverses feature King Charles III and a special privy mark.
Find out more about the UK's New Coinage here >>
Secure your 2023 UK King Charles III 75th Birthday £5 in Brilliant Uncirculated quality for just £12.99 (+£2.99 postage) >>
*** UPDATE – November 2023 ***
It's just been announced that the new Atlantic Salmon 50p will start entering circulation from the end of November 2023! Keep your eyes out for this coin in your change…
---
It's #AllChange for UK coinage, as the 1p through to the £2 now have brand new designs to usher in the reign of King Charles III.
Eight new coins have been released – one for each of our circulating denominations – featuring BRAND NEW reverse designs and (for the first time in 70 years) the King on the obverse.
A new era of King Charles III coinage
Although we've already seen several commemorative 50p, £2 and £5 coins issued bearing His Majesty's effigy on the obverse, this will be the first time we'll see his portrait on the 1p, 2p, 5p, 10p, 20p and £1 – the coins we'll find in our everyday change.
Our circulating coinage has changed in the past, with different effigies of Her Majesty Queen Elizabeth II on the obverse designs and two different reverse designs over the last 70 years. However, this will be the first time that both 'heads' and 'tails' sides of coins have changed at the same time.
Inspired by wildlife conservation
From the 1p to the £2 coin, we've been treated to 8 brand new reverse designs, each featuring iconic British wildlife.
His Majesty is known for his keen interest in wildlife conservation and plant life, having been Patron of The Wildlife Trust since 1977. This passion was a key inspiration for The Royal Mint when designing the UK's new coinage.
New 'heads' and 'tails' designs
All of the reverse designs share a common theme – a section showing each coin's denomination against a background of a stylised logo featuring 3 interlinking Cs, representing King Charles III. We can also see His Majesty's effigy on the obverse of all 8 coins, the first time he's appeared on all UK coin denominations.
The new UK 1p coin represents British woodland with a design featuring an adorable dormouse all curled up.
The design on the first King Charles III 2p features an inquisitive red squirrel. Red squirrels are native to the UK, however their numbers have dwindled since the introduction of the grey squirrel in the 1800s, meaning they can be difficult to find in parts of the UK.
Our new 5p coin bears a traditional design of Oak leaves and acorns. The Oak Tree is the national tree of England, and is thought to represent strength and endurance.
The 10p features an image of a capercaillie, a bird from the grouse family that doesn't appear anywhere else in the UK apart from Scotland.
The animal that features on the new 20p coin is instantly recognisable as a puffin. Often referred to as a 'sea parrot', puffins can be found in scattered locations around the coast of Scotland, northern England, South West England and Wales.
Representing British waterways, the new UK 50p features an Atlantic salmon. Dubbed 'King of the Fish', Atlantic salmon are usually found in rivers in Wales, Scotland and North and South West England.
Excitingly, this is the first time we've seen a different design on the UK £1 coin since the introduction of the 12-sided bi-metalic £1 in 2017. The first King Charles III £1 coin features two bees, a creature synonymous with the British countryside. There are around 25 species of bumblebee and over 240 species of solitary bee in the UK.
Finally, the £2 coin features flowers of the four nations of the UK – a rose for England, a thistle for Scotland, a daffodil for Wales and a shamrock for Northern Ireland. This design may remind you of the round pound designs from 2013 and 2014 which featured the flowers of the nations.
A special addition for collectors
As well as brand new designs on both sides, these coins also feature a special 'Privy Mark' on the obverse – an unusual and potentially collectable feature.
To set these coins apart from those you'll find in your change, they'll each feature a small crown next to His Majesty's effigy on the obverse.
All Change for UK Coinage!
Considering this is the biggest change we've seen to UK coinage in decades, we're expecting a huge collecting rush for New UK Coinage for King Charles III.
What's more, although these will be the new coins to replace our current circulating coinage, it could be years until they are easily found in your change…
So don't miss out! Avoid the long wait of finding these coins and make sure you're one of the first to add this exciting set to your collection, including the special collectable privy mark!
Secure the complete collection for just £32.50 + (p&p) here >>
Since 4.9 million 50ps bearing the first portrait of King Charles III entered circulation last year, collectors have been on the lookout for His Majesty in their change.
We asked you to help us hunt down the first King Charles III 50p by entering your postcode into our map as soon as you found the new 50p. We've tracked the coin up and down the country, from Inverness to Penzance, but where in the UK are you most likely to find the King Charles III 50p?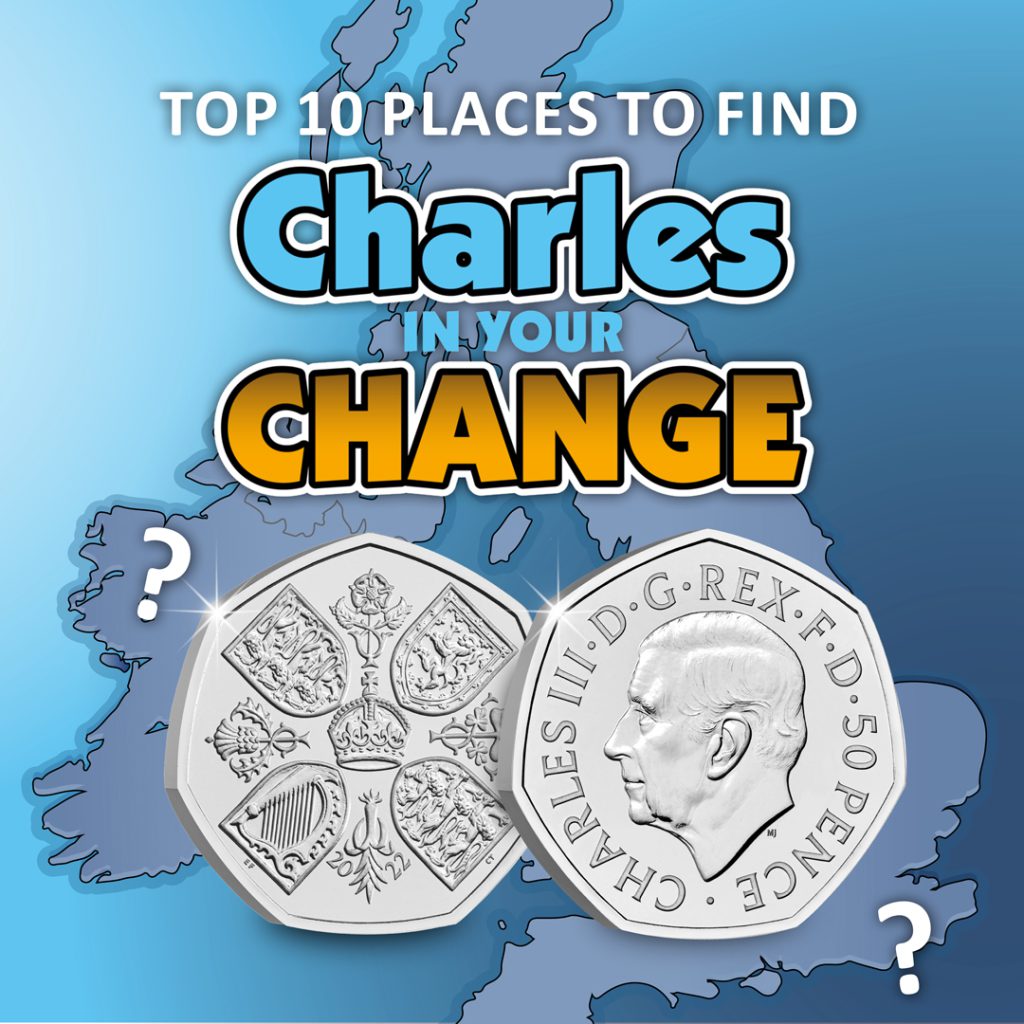 Here are the top 10 places to find Charles in your Change…
10. North Wales (Llandudno)
1.9% of King Charles III 50ps were found in Llandudno (LL) postcodes.
9. Glasgow
1.9% of King Charles III 50ps were found in Glasgow (G) postcodes.
8. Birmingham
1.9% of King Charles III 50ps were found in Birmingham (B) postcodes.
7. Oxford
2.2% of King Charles III 50ps were found in Oxford (OX) postcodes.
6. Derby
2.2% of King Charles III 50ps were found in Derby (DE) postcodes.
5. Newport
2.5% of King Charles III 50ps were found in Newport (NP) postcodes.
4. Stoke on Trent
2.8% of King Charles III 50ps were found in Stoke on Trent (ST) postcodes.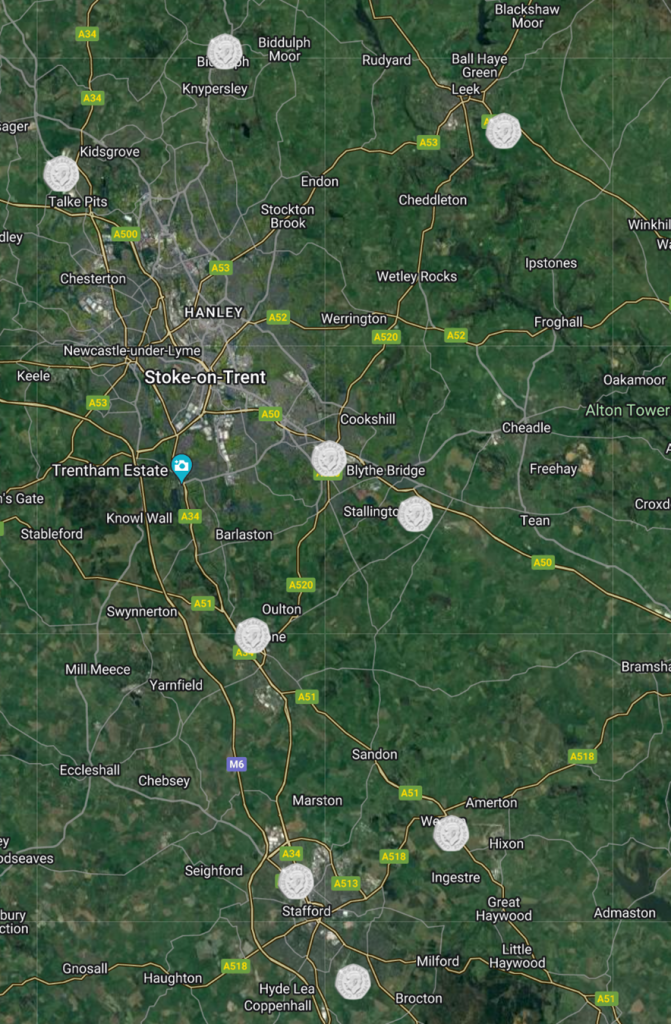 3. Nottingham
2.87% of King Charles III 50ps were found in Nottingham (NG) postcodes.
2. Northern Ireland (Belfast)
2.9% of King Charles III 50ps were found in Belfast (BT) postcodes.
1. Newcastle Upon Tyne
3.2% of King Charles III 50ps were found in Newcastle Upon Tyne (NE) postcodes.
Not forgetting London…
An honourable mention goes to Greater London which had 16 entries across 8 postcodes (making up a whopping 5.1% of all KCIII 50ps found).
Do you live in one of these areas? If so, you're highly likely to come across a King Charles III 50p in your change. You can view the Charles in your Change map in full to check your own area here >>
Make sure you're using cash where possible to maximise your chances, and who knows, maybe you'll find other commemorative coins along the way.
Yet to find a King Charles III 50p?
If you're yet to find a King Charles III 50p, you can secure one in Brilliant Uncirculated quality for your collection here >>