Posts Tagged 'queen elizabeth portrait'
Royal Australian Mint and Perth Mint are set to commemorate Queen Elizabeth II with special memorial obverses, whilst their King Charles III portrait awaits approval:
"In the coming months the Australian Government will announce details of… an effigy of King Charles III for all Australian coins" – Royal Australian Mint.
Royal Australian Mint's Queen Elizabeth II Memorial Obverse Design
The first coinage featuring His Majesty's effigy are expected to be issued in late 2023.
Until then, Royal Australian Mint have issued a final commemorative coin design featuring Queen Elizabeth II effigy.
Royal Australian Mint's Queen Elizabeth II Memorial Obverse will be used on collectable and investment coins starting from 01.01.2023
Six effigies of Her Late Majesty have appeared on Australian coins but the new memorial design will feature the Queen's years of reign as an inscription – "Elizabeth II 1952-2022".
The Memorial Obverse will also feature on coins issued by The Perth Mint in Western Australia.
Queen Elizabeth II Memorial Coins by The Perth Mint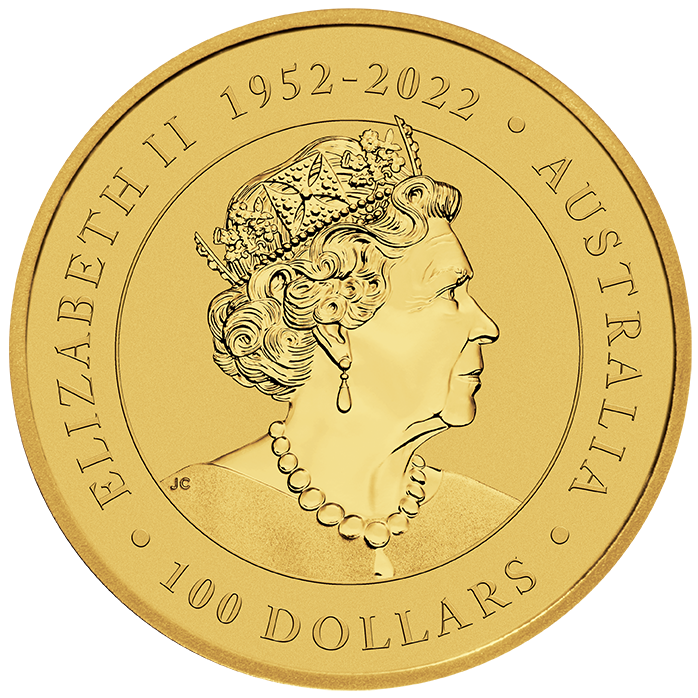 The Australian Kangaroo 2023 Gold, Silver and Platinum Bullion Coins will be The Perth Mint's first releases featuring this memorial obverse.
Following the bullion kangaroos, the memorial obverse will be used on select Australian legal tender coins too.
Whilst we eagerly anticipate the reveal of Australia's King Charles III effigy, we've seen His Majesty's portrait revealed on our UK coins and banknotes.
UK King Charles III Coin Obverse Effigy
The first effigy of King Charles III first appeared on a UK 50p earlier in 2022, commemorating Queen Elizabeth II.
The coin has since entered circulation, with 4.9 million coins currently out there to find.
This obverse also featured on the Queen Elizabeth II Memorial £5 coin but we're yet to see it on our lower denomination and £2 coins.
However, some of the first 2023-dated UK coins have been confirmed, featuring His Majesty's portrait, so we can certainly start getting excited! Find out more here >>
King Charles III Portrait Revealed on UK Banknotes
His Majesty's portrait will appear on the front of UK banknotes from mid-2024.
There will be no changes to the existing designs which means we've all got a fantastic opportunity to find a new re-issued version our favourite banknote!
Taking guidance from the Royal Household, the new banknotes will only be issued to replace worn Queen Elizabeth II notes. So, the two monarchs' portraits will co-circulate for some time!
Find out more and discover which serial numbers you should look out for >>
---
Are you a collector of Australian coinage? Let us know in the comments if you're exciting for the new King Charles III portrait to be revealed!
---
Find and store your King Charles III 50p alongside the first King Charles III £5 coin
Get ready to start your hunt for the new 50p in your change. Secure your Change Checker King Charles III First Effigy Collecting Pack today!
2022 is likely a year no collector will forget.
We've celebrated a Platinum Jubilee, mourned the loss of our Queen and welcomed a new monarch to the throne.
And, as ever, these extraordinary moments are retold through our UK coins.
Today, to commemorate Queen Elizabeth II's incredible life and reign, an official UK Memorial coin set has been released. The coins feature the eight definitive coins from 2022, alongside the new Memorial 50p and £5 with the King's portrait.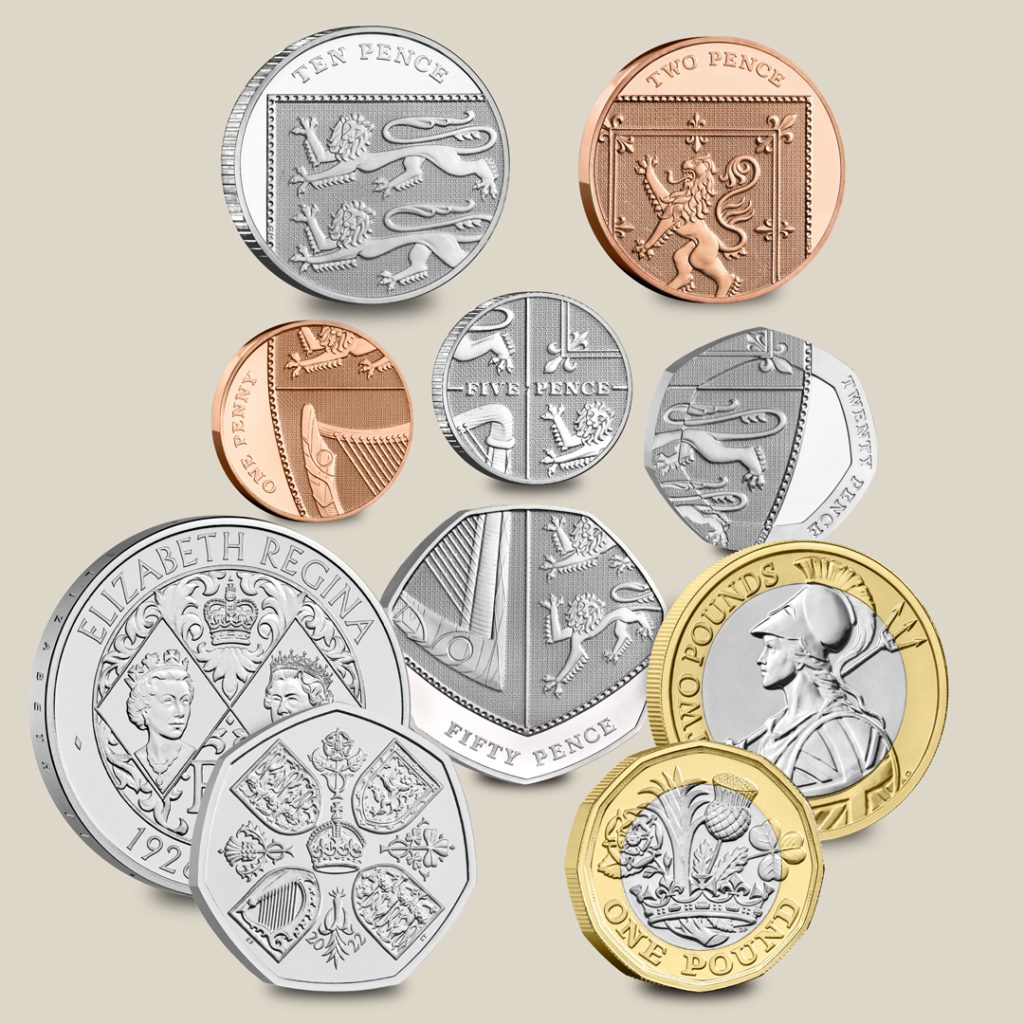 Last UK Coins of Queen Elizabeth II
Importantly, the definitive coins in this set will be the last in the UK to feature Her Majesty's portrait.
What's more, each definitive obverse design also features a special privy mark to show the Queen's year of birth and year of passing – a never-before-seen feature for these coins, which is bound to add to their collectability.
Since Her Majesty's passing, we've seen incredible demand for QE II coins. Both historic and new issues. Recent releases are continuously selling out at The Royal Mint and older issues are becoming increasingly scarce as the nation rushes to secure keepsakes and lasting tributes for the Queen.
And this set features the very last coins of Her Majesty Queen Elizabeth II, meaning rapid sell outs of the limited precious metal versions are absolutely on the cards…
The good news for collectors is that the Brilliant Uncirculated version of the set is unlimited.
However, The Royal Mint have announced that stock will only be available until the 31st December 2022, so the sales window is incredibly limited for those of you wanting to secure this set.
Appearing on our coins throughout her outstanding reign as our longest serving monarch, I'm sure you'll agree that this set really is a touching tribute to Her Majesty. It's a piece of history to treasure for generations to come.
---
Let us know in the comments below if you like the privy mark on the last Queen Elizabeth II coins.
---
Own the Last Coins of Her Majesty, with special privy mark, in Brilliant Uncirculated quality
You can own the 2022 Queen Elizabeth II Memorial Coin Set in Brilliant Uncirculated quality here >>
But, due to the limited sales window, you'll need to act fast to make sure you don't miss out.
The journey from Platform Nine and Three-Quarters has begun, with the brand new 2022 UK Hogwarts Express 50p.
This UK first celebrates the world-famous scarlet steam engine, the Hogwarts Express. You can add it to your collection for JUST £4.99 (+p&p) here >>
Continue reading to discover why it's not just Harry Potter fans that are rushing to get their hands on this coin…
First introduced 25 years ago, in Harry Potter and the Philosopher's Stone, the Hogwarts Express is estimated to have transported students to the famous wizarding school, no less than SIX times a year.
And so iconic is this train, that Jim Kay dedicated the entire cover and two full pages of his fully illustrated edition of Harry Potter and the Philosopher's Stone to it.
It's also been celebrated in the UK Harry Potter 50p series – the first-ever UK coins to celebrate the famous wizard.
Excitingly, this brand-new coin is a mirror image of Jim Kay's 2015 illustrated book.
Get your hands on this brand new 50p for JUST £4.99 (+p&p) here >>
Last individual QEII UK commemorative 50p 
This 50p has been confirmed to be the last individual UK commemorative 50p to feature Queen Elizabeth II's portrait on the obverse. This is sure to make this individual coin highly sought-after.
But the whole Harry Potter 50p series has a very interesting story…
It's unlike any other.
The series includes both Queen Elizabeth II and King Charles III's portraits on them.
The Harry Potter and Hogwarts Express 50p coins feature the portrait of Queen Elizabeth II on the obverse.
However, the coins issued next year (Albus Dumbledore and Hogwarts School of Witchcraft and Wizardry 50ps) will feature King Charles III's portrait on the obverse.
This is sure to make the series even more popular with collectors, as they race to collect the last UK commemorative QEII coins, alongside some of the very first KCIII coins.
You can get ahead of the crowd and pre-order the final two coins in the Harry Potter 50p series by clicking here >>
Special lenticular feature on 2022 UK Hogwarts Express 50p
Unique to the Harry Potter 50p series, a lightning bolt lenticular feature appears on the reverse design of the 2022 UK Hogwarts Express 50p coin.
When tilted, the lightning bolt transforms into the number 25, in celebration of the first book's anniversary.
This has been catching the attention of collectors since it first appeared on the 2022 UK Harry Potter 50p.
The best way to view this lenticular feature is with the Change Checker Phone Magnifier!
It works by clipping onto a mobile device, and magnifying the camera, allowing you to see the incredible small detail of the Hogwarts Express 50p!
Get yours here for JUST £9.99 (+p&p) >>
It's believed the lenticular feature will also appear on the 2023 Harry Potter 50p coins.
---
Combining the intricate reverse design, with QEII's portrait and a special lenticular feature, this coin is set to be in high demand…
Will you be adding this brand-new coin to your collection? Let us know in the comments!
---
Fill the gaps in your Harry Potter 50p collection!
Click here to fill the gaps in your Harry Potter 50p collection today >>
You can even pre-order the final two Harry Potter coins, ahead of their release next year.