Posts Tagged 'Sir Isaac Newton'
Earlier in the year, we updated our Change Checker Guide to UK Commemorative Coin Mintages which included details of all the coins issued into circulation in 2017.
But The Royal Mint has just updated its mintage figures for 2017-dated 50p coins.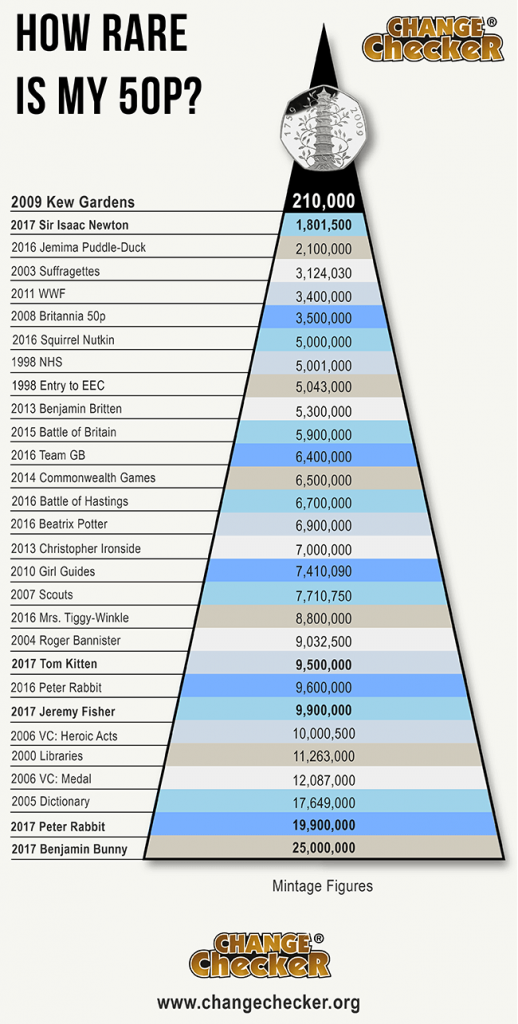 It won't be a surprise that the 2009 Kew Gardens remains king of the 50p coins, but owners of the 2017 Sir Isaac Newton 50p will be glad to hear that the coin has managed to keep its sought-after 2nd place position on the chart.  However, the final mintage has crept up by 1,500 bringing the total to 1,801,500
Whilst all four Beatrix Potter 50ps already had fairly high mintages when the figures were first revealed, the final mintages have since increased, the obvious change being the 2017 Benjamin Bunny 50p which has more than doubled.  It has been confirmed that further Benjamin Bunny 50ps went into circulation during 2018,  bringing the total mintage to 25,000,000.
---
Want to add the 2017 Jane Austen £2 to your collection?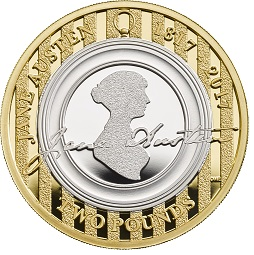 Own it today in Brilliant Uncirculated quality. Secure yours here >>
The mintage figures for the 2017 UK base metal 50p coins have been released but that'll have to wait a minute… there's some even more exciting news!
The Royal Mint have announced that there will be a 2018 Sir Isaac Newton 50p coin but the ONLY place you'll be able to get your hands on one of these is The Royal Mint Experience in Llantrisant, Wales! Interestingly, these 2018 dated coins will not be released into circulation.
Anybody visiting The Mint will get to strike a 2018 Sir Isaac Newton 50p coin but this will only be for a short period of time and subject to availability.
We're predicting that due to the short time frame and visitor numbers, there could well be substantially less than 210,000 of these coins struck, meaning the 2018 Sir Isaac Newton 50p coin could well have a lower mintage figure than even the Kew Gardens 50p!
2017 UK Base Metal Mintage Figures
Early on Christmas Eve morning The Royal Mint released the mintage figures for the 2017 UK base metal commemorative coins. What immediately caught our eye was the surprisingly low number of Sir Isaac Newton 50p coins that had been struck.
At just 1.8 million the Sir Isaac Newton 50p coin has a lower mintage than the 2016 Jemima Puddle-Duck coin. Making it the SECOND LOWEST UK circulation 50p coin behind Kew Gardens (excluding the Olympic 50p range).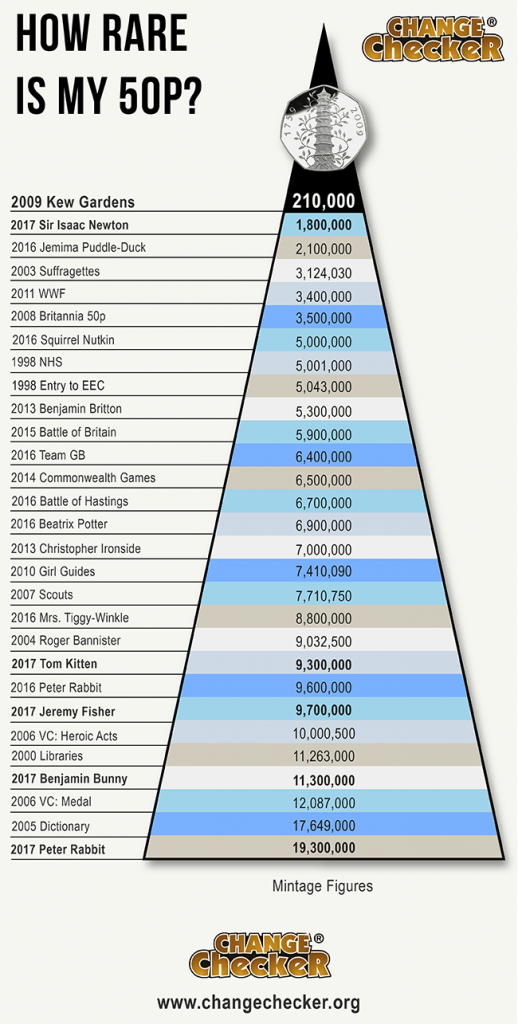 Granted it is someway behind Kew Gardens, which has a mintage figure of just 210,000, but it is the only other UK commemorative circulation 50p coin with a mintage under 2 million.
Good news for Beatrix Potter Fans
Unlike the 2016 Beatrix Potter 50p coins, the good news is that all the 2017 coins have a consistent mintage figure. In 2016 the Jemima Puddle-Duck 50p had a substantially lower mintage figure than the other coins from the series making it very hard for Change Checkers to complete their sets.
All 4 of the 2017 Beatrix Potter coins have a mintage of at least 9.3 million meaning there shouldn't be any problems completing your 2017 sets.
It's going to be interesting to see how these new mintage figures affect our Change Checker Scarcity Index update, due at the end of January.
What about the 2017 £2 coins?
As yet, we are still waiting for the mintage figures for the 2017 Jane Austen and 2017 First World War Aviation £2 coins to be released. We'll be sure to update you as soon as anything is announced.
---
Own the 2017 UK Isaac Newton CERTIFIED BU 50p
This special 50p coin commemorates the legacy of Sir Isaac Newton, genius of the Scientific Revolution and one of the most famous figures to ever hold the role of Master of the Mint.
Designed by Aaron West, the reverse of this striking coin is based on elements of Proposition 11, in Book One of Newton's Principia Mathematica. Whilst the obverse features the Jody Clark portrait of Her Majesty the Queen.
This specially struck 50p coin comes securely encapsulated and as a Change Checker CERTIFIED BRILLIANT UNCIRCULATED issue, you'll know your coin will be protected forever and guaranteed by its Certified Hologram.
Change Checkers are often asking me, "when will the 2017 coin designs be released into general circulation?" 
So, I have compiled a list below showing which coins are now available in your change and those that are still to be released.
The list will be updated as soon as we get confirmation from The Royal Mint that any new coins have entered circulation.
2017 circulation coin release dates
WWI Aviation £2: A small amount released in September (Duxford Airshow), full release TBC
Jane Austen £2: A small amount released in July (Winchester Cathedral), full release  TBC
Peter Rabbit 50p: September 2017
Jeremy Fisher 50p: TBC
Tom Kitten 50p: December 2017
Benjamin Bunny 50p: December 2017
Sir Isaac Newton 50p: June 2017
It's worth noting that coins are only released into general circulation as and when they are required by the banks.
If you find yourself asking, "When are the 2017 coins released into circulation?", this is the place to check!
If you find any of the 2017 coins in your change, especially those that are still to be released into circulation, we'd love to hear from you.
You can send us an email to [email protected] or visit our Facebook, Twitter or Instagram page.