It's been confirmed that 2018 dated £1 coins have now been released into circulation and Change Checkers are eagerly waiting for them to turn up in their change.
As of yet, the number of 2018 £1 coins in circulation is unknown and so we expect collectors to be keeping a close look out for these coins so that they can add them to their one pound collection!
The round pounds were a part of our lives for 33 years but on the 15th October 2017, the coins were withdrawn from circulation forever. Just before their withdrawal, collectors joined the biggest race of its kind ever held – The Great One Pound Coin Race.
In an effort to complete their collections, change checkers were searching old coat pockets, smashing piggy banks and checking down the back of the sofa to see if they could be the lucky owner of some of the rarest coins – including the Scotland Edinburgh City £1, which tops our £1 Scarcity Index.
12 sided £1 collection
Now that the 2018 dated 12 sided £1 coin has entered circulation, we think that it's the perfect time to start building up your collection of 12 sided £1 coins to be sure that you don't miss any from your collection.
The Nations of the Crown £1 design was chosen from a public competition, with the winning artwork being created by 15-year-old David Pearce featuring a rose, leek, thistle and shamrock bound by a crown. Although we do expect future commemorative designs on £1 coins, for now the coins issued only feature the definitive 'nations of the crown' design.
We know that of the 1.5 billion 12 sided £1 coins struck to replace the old round pound in 2017, roughly half a billion were dated 2016 and collectors will be keen to secure themselves a 2016 dated £1 coin to start their collection, which can now also include 2017 and 2018 dated coins.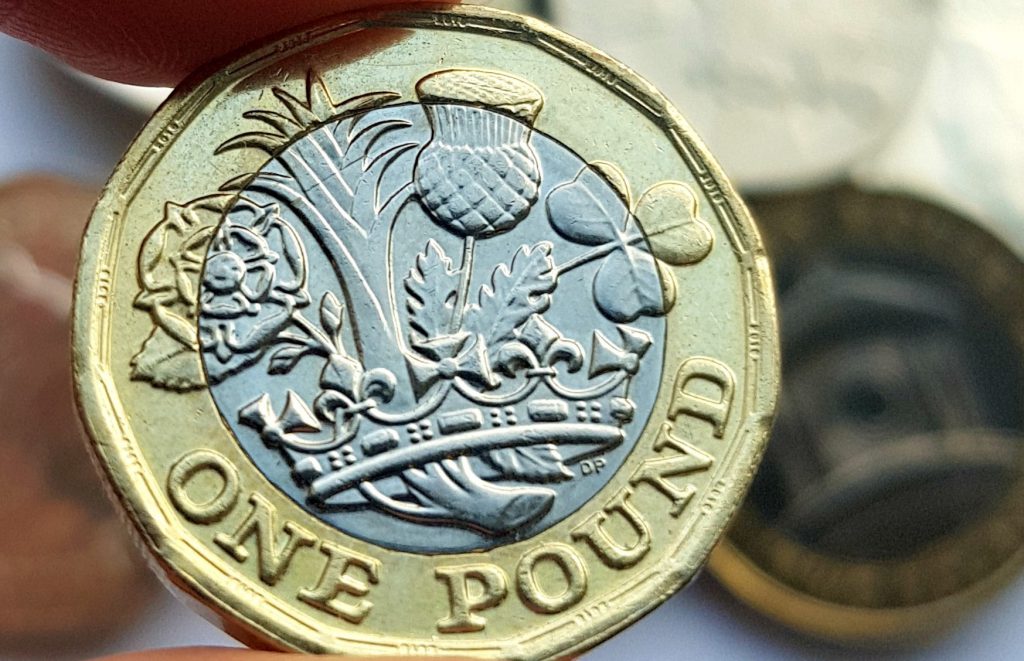 What about the errors?
When these coins were first released, there were many stories from people claiming that they had found an error coin worth thousands. In reality, with such a high number of £1 coins being minted in 2017, there were bound to be variations in the design and quality of striking which you can find out about here.
However, the confirmed dual dated £1 error coin would certainly be one to look out for, with one such coin being valued at £3,000!
Have you been one of the first few to find a 2018 dated £1 coin in your change and will you be holding onto it for your 12 sided £1 coin collection? Let us know in the comments below and don't forget to keep checking your change to see if you can spot the new 2018 pound.
---
If you're interested in coin collecting, our Change Checker web app is completely free to use and allows users to:
– Find and identify the coins in their pocket
– Collect and track the coins they have
– Swap their spare coins with other Change Checkers

Sign up today at: www.changechecker.org/app
We've been admiring US coinage recently and if you've read our previous blog detailing the series that half of American collected, you'll be very excited to hear that starting from 2019, the United States Mint will begin minting and issuing the American Innovation $1 Coin Act – a brand new coin series honouring American innovation.
This latest numismatic programme looks set to follow on from the success and popularity of the US Territories Quarters series mentioned above, which not only kick started coin collecting in America, but worldwide!
Each coin represents its own state and will be released in the order that its respective state was ratified in the Constitution of the United States and admitted to the Union.
Released over a 14 year period, these coins will all bear an obverse with the Statue of Liberty and the inscriptions of "$1" and "In God We Trust". The reverse images will be representative of a significant innovation, an innovator/group of innovators from each of the 50 states, the District of Columbia and the territories of the US. The reverse designs will be selected by the Secretary of the Treasury after consultation with each Governor, chief executive and the U.S Commission of Fine Arts.
Most excitingly, the first introductory coin is set to be released later this year! The reverse of this coin will be inscribed with "United States of America" and "American Innovators," and it will include a representation of President George Washington's signature on the first U.S. patent.
Following this introductory coin, the rest will be released at a rate of 4 coins per year. Just like the US State Quarters Series, The American $1 coins are expected to rapidly become one of the most widely collected series. But will you be collecting these new US $1 coins? Let us know in the comments below!
_________________________________________________________________________________________________________________________________
Start collecting US coins today!
Start your very own journey into US coin collecting with the US State Quarters that Half of America Collected…
A common query we've been hearing at Change Checker HQ comes from people asking about variations in their 12 sided £1 coins.
Having read David Groom's fascinating articles in the April and May issues of Coin News, we've found the key facts which explain these variations, what to look for and why they might have occurred.

We know that of the 1.5 billion 12 sided £1 coins struck to replace the old round pound, roughly half a billion are dated 2016.
Of course, having such a high mintage figure must lead to varieties in design and quality of striking, however in the Coin News examination of just 40 randomly selected 12 sided £1 coins, an extraordinary number of varieties appeared…
Edges
Perhaps the most talked about variation with the 12 sided £1 is the milling on the edge of the coin, with 'lefties' being a common error in the milling process.
Obverses
Groom's article suggested four clear variations can be found on the obverse of the coin, including position of the design and text.
Reverses
Groom also highlighted the four clear features of difference for the reverses of the new £1 coins.
Misalignment
One of the most common variations seems to be misalignment of the coins, particularly where the outer and inner sections do not align properly.
Dates
We have spoken before in our blog about the dual-dated £1 coins, with one such coin being valued at £3,000.
Groom also mentions that many examples of the 2016 pound coin have the date numbers very poorly struck, making the date hard to read.
Royal Mint trial coins
Trial coins are issued when new coin specifications are being tested, but they should not enter circulation.
These feature the words 'The Royal Mint' and 'Trial Piece'.
Whilst there are clearly a number of variations to be found in the 12 sided £1 coins, Coin News suggests that these may arise from off centre striking, or be due to the different characteristics from the two metals of the bimetallic coin.
Auction sites such as eBay may have sellers claiming these as 'error' coins, with listed prices rising to hundreds or even thousands of pounds, but for us Change Checkers, finding these variations in our coins is what makes collecting that much more interesting.
Many of you have been in touch telling us about the difference in your 2016 and 2017 12 sided £1 coins. Have you spotted any of the above variations in your coins?
– Credit 'Up close, the new 12 sided £1 coin' – David Groom, Coin News, April and May 2018
---
If you're interested in coin collecting, our Change Checker web app is completely free to use and allows users to:
– Find and identify the coins in their pocket
– Collect and track the coins they have
– Swap their spare coins with other Change Checkers
Sign up today at: www.changechecker.org/app