On the 25th August we launched the Definitive 50p Collecting Challenge, starting the race to find every UK definitive 50p coin in circulation in time for the 50th anniversary of the 50p.
To help you with your collection, we've put together 17 top tips to hunt down those 50p coins…
Best of luck Change Checkers!

---
Have you joined the Definitive 50p Collecting Challenge?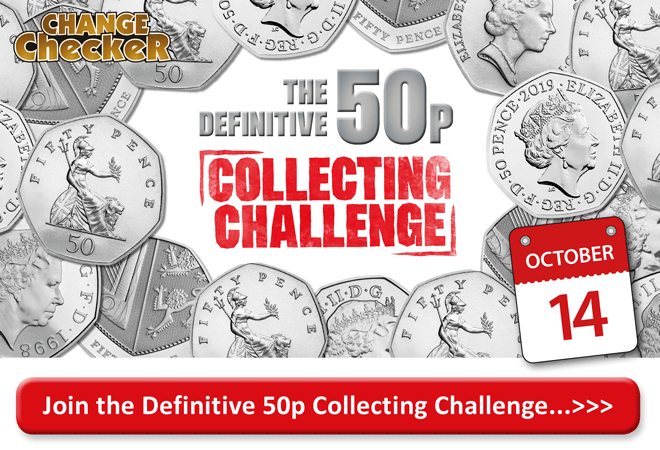 The race is on to find and collect the definitive 50ps in your change in time for the 50th anniversary of the 50p!
Coins from Crown dependencies and overseas British territories can sometimes make an unexpected appearance in our change.
Sure, this can be an annoyance as technically the coins are not legal tender in the UK, but from a collecting point of view, new and interesting designs are always a bonus!
In our latest coin hunt competition, we went head to head with 10 YouTube Coin Hunters for a 50p coin hunt and it was amazing to see how many of the teams stumbled across coins that shouldn't be in our change…
Here are some of the unexpected coins we came across:
2012 Bailiwick of Jersey 50p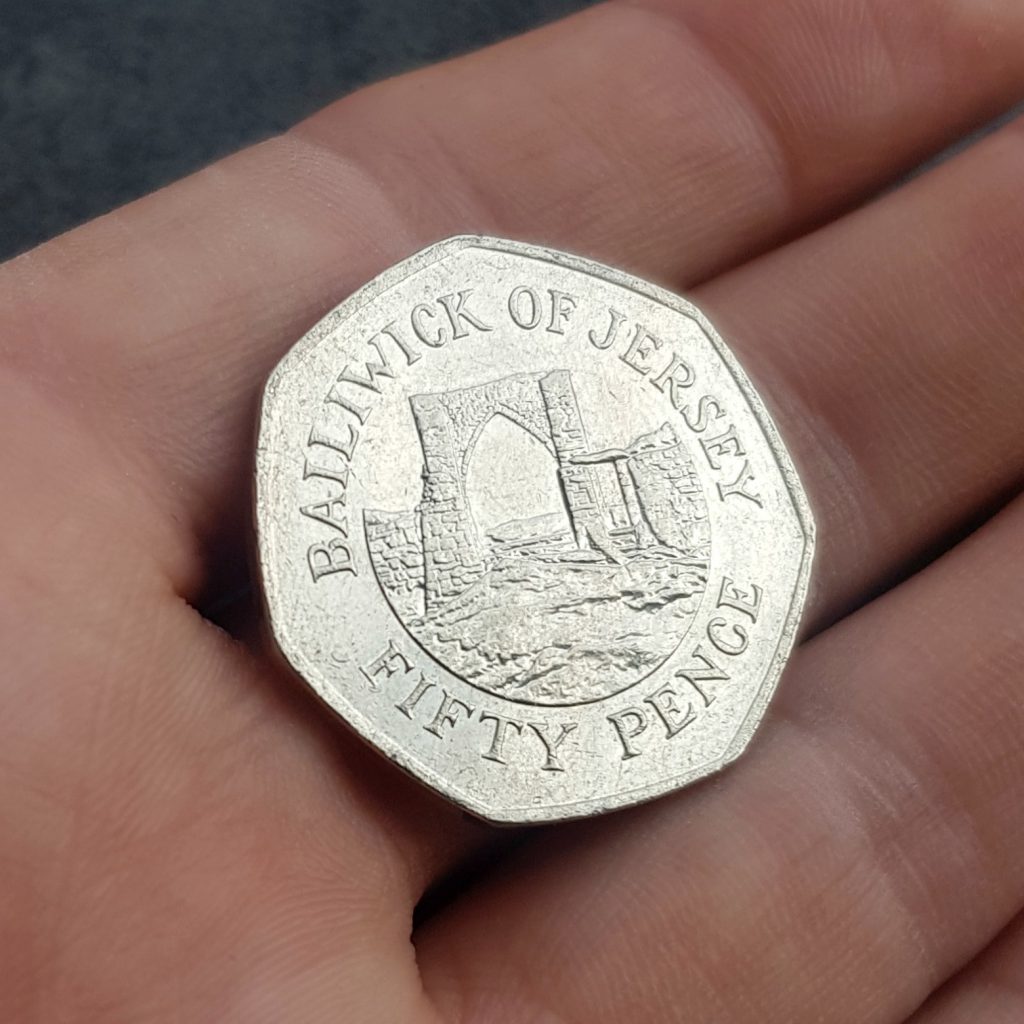 Yasmin and I were lucky enough to come across this 2012 Bailiwick of Jersey 50p in our coin hunt.
The coin features Jersey's Grosnez Castle on the reverse surrounded by the lettering 'Bailiwick of Jersey'. The obverse features the Arnold Machin engraving of Queen Elizabeth II.
Interestingly, 2012 dated Bailiwick of Jersey 50p coins were also struck in 2013 and 2014, giving this particular coin a total mintage of 365,000.
Jersey's coinage is not legal tender in the rest of the UK, but the lower mintage figures of the island's coins compared to the UK makes them particularly scarce and collectible, so it was a great surprise to find a Jersey coin amongst our 50ps!
Jersey's coin mintages are significantly lower because of their smaller population of only 100,000.
2012 Guernsey Freesia Flowers 50p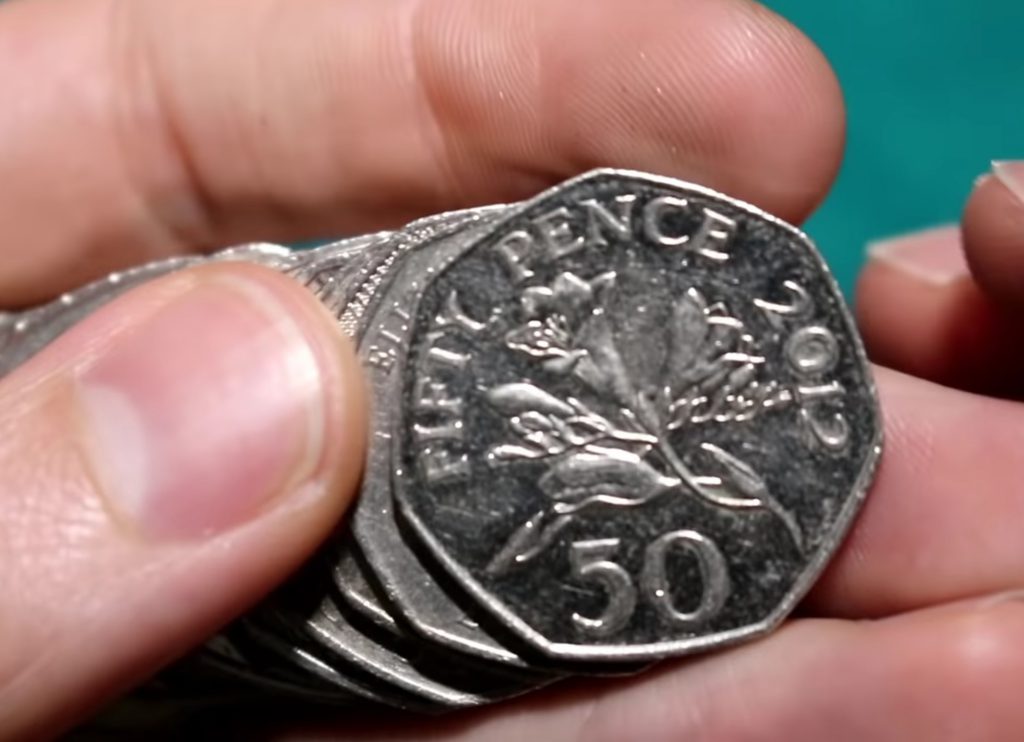 During his coin hunt, Christopher Collects managed to find a 2012 Freesia Flowers coin from Guernsey.
This beautiful 50p features two crossed freesia flowers on the reverse design, however it is the obverse design which is particularly special.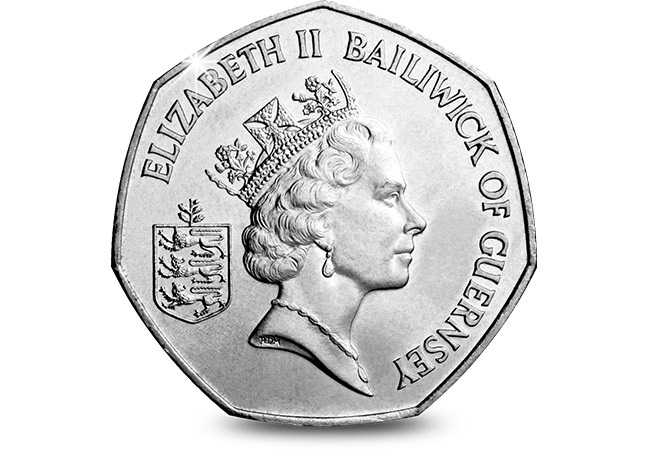 The obverse features Raphael Maklouf's portrait of Queen Elizabeth II with the lettering 'Bailiwick of Guernsey' above, and also a small Guernsey Coat of Arms to the left.
This addition on the obverse makes the Guernsey 50p stand out when compared to UK 50p coins.
We don't know the mintage figures for this coin, however it will likely be fairly low when compared to UK figures, due to Guernsey's smaller population.
2018 Isle of Man Imperial State Crown 50p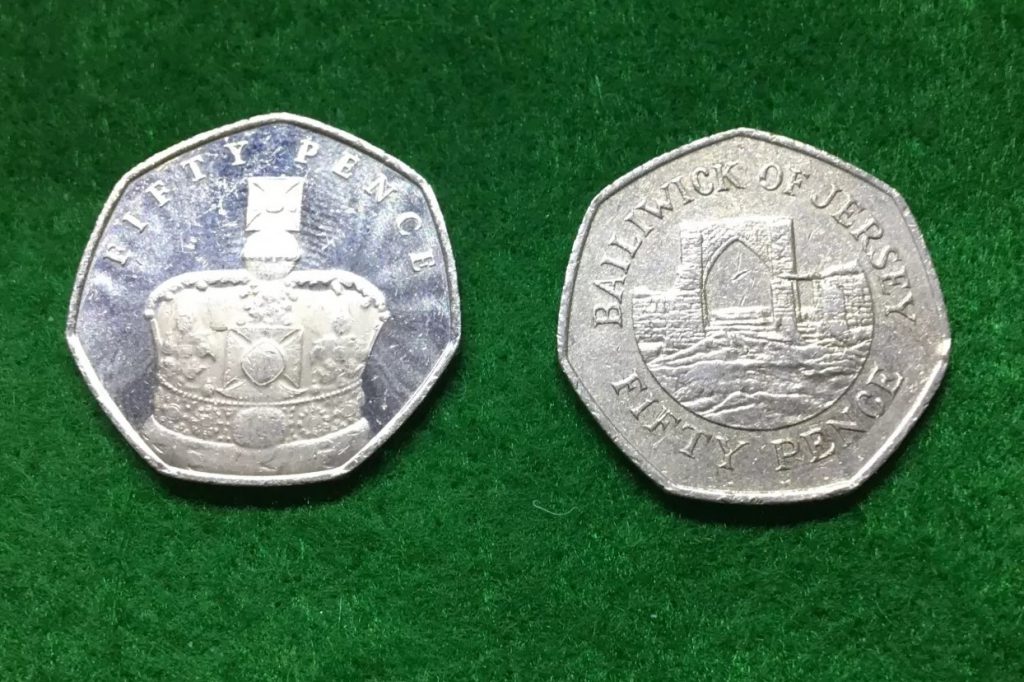 Coin Cupboard was very lucky and also found a Bailiwick of Jersey 50p, as well as an Imperial State Crown 50p from the Isle of Man.
The Imperial State Crown 50p was issued in 2018 as part of a five coin set celebrating the Sapphire Coronation Anniversary of Her Majesty Queen Elizabeth II.
A limited number of each coin entered circulation on the Isle of Man, although we don't know the exact mintage figure for this coin.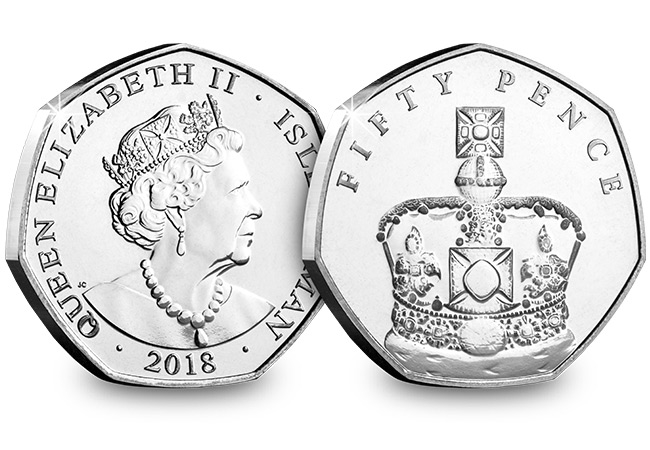 The reverse design shows the Coronation Crown and the obverse features Jody Clark's most recent portrait of the Queen which, unlike UK coins, includes her shoulders.
1999 East Caribbean States 1 Dollar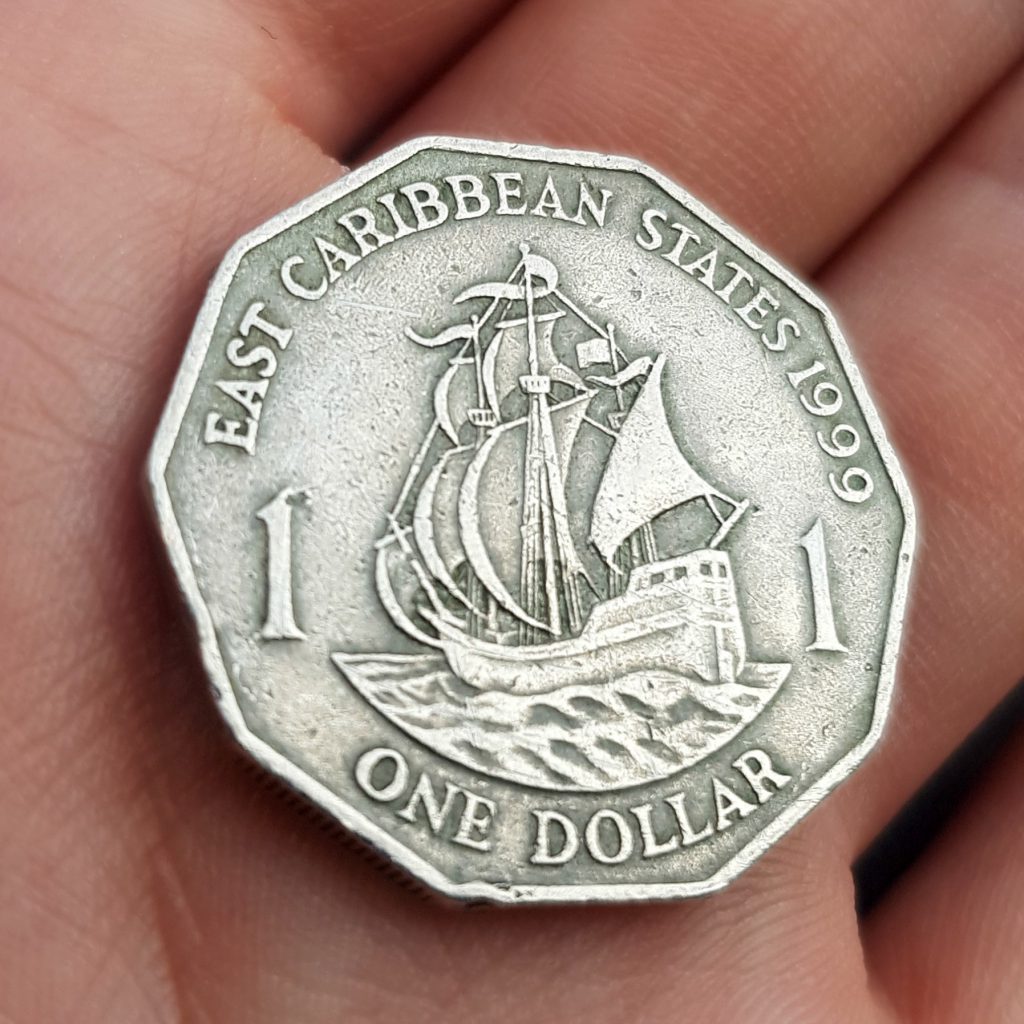 Whilst you might expect a few British Isles coins to turn up every now and again, we certainly weren't expecting to find this coin in our 50p bank bag!
In fact, both team Change Checker and Dom Collects came across one of these unusual coins in our change.
This 1 dollar was issued from 1989 to 2000 in the Eastern Caribbean States, but how did it find its way into our UK change?
As a British Overseas Territory, the East Caribbean States currency features the portrait of Her Majesty Queen Elizabeth II on the obverse.
This, along with the coin's size which is very close to the UK 50p, means it has managed to get mixed up with UK change and passed off as a 50p.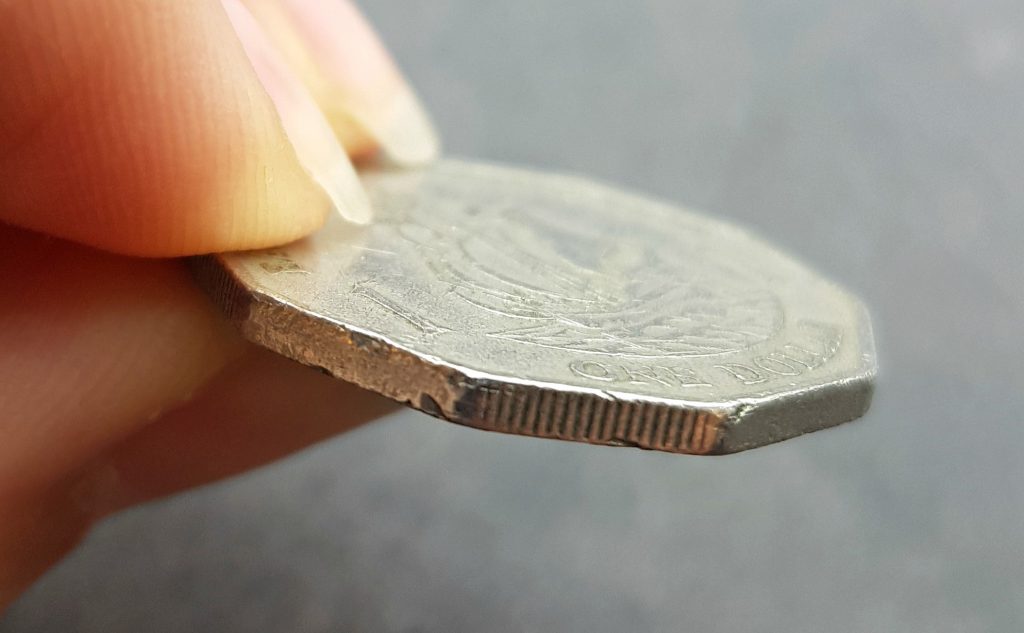 However, there is one very significant difference between this coin and a 50p, and that's the shape. The East Caribbean States dollar is actually decagonal (10 sided) and features milling along every other edge of the coin.
You can imagine just how surprising it was to come across this coin in the middle of our 50p hunt, and how unusual still that we weren't the only team to find one!
It just goes to show how many fascinating coins find their way into our change and why it's always worthing checking to see if you've found a coin which was intended for circulation in the UK.
---
Secure your Guernsey Freesia Flowers 50p coin today!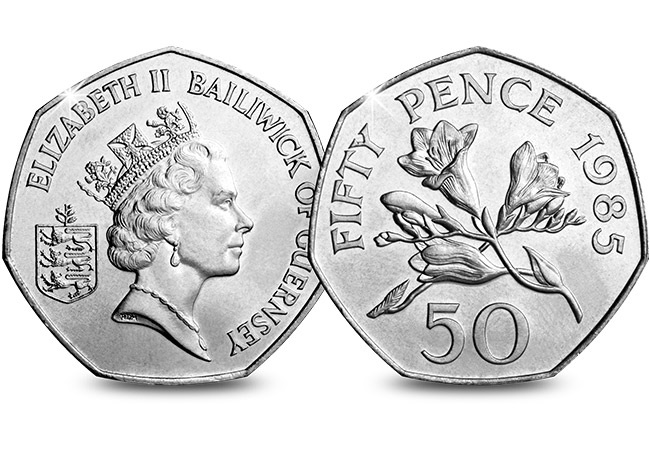 You can now secure the Guernsey Freesia Flowers 50p for your British Isles collection.

We're on the hunt for the best Coin Design of 2018 as part of the 2018 Change Checker Awards and we need your help! With over 50 new coins released this year, we've decided to shortlist the coins by denomination and then determine one overall winner from the top 10p, 50p, £2 and £5 coins as voted by Change Checkers!
A-Z 10p Coins
We start the voting with the 26 A-Z of Great Britain 10p coins which had a surprise release in March 2018 and have proved incredibly popular amongst collectors, yet notoriously tricky to find in circulation… 2.6 million were originally released back in March and now a further 2.6 million have been released, so they should start turning up in our change soon!
But which A-Z 10p coin is your favourite?
Cast your vote now using the poll at the bottom of the page and find out more about the different A-Z coins below!

With 26 beautiful designs to choose from, it's not easy picking a favourite, but we're looking forward to finding out which A-Z 10p coin is top amongst Change Checkers.
The winning 10p will then be entered into our Coin Design of the Year vote as part of the 2018 Change Checker Awards, alongside the top 50p, £2 and £5 coins from 2018 to determine which coin should be crowned the overall winner!
The voting has now closed and the results can be found below:

It's now time for you to vote for your overall winner, shortlisted from Change Checker's favourite A-Z 10p, 50p, £2 and £5 coin of the year.
Click here to find out which coins made the top 4 and to cast your vote for the overall Coin Design of the Year 2018.
---
View our full range of A-Z 10p coins and collecting packs here >>