To honour the 150th anniversary of the establishment of the British Red Cross, The Royal Mint has issued a brand new £5 coin.
2020 UK British Red Cross £5
Currently supported by more than 18,000 domestic volunteers, the humanitarian mission of the British Red Cross exemplifies human kindness in times of great crisis, not just in the UK, but the world over.
Henry Gray's bespoke design of this coin features a scarlet red cross at the heart of the coin, with the inscription 'The Power of Kindness' which echoes the organisation's principles of selflessness, compassion and goodwill.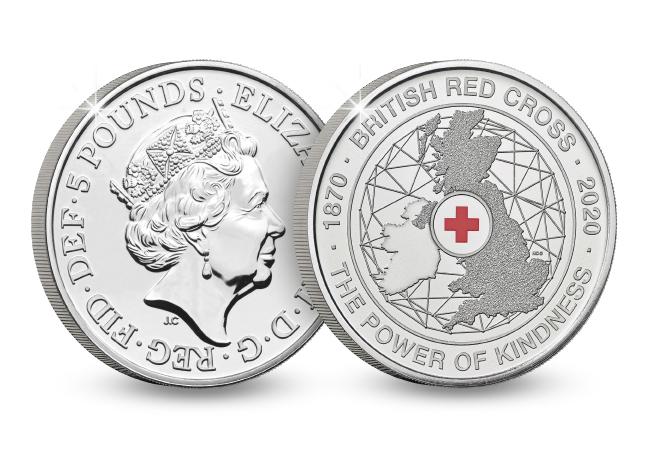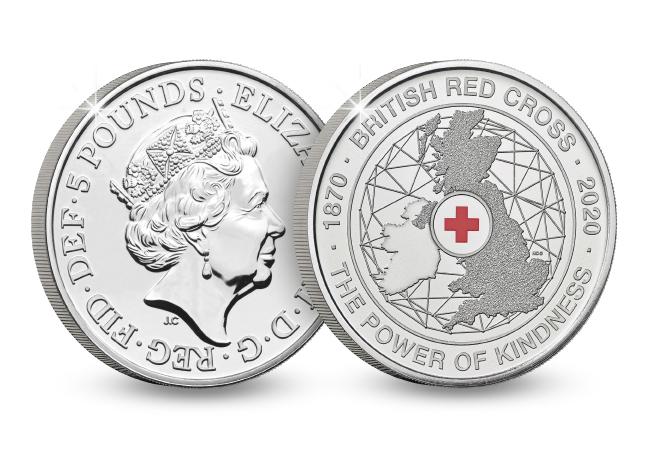 This coin also features an edge inscription that bears the motto of the British Red Cross, 'PER HUMANITATEM AD PACEM' which translates to 'THROUGH HUMANITY TO PEACE'.
This coin is available in a number of specifications, including Brilliant Uncirculated quality, for just £14.99 (+p&p).
Inspiring Hope for a Kinder World
The British Red Cross is part of the world's largest humanitarian network – the International Red Cross and the Red Crescent Movement.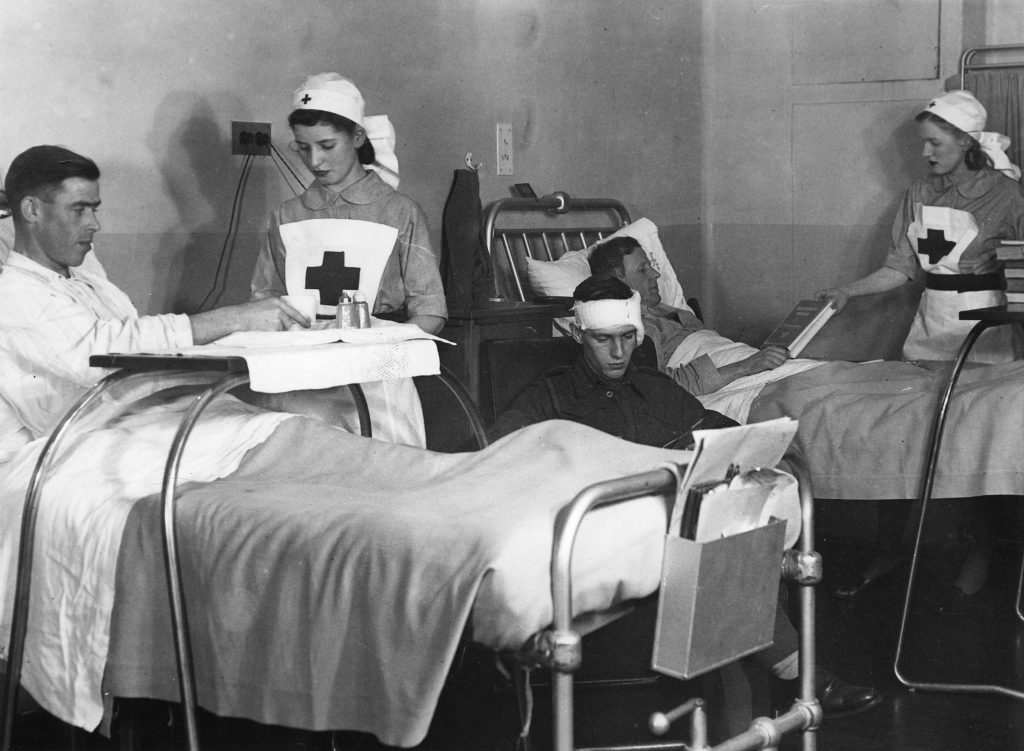 The history of the Red Cross dates back to 1870 where a petition was raised by Colonel Loyd-Lindsay, to provide aid and relief to both warring armies during the Franco-Prussian War, and in other wars and campaigns during the 19th century.
From hiring a wheelchair or dealing with loneliness, to adjusting to life in a new country, the British Red Cross help anyone, anywhere in the UK and around the world, to get the support they need if crisis strikes.
Around the world, whenever a humanitarian crisis occurs, the Red Cross or Red Crescent is always one of the first organisations on the scene thanks to kind volunteers.
The message of kindness is echoed in the inscription of this brand new 2020 UK British Red Cross £5, but it isn't the only UK coin issued to celebrate humanitarian and charitable efforts…
WWF 50p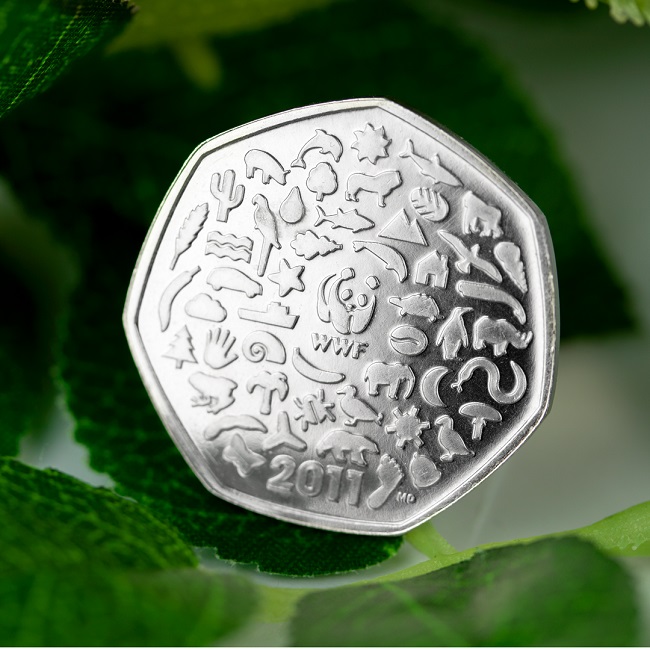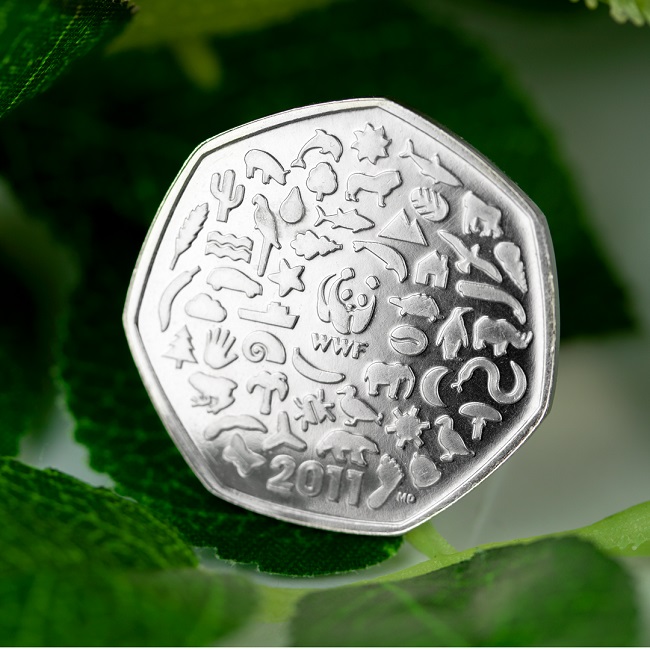 The Worldwide Fund for Nature was formed in 1961 in Switzerland and the world's leading independent conservation organisation.
WWF's work is mostly focused on saving endangered species and conserving the world's most precious natural places.
In 2011, to celebrate its 50th anniversary, The Royal Mint issued this 50p coin. It features 50 different icons to represent the variety of work which the organisation is involved with.
It entered circulation with a mintage of 3,400,000.
Florence Nightingale £2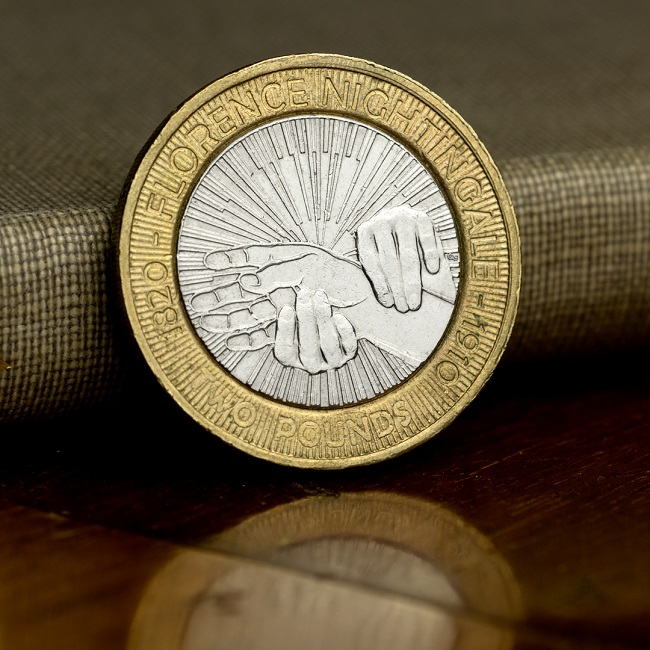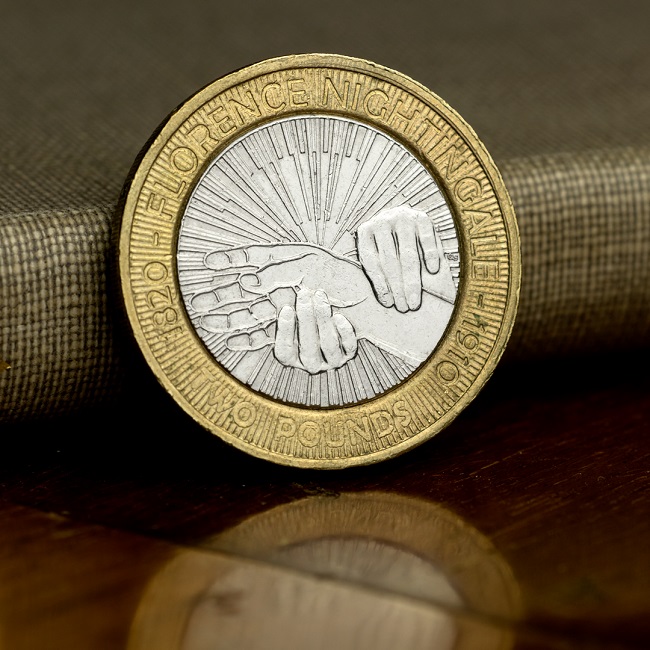 Named after the Italian city in which she was born in 1820, Florence Nightingale is famous for her work in the military hospitals during the Crimean War where she tended to wounded soldiers.
In 1860 she laid the foundation of professional nursing with the establishment of her nursing school at St Thomas' Hospital in London. Her book Notes on Nursing proved to be influential in changing the way hospitals were run and the role of nurses within them.
This coin was issued in 2010 to mark both the centenary of the death of Florence Nightingale and the 150th anniversary of the publication of her Notes on Nursing, celebrated in 2009.
It has a circulating mintage of 6,175,000.
2016 'Lest We Forget' Poppy Coin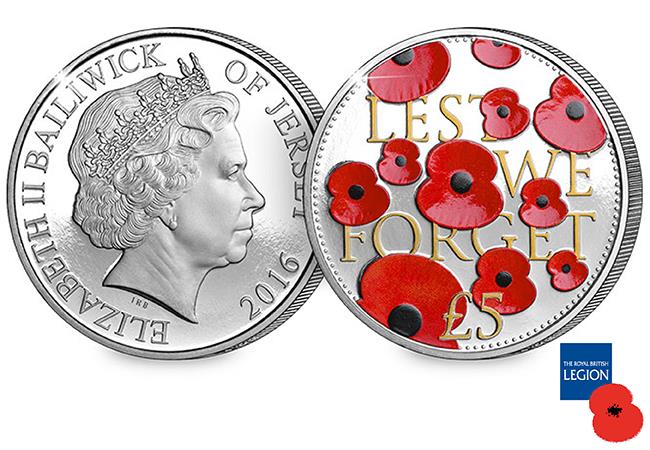 In 2016, as a tribute to those who have made the ultimate sacrifice, the 2016 'Lest We Forget' Proof £5 Poppy Coin was issued in Jersey in support of The Royal British Legion.
Inspired by the falling poppies at the Festival of Remembrance, the reverse features 11 masterfully engraved poppies struck to a proof finish.
Individual poppies have been selectively picked out in red ink and the words Lest We Forget can be seen in the background in gold ink.
It has an edition limit of just 4,950!
NHS 50p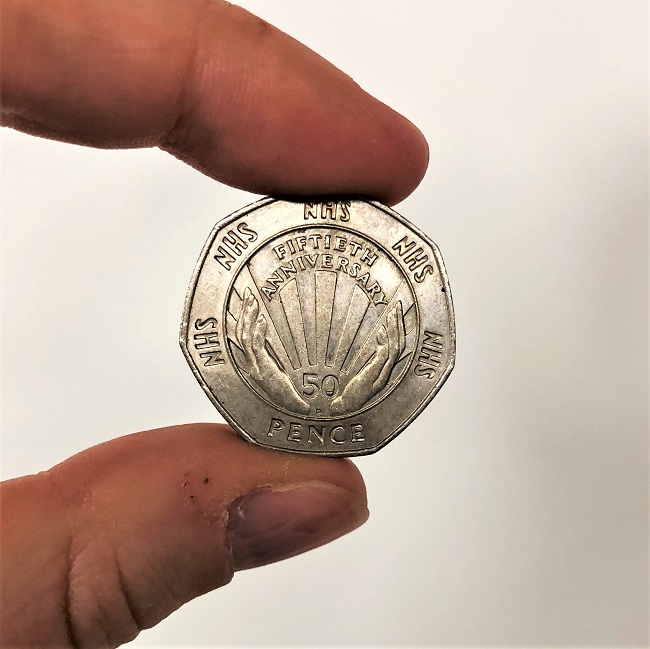 Although the NHS isn't a charity, or a donation funded service, it was founded in 1948 with the principle aim of providing a health service that would be available to all, based on a person's clinical need, rather than their ability to pay.
It was the first ever health service to provide free health care and this year celebrates its 72nd birthday.
This coin was issued in 1998 to celebrate its 50th anniversary and has a circulating mintage of 5,001,000.
---
We're so excited by this brand new £5 coin and we're sure collectors will be racing to add this to their collections!
What other charitable, humanitarian or environment organisations would you like to see celebrated on a UK coin? Let us know below!
---
Secure the BRAND NEW 2020 UK British Red Cross £5 for JUST £14.99 (+p&p)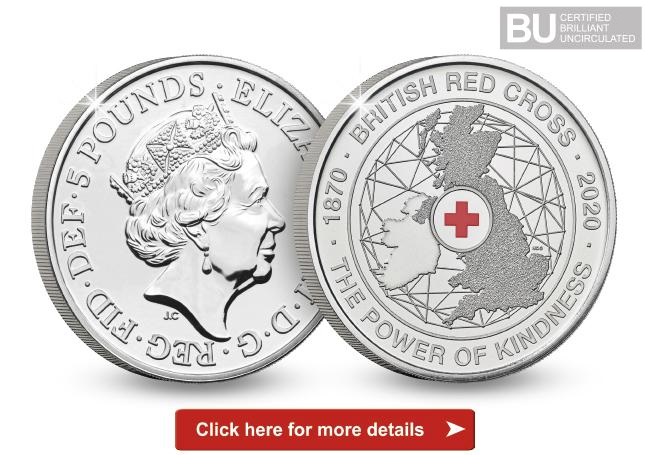 Click here to secure the 2020 British Red Cross £5 in Brilliant Uncirculated quality for just £14.99 (+p&p) >>
*A small percentage of the net wholesale price from the sale of this commemorative coin will be paid by The Royal Mint to Britcross Limited, a subsidiary of the British Red Cross Society, which makes an annual donation to the charity.*
The wait is finally over and it is with great excitement that we can reveal the brand new Isle of Man Peter Pan 50p coins to you all…
These amazing coins have been developed in partnership with Great Ormond Street Hospital Children's Charity to celebrate 90 years since Peter Pan author, J.M. Barrie, gifted all future rights in Peter Pan to them.
Our friends at the Westminster Collection say, "It has been an honour working with this fantastic charity to create the WORLD'S FIRST Peter Pan 50ps, and for every coin sold a donation will go directly to GOSH Charity to support the hospital's most urgent needs: fund support services, pioneering research, equipment and refurbishment."
Peter Pan remains one of the most cherished and loved children's stories of all time and as such demand for these new 50p coins is expected to be extremely high.
Whether you're an avid 50p collector, a Peter Pan fan, or just a big kid at heart, I'm sure these coins are bound to sweep you off your feet.
The Official Peter Pan 50p Coin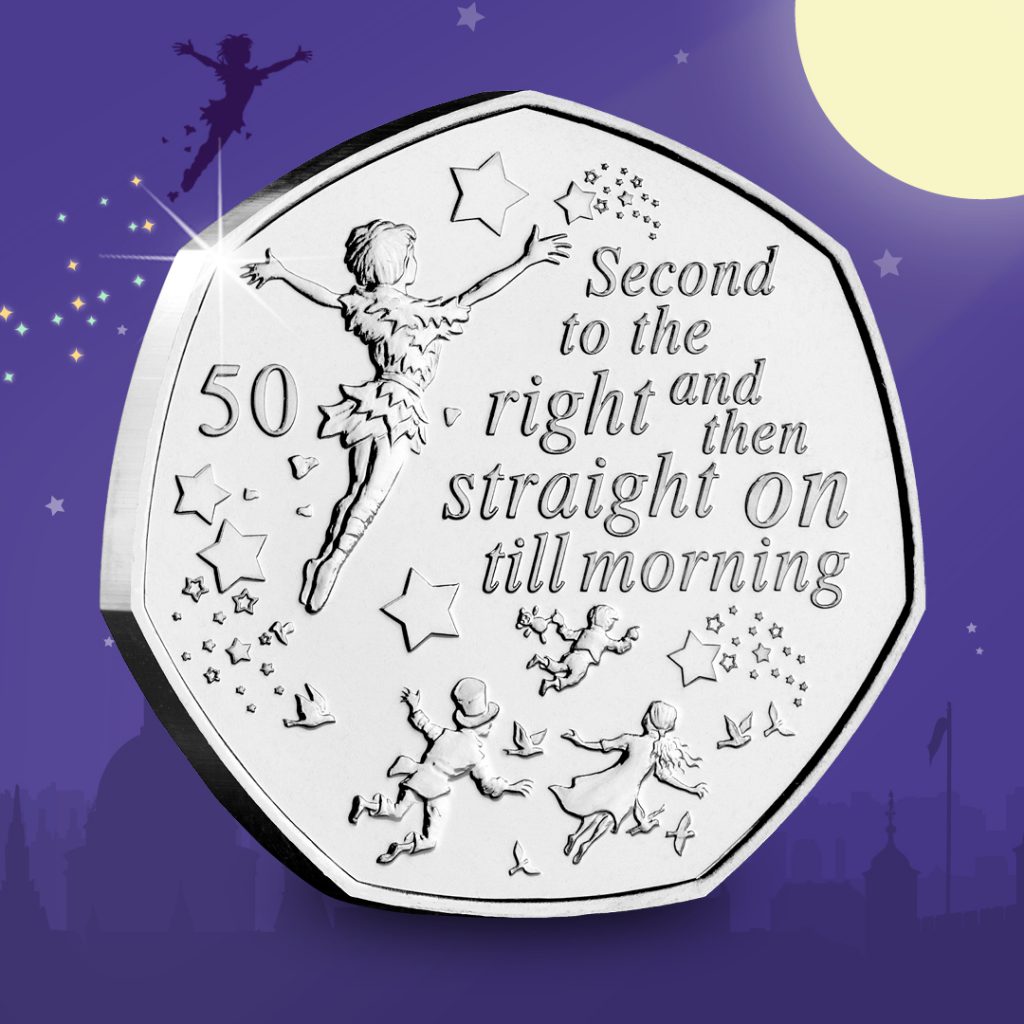 The brand new Peter Pan 50p features an engraving of David Wyatt's illustration from the Oxford University Press edition of Peter Pan, alongside a well-known and much loved quote from the book.
This is the first time ever that Peter Pan has featured on a 50p coin and I'm sure that this magical design will go down a treat with collectors, especially following the popularity of previous book character coins.
The COMPLETE Peter Pan 50p Set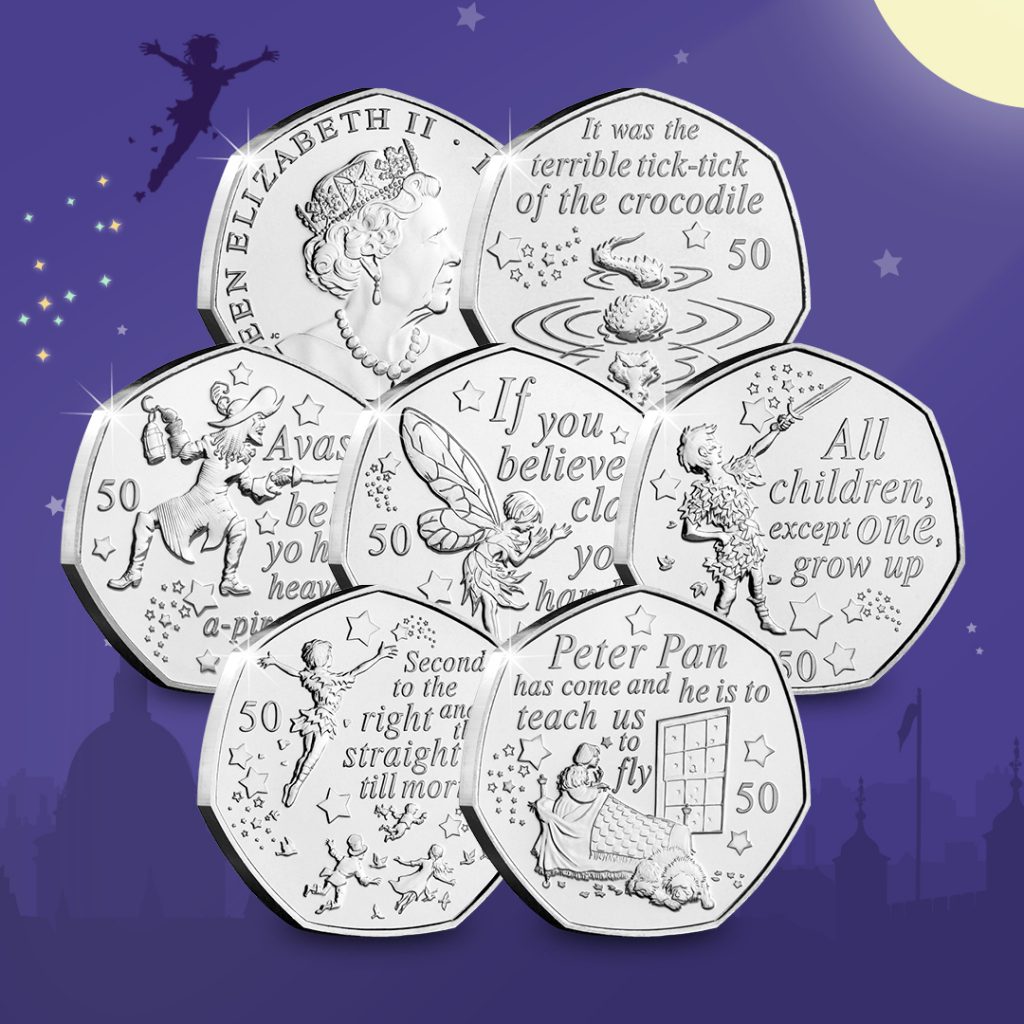 Six coins have been created in total, each featuring a different quote and an accompanying specially commissioned design showcasing one of David Wyatt's stunning illustrations from the Oxford University Press edition of Peter Pan.
Each coin is dedicated to a favourite character from the book, including Peter Pan, Captain Hook, Tick-Tock the Crocodile, Tinkerbell, Wendy and Nana.
Whilst I'm sure you'll agree each design is truly beautiful, my personal favourite has got to be Tinkerbell! Let me know in the comments below which design you prefer.
But these coins aren't just available in Brilliant Uncirculated quality; they will in fact be available in a range of other finishes too…
The Silver Proof Peter Pan 50p Coins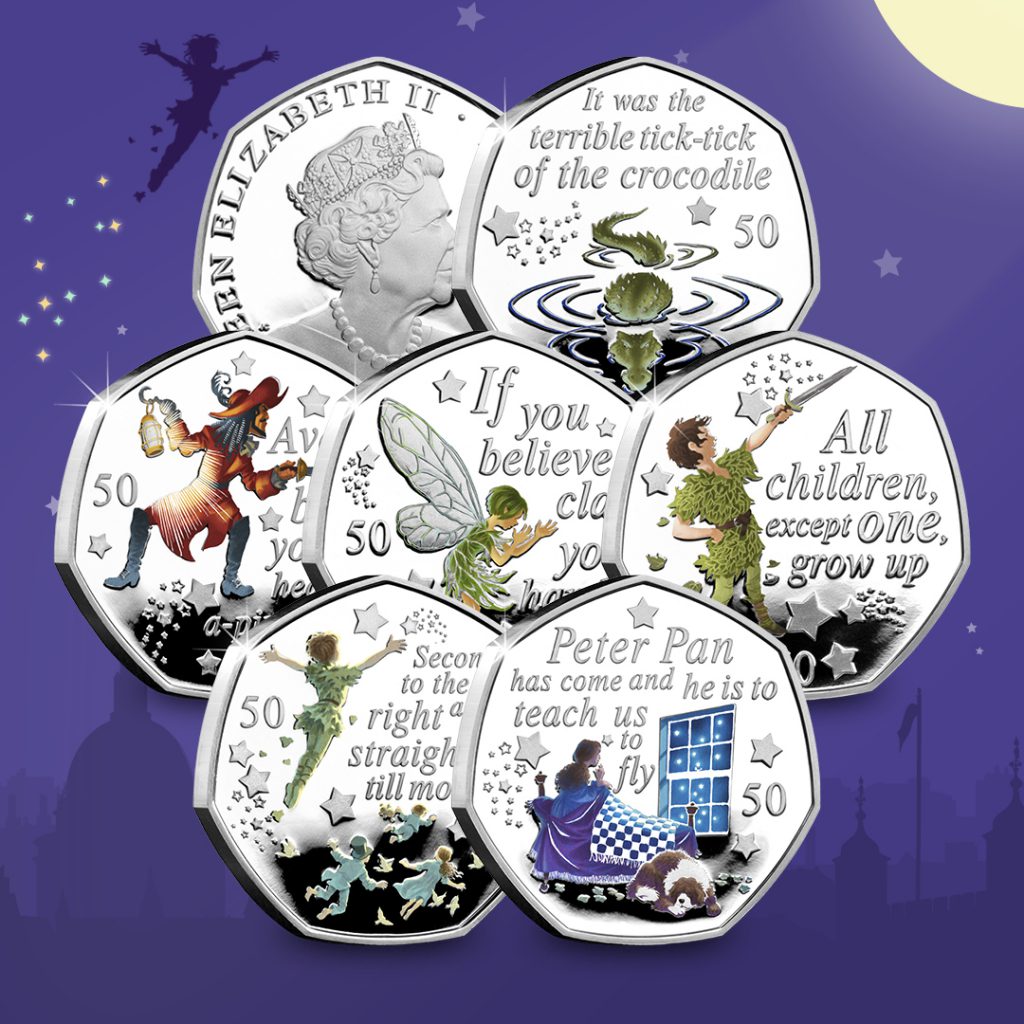 Struck in Sterling Silver to an immaculate Proof Finish, these coins feature an impressive full-colour illustration of the stunning designs, really bringing the magic of the story to life.
Silver Proof 50p's are amongst the most sought-after new issues around and with JUST 10,000 of the individual Peter Pan Silver Proof 50p and JUST 1,995 of the Silver Proof set available worldwide, a sell-out is expected.
The Gold Proof Peter Pan 50p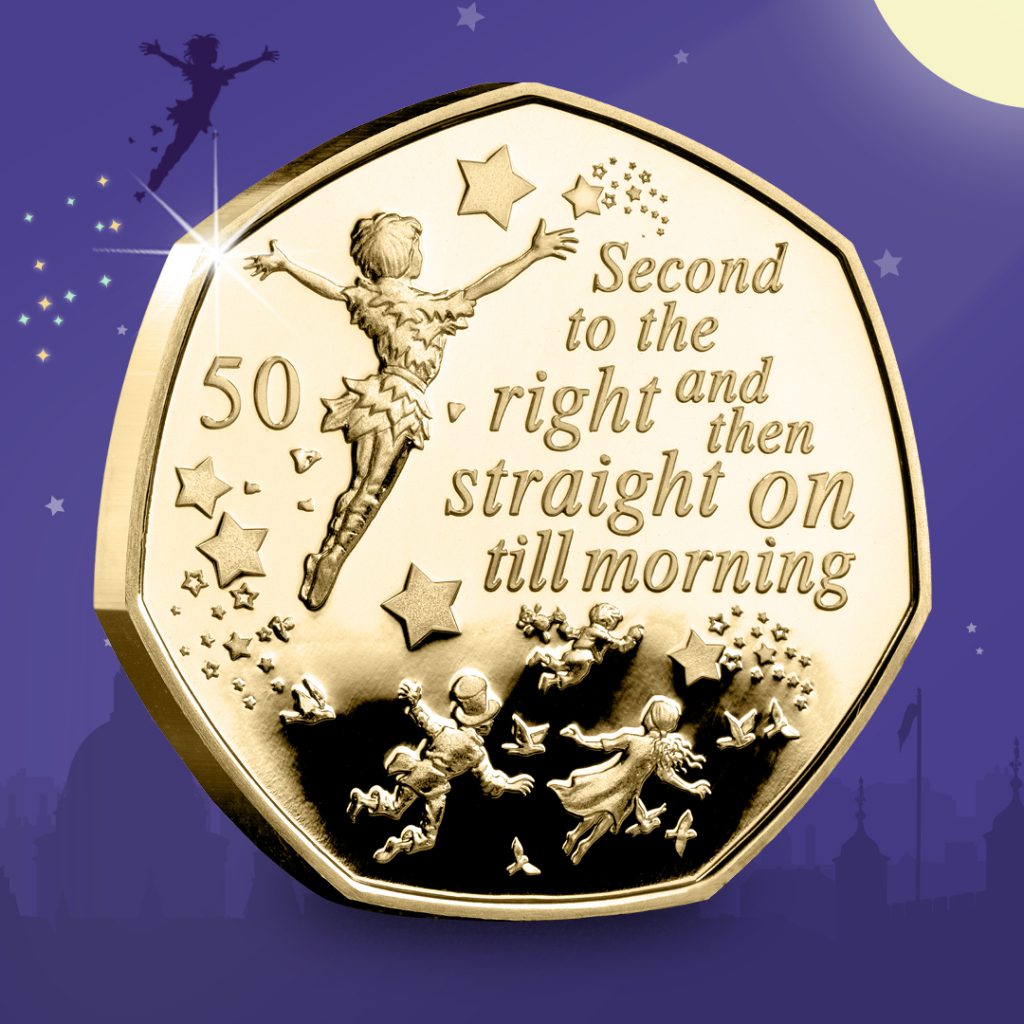 This is the crème de la crème of the range you could say…
Struck from 22 Carat Gold to a perfect Proof Finish, JUST 500 lucky collectors worldwide will be able to own this prestigious new coin.
New Gold Proof 50p's have a strong sell-out history and high demand is expected for the Gold Proof Peter Pan 50p.
The British Isles really have had some fantastic releases recently and I must say that these coins from the Isle of Man have got to be some of my favourites! But what do you think about these coins? Let us know in the comments below!
---
Add the 2019 Peter Pan 50p coins to your collection!

These beautiful new coins are now available to add to your British Isles collection, starting from £6.25 for the individual Peter Pan coin in Brilliant Uncirculated quality and £37.50 for the Brilliant Uncirculated set.
If you'd like to take a piece of magic home with you, click here to order your Peter Pan 50p coins.