Rumours of the Dual-Dated £1 Coin appear to have been confirmed in the national press today.
Although we haven't seen the coin ourselves, we've spoken to the collector claiming to be in possession of one and seen a number of images, leading us to believe that he has found a genuine error.
The error in question is a 12-sided £1 coin with two different dates – 2016 on the obverse and 2017 micro engraved on the reverse.
So, what everybody wants to know is, "what is this coin worth?"
At this stage it's difficult to answer with any certainty. The error is very hard to spot with the naked eye and there is currently no indication as to how many of these error coins have been struck.
Probably the best example to compare it to is the 2008 undated 20p where there was an initial spike in interest and some coins sold for an inflated price in the thousands. However, this did settle down fairly quickly and today you'd expect to pick one of these up for between £50-75.
What is clear, is that this appears to be a genuine error and as such considerably more collectable than many of the mis-strikes and tampered with £1 coins that have recently appeared online.
Have you found a Dual-Dated £1 coin?
---
We'll be keeping Change Checkers updated with the latest information on this Dual-Dated £1 Coin – sign up below for the latest updates.
It's time to really start examining your change again.
Change Checker has just been able to confirm that a small number of "Inverted Effigy" £2 Coins have entered circulation.
First discovered by a Change Checker, and now confirmed as genuine by The Royal Mint, this unusual strike appears on a handful of the 2015 Britannia £2 Coins.
The Royal Mint has accounted for the seemingly impossible misalignment of the Queen's effigy as "almost certainly the result of one of the dies working loose and rotating during the striking process".
The result is that the Queen's head is offset by around 150 degrees compared to the Britannia design on the reverse of the coin.
Just how rare is the Inverted Effigy £2 Britannia?
The Royal Mint is unable to give any indication of how many Inverted Effigy coins have entered circulation but we can make some initial estimates.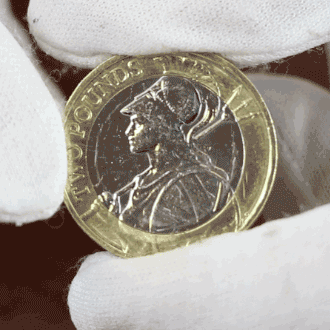 The first-year 2015 £2 Britannia is already one of the most-scarce circulating £2 coins ever issued with just 650,000 coins passing through banks and cash centres. That already places it third equal in the all-time low mintage charts.
We have analysed 5,000 circulation coins and our results suggest that the Inverted Effigy may have affected as few as 1 in 200 of the coins struck – in other words around just 3,250 coins.
Of course, if the Inverted Effigy is a consequence of the die slipping during the striking process, it is possible that there may be other variations where the Queen's head is less or more misaligned as the die has worked its way out of position.
Errors, mis-strikes and myths
Of course, given the many million coins The Royal Mint strike each year, it is to their immense credit that mis-strikes and errors are so few and far between. But, of course, when they do arise, they cause great collector excitement, as some of these other examples pay testament to.
But there are a few myths out there too – upside down edge lettering, the "Pemember" Gunpowder Plot £2 coin and the "Necklace" £2 coin, which all have perfectly normal explanations.
Buyers beware
But finally a note of caution. I'm sure in time we'll see some "examples" of the Inverted Effigy £2 for sale online. Before you think of buying one, please beware. Are you seeing a genuine Inverted Effigy or just a coin that someone has rotated in a photograph to make it look inverted?
---
Change Checker has just 24 Uncirculated Inverted Effigy £2 Britannia Coins. If you would be interested in owning one of these coins, please leave your details below and we will contact you in due course with more information.
Please note we will only use this information to contact you about specifically about the Inverted Effigy £2 Coin.
£2 coins were introduced in 1998 to prevent against counterfeiting and were the first bi-metallic coins to enter circulation in the UK.
Made with two different metal components, £2 coins are very complicated to manufacture and very difficult to counterfeit… or so we believed.
As we know, 1 in 30 £1 coins are fake. The Royal Mint are so concerned, they'll be introducing a new 12-sided £1 coin in March which is billed to become the most secure circulating coin in the world.
But, this means that counterfeiters are now turning their attention to the £2 coin.
To begin with, early £2 counterfeit coins were just a lump of led tin alloy, spray painted to look like a genuine £2 coin and were easy to tell apart from the real thing.
Now, they're becoming a lot harder to spot, even by professionals. Some fake £2 coins are even being accepted in vending machines and car parking machines.
So how many fakes are out there and who's responsible?
Fraudsters require a highly sophisticated press to produce bi-colour coins. It's thought that there are hundreds of thousands of fake £2 coins in circulation and is definitely a form of organised crime.
Can you spot one?
There are a few simple ways to tell if you have a fake £2 coin. One of the most obvious ways to spot a fake is by comparing the quality of the writing on the edge inscription to a genuine coin and also checking that the edge inscription matches the design.
However there are still some fake £2 coins that pass the two tests above.
According to experts, fakes can usually be detected by the weight. Genuine £2 coins should weigh 12g, but these remarkable new counterfeit £2 coins are also weighing in at 12g.
Each UK denomination is made up of different compositions which are agreed between The Royal Mint and HM Treasury but the exact amount is kept top secret.
The only way to find out for definite if the coin is real or fake is for it to be x-rayed by a special machine which gives a reading of all the different elements that have gone into the coin.
So should we be increasing the security of the £2 coins to make it harder for them to be counterfeited?
Let us know your thoughts via Facebook, Twitter or leave us a comment below.