The Kew Gardens 50p, Commonwealth Games Northern Ireland £2 and ANY of the A-Z 10ps are likely to be on your collecting wish-list, but have you ever considered that some of the 5p coins in your change might be worth holding on to?
The smallest of our UK coinage – weighing in at just 3.25g, with a diameter of only 18mm – is often overlooked when it comes to collecting. But what if I told you some of them have been known to sell for over £60 on the secondary market?!
What are the rarest 5p coins?
1977 5p
Unlike the Kew Gardens 50p (which has a mintage of just 210,000), 5p coins are often minted in the tens of millions, or even billions! However, the 1977 5p is the rarest with a mintage figure of 24,308,000. Compare this to the 1990 5p which had a circulating mintage of 1,634,976,005 and you'll see why it's pretty rare!
2008 First 5p with the shield design
In 2008, 40 years after the first decimal coins appeared in circulation, our UK definitive coins had a face lift, with brand new designs being released.
A competition was held, with people submitting their designs for the six key coin denominations, leaving out the £2 coin. Over 4,000 designs were submitted, but graphic designer Matthew Dent won the competition with his heraldic design of six coins, with the 1p-50p coins aligning to form the Royal Shield – shown as a complete design on the £1 coin.
As the first year definitive coins were issued with the shield design, 2008 dated 5ps are somewhat coveted by collectors. Although you're unlikely to see the 2008 or 1977 5p coins fetch above face value, they are certainly interesting ones to collect.
But the real interest comes if you're lucky enough to find the error 5p coins…
Spot These 5p Error Coins
Inverted effigy 2008 5p
Another reason to keep an eye out for a 2008 dated 5p coins is that an unknown number were released into circulation featuring the Queen's head on the obverse upside down. These error coins are extremely rare and some have been listed on the secondary market for more than £60!
'Struck twice' 1979 5p 'Error'
On this larger specification 'New Five Pence' which is no longer in circulation, but a suspected error was found, where it appeared to have been struck twice on the same side in error. This would mean both the Queen's head from the obverse and the design on the obverse would be merged together on the same side of the coin.
This 'error' hasn't been confirmed as genuine by The Royal Mint and with closer inspection, it looks as though the reverse design is from a 2p coin – suggesting it might have been tampered with after it was struck.
However one collector sold theirs for £73 on eBay, meaning it always worth looking out for any unusual coins you might have lying around! Just remember, you should always get your error coins confirmed by the mint to prove they are genuine.
The 5p Coins Not Intended for Circulation
From time to time, coins that were never intended for circulation find their way into our change.
They might have been issued in collector sets, broken open and accidentally spent before finding their way into your pocket!
There are two dates to look out for when it comes to 5p coin that shouldn't be in your change – 1993 and 2018.
Prior to 1990, the 5p coins were issued in the larger specification and so these ones should also no longer be found in your change.
---
Have you come across any rare or error 5p coins in your change? Let us know in the comments below!
Complete the shield with the Royal Arms Shield Collector Card!
Designed to fit neatly into your Change Checker Album, this Collector's card allows you to assemble the Royal Arms Shield by simply using your loose change.
Click here to secure yours and start your shield collection today >>
The Sir Isaac Newton 50p is one of the most popular 50ps in circulation. Shortly after it was issued in 2017, it ranked as the second rarest 50p in circulation after the Kew Gardens 50p, with a mintage figure of just 1.8 million.
Due to its huge popularity, the following year The Royal Mint announced that collectors would be able to strike their own 2018 dated Sir Isaac Newton 50p at The Royal Mint Experience. The 2018 dated coin became one of the rarest 50ps, as the only way to get one was to strike your own.
What makes this 50p so popular?
The coin's incredibly detailed reverse design by Aaron West is based on elements of Propsition 11, in Book One of Newton's Principia Mathematica. It also pays tribute to the legacy of Sir Isaac Newton, a genius of the Scientific Revolution and one of the most famous figures to ever hold the role of Master of the Mint.
Change Checkers even voted the 2017 Sir Isaac Newton 50p as their all time favourite Queen Elizabeth II circulating 50p in a poll last year.

An interesting error
As if this coin's incredible popularity, intricate design and low mintage figure weren't enough to make it extremely collectible, there's something else you should look out for...
Several collectors have reported finding an error on their 2017 Sir Isaac Newton 50p. The reverse design looks normal, however the obverse appears to have several extra lines across Queen Elizabeth II's portrait.
This is thought to be an error caused during the striking process, a result of what is known as a die clash. Interestingly, the extra lines aren't grooves scratched into the surface of the coin, but rather 'whiskers' standing slightly proud of the surface.
How rare is it?
Although we don't know for sure how many of these error coins are in circulation, they're thought to be extremely rare. They've even been listed on the secondary market for more than 100 times face value!
Always make sure you're careful buying coins on the secondary market to avoid being overcharged.
Have you ever found an error coin in your change? Or perhaps you have this one? Let us know in the comments below!
Guarantee all new UK coins for you collection
Join the Change Checker UK CERTIFIED BU Subscription Service and receive the very latest UK coins sent to you door without the hassle of placing orders on the day of release!
Finding an error coin is like winning the lottery for collectors. And after reading today's blog, you'll be adding another rare error to your Change Checker watch list!
As earlier this month, a pub worker discovered a £1 coin that was minted from just ONE metal – not two – which went on to sell for £205 on the secondary market!
You see, normal £1 coins have a gold coloured Nickel-Brass outer ring and a silver coloured Nickel plated interior, but this rarity was completely gold-coloured. Check it out in the image below…
Understandably this lucky find was immediately added to eBay and the uniqueness of the coin meant there were 24 bids from five interested bidders, before it eventually sold on August 8 for the unbelievable price of £205!
Mad, right?
One explanation for the supposed 'error' could be that the coin missed the plating stage during production.
Whilst this is the first time we've heard of the 'error' being found on a £1 coin, similar stories have been reported on £2 coins before…
The Holy Grail of Bi-metallic Errors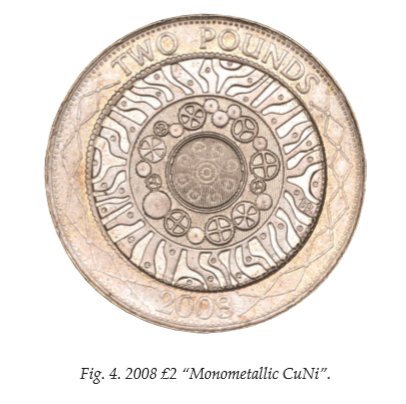 The image above shows what has been described as the Holy Grail of bimetallic 'errors' and is the result of the nickel-brass £2 blank not having the inner core section punched out before being struck.
This means that the £2 coin is made from one full piece of nickel-brass, just like the £1 error above – completely contrasting the very idea of a bimetallic coin.
A 2007 monometallic £2 was verified by The Royal Mint and in the email confirming the mis-strike it was mentioned that they had only seen 4-5 similar coins before.
This rare striking error is highly sought after and coins have achieved extraordinary prices in private sales and auctions.
So if you don't consider yourself a Change Checker, it might be time to rethink as these exceptional error coins could be lying unused at the bottom of your bag.
Have you ever discover an error coin? If so comment below as we'd love to hear all about your coin hunting experiences!
---
If you're interested in coin collecting, our Change Checker web app is completely free to use and allows users to:
– Find and identify the coins in their pocket
– Collect and track the coins they have
– Swap their spare coins with other Change Checkers
Sign up today at: www.changechecker.org/app